These 13 recipes for no bake gluten free desserts are for those days when you just can't bother turning on the oven, but you still want a treat! Whether it's too hot or you're too bothered, these are some of my very best recipes…
If you've been reading this blog for a while, you know it's primarily a gluten free baking blog. Sure, there are some of my absolute favorite gluten free dinner recipes thrown in for good measure. But mostly, cooking is naturally gluten free, so I stick to what you're probably missing most. Cookies, cakes, bars, and breads.
But when the weather outside is hot as blazes, I understand that you may not be willing to turn on the oven. Or maybe you're having a big family gathering, and the oven is already working overtime. Enter no bake gluten free desserts!
This recipe collection doesn't even include every single one of my no bake recipes here on the blog, which is actually over 40 recipes strong. But these are the 13 no bake recipes that I turn to most often.
From creamy, delicious no bake cheesecakes (clearly a personal favorite!), to naturally sweetened peanut butter pies, Paleo-style fudgesicles and everyone's favorite classic no bake oatmeal cookies (without any peanut butter!), this list has it all.
If I've missed your favorite style of no bake dessert, let me know in the comments and I'll see what I can do. Even when it's not summertime, sometimes no bake is where it's at!
And if you're okay turning on the oven, don't miss all 400+ of my gluten free desserts recipes. That's the group of recipes my kids browse when they're looking for inspiration on what birthday treat to select!
The perfect smooth and creamy no bake strawberry cheesecake, made with strawberries, cream cheese and whipped cream, plus a bit of gelatin and sugar. So quick and easy, it's the perfect treat.
Many of you have made this recipe, and it seems like a 50-50 split between those who make it with the crust and those who make it without. But there's no doubt that it's one of your favorites (and mine). I think it would work with any of summer's berries, too.
This no bake peanut butter pie recipe is made into healthy single-serve miniatures, with coconut milk instead of cream cheese in the filling. So simple and delicious. This is your virtuous choice.
No bake lemon cheesecake miniatures are little bites of citrus heaven, made with sour cream, cream cheese, a touch of sugar and gelatin, and plenty of lemons.
No bake banana split cake made gluten free. A graham cracker crust, topped with fluffy cream cheese, bananas, crushed pineapple, vanilla pudding and whipped cream—and a cherry on top. Even just the pineapple banana pudding mixture alone is worth the price of admission.
Edible cookie dough that's made without eggs or any "regular" flour is the worry-free, safe way to let your family indulge in everyone's favorite treat. Try it Ben and Jerry's style, stuffed into some of my homemade vanilla ice cream.
Smooth and creamy Paleo chocolate mousse, made with chocolate, coconut cream, cocoa powder, honey and vanilla. Just blend it and let it set. Another virtuous choice, and it's so rich that you'll never overeat. That's a promise.
The filling in this no bake chocolate pudding pie is smooth as silk, plus the cookie crust slices clean, and adds just the right amount of crunch.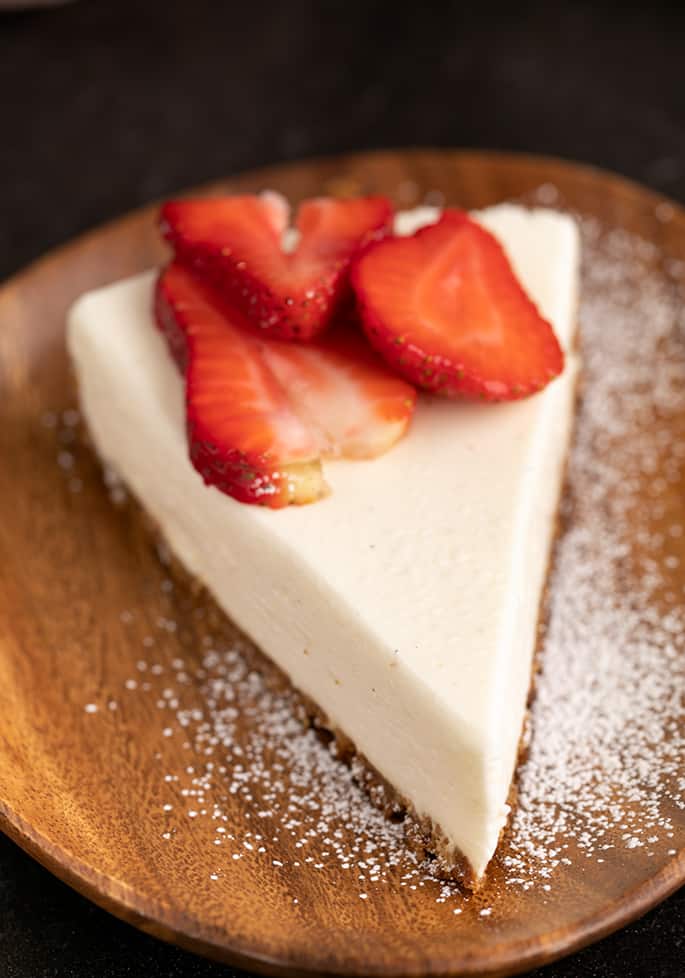 This is the easiest no bake cheesecake recipe you'll ever find, and it always sets up quickly. A plain vanilla cheesecake made with cream cheese, sour cream and a touch of gelatin, it's quite simply perfect. It's also super easy to make into a lighter style for a less-sweet treat.
This fudgesicles recipe is made with just 4 healthy ingredients, and couldn't be easier. Put the ice cream truck to shame this summer. Any ice pop mold will do, and even a paper cup and a stick work in a pinch!
These homemade marshmallow rice krispie treats are actually easier than making the iconic treats with packaged marshmallows because the whole mixture isn't quite as sticky and messy. Plus, they're naturally gluten free and made with the simplest pantry ingredients.
A light and fluffy, mousse-like no bake gluten free chocolate cheesecake that isn't too rich or too sweet—and can be made with or without a simple cookie crumb crust.
A no bake chocolate eclair cake made with graham crackers, whipped vanilla pudding and covered in chocolate ganache. So easy, and it tastes just like an eclair.
And finally, no bake oatmeal cookies are the classic chocolate no bake cookie you remember, made with or without peanut butter—even with or without oats. Naturally gluten free. This is how to make perfect gluten free cookies, even if you can't bake!
This post was originally published in 2013. Most everything has been changed because the blog has grown a lot since then!