Smooth, creamy and rich, this classic recipe for gluten free pumpkin pie is the very best way to dress up your holiday table. Make it with a pumpkin filling, or even as a sweet potato pie. The choice is yours!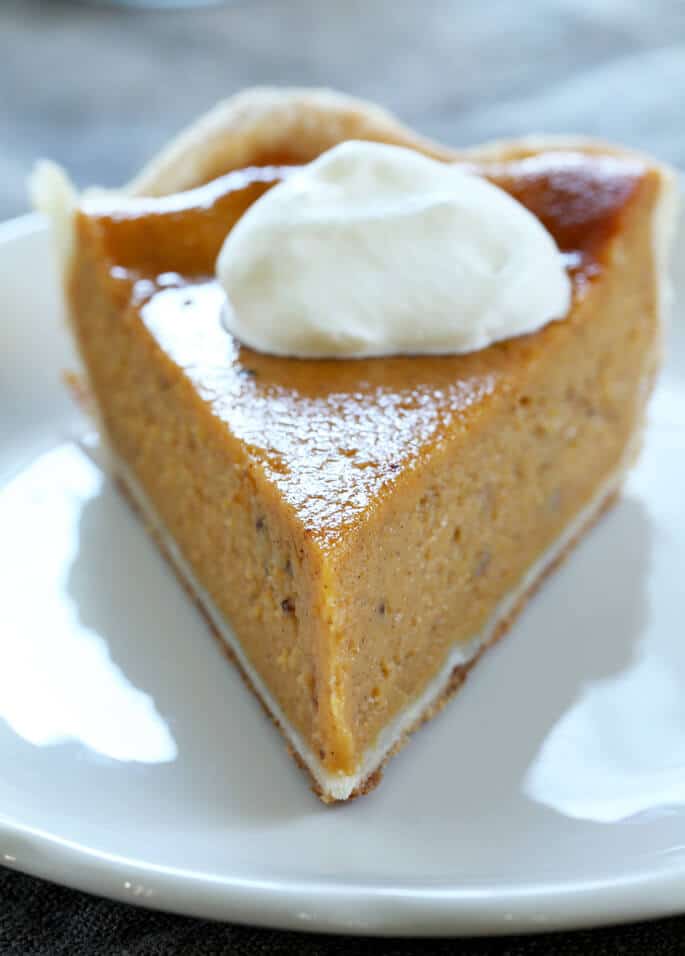 When we made such a lovely, extra flaky and extra tender gluten free pie crust, you knew it wouldn't be long before we filled it with the season's very best pies. Perhaps no gluten free holiday pie is more classic and some might say more essential to a properly dressed holiday table than the perfect gluten free pumpkin pie. And this is, indeed, the most perfect pumpkin pie.
But did you know that you can use the very same recipe to make sweet potato pie? Both pies are rich and lightly spiced, with a smooth and elegant custard filling and a light and flaky crust. The sweet potato pie is just a tad sweeter with slightly more depth of flavor.
There are few options when it comes to this classic pie. Not only can you make your filling with either pumpkin puree or roasted sweet potato puree (instructions on how to roast your sweet potatoes included below), but you can use either evaporated milk or heavy whipping cream. I'm more than a little partial to the heavy whipping cream version, as it's just richer. There's no two ways about it. The pie still sets up beautifully either way, though.
There's also an option when it comes to the pie crust, of course. If you'd prefer a more classic pie crust to my sour cream crust, just use the crust recipe from my classic gluten free pie crust, but halve all of the ingredients as that recipe is for a double crust. Or make the whole crust recipe… and two pies!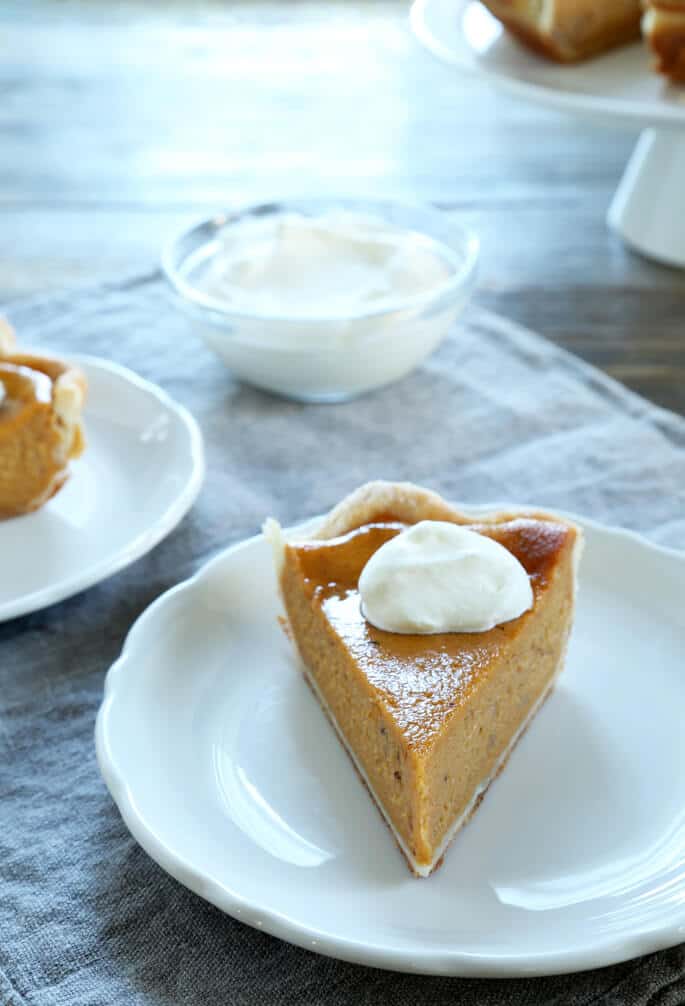 In the interest of a peaceful and stress-free holiday, this pie can be baked completely ahead of time (right now, in fact!), cooled completely, then covered tightly with plastic wrap and frozen until you're ready to serve it. Defrost it in the refrigerator overnight, then allow it to sit on the counter for at least 30 minutes before slicing and serving. The pumpkin (or sweet potato) custard filling will still be smooth, the crust as flaky as ever. Happy holidays all around!
Classic Gluten Free Pumpkin Pie (or Sweet Potato Pie)
Ingredients
1 recipe Extra Flaky Gluten Free Sour Cream Pie Crust
11 ounces (308 g) canned pumpkin puree or roasted sweet potato puree*
3 eggs (150 g, weighed out of shell), at room temperature
10 fluid ounces evaporated milk or heavy whipping cream (or half of each), at room temperature
3 tablespoons (42 g) unsalted butter, melted and cooled briefly
3/4 cup (164 g) packed light brown sugar
1/4 cup (50 g) granulated sugar
1/2 teaspoon kosher salt
2 teaspoons pumpkin pie spice**
2 tablespoons (18 g) all purpose gluten free flour (any of my preferred blends will do, with or without xanthan gum)
*To make the sweet potato puree, wash and pierce 3 medium (or 5 small) sweet potatoes with a fork. Place them on a baking sheet and bake, at 375°F, until the skin loosens and the flesh is very soft (anywhere from 30 minutes to an hour or more, depending upon the size of the potatoes). Allow the sweet potatoes to cool until they can be handled, and peel the skin from the flesh. Place the roasted sweet potato flesh in a food processor fitted with the steel blade, and process until smooth.
**To make your own pumpkin pie spice, combine 1 teaspoon ground cinnamon + 1/2 teaspoon ground ginger + 1/4 teaspoon ground allspice, 1/4 teaspoon ground cloves + 1/8 teaspoon ground nutmeg.
Instructions
Prepare the pie crust according to the recipe instructions, through and including the parbaking of the pie crust. Keep the oven temperature at 375°F.

While the crust is parbaking, prepare the filling. In a large bowl, place the pumpkin or sweet potato puree, eggs, milk or cream, and melted butter, and whisk vigorously to beat the eggs and combine the mixture very well. It should be smooth, and will be quite thin if you used evaporated milk, thicker if you used heavy whipping cream. Add the brown sugar, granulated sugar, salt, pumpkin pie spice and flour, whisking until just combined after each addition. If you used evaporated milk, the mixture will be thin. If you used heavy whipping cream, the mixture will be thicker and creamier.

Once the crust is done parbaking, remove it from the oven and allow it to sit for a couple of minutes before removing the parchment paper and pie weights. Pour the prepared filling into warm crust, and smooth into an even layer. Return the crust to the oven and bake for 15 minutes. Reduce the heat of the oven to 350°F and bake until the edges are puffed and set, and the center jiggles only slightly and in a controlled, rather than a loose, way when the pie is shaken from side to side (about another 25 minutes). Remove from the oven and place the pie plate on a cooling rack.

Allow the pie to cool for at least 45 minutes or until cool to the touch before covering tightly with plastic wrap and placing in the refrigerator to chill until firm (about 1 1/2 hours). Remove the pie from the oven and allow to sit at room temperature for 30 minutes before slicing and serving.