Have you ever wondered, are oats gluten free? The short answer is "yes." But you might be surprised how many thoughts and feelings people have on the subject.
Are oats safe to eat on a gluten free diet?
Whatever your reason for going gluten free, I'm here for you. Whether it's medical necessity, personal preference or something in between, you need not as for either permission or forgiveness. Your body, your choices.
Deciding what to eat on a gluten free diet can become complicated, though, pretty quickly. There's no shortage of opinions on what is "safe" to eat and what isn't.
Whether oats are gluten free or not can be a subject of great debate. Whenever I post about a recipe containing gluten free oats on Facebook, that debate always threatens to take over. I usually shut it down, as the point is the recipe—not the differing opinions.
But today, we're talking about oats. And accepted conventional wisdom in the United States, where I live, shop, cook, bake and raise my family, is that oats are gluten free.
As I stated in my basic rules of the gluten free diet:
Oats are not a gluten-containing grain. However, they are typically grown on shared fields with wheat and other gluten-containing grains, and stored and processed in shared facilities with gluten-containing grains. Oats that are grown on dedicated fields and stored in dedicated gluten-free silos will be labeled "Certified Gluten Free" in the United States. Some celiacs are also sensitive to oats, but they are not a gluten-containing grain when in their pure form.
Gluten Free Living magazine, long a leader in this arena and the reason we all know that distilled vinegar that doesn't have gluten as an added ingredient is, in fact, gluten free, agrees.
Are Quaker Oats gluten free? How about Cheerios?
In the U.S., Quaker Oats introduced a product line that it labels gluten free, including gluten free instant oatmeal in 2015. General Mills began labeling all of its boxes of plain Cheerios in the U.S. "gluten free."
For my gluten free family, we will only buy and eat oats that are grown in a dedicated gluten free field and processed and stored in gluten free facilities. Neither Quaker Oats products nor General Mills Cheerios fit those criteria, so I won't purchase them.
Quaker states that it has a process for mechanically removing traces of gluten from its oats in processing. General Mills has stated that it uses its own mechanical process.
Both products do, however, meet the U.S. Food and Drug Administration's definition of "gluten free" as they are tested to less than 20 parts per million of gluten. That's just not enough for my family, but it's a very personal choice.
Gluten free Recipes Using Oats
With this in mind, I will continue to post recipes using certified gluten free oats. If you live in Australia, it seems that there is no such thing as certified gluten free oats. That's such a shame!
Whenever possible, I provide information on how to substitute something else for oats in my recipes that call for them. Unfortunately, that usually just isn't possible.
ETA: Hold on! I've finally cracked the code to appropriate substitutes for oats in gluten free baking! Different types of oat-based recipes call for different substitutes, but I explain it all (plus an explanation of why in each instance). So every recipe I referenced below, with the proper substitution, can be made oat-free. Rejoice! ?
You may find that there are those who insist that oats are not gluten free because they have celiac disease and cannot tolerate oats. But that's just their personal experience, and it's often a secondary food intolerance.
Here are a few of my favorite recipes using gluten free oats. Are oats gluten free? These certainly are! And my family loves them all. Granola bars, energy bites, oatmeal cookies, no-flour muffins, all packed with whole grains. I hope you can enjoy them all!
This simple recipe for thick and chewy gluten free oatmeal cookies is crispy around the edges, soft and chewy the rest of the way through. In other words, perfect.
This chewy homemade granola bar recipe is endlessly customizable with different mix-ins and nuts. Perfect for school (or work) lunchboxes!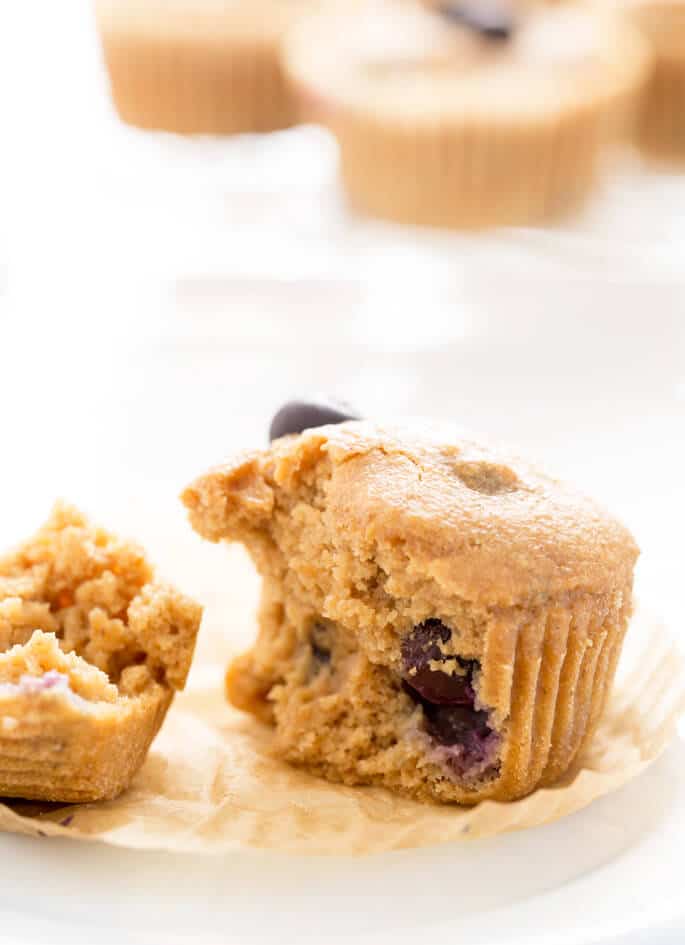 Healthy blueberry muffins, made with applesauce, yogurt, oats and big, beautiful fresh blueberries (or frozen!) and no added fat or refined sugars. All of the taste and texture, none of the guilt!
My favorite maple almond gluten free granola recipe, made with plenty of good olive oil, raw almonds, pumpkin and hemp seeds, coconut, maple syrup and oats. Make it your own, with your favorite nuts and seeds.
Gluten free overnight oats are made with just rolled oats, some seeds and any sort of milk, and take less than 5 minutes of prep time. A fast, nutritious and filling breakfast, with endless flavor variations!
No bake fudge cookies are the classic no bake cookie you remember, made with or without peanut butter—even with or without oats. Naturally gluten free either way!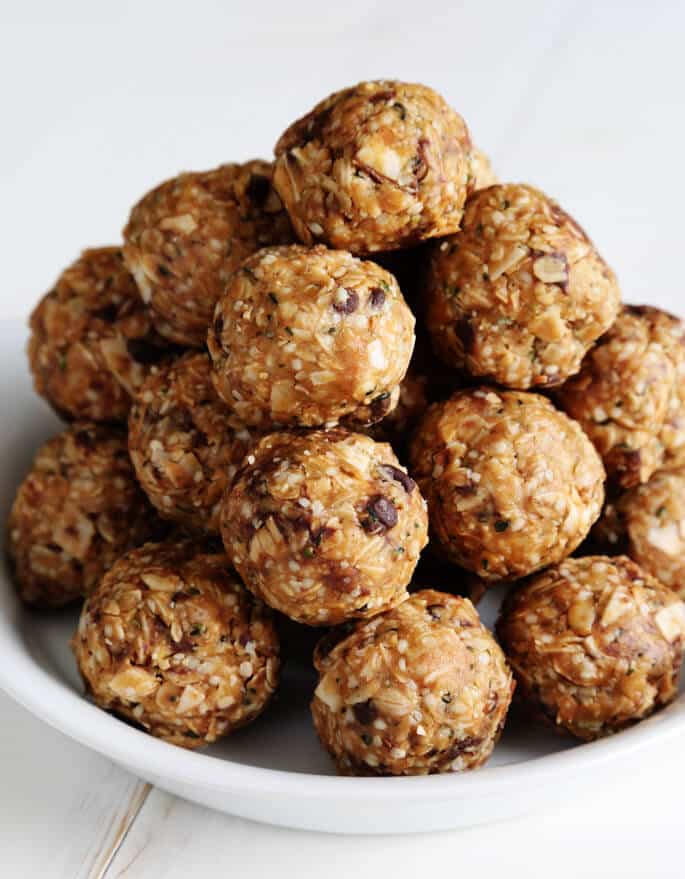 These no bake gluten free energy bites are delicious, satisfying and so easy to make. They cost about 20¢ each to make—and might cost you about $1.79 each to buy (no joke).
Super healthy banana oatmeal muffins are naturally gluten free and so simple to make!
These healthy oatmeal muffins have very little added sugar and plenty of whole grains. Naturally gluten free, and kid approved!
These homemade protein bars are no bake, endlessly customizable energy bars. Just like Luna and Power bars, and made with your favorite protein powder. I'm working on an oat-free version of these, and it's right there, just beyond my reach! I won't stop until I hit it, though, so stay tuned!