Have you ever wondered, are oats gluten free? The short answer is "yes." But you might be surprised how many thoughts and feelings people have on the subject.
Are oats safe to eat on gluten free diets?
Whatever the reason you want to avoid gluten, I'm here for you. Whether it's medical necessity due to celiac disease or a wheat allergy, personal preference, or something in between, you need not ask for either permission or forgiveness. Your body, your choices.
Deciding what to eat on a gluten free diet can become complicated, though, pretty quickly. There's no shortage of opinions on what is "safe" to eat and what isn't.
Oats and gluten — the great debate
Whether oats are gluten free or not can be a subject of great debate. Whenever I post about a recipe containing gf oats on Facebook, that debate always threatens to take over. I usually shut it down, as the point is the recipe — not the differing opinions.
Oats: gluten free or not?
But today, we're talking about oats. And accepted conventional wisdom in the United States, where I live, shop, cook, bake, and raise my family, is that oats are gluten free.
As I stated in my basic rules of the gluten free diet:
Oats are not a gluten-containing grain. However, they are typically grown on shared fields with wheat and other gluten-containing grains, and stored and processed in shared facilities with gluten-containing grains. Oats that are grown on dedicated fields and stored in dedicated gluten-free silos will be labeled "Certified Gluten Free" in the United States. Some celiacs are also sensitive to oats, but they are not a gluten-containing grain when in their pure form.
Gluten Free Living magazine, long a leader in this arena and the reason we all know that distilled vinegar that doesn't have gluten as an added ingredient is, in fact, gluten free, agrees.
Do oats have gluten?
As I say, in their pure form, free of contamination, pure oats are gluten free and safe for those with celiac disease and gluten sensitivity. Unfortunately, it's not always easy to come across oats that haven't been contaminated somewhere along the manufacturing process.
Creating gluten free oats
In the United States, oats cannot contain gluten in a ration of more than 20 parts per million to be considered gluten free. To put this another away, there cannot be more than 20 fragments of gluten for every 1 million fragments of oats. Put it this way, it seems undeniable: oats are contaminated with gluten.
However, this may actually seem like an incredible standard —20 parts per million sounds like nothing! Unfortunately, if you suffer from celiac disease, that can be 1 part too many.
So how is it that you see gluten free oats online and in stores? There are tons of products labeled gluten free. There are two methods manufacturers can use to qualify for this type of labeling — one, if followed perfectly, will result in 100% gluten free oats. The other produces oats that may be gf only in labeling.
Purity Protocol
The Purity Protocol consists of many steps during the manufacturing process that must be followed to produce oats that are truly free of gluten. Because these oats don't come into contact with wheat during the manufacturing process, from growing and harvesting to storage and processing, they are the most likely to be truly gf and safe for people with celiac disease.
Mechanical separation
Mechanical separation is a process where manufacturers use machines to physically remove gluten grains from harvested and processed oats. Does that sound like it leaves a lot of room for error? I agree.
If a company commits to using mechanical sorting, that means it isn't required to grow its oats in fields where only oats are grown or store the finished product in an environment that's free of other gluten containing ingredients and products. The risk of cross-contact and gluten contamination is huge — and there are have been studies and scientific evidence that confirm this to be the case.
So, to go back to the original question: Is there gluten in oats? The answer is once again, "technically", and now you see why.
What oats are gluten free?
When you peruse grocery aisles, you'll notice that there are many varieties of oats. Is it possible that one type is less likely to have gluten than another?
Are whole grain oats gluten free?
Whole grain oats undergo minimal processing. They aren't chopped, ground, or otherwise refined, so you might think they have a better chance of being gluten free oats. Unfortunately, if they are processed on the same equipment as wheat products, they're contaminated and may contain gluten.
Do steel cut oats have gluten?
Steel cut oats are a type of whole grain oat because all the oat is still intact, it's just been chopped for a chewy texture. And again, if it's been grown in wheat fields or processed in facilities that process wheat, there's a chance for cross contamination.
Are rolled oats gluten free?
Rolled oats have been processed to remove the husk. They're also steamed and flattened so that they're softer and faster to cook. And unless they're produced using the Purity Protocol, there's a chance they've seen cross contact with gluten.
Are quick oats gluten free?
Quick oats are similar to rolled oats in that they're processed. The difference is that quick oats undergo even more chopping, steaming, and flattening so that they cook very quickly. Because of all this extra handling, if they're processed in a shared facility or on shared equipment with gluten-containing products, they may be cross contaminated with gluten—unless a manufacturer follows the Purity Protocol.
Are organic oats gluten free?
To be considered organic, oats must be grown without the use of chemical fertilizers or pesticides. Being organic has nothing to do with be gf; it's not a requirement that these oats be grown on dedicated fields or be processed using dedicated equipment.
What oatmeal is gluten free?
Now that you see that any type of oat can suffer from cross contact with wheat, you might wonder if truly gluten free oatmeal is even a possibility. Again, it all comes down to how the product is grown and processed.
Are Quaker Oats gluten free?
In the U.S., Quaker Oats introduced a product line that it labels gf, including gluten free instant oatmeal in 2015.
Why are Quaker Oats not gluten free?
I know what you're thinking: I just said that Quaker has a gluten free product, so is Quaker oatmeal gluten free or not?
Here's the thing: For my gf family, we will only buy and eat oats that are grown in a dedicated gluten free field and processed and stored in gluten free facilities. Quaker Oats products don't fit those criteria, so I won't purchase them.
Quaker states that it has a process for mechanically removing traces of gluten from its oats in processing. But as we discussed above, mechanical separation isn't enough for me and my family.
Is Bob's Red Mill gluten free?
Bob's Red Mill says it sources its oats from farms that are committed to avoiding cross contact with wheat. This means some of its raw product comes from facilities that practice the Purity Protocol, but not all of it.
Like Quaker, Bob's Red Mill also uses mechanical separation to remove gluten from oats. Its goal is less than 19 parts per million. That means it can't be Certified Gluten Free, which requires 10 parts per million or less.
If you're buying Bob's Red Mill oat products, make sure you're buying the products that say "certified gluten free" on the label.
What cereals are gluten free?
How about other types of gluten free products? Are gf cereals safe?
Are Cheerios gluten free?
General Mills began labeling all of its boxes of plain Cheerios in the United States "gluten free." However, like Quaker Oats, General Mills doesn't grow on dedicated fields or store its products in warehouses that are free of gluten.
General Mills has stated that it uses its own mechanical process for removing gluten, but that's not enough for me.
Both Quaker Oats and Cheerios, however, meet the U.S. Food and Drug Administration's definition of "gluten free" as they are tested to less than 20 parts per million of gluten. That's just not enough for my family, but it's a very personal choice.
Are Lucky Charms gluten free? Are Chex gluten free?
As these cereals are produced by General Mills, they are considered gf, but they aren't produced using the Purity Protocol. Whether they're safe enough for your gluten free diet is a decision you'll need to make.
Is oat flour gluten free?
Let me know if you've heard this before: If oats are manufactured using the Purity Protocol, they're as close to gluten free as possible because they should not come into contact with any gluten containing products.
That being said, those oat flours produced in this way or that otherwise have a Certified Gluten Free label are safe for people with celiac disease.
Is oat flour gluten free?
Let me know if you've heard this before: If oats are manufactured using the Purity Protocol, they're as close to gluten free as possible because they should not come into contact with any gluten containing products.
That being said, those oat flours produced in this way or that otherwise have a Certified Gluten Free label are safe for people with celiac disease. If you have purity protocol old fashioned gluten free rolled oats, you can always grind them into quick oats and oat flour yourself.
FAQs
Is oatmeal naturally gluten free?
Does oatmeal have gluten? It's not always a straightforward answer. As the main ingredient in oatmeal (and sometimes only one, depending on the brand and variety you buy), oats are gluten free in their pure form.
Unfortunately, pure oats (uncontaminated oats) can sometimes be hard to come by because they're subject to being cross contaminated with gluten somewhere during the manufacturing process. This can happen during growth, if they share fields with wheat, or during manufacturing or storage.
Are oats safe for a gluten free diet?
They absolutely can be, but you'll need to make a personal decision as to what's good enough for you and your family. If you have celiac disease, or you're serving people with celiac disease, specifically labeled Certified GF is the best way to go.
However, if you have a non celiac gluten sensitivity, products that are labeled gluten free (meaning they contain less than 20 parts per million of gluten) may be just fine. Only you can determine your level of tolerable risk.
Gluten free Recipes Using Oats
With this in mind, I will continue to post recipes using certified gluten free oats. If you live in Australia, it seems that there is no such thing as certified gluten free oats. That's such a shame!
Whenever possible, I provide information on how to substitute something else for oats in my recipes that call for them. Unfortunately, that usually just isn't possible.
ETA: Hold on! I've finally cracked the code to appropriate substitutes for oats in gluten free baking! Different types of oat-based recipes call for different substitutes, but I explain it all (plus an explanation of why in each instance). So every recipe I referenced below, with the proper substitution, can be made oat-free. Rejoice! ?
You may find that there are those who insist that oats are not gluten free because they have celiac disease and cannot tolerate oats. But that's just their personal experience, and it's often a secondary food intolerance.
Here are a few of my favorite recipes using gluten free oats. Are oats gluten free? These certainly are! And my family loves them all. Granola bars, energy bites, oatmeal cookies, no-flour muffins, all packed with whole grains. I hope you can enjoy them all!
This simple recipe for thick and chewy gluten free oatmeal cookies is crispy around the edges, soft and chewy the rest of the way through. In other words, perfect.
This chewy homemade granola bar recipe is endlessly customizable with different mix-ins and nuts. Perfect for school (or work) lunchboxes!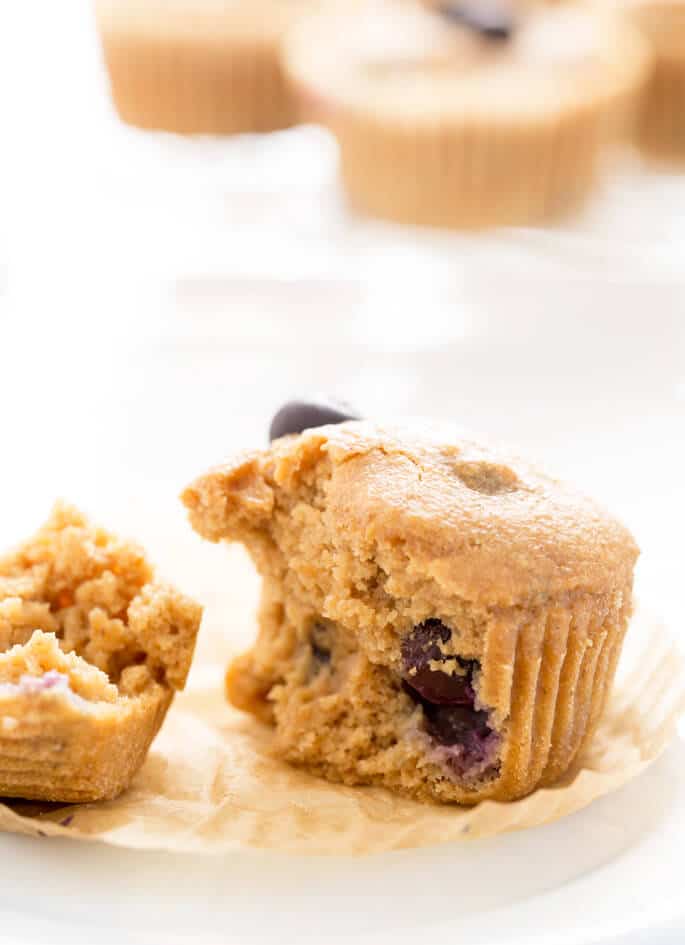 Healthy blueberry muffins, made with applesauce, yogurt, oats and big, beautiful fresh blueberries (or frozen!) and no added fat or refined sugars. All of the taste and texture, none of the guilt!
My favorite maple almond gluten free granola recipe, made with plenty of good olive oil, raw almonds, pumpkin and hemp seeds, coconut, maple syrup and oats. Make it your own, with your favorite nuts and seeds.
Gluten free overnight oats are made with just rolled oats, some seeds and any sort of milk, and take less than 5 minutes of prep time. A fast, nutritious and filling breakfast, with endless flavor variations!
No bake fudge cookies are the classic no bake cookie you remember, made with or without peanut butter—even with or without oats. Naturally gluten free either way!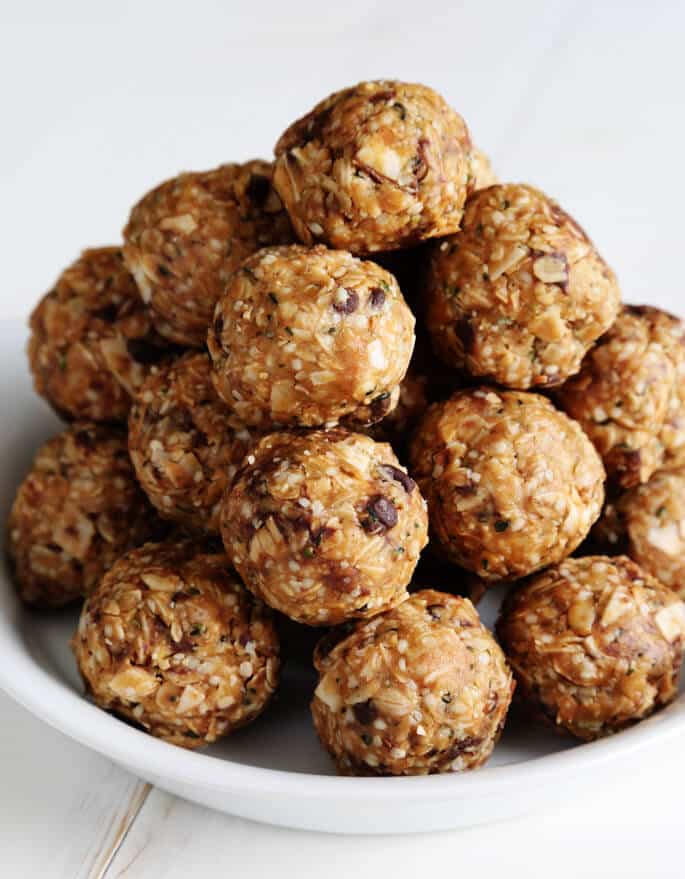 These no bake gluten free energy bites are delicious, satisfying and so easy to make. They cost about 20¢ each to make—and might cost you about $1.79 each to buy (no joke).
Super healthy banana oatmeal muffins are naturally gluten free and so simple to make. They freeze really well, too, so make a double batch!

These healthy oatmeal muffins have very little added sugar and plenty of whole grains. Naturally gluten free, and kid approved!
These homemade protein bars are no bake, endlessly customizable energy bars. Just like Luna and Power bars, and made with your favorite protein powder. I'm working on an oat-free version of these, and it's right there, just beyond my reach! I won't stop until I hit it, though, so stay tuned!