This gluten free blueberry muffin bread is a tender and rich quick bread made with sour cream, packed with fresh blueberries. Crumble topping (sort of) optional.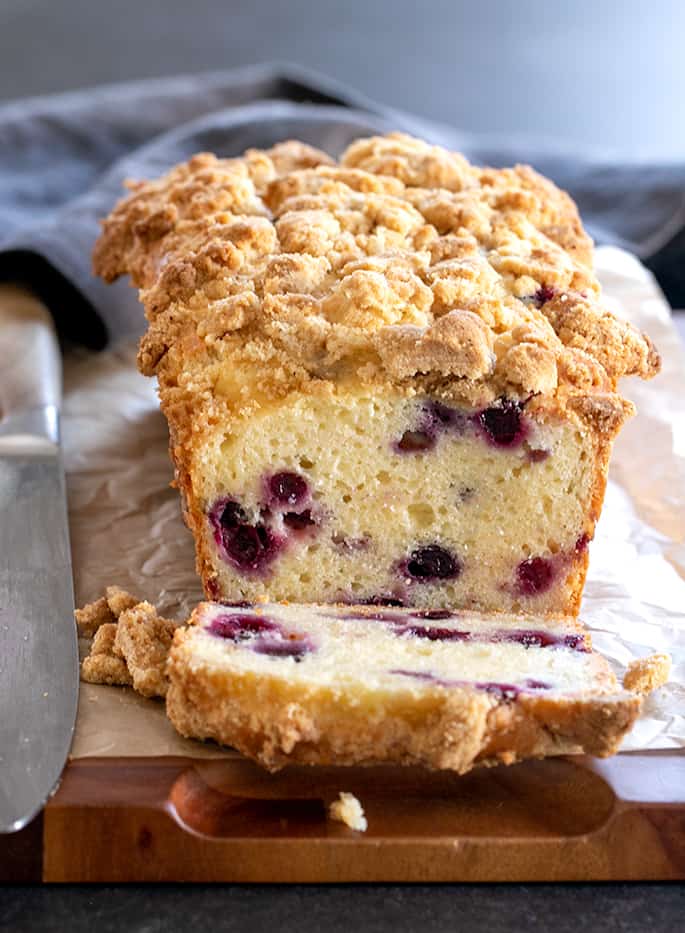 From banana bread and cinnamon swirl bread to chocolate chip yogurt bread, I love a solid quick bread recipe. Quick breads are to muffins what bars are to drop cookies. They're delicious baking shortcuts.
Rather than standing around waiting to take one batch out of the oven and bake the next, a quick bread goes in the oven for about an hour. The baking time is 2 to 3 times as long, but the active time is considerably less. You do need a properly balanced recipe, though, as with any good baking project.
How to make this blueberry muffin bread
Not all muffin recipes are appropriate to make into a quick bread (and not all quick bread recipes can be made successfully into muffins). So even though there's a lovely recipe for bakery-style gluten free blueberry muffins here on the blog (and even a recipe for blueberry swirl muffins), I wouldn't recommend baking that same batter in a loaf pan.
Since a muffin recipe is made in the individual wells of a muffin tin, the batter itself can be (and often is) softer and wetter than quick bread batter. Expect quick bread batter not to be at all pourable. This batter, in particular, is actually quite thick. The blueberries in the batter add moisture during baking, and the batter has to be able to absorb that moisture.
First, the dry ingredients (flour, xanthan gum, cornstarch, baking powder, and salt) are whisked together separately. Then, the butter, sugar, eggs, and vanilla are beaten well in a separate large bowl. Half of the dry ingredients are beaten into the butter mixture, then the sour cream, then most of the remaining dry ingredients.
All you need to reserve is about 1 tablespoon of the dry ingredients, and then toss the blueberries in it. Using a spatula, gently fold the berries and reserved dry ingredients into the thick batter just until the berries are evenly distributed throughout the batter.
Don't use a glass loaf pan or a dark colored pan, either. Both get super hot and bake the outside of the loaf way too fast. By the time the inside is baked properly, the outside has burned.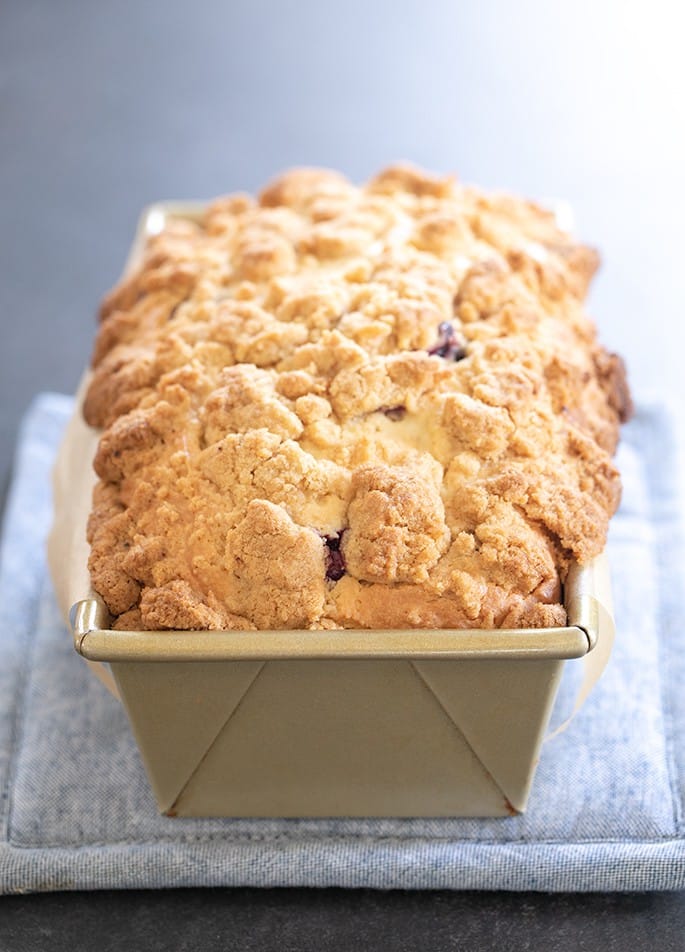 Fresh or frozen blueberries for baking
In every recipe of mine that calls for fresh blueberries, you can use frozen blueberries as well. The only real difference in baking with fresh blueberries as opposed to frozen is that frozen blueberries will bleed their blue color into the rest of the batter and fresh blueberries will not.
Whenever I'm developing a blueberry baking recipe, I always begin testing the recipe with frozen blueberries. Even during peak summer blueberry season, fresh blueberries are more expensive than frozen. And I know from experience that they behave largely the same in baking.
When I first baked a successful loaf of this blueberry muffin bread, it was with frozen blueberries and the raw batter was bright blue. But by the time the loaf was finished baking, the blue color had mostly given way to more of a gray tinge. It's not nearly as beautiful as a loaf made with fresh berries that don't bleed like the frozen ones, but it tastes exactly the same.
Frozen berries will also burst more readily during preparation, no matter how careful you are in folding them into the batter. Keep them in the freezer until right before you add them to the batter, though, and they're more likely to hold their shape. Some of the fresh berries will end up in pieces, too. No worries.
That crumble topping, though…
Since this blueberry muffin bread is baked in a low (325°F) oven, the crumble topping gets lightly golden brown with no more than a few darker brown spots around the edges. Some of the pieces will fall off a bit when you slice through the topping to get to the tender loaf beneath.
Clearly, the loaf makes even more of a beautiful presentation with the crumble topping. Plus, the lightly crisp topping balances the tender texture of the quick bread perfectly. If you're planning to serve this loaf soon after making it, I urge you to add the crumble.
But if you plan to make this loaf, slice it and freeze the slices to defrost for an easy to defrost make ahead gluten free breakfast, you might want to skip the topping. Not only does it add extra sugar, but at least if my kids were to eat a slice in the car or on the bus, I shudder to think of the mess they'd make!
Ingredients and substitutions
Dairy-free: To make the bread recipe dairy-free, you need to replace the butter and the sour cream. In place of the butter, you can try Earth Balance buttery sticks. They have more moisture than butter, though, and more salt.
If you use Earth Balance in place of butter, reduce the salt in the recipe by half and expect to bake the loaf for a bit longer. To avoid the issue, try replacing the butter with half (42 g) Earth Balance and half (42 g) Spectrum nonhydrogenated vegetable shortening.
In place of sour cream, you can try using a vegan sour cream or straining a plain vegan yogurt to make it the consistency of sour cream. I'm afraid I've never found a vegan sour cream that I really love, though.
For the butter in the crumble topping, I'd recommend using Spectrum nonhydrogenated vegetable shortening, ideally the butter flavor.
Egg-free: For the two eggs in this recipe, try replacing each with a "chia egg" (1 tablespoon ground white chia seeds + 1 tablespoon lukewarm water, mixed and allowed to gel). You'll need something that provides structure, though, so applesauce will not work.
Corn-free: To replace the cornstarch in this recipe, try arrowroot or potato starch. Either should work just fine. You do need something to lighten the flour blend, though. If you're using a high-starch blend like Cup4Cup (or my mock Cup4Cup), replace the 54 grams of cornstarch with more Cup4Cup blend. Easy peasy.