If you're looking to treat someone, try making a gluten free chocolate lava cake for maximum impact with minimum effort!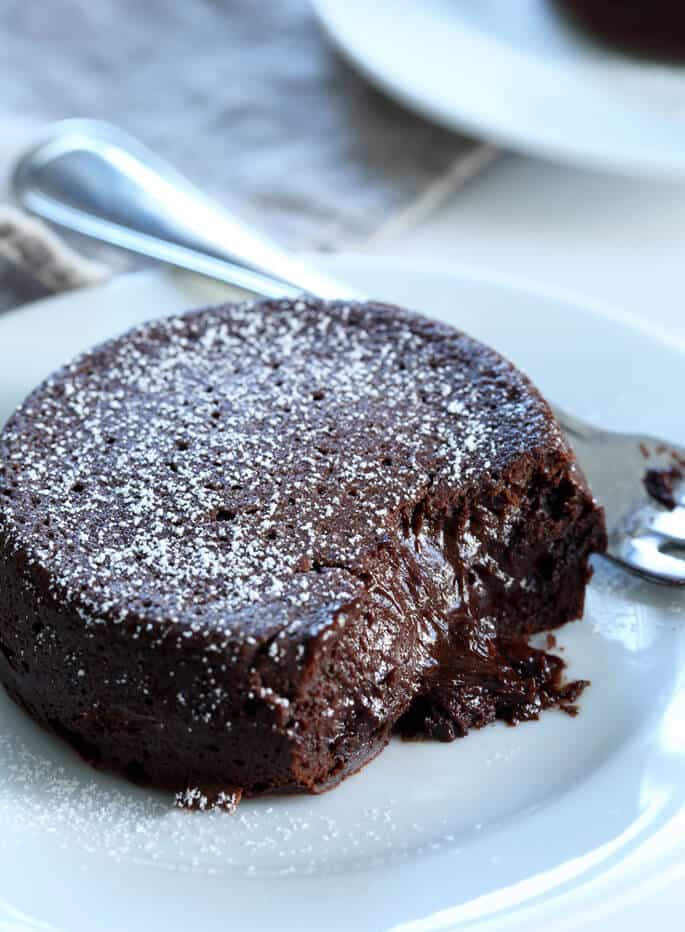 Chocolate lava cakes are one of those miracles of baking, like magic custard pies and petit fours. Recipes like this prove that simple pantry ingredients can be combined in just the right way to make something really special.
You may have assumed that these restaurant-style cakes are something that you simply couldn't make at home easily. Being wrong has never tasted so good—or looked so impressive!
Baking in a simple water bath
If you're dead set against baking them in a water bath (called a bain–marie), you don't really have to. Just know that your lava may not be very, well, lava-like.
The water bath is what all but assures that the cakes will bake slowly and gently enough that the top will be set and the very center smooth and soft. It also makes baking times much more forgiving.
You'll invert the cakes onto a plate or serving platter. When you do that, the tops should be set enough that the cakes can actually be moved around a bit, and even transferred from one plate to another.
If you'd prefer a full-sized cake, there are so many recipes here on the blog for just that. In fact, there are 9 others that I can confidently call the best gluten free chocolate cakes.
The recipe calls for baking the batter in individual 4-ounce ramekins, which are really quite small. The cakes are super rich, though, and a 4-ounce serving is generally enough to satisfy even the most dedicated chocolate-lover.
If you don't have that size baking dish, fill whatever size heat-safe dish you have 3/4 of the way with batter, bake in a water bath, and serve with multiple spoons. It'll be romantic and stuff.
Gluten Free Chocolate Lava Cakes
Ingredients
4 tablespoons unsalted butter (plus more for greasing)
5 ounces dark or semi-sweet chocolate, chopped
2 eggs (100 g, weighed out of shell) + 2 egg yolks (50 g)
1/4 cup (50 g) granulated sugar
1/2 teaspoon pure vanilla extract
3 tablespoons (26 g) all purpose gluten free flour blend (truly almost any finely ground flour blend will do, with or without xanthan gum)
1 tablespoon (5 g) unsweetened Dutch-processed cocoa powder
1/8 teaspoon kosher salt
Confectioners' sugar, for dusting (optional)
Instructions
Preheat your oven to 425°F. Grease very well the entire insides of 4 4-ounce oven-safe ramekins, and set them in a casserole dish with at least 2 inch high sides, and set aside.

Melt the chocolate and 4 tablespoons butter together in a double boiler or a microwave-safe bowl (melt at 70% power in 30 second intervals, stirring in between, until melted and smooth), stirring frequently until just melted. Set the chocolate mixture aside.

In a large bowl, place the eggs, egg yolks and sugar and vanilla, and whisk to combine. The mixture will be very yellow in color and thin in consistency. Whisk vigorously (this can be done more easily with a mixer) until the mixture is very pale yellow in color and thickened in consistency. Drizzle the chocolate and butter mixture into the large bowl with the thickened egg mixture, whisking constantly until combined. Add the flour, cocoa powder and salt, and whisk to combine well. The mixture will be somewhat thick, but pourable and smooth. Pour the mixture carefully into the 4 prepared ramekins, filling each 3/4 of the way full.

Place the casserole dish with the filled ramekins on the bottom rack of the preheated oven, and carefully fill the casserole dish with cool tap water until the water reaches about halfway up the sides of the ramekins. Close the oven and bake until the tops of the cakes are set and are just beginning to pull away from the sides of the ramekins, about 15 minutes. If you used smaller ramekins, bake for a few minutes less; larger ramekins will take a few minutes more.

Remove the dish from the oven and lift the ramekins out of the casserole dish with tongs. The water bath will be boiling, so move carefully and deliberately. Place the ramekins on a wire rack to cool for about 10 minutes before turning each cake out onto a small plate, and dusting with confectioners' sugar. Serve immediately.

Prepare Ahead Instructions: These are super easy to prepare ahead of time. Simply follow the recipe through Step 3 above. Cover the casserole dish (or each of the ramekins individually) tightly with plastic wrap and refrigerate until almost ready to serve. Remove from the refrigerator, and proceed with the remaining recipe instructions.

Originally published on the blog in February 2013.