This simple recipe for thick and chewy gluten free oatmeal cookies is crispy around the edges, soft and chewy the rest of the way through. In other words, perfect.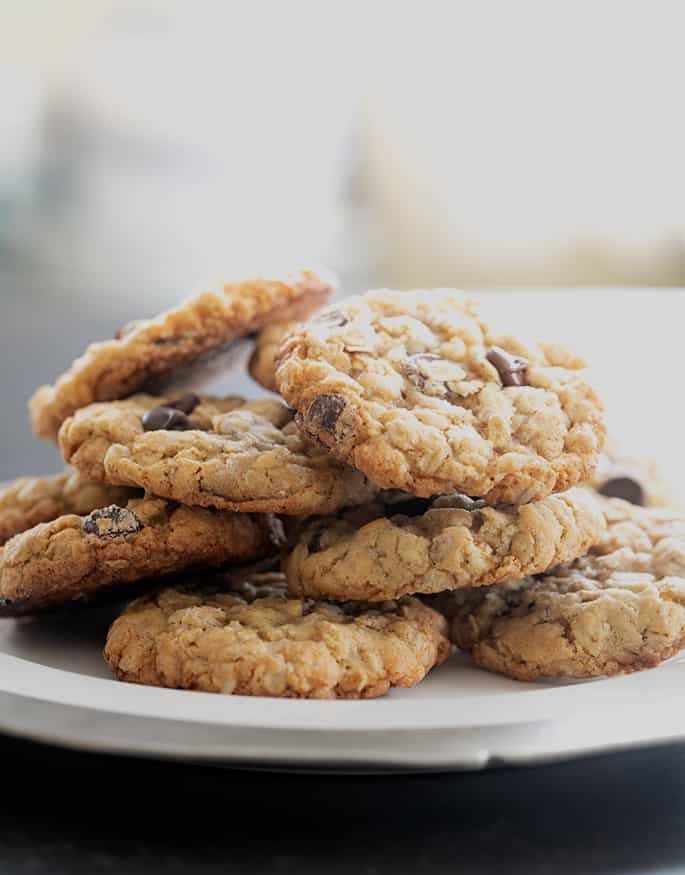 Yup, oatmeal cookies can be made gluten free!
Are you worried that oats aren't gluten free? Oats are not a gluten-containing grain. They are frequently contaminated with gluten, though, because of the way they are typically grown and stored.
In the United States, there are certified gluten free oats that are grown on dedicated fields, and processed to carefully avoid any contamination. I even buy certified gluten free oats at my local Trader Joe's for a great price.
It's worth sourcing the proper oats just to make this recipe for thick and chewy gluten free oatmeal cookies. It's been a family favorite of mine, in one form or another, for about 20 years (with gluten, at first!).
A very (very) thick cookie dough
You'll notice in the video that this cookie dough is very thick, and nearly seems like it won't come together. You might even be tempted to add some water, but resist the urge!
The balance of ingredients is perfect for making oatmeal cookies that are thick and have that delightful chew, and also have crisp, browned edges. The most effective way to integrate the ingredients fully into one another when making the cookie dough by hand is to alternate between mixing the dough and pressing down on the butter with the back of the spoon.
For the easiest way to make the dough, follow the instructions as written, whisking the dry ingredients as instructed. But use a stand mixer fitted with the paddle attachment everywhere the instructions direct you to "mix" rather than "whisk."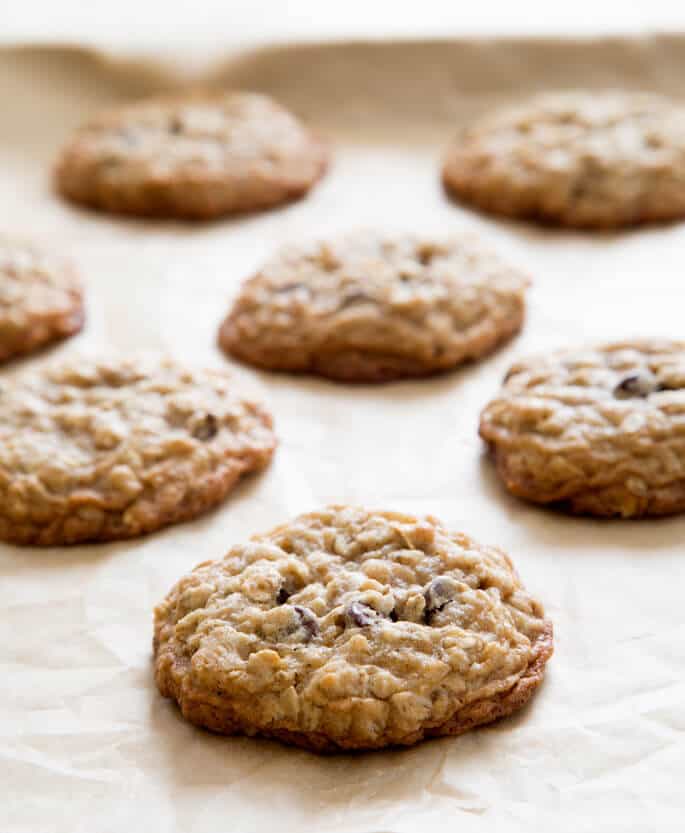 Chilling the dough
Although the cookie dough is so thick, I prefer to chill it before baking the cookies. That ensures the proper texture every time.
You can make it without chilling the dough, though. The cookies will simply spread a bit more, so they won't be quite as thick. But they'll still be delicious.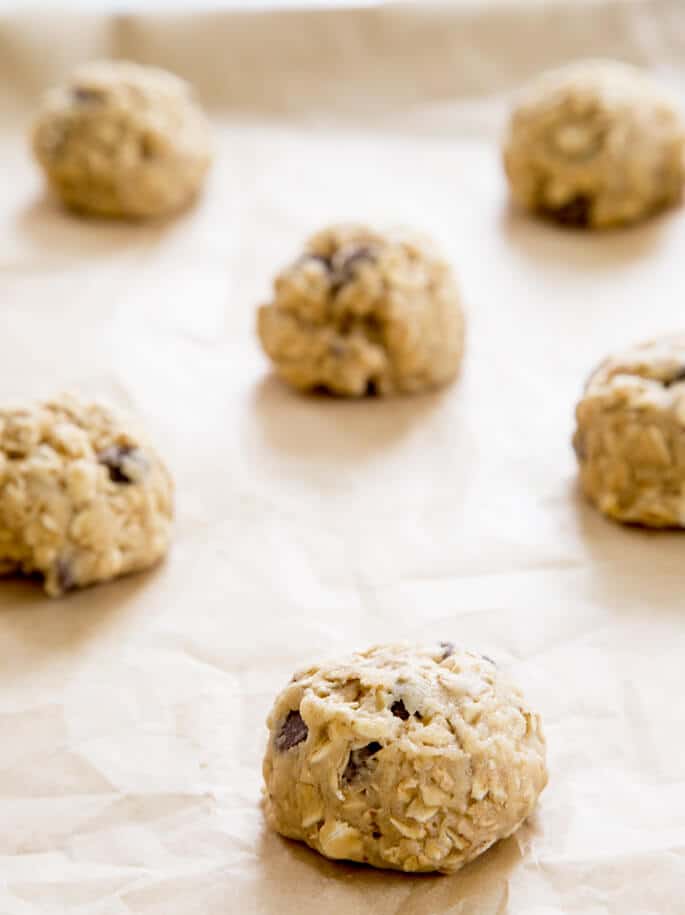 How to avoid over-baking these cookies
Just before the edges of these cookies turn brown in the oven, the tops will still be glossy and look wet. Even when the cookies are done, though, they won't be firm, particularly on top.
In fact, if you bake them until they're firm on top to the touch, they'll be overdone. If you're concerned about over-baking, reduce the oven temperature to 325°F and bake them for 15 minutes. You'll still get browning, but reduce the chance of baking out much of the chewiness of the cookies.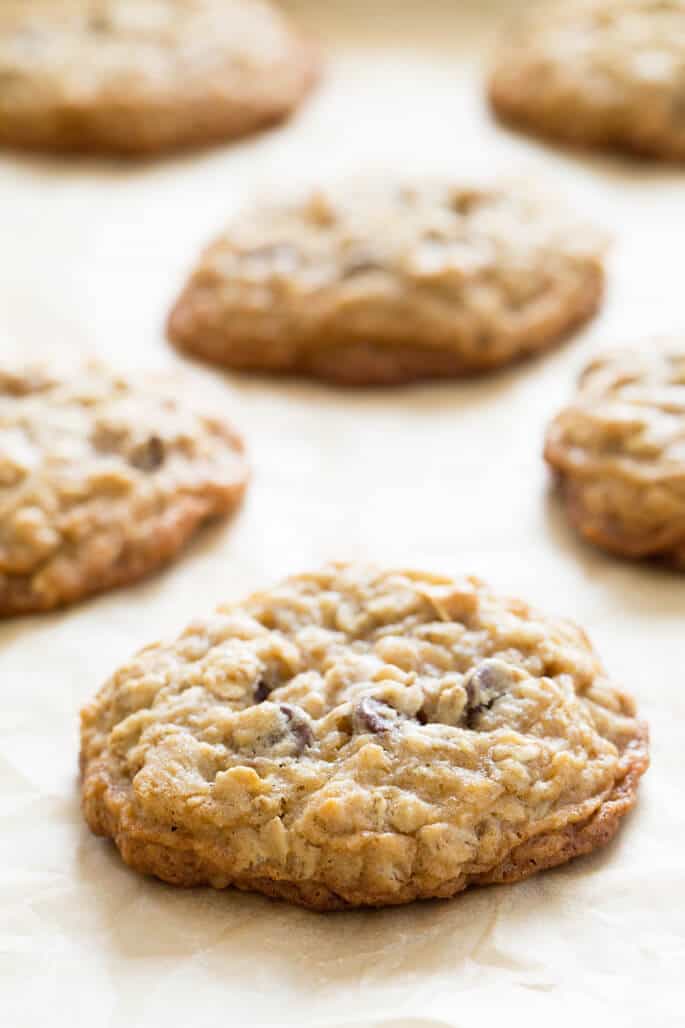 Ingredients and substitutions
Dairy: I've made this recipe with Melt brand vegan butter in place of butter, and it worked really well. The cookies didn't brown quite as nicely, and they spread a bit more, but overall the substitution worked great. Miyoko's Kitchen brand of vegan butter is also a great choice.
Eggs: In place of each of the two eggs in this recipe, you can try one "chia egg" (1 tablespoon ground white chia seeds + 1 tablespoon lukewarm water, mixed and allowed to gel). I haven't tried this substitution, though, so I'm afraid you'll have to experiment.
Oats: If you can't have oats, you can replace the old fashioned oats in this recipe with flattened (or beaten) rice. If you can't have oats, I recommend having a look at our full discussion about replacing oats in gluten free baking.
You'll even find a photo in that post of a batch of these very oatmeal cookies made with beaten rice. They look perfect, and although the texture isn't identical to oats, it's closer than I ever thought I'd get for oat-free oatmeal cookies!