These soft gluten free cutout sugar cookies with a meringue-type frosting are in a class by themselves. They'll hold any shape you like!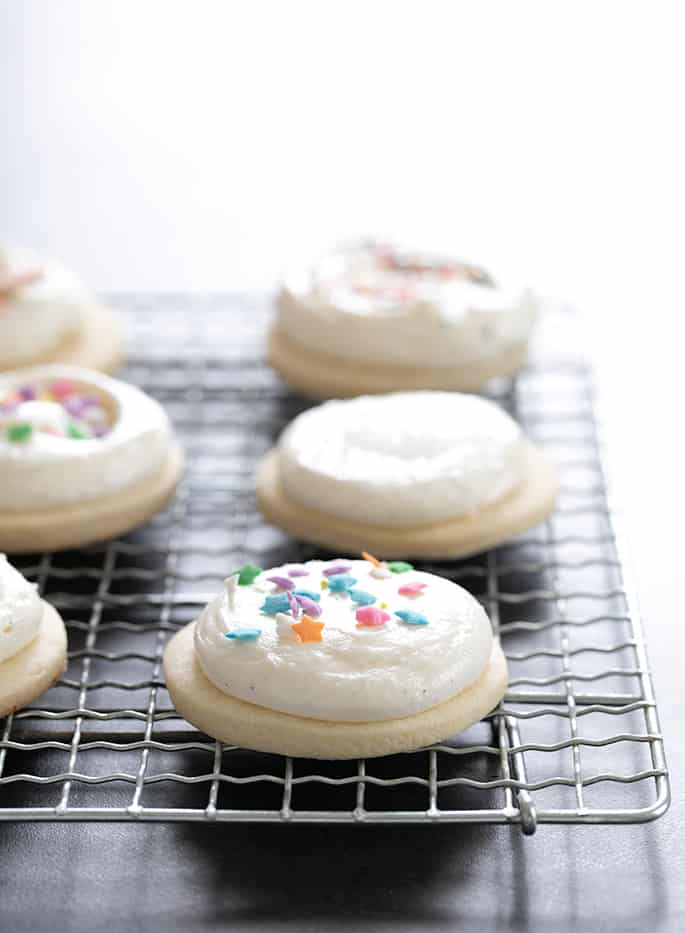 A cutout cookie with clean edges
Every holiday and every season needs its own cookie: St. Patrick's Day, Easter, Spring celebrations, Christmas, New Year's, Valentine's Day… Need I go on? We all need a cookie that can hold its shape, so we can use whatever cookie cutter we please.
These gluten free cutout sugar cookies are seriously so easy to make from scratch. The dough has very few ingredients so it comes together very quickly.
It's super simple to roll out, and stable enough that it's even simple to cut out shapes and transfer them to the baking sheet. There is nothing fragile about the dough, but once you bake the cookies they're tender and light as could be.
The cookie dough will have to be kneaded
This cookie dough can be made, rolled out, cut out and baked without any change in temperature (no chilling the cookie dough!) because the moisture balance is just right. You'll find that the dough resembles moist crumbs and clumps, and you might be tempted to add more moisture.
Please don't add anything extra—but do make sure you're measuring your ingredients by weight, not volume, since the right balance of ingredients is essential to this simple recipe. Once you reach a uniform mixture that resembles moist crumbs and clusters, knead the dough with clean hands to bring it together before rolling it out.
If you're planning to make a double recipe, you may want to use a stand mixer fitted with the paddle attachment instead of a bowl and spoon. A stand mixer will make quick work of bringing the dough together into a cohesive whole, ready to be rolled out.
Remember Lofthouse cookies?
Whenever I go into the grocery store, those bakery cookies catch my eye, the little vixens. They're in a plastic clamshell case, stacked in that half-overlap manner, thick (usually pink) frosting above a pillow-soft, light, and sweet cookie.
I might just be there for some bananas, lettuce and maybe an avocado, some spices and, say, some rice and beans. You know, exciting stuff. But those cookies are right there, right as you walk in.
I know what sort of foods are good for me and my family. I know those sugar cookies do not qualify as healthy. But there's just something about biting into that impossibly soft sugar cookie with the thick icing that says celebrate!
Sugar cookie buttercream frosting
This frosting recipe is super thick, and unlike what I would generally use to frost cupcakes. It's very stable because we add a touch of meringue powder to the mixture.
Like Lofthouse cookies, these gluten free cutout sugar cookies can travel. If you don't have meringue powder, you can leave it out, and the frosting will be softer.
How to use the frosting
In the how to video for the recipe, at precisely the 50-second mark you'll see me pipe the frosting onto 3 cookies and create 3 different designs. One is a classic cupcake-style swirl, which is easy enough using a medium-sized open piping tip.
The second and third frosting shapes begin with a simple mound of dough piped onto the cookie with the same medium-sized open piping tip. The second shape is the swoop, made with a moistened tea spoon that is inserted into the center of the frosting at an angle and then swirled lightly in a circle.
The third shape is the flattened top, which is made using a small moistened offset spatula or a simple wide butter knife. Simply use the spatula or knife to flatten the mound of frosting into a disk and smooth the top as evenly as possible.
Allow the frosting to set at room temperature until it becomes semi-hard. That will allow you to transport the cookies if needed. You can even layer them if you place a sheet of waxed or parchment paper gently between layers.
For a truly hard surface, use royal icing in place of frosting. Simply click the link in the previous sentence for a royal icing recipe with complete instructions. I used a #4 piping tip to outline and then "flood" the center, sprinkling decorations immediately before the icing has dried at all.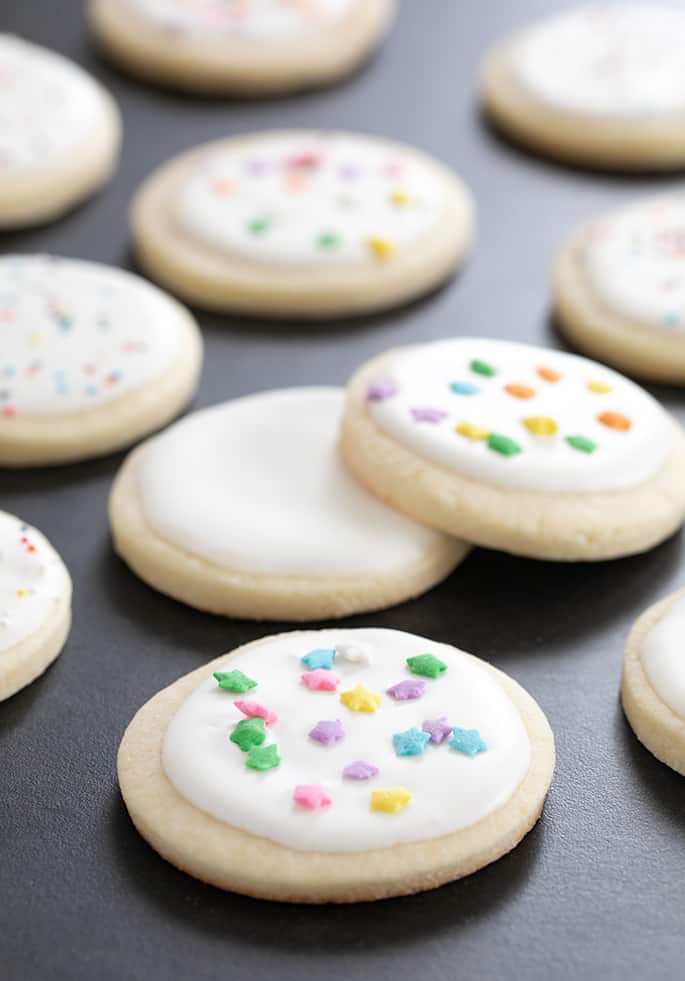 Can I color the frosting or icing?
You can, of course, add some food coloring to the frosting, or to the royal icing. I recommend gel coloring because liquid food coloring will alter the moisture balance and make the frosting soft and weepy. AmeriColor brand gel food colorings are reliably gluten free, and the colors are super vibrant.
I left out the coloring here because the anti-food-coloring people seem to expect more of a gluten free recipe than I think they would of a conventional recipe. If you want to speak out against food coloring, feel free to do so elsewhere on the Internet!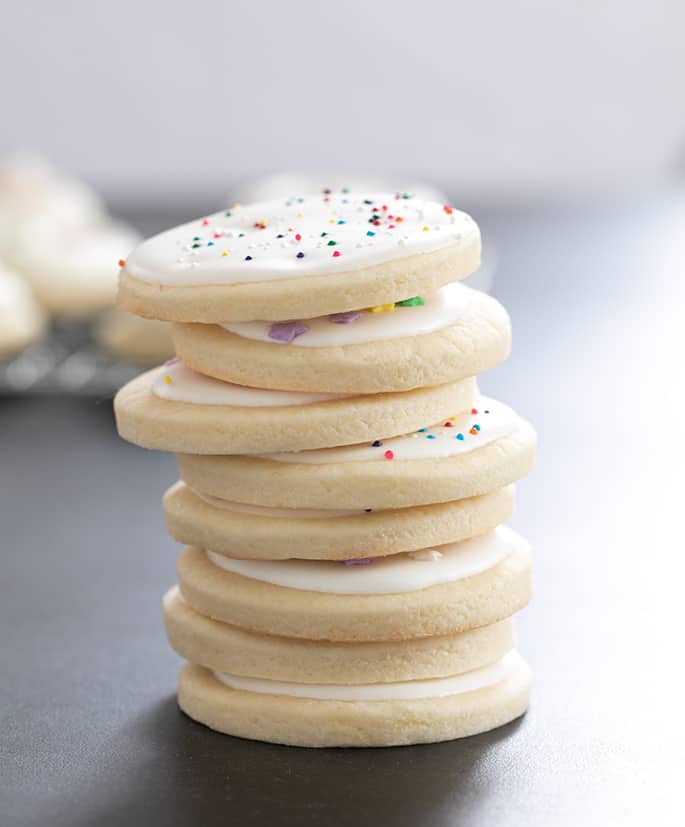 Ingredients and substitutions
Dairy-free: There is butter in both the cookie recipe and in the frosting recipe. I have successfully replaced the butter in the cookie dough with Melt brand vegan butter. The edges of the cookies aren't quite as blunt and clean as they are when you make the recipe exactly as written, but the recipe still turns out and tastes great.
The butter in the frosting recipe can be replaced most effectively with Spectrum brand butter-flavored nonhydrogenated vegetable shortening. It has quite a lot less moisture than butter, though, so you might not need as much confectioners' sugar to reach the proper consistency.
For the milk in the frosting, you can use any unsweetened nondairy milk. My favorite is unsweetened almond milk, but nearly any will do here.
Egg-free: There is only one egg in the cookie recipe, so you should be able to replace it with a "chia egg" (1 tablespoon ground white chia seeds + 1 tablespoon lukewarm water, mixed and allowed to gel).
In such pale cookies, you may see some flecks of chia in the cookies. Cover them with frosting and no one will even know!
Meringue powder: Meringue powder is made of egg white powder, sugar, a starch, and some stabilizers. You can try using egg white powder in its place, but it won't work exactly the same way.
If you can't have eggs, I'd just eliminate meringue powder as an ingredient altogether. The frosting will just be a bit softer. I don't know of any egg-free alternative to meringue powder for making royal icing.