Festive homemade gluten free Funfetti cupcakes with fluffy buttercream frosting are the perfect way to make anything a celebration. They're made in a small batch that can easily be doubled.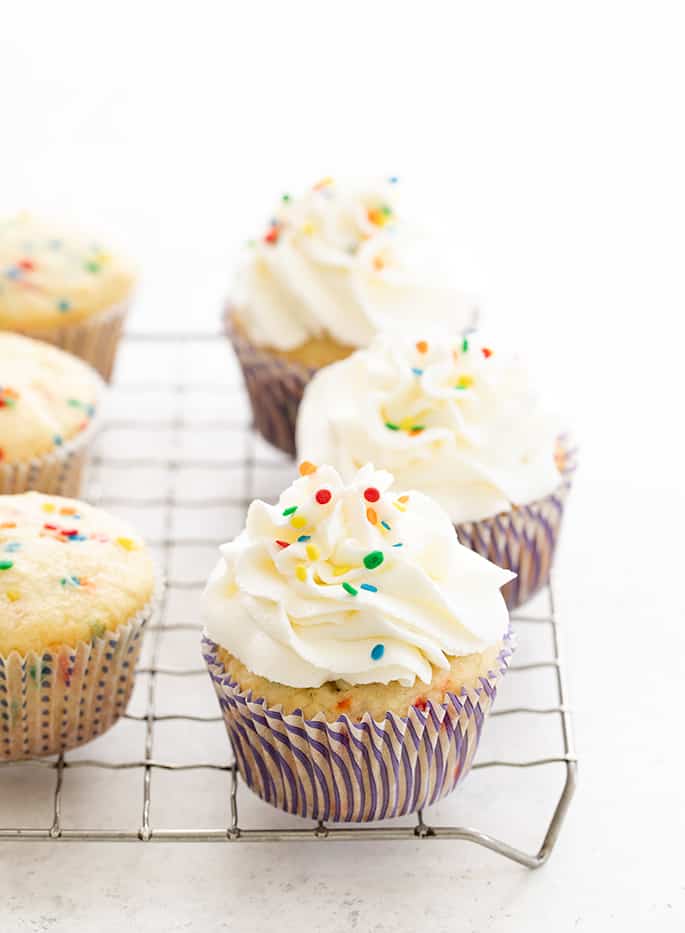 Gluten free cupcakes are one of my favorite ways to say "happy birthday," or even just, "hello." When my gluten free son was in grammar school, I learned quickly to maintain a steady supply of cupcakes in my gluten free freezer stash for those sudden school birthday party announcements.
The best part about a gluten free Funfetti cupcake is that, even without frosting, it's still festive. If you frost it with a simple buttercream and sprinkle on a few more edible confetti pieces, you are really ready for anything.
This recipe is for a small batch of cupcakes that is nearly identical to our perfect gluten free vanilla cupcakes. You can double the batch if you're baking for a crowd, but it's useful to have a small batch recipe that's easy to whip up whenever you need a little celebration.
These vanilla cupcakes are light and airy, with the most tender crumb. Just be sure your butter is at room temperature, but not so soft that it's greasy. Then, be sure to beat the butter and sugar until they're truly light and fluffy, and that your egg is at room temperature so everything combines fully.
For a whole gluten free Funfetti cake
If you'd like to bake a full cake, I don't recommend this recipe. I know that many cake recipes are supposed to make cupcakes or a cake, but I find that different recipes are really best, since the baking time and manner are really quite different for each.
For a full cake, try our gluten free birthday cake with chocolate sour cream frosting. You could also make that cake and mix and match that recipe's chocolate icing and frosting recipes with the vanilla buttercream frosting in this recipe.
Sourcing edible gluten free decorations
These aren't just regular sprinkles or nonpareils or jimmies or whatever you prefer to call them. They're edible confetti. They're also called edible sequins or even just quins.
The language is important because you will have to go searching for edible confetti that's reliably gluten free. I can't even provide you with a link to a shop that I'm sure will sell them, since conditions seem to change frequently. But once you do find a source and order a container of them, they'll last quite a while.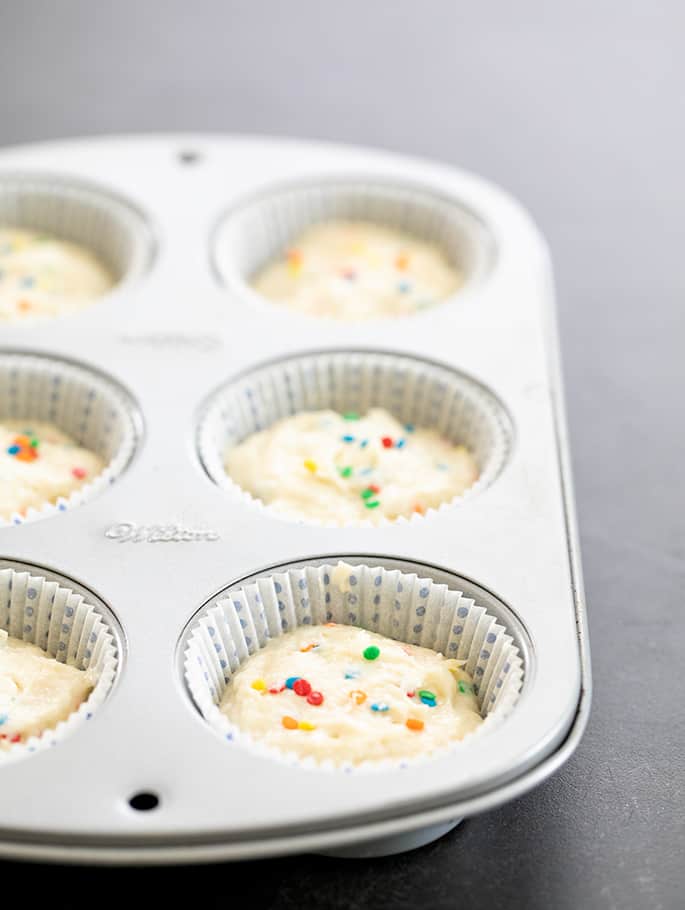 Online sources
Sweetapolita's Sprinkle Shop, a sprinkles shop run by a food blogger, has a large line of gluten free sprinkles and other edible cake additions. I've linked to them in the past, like for the edible confetti in our gluten free birthday cake, and the link expired. Just visit her shop at Sweetapolita.com and see if she has any in stock.
I used to buy Americolor brand edible confetti, which was safely gluten free, but they don't seem to make them any more. I've also found other gluten free varieties on Amazon, but the links are fickle.
Same goes for Etsy. I recommend searching for "edible gluten free confetti," "edible gluten free quins," or "edible gluten free sequins" on Etsy.com. You'll find them! And look for classic rainbow colors, which seem to be the most reliably vibrant even when baked.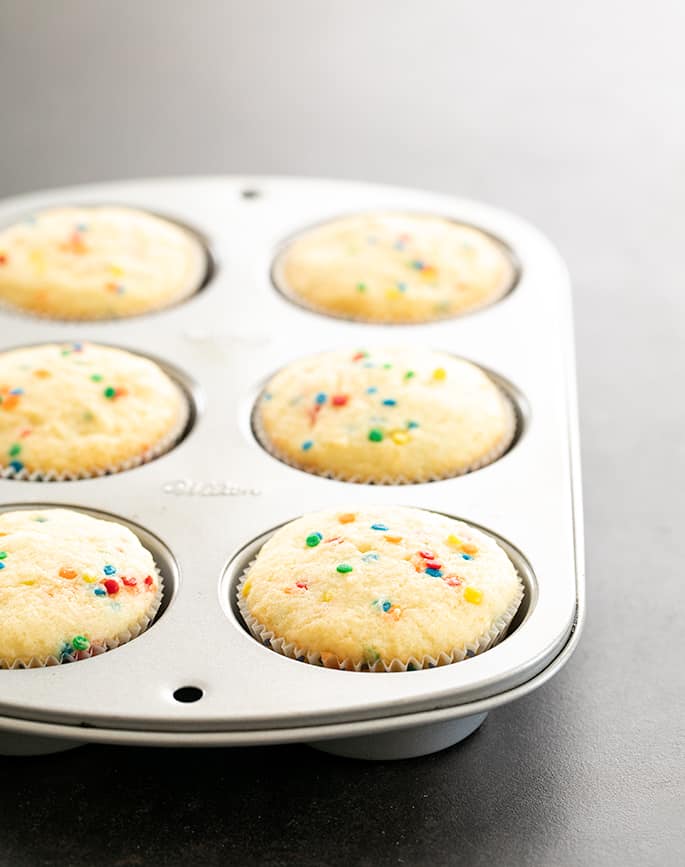 Ingredients and substitutions
Dairy
Both the cupcakes and the buttercream call for butter. To make them both dairy-free, try using butter-flavored nonhydrogenated vegetable shortening or vegan butter (Melt brand and Miyoko's Kitchen brand are great) in place of the butter.
In place of the buttermilk, use about half (2 1/2 tablespoons) plain nondairy yogurt and about half (2 1/2 tablespoons) nondairy milk. You can also use that combination using dairy ingredients if you don't have buttermilk on hand. In the buttercream frosting, any kind of milk works fine.
Corn
In place of cornstarch in the cupcakes, try using arrowroot or even potato starch. If you can't have corn, make sure your confectioners' sugar for the buttercream is corn-free, since cornstarch is often added to confectioners' sugar to prevent clumping.
We're just lightening up the flour blend by using cornstarch. If your blend is already relatively starchy, like Cup4Cup or our mock Cup4Cup, just use another tablespoon of that flour blend in place of the cornstarch.
Eggs
Since there is only one egg in this small batch of gluten free vanilla cupcakes, you can try replacing the egg with 1 "chia egg" (1 tablespoon ground white chia seeds + 1 tablespoon lukewarm water, mixed and allowed to gel). I really recommend against using a "flax egg," since the strong flax flavor will really shine through in a vanilla cupcake like this.
Homemade Gluten Free Funfetti Cupcakes
Ingredients
For the cupcakes
3/4 cup (105 g) all purpose gluten-free flour (I used Better Batter)
Scant 1/2 teaspoon xanthan gum (omit if your blend already contains it)
1 tablespoons (9 g) cornstarch
1/2 teaspoon baking powder
1/4 teaspoon baking soda
1/4 teaspoon kosher salt
4 tablespoons (56 g) unsalted butter, at room temperature
1/2 cup (100 g) granulated sugar
1 egg (50 g, weighed out of shell), at room temperature
1 teaspoon pure vanilla extract
1/3 cup buttermilk, at room temperature
1 1/2 tablespoons (15 g) gluten-free edible rainbow confetti sprinkles, plus more for topping the buttercream
For the vanilla buttercream frosting
8 tablespoons (112 g) unsalted butter, at room temperature
1 to 1 1/2 cups (115 to 175 g) confectioners' sugar
1/8 teaspoon kosher salt
1/4 teaspoon pure vanilla extract (clear vanilla extract if you want a perfectly white frosting)
Milk by the teaspoonful, at room temperature
Instructions
Preheat your oven to 350°F. Line 9 wells of a standard 12-cup muffin tin with cupcake liners or grease the wells, and set the tin aside. Depending upon the size of your muffin wells, you may only make 8 cupcakes.

In a small bowl, place the flour, xanthan gum, cornstarch, baking powder, baking soda, and salt, and whisk to combine well. Set the bowl aside. In the bowl of a stand mixer fitted with the paddle attachment or a large bowl with a hand mixer, beat the butter and sugar until light and fluffy. Add the egg and vanilla, and beat well. Add half of the flour mixture and beat just to combine. Add the buttermilk, and beat just to combine. Finally, add the remaining flour mixture, and beat until just combined. Add the edible confetti, and mix gently until the confetti pieces are evenly distributed throughout the batter.

Fill the prepared wells of the muffin tin about 2/3 of the way full with the batter. Shake the tin back and forth to help the batter settle into an even layer in each well. Place in the center of the preheated oven and bake until lightly golden brown and a tester comes out with no more than a few moist crumbs attached (about 19 minutes). Allow the cupcakes to cool for at least 5 minutes in the tin before transferring to a wire rack to cool completely.

To make the buttercream, place the butter in a large bowl with a hand mixer or the bowl of a stand mixer fitted with the paddle attachment, and beat on medium speed until creamy (about 30 seconds). Add 1 cup (115 g) of confectioners' sugar, the salt, vanilla, and 1 teaspoonful of milk, and beat on medium speed until well-combined (about 1 minute). Beat in more confectioners' sugar until the consistency is thick but not stiff. Turn up the mixer speed to high and beat for about 5 minutes or until light and fluffy. Transfer the frosting to a piping bag fitted with your favorite piping tip (in the photos here, I used a Wilton brand "2D" piping tip) to pipe the frosting on the cooled cupcakes, or use two spoons to scoop a generous amount onto each cupcake. Top with a few more pieces of edible confetti.

Originally published on the blog in 2013. All photos and video new. Cupcake recipe scaled down; buttercream recipe new.