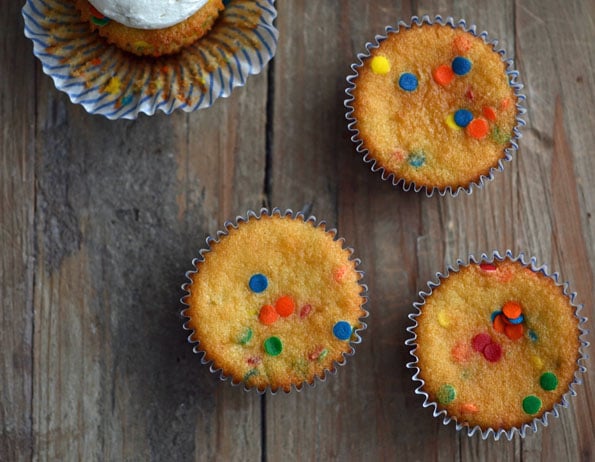 Gluten free cupcakes are one of my favorite ways to say "happy birthday," or even just, "hello." I also must maintain a steady supply of cupcakes in my gluten free freezer stash for when I find out that my son has a birthday party coming up in school. I love to send him with a gluten free cupcake that has no frosting (too messy!) but is still fun. Enter … gluten free funfetti cupcakes copycat recipe.
I think they invented Funfetti Cupcakes sometime in the last decade (which just happens to be the decade during which we went gluten-free). Didn't they? In any event, I sure had never heard of them before, well, we couldn't have 'em. Then it felt like everyone was all Funfetti Funfetti Funfetti all the darn time. I finally reached the tipping point and found myself staring closely at a gluteny box mix in the grocery store. Wouldn't you know it? Those aren't just regular sprinkles or nonpareils or jimmies or whatever you prefer to call them. They're edible confetti. That's why it's called FUNfetti. I have chosen not to reveal whether or not I realized that right away. I'm afraid of what you might think of me.
Did you know how many brands of these sort of sprinkles there are out there? Like, a million. Oh, and sometimes they're called confetti, sometimes sprinkles, sometimes sequins, or even sometimes "quins." It's all very confusing. Then I realized that AmeriColor makes a version of them—and I know that all AmeriColor products are reliably gluten-free. So I figured, easy peasy. Just order those. Well, most online sources won't (can't?) tell you who makes their individual products (I called at least 10 places, and some were downright surly). Even AmeriColor itself was spectacularly unhelpful. But no worries. Amazon to the rescue! It sells a branded tub of these little cuties. That way, you're sure you're getting a GF variety.
This is all just a very roundabout way of explaining to you two things. One, we can't just order edible confetti willy-nilly. Two, Funfetti is totally all I hoped it would be.
I can't explain the fun (or the confetti for that matter). I can just report my findings. So Much Fun! (Fetti.) Sure it doesn't hurt that this is the best recipe for vanilla cupcakes ever. And even though I never tried the Pillsbury version, I can tell you that these are better. Amazing, I know. Especially with last week's frosting. Find out for yourself, sister: