A gluten free vanilla mug cake recipe with no egg for a moist and tender single-serving yellow cake in your microwave in just minutes.
Choosing a gluten free flour blend for this recipe
When I was first developing this recipe, I used a more traditional all purpose gluten free flour blend that already contains xanthan gum in the blend (I used Better Batter original blend). It made a lovely, high-rising cake and tasted good. You can use it in this recipe with success.
But the texture wasn't quite as tender as I'd like it to be. It was also a bit more dry, since that flour blend (like most all purpose gluten free flour blends) absorbs a lot of moisture.
Our gum-free gluten free flour blend is really best here
I prefer to use my gum-free gluten free flour blend, which is made with 3 simple flours: 66% superfine white rice flour + 22% potato starch + 12% tapioca starch/flour. It's such a useful blend that I think it's worth committing those percentages to memory, but I've done the math for you in the recipe card below.
Without the xanthan gum in the mix, though, the cake made with the gum-free flour blend doesn't rise quite as high in the mug, but I don't mind that at all. If you'd like to have the best of both worlds, try using the gum free blend, and adding a scant 1/8 teaspoon of xanthan gum.
Most of all, let's try not to make this overly complicated! It's a mug cake.
Microwave oven details
This cake is developed to be made in a microwave that is approximately 1000 watts. It isn't for the oven. That's where we make regular cakes!
This is just to make a quick-fix for your sweet tooth's desire for a "little something." Maybe late at night? Maybe you just don't feel like sharing. No judgment.
Please don't email me to tell me that the microwave is going to kill us all. Or comment that below. Your feelings are private, and your own business. Sharing them with me is mine. Thank you for coming to my motherhood TED talk.
Sorry about the math, but here's how it works.
My microwave is oddly powerful at 1200 watts. I need to use a reduced power percentage to approximate 1000 watts. For me, that means using 80% power because 1200 watts x 80% = 960 watts (that counts as "about" 1000 watts).
It just requires the simplest math. ? I know some of you hate math, and I'm so sorry. At least you don't have to do it on an abacus. ?
You'll only have to do the math once, though. And then you'll be able to make vanilla mug cake, and chocolate mug cake with success. And you'll maybe understand your microwave a bit better.
If you're not sure how many watts yours is, and you can't find the information on the appliance itself, just google your microwave brand and the word "wattage" and you'll find the information.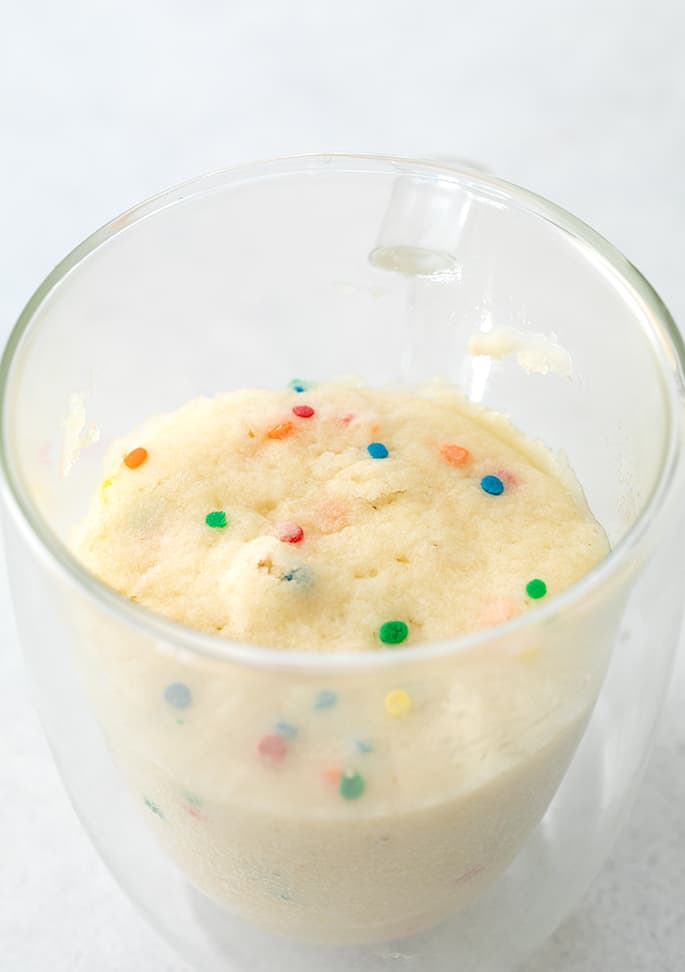 Ingredients and substitutions
Dairy
The only dairy in this recipe (unless you're using Cup4Cup as your flour blend, which contains dairy) is the 2 tablespoons of unsalted butter. You can easily replace that with your favorite vegan butter. I bet even Earth Balance buttery sticks would work.
Please don't use oil, though. You might be tempted, since you're melting the butter anyway.
In a simple recipe like this with such a neutral flavor profile, oil will steal flavor away from the cake, and leave it with an oily taste.
Sugar
There are only 2 tablespoons of granulated sugar in this recipe. I've also made it with 3 tablespoons, and I thought it was too sweet.
I really don't recommend reducing the sugar in this recipe. It's just 25 grams of sugar, and it helps to tenderize the cake (sugar isn't just for sweetness in baking!).
If you'd like to try using an alternative sugar, try Lankato brand monkfruit granulated alternative sugar. It will probably mean a more stiff batter, so consider adding another teaspoonful or two of applesauce to compensate for the drying effect of alternative sugars.
Edible decorations
For full information on gluten free edible confetti, please see our recipe for gluten free "Funfetti" cupcakes. I love baking with edible confetti, but it can be a bit difficult to source because some companies make it, and then stop. I'm looking at you, AmeriColor! But you can find it, and it's worth the effort.