Gluten free cookie breakup makes the crispiest cookies you've ever had—ready in 20 minutes flat. Butter, sugar, flour and chocolate chips are all you'll need!
The cookie you bake when the cupboards are nearly bare
Sometimes, you need a gluten free cookie, like, right now. These are the crispiest, crunchiest gluten free chocolate chip cookies you'll ever make, and the ones I turn to when I'm in need.
They're a variation on a recipe in my very first cookbook. They have served me well time and again, and I've even given the recipe to a gluten-eating friend because she just had to have it.
Maybe you got a last-minute invitation to a friend's house and you don't want to show up empty-handed. Maybe you really need a cookie, and ran out of eggs. It happens!
How to make these easy chocolate chip cookies
The dough comes together in minutes. And since you press it into a rimmed baking sheet and bake it as one, there's no cutting out shapes just to make crispy cookies. Hooray!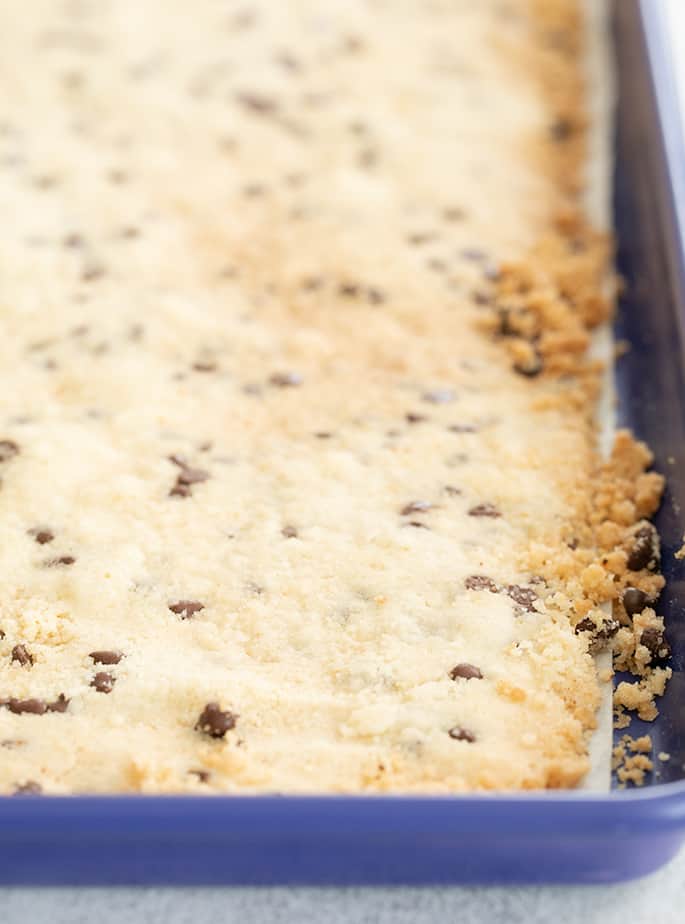 All you really need is some soft butter, the right flour blend (you can use another of my all purpose gluten free flour blends, but the xanthan gum-free one I specify makes the very crispiest cookies), sugar, salt, vanilla and some mini chips. That's it!
These are perfect cookies for making into cookie crumbs for a cheesecake or a no-bake pie. All you do is give the cookies a spin through a blender or food processor.
Ingredients and substitutions
Dairy
I've made this recipe dairy-free by substituting Spectrum non-hydrogenated vegetable shortening for the butter, by weight. The edges don't brown the way they do with butter, and the taste is plainer, but the recipe works.
I think the recipe would be even better with vegan butter. My favorite brands are Miyoko's Kitchen and Melt. In a real pinch, Earth Balance buttery sticks might work, but they're salty so eliminate the salt as an ingredient.
Chocolate chips
I like this recipe best with miniature chocolate chips, since just a few of them cover more cookie surface area. You can make this recipe with standard chocolate chips (or any other type of chip you prefer), but I recommend using 4 ounces.
You can also leave out the chips entirely and make what essentially amount to crispy, sheet pan shortbread cookies.
Sugar
Since these cookies have so few ingredients, I'm hesitant to suggest that you should be able to make them without granulated sugar. But if you're willing to experiment, try using an erythritol-based granulated sugar replacement. My favorite is Lankato brand.
Gluten Free Cookie Break Up
Ingredients
12 tablespoons (168 g) unsalted butter, at room temperature
1 1/8 cups (225 g) granulated sugar
1 teaspoon pure vanilla extract
2 1/4 cups (315 g) Basic Gum-Free Gluten Free Flour Blend (208 g superfine white rice flour + 69 g potato starch + 38 g tapioca starch/flour)
1/2 teaspoon kosher salt
3 ounces miniature chocolate chips
Instructions
Preheat your oven to 350°F. Line a half sheet pan (13 x 18 inches) with unbleached parchment paper and set it aside.

In a large bowl, place the butter, sugar and vanilla, and mix vigorously to combine well. Add the flour and salt, and mix to combine. The dough will come together and be thick and almost crumbly. Add the chocolate chips and mix until they are evenly distributed throughout the dough.

Transfer the dough to the prepared baking sheet, and press it into an even layer (about the thickness of the miniature chocolate chips). Place in the center of the preheated oven and bake for 12 to 15 minutes, or until lightly golden brown around the edges and set. Remove from the oven and allow to cool completely in the baking sheet before breaking into irregular pieces. Store in a sealed glass container at room temperature to maintain crispness.

Originally published on the blog in 2013. Photographs all new, method tweaked slightly, recipe otherwise unchanged.