Black bean brownies are a special kind of flourless gluten free brownie, and this amazing recipe doesn't taste like beans at all. Tasting is believing.
How the beans disappear into the brownies
I think can agree that baking with beans mostly means tasting beans. But it doesn't have to be that way! I'm about to show you that sometimes you can bake with beans and not taste them. Instead, you'll just taste … brownies.
First, you'll rinse and drain a can of black beans. Be sure you rinse them as well as you can without losing any of the beans. They may break, but we're going to blend them so it doesn't matter.
Then, you can use a food processor or a blender to make those beans into a puree. I usually use a blender, but generally it's easier to get every last drop of puree out of the food processor.
A blender will mean a smoother puree. But even if your puree isn't 100% smooth, you still won't taste beans in the brownies.
The only equipment you need is any blender (both my high-speed blender and my mini, nonfancy blender that I got for free ages ago work perfectly) or food processor. Just remember that the food processor won't puree the beans quite as smoothly.
The only ingredients are a can of black beans, eggs, oil, cocoa powder, brown sugar, vanilla, a touch of baking soda, salt and some brewed coffee (even decaf). That's all. They're tender as could be, plus rich and not-too-sweet.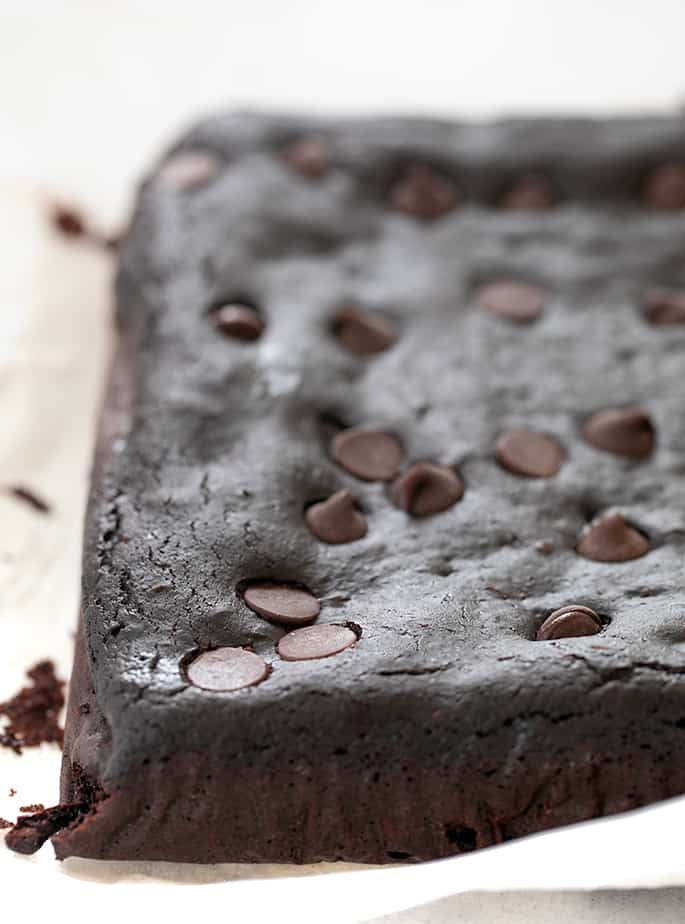 An unfortunate history of bean flour
When I first started baking gluten free, way, way back in 2004 (not a typo), my first "all purpose gluten free flour" was Bette Hagman's bean flour blend. I blended it myself. It mostly worked, and I made sure that everything I baked had a nice, strong flavor to compete with the garbanzo bean flour.
But my gosh the smell! And the taste, I'm afraid, too. Just … no.
Seriously it scarred me enough that I'm still building up to even trying aquafaba, even though I find it terribly intriguing. Vegan marshmallow fluff has to happen!
These naturally gluten free black bean brownies are truly flourless. But instead of melted chocolate, the base here is the humble can of black beans, which provides structure and tons of fiber without adding any bean flavor.
The same goes for my newest addition, flourless black bean cookies. Just like these brownies, they taste absolutely nothing like black beans. All you taste is rich, fudgy chocolate goodness.
Now, I love black beans—in my burritos. And, say, on Taco Tuesday. But in my brownies? I was seriously skeptical. But also intrigued!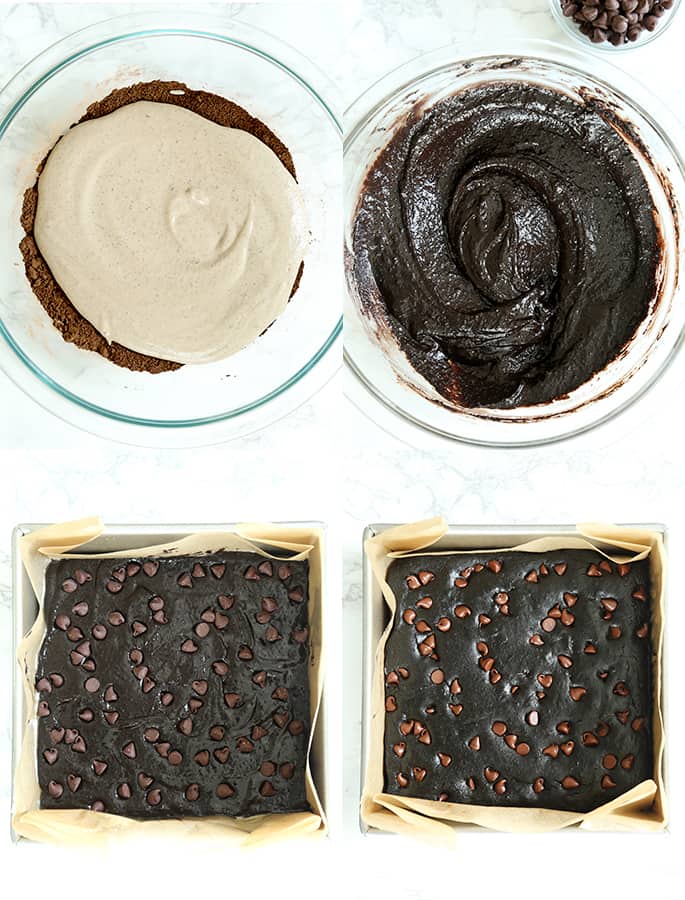 Are black bean brownies actually good?
When I set to work, I knew we weren't going to make black bean brownies that were actually fudgy. The fudgy texture of our classic flourless brownies comes from all the chopped and melted chocolate in that recipe, and there isn't any melted chocolate in this brownie batter.
I assumed I'd do some recipe testing, and ultimately declare the entire concept of making brownies with black beans to be a disaster. I love it when I'm wrong like this.
These brownies aren't fudgy, but they're not cake-like in the traditional sense. The look cakey, but they're actually really smooth in texture. They quite literally melt in your mouth, and become almost pudding-like in consistency.
How about the taste?
You do not taste the beans in these brownies. The vanilla extract, cocoa powder, and a bit of brewed coffee take care of that (no, you don't taste the coffee either—just the chocolate!).
And these brownies still deliver a lot of fiber without any downside. This also means you can make moist and rich gluten free brownies—without any specialized flours or other ingredients.
Ingredients and substitutions
Dairy
These brownies are already dairy-free when the recipe is made exactly as written. Just be sure to use dairy-free chocolate chips and you'll be all set.
Eggs
If you can't have eggs, I recommend using my recipe vegan black bean brownies using boiled flax gel in place of eggs. They make a fudgier brownie, instead of a cakier one like this recipe, but they're fully vegan and quite a nice, chocolatey recipe that's lower in sugar and fat than this recipe.
Sugar
I am fairly certain that these brownies would work with coconut palm sugar in place of brown sugar, although I haven't tried it. For a sugar-free replacement, try Swerve brown sugar replacement or Lankato brand brown sugar replacement.
Alternative sugars tend to leave baked goods a bit dryer than normal. I recommend adding an extra tablespoon or two of brewed coffee to get the batter to the proper consistency.
Flourless Black Bean Brownies
Ingredients
1 15-ounce can black beans, drained and rinsed well
2 eggs (100 g, weighed out of shell), at room temperature
1/4 cup (56 g) neutral oil (like grapeseed, canola or vegetable)
2 teaspoons pure vanilla extract
2 tablespoons strong brewed coffee (can use decaf)
3/4 cup (60 g) unsweetened cocoa powder (natural or Dutch-processed, your choice)
1/2 teaspoon baking soda
1/4 teaspoon kosher salt
3/4 cup (164 g) packed light brown sugar
3 ounces semi-sweet or dark chocolate chips (optional)
Instructions
Preheat your oven to 325°F. Line an 8-inch square baking pan with parchment paper. Grease the paper with cooking oil spray, and set the pan aside.

In a blender or food processor, place the drained and rinsed beans, eggs, oil, vanilla and coffee, and blend or process until smooth. In a large bowl, place the cocoa powder, baking soda, salt and brown sugar, and whisk to combine well, breaking up any lumps in the brown sugar. Create a well in the center of the cocoa powder mixture and add the pureed bean mixture. Mix until well-combined. Add about half of the (optional) chocolate chips to the batter and mix to combine. The mixture will be thickly pourable.

Pour the mixture into the prepared baking pan and spread into an even layer. Sprinkle the remaining (optional) chocolate chips even on top of the batter, and press down gently to help the chips adhere.

Place the baking pan in the center of the preheated oven and bake until the top springs back when pressed gently with a finger (about 25 minutes). Remove the pan from the oven, place it on a wire rack (still in the pan) and allow to cool until no longer hot to the touch. Remove from the pan and slice into squares with a sharp knife. For cleaner slicing, cover and chill the bars in the pan for 30 minutes before removing from the pan and slicing.

Originally published here on the blog in 2016. Video and some text added, recipe unchanged.