This super simple recipe for gluten free chocolate chip yogurt quick bread always makes a perfectly moist and tender loaf!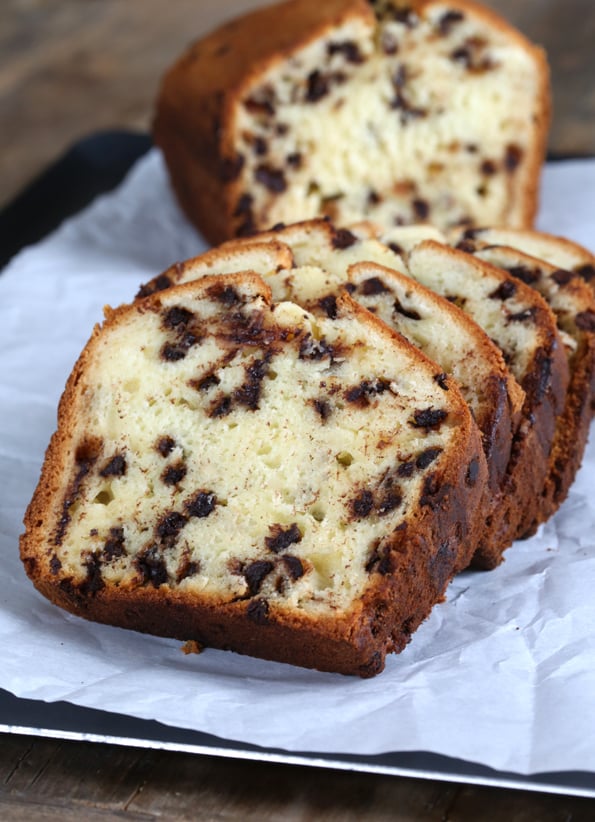 What's a quick bread?
Quick breads are just like muffins, which rise with a combination of eggs and chemical leaveners like baking soda and baking powder (instead of yeast). But they're baked in a loaf pan, like bread, and sliced thickly to serve.
You're not going to make a sandwich on a loaf of quick bread (although my son never seems to tire of asking), but they still hold a special place in my heart. That's probably why there are quite a few quick bread recipes here on the blog. They usually come together pretty quickly (ha ha). Even though they're very similar to muffins, not just any muffin recipe can be successfully baked into a loaf.
What makes this gluten free yogurt quick bread special?
This quick bread is incredibly moist and tender, with a nice open crumb and a mild tang from the plain yogurt. You could also use flavored yogurt, but I never like to bake with flavored yogurts. I'd rather add the flavor separately so I can keep all the flavors bright and fresh-tasting.
This recipe is even simpler than most quick breads, too, with a really easy ingredient list: flours, baking soda, baking powder, salt, sugar, whisked together, then butter, yogurt, and eggs added before everything is combined with a mixer.
I made this one with miniature chocolate chips since just 3 ounces of miniature chocolate chips go a long, long way. You could just as easily make yours with some small dried fruit (I bet chopped dried apricots would be fabulous) or even chopped nuts (raw, chopped pistachios would be heaven).
If you would like a nice dome shape, just be sure to follow the shaping instructions in the recipe. It's really easy with wet hands (a cook's best tools!) and a wet spatula. Of course, it's not really too important for the loaf to split right in the center during baking. It just makes for a pretty presentation.
How to get that nice, tender crumb in your bread
The batter is relatively thick, but not stiff, as long as you bring all of the ingredients to room temperature before baking. If your batter is too stiff, your loaf will bake up with a tighter crumb and may be dry and tough.
Be sure to measure all of your ingredients by weight, not volume (volume measurements are almost impossible to get just right), and don't overmix the batter. Even though this is a gluten free loaf and there's no wheat gluten to overwork, gluten free doughs and batters can still be overmixed and end up tough.
Ingredients and substitutions
Dairy-free: If you are eating dairy-free, you'll have to replace both the butter and the plain yogurt in this recipe (and be sure to use dairy-free chocolate chips). The butter can probably be replaced effectively with half (3 tablespoons) Earth Balance buttery sticks and half (3 tablespoons) Spectrum nonhydrogenated vegetable shortening.
The plain yogurt can probably be replaced with your favorite brand of plain nondairy yogurt. Watch the video carefully and pay attention to the consistency of the plain yogurt I use in this recipe. It should be a thickly pourable consistency.
Egg-free: There are two eggs in this recipe, so you should be able to replace each of them with a "chia egg" (1 tablespoon ground white chia seeds + 1 tablespoon lukewarm water, mixed and allowed to gel). If you're willing to cook and strain "flax eggs," that might work even better.
Corn-free: In place of cornstarch, you can try using arrowroot powder or even potato starch.
Chocolate chips: I really like Enjoy Life brand miniature chocolate chips, since they actually taste, well, like chocolate. You can use any sort of miniature chips you like. You can also use full-sized chocolate chips, but they don't scatter throughout the dough like the miniature variety.
There isn't a ton of sugar in this recipe (just 3/4 of a cup of granulated sugar in the whole loaf), but it's a very simple flavor profile so you'll want your mix-in to offset the tender sweetness of the bread itself. Your mix-in should be something that doesn't add moisture, like fresh or frozen berries.
If you'd like to make a blueberry quick bread, I recommend using my gluten free blueberry muffin bread recipe instead. It has a whole different moisture balance, and that recipe has everything taken care of for you already.
Gluten Free Chocolate Chip Yogurt Quick Bread
Ingredients
1 3/4 cups (245 g) all-purpose gluten free flour (I used Better Batter)
1 teaspoon xanthan gum (omit if your blend already contains it)
1/4 cup + 2 tablespoons (54 g) cornstarch
1 1/2 teaspoons baking powder
1/2 teaspoon baking soda
1/2 teaspoon kosher salt
3/4 cup (150 g) granulated sugar
6 tablespoons (84 g) unsalted butter, at room temperature
1 cup (227 g) plain yogurt, at room temperature
2 eggs (100 g, weighed out of shell) at room temperature, beaten
3 ounces miniature chocolate chips, tossed with 1 teaspoon cornstarch
Instructions
Preheat your oven to 350°F. Grease well a standard 9-inch by 5-inch loaf pan and set it aside.

In the bowl of a stand mixer (or a large bowl with a hand mixer), place the flour blend, xanthan gum, cornstarch, baking powder, baking soda, salt and sugar, and whisk to combine well with a separate, handheld whisk. Create a well in the center of the dry ingredients, and add the butter, yogurt, and eggs. Mix on medium speed to combine with the paddle attachment or your handheld mixer. The batter will be thick. Add the chocolate chips tossed with cornstarch, and mix with a spatula or spoon until the chips are evenly distributed throughout the batter. Scrape into the prepared baking pan and, with wet hands, smooth the top. To create a dome shape, run a wet spatula along the edges of the pan and pull the batter toward the center. For a uniform split down the center as the bread rises in the oven (instead of a more haphazard split), slash down the center of the loaf with a sharp knife, about 1/4-inch deep.

Place the pan in the center of the preheated oven and bake for 30 minutes. Reduce the oven temperature to 325°F, and continue to bake for another 20 minutes, or until the top of the loaf springs back when pressed lightly and a toothpick inserted in the center comes out with, at most, a few moist crumbs attached. Remove from the oven and allow to cool in the loaf pan for 15 minutes before transferring to a wire rack to cool completely. Slice once cool and serve.

Originally published in 2014. Recipe unchanged; video and some photos new; text partially edited for clarification and information purposes.