This super simple recipe for chocolate chip yogurt gluten free quick bread always makes a perfectly moist and tender loaf!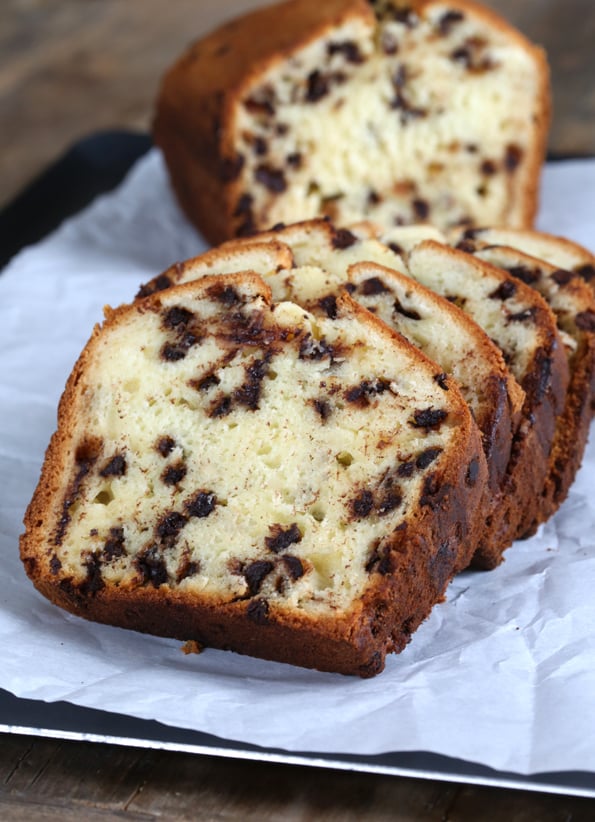 You're not going to make a sandwich on a loaf of gluten free quick bread (although my son never seems to tire of asking), but they still hold a special place in my heart. That's probably why there are quite a few quick bread recipes here on the blog, and still more in GFOAS Bakes Bread (in Chapter 8: Yeast-Free Quick Breads).
They usually come together pretty quickly (ha ha). Even though they're very similar to muffins, not just any muffin recipe can be successfully baked into a loaf.
Anyway you can't really fix yourself a really nice thick slice of muffin, and spread it with butter or drizzle it with honey. Can you? I mean, I guess you could but it might be weird.
This gluten free quick bread is even simpler than most, with a really easy ingredient list. I made mine with miniature chocolate chips. Just 3 ounces of chocolate chips goes a long, long way.
You could just as easily make yours with some small dried fruit (I bet chopped dried apricots would be fabulous) or even chopped nuts (raw, chopped pistachios would be heaven).
If you would like a nice dome shape, just be sure to follow the shaping instructions in the recipe. It's really easy with wet hands (a cook's best tools!) and a wet spatula.
Of course, it's not really too important for the loaf to split where you say it should during baking. It just makes for a pretty presentation.
The bread is moist and tender, with a nice mild tang from the plain yogurt. You could also use a flavored yogurt, but I never like to bake with flavored yogurts.
I'd rather add the flavor separately. That way, I can hit all the right flavor notes and keep it simple.
I know I can't quite bake this gluten free quick bread for you, but you can see just how tender it is, right? Baking with yogurt will do that to a bread.