These plain flourless peanut butter cookies are made simply with just 5 regular pantry ingredients, and have that crispy outside and soft and chewy inside. Use a sugar substitute and they're an amazing low-carb cookie!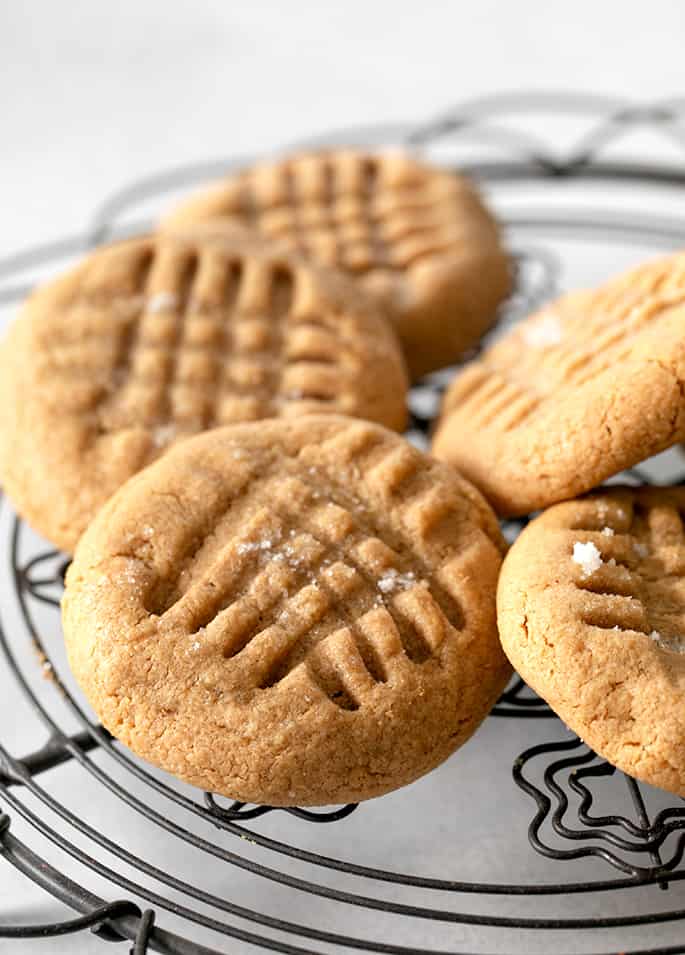 Is peanut butter gluten free?
In its most pure form, peanut butter is made of peanuts and salt and is naturally gluten free. If you place peanuts (roasted or raw) in a high-speed blender and add salt to taste, eventually you will have peanut butter.
I rarely make my own peanut butter, though, and typically don't bake with truly natural peanut butter. You'll know that your peanut butter is entirely natural when it has only those two basic ingredients, and when it separates as it stands at room temperature into a ring of liquid oil on top and a solid below.
Instead of baking with that sort of natural peanut butter, I prefer to bake with "no-stir" peanut butter that doesn't separate and therefore doesn't need to be stirred before using. Typically, that sort of peanut butter has some sugar and some shortening or other more solid oil blended into it.
The original ingredients (peanuts, salt) are naturally gluten free, as are all of the potential additives we've mentioned. But commercially prepared peanut butter can be unsafe on a gluten free diet if it's become contaminated at any point during the manufacturing process.
All of this is to say that, to make sure you're using a gluten free peanut butter in this recipe or just in a sandwich, you have to read labels—and know your brands. Some brands, like Jif, will label its peanut butter (and other products) "gluten free" if it fit the U.S. definition of "gluten free," but may have been prepared on manufacturing equipment that has been shared with gluten-containing products.
Most types of Skippy peanut butter are gluten free, except for those that contain other ingredients. The safest peanut butter brands only make gluten free varieties, like Peanut Butter & Co. Most often, I purchase Skippy peanut butter for my family, but you have to do what makes you most comfortable—and fits in your budget.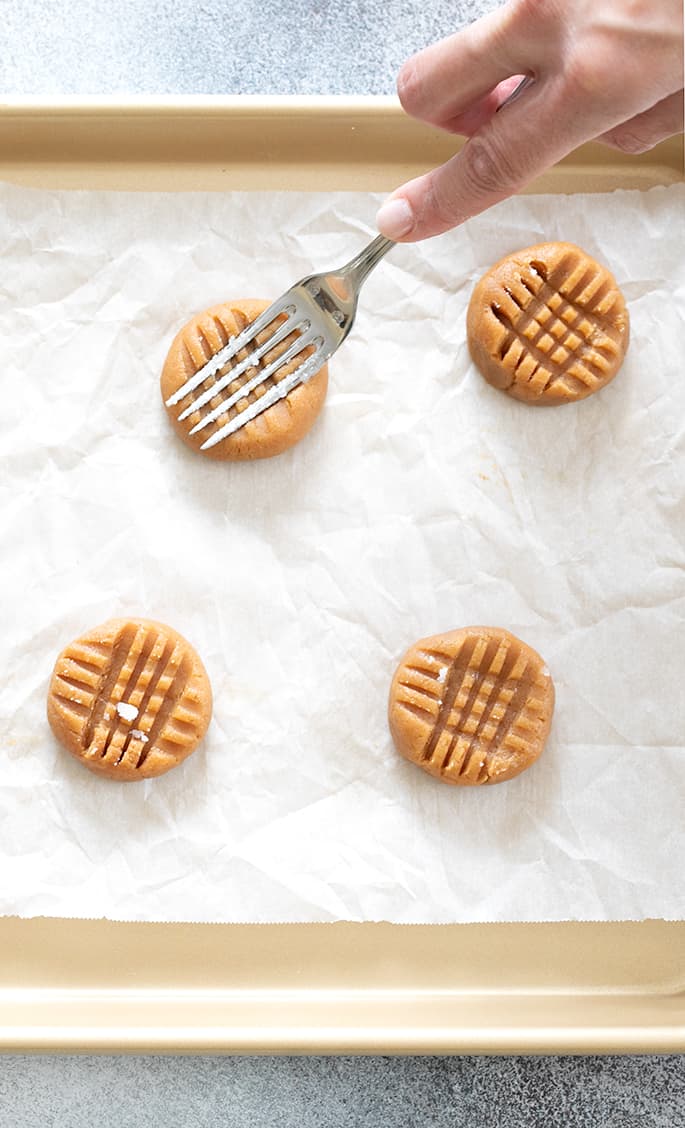 A classic cookie, rebalanced
The most classic recipe for flourless peanut butter cookies is simply 1 egg + 1 cup peanut butter + 1 cup granulated sugar. But that makes a cookie that's much more fragile, more crunchy than chewy and has those jagged, cracked edges.
When I first made flourless peanut butter cookies, I was only satisfied with a chocolate flourless PB cookie. It was the only way I could make them soft and chewy.
I finally decided to revisit the classic "3-ingredient" peanut butter cookie version—and make it right. By cutting back on the sugar and adding a bit of baking powder, the cookie held together so much better. I was even able to create the classic crosshatch pattern in a flourless cookie without getting those broken edges.
Beat that batter
It's mostly the balance of ingredients that creates the proper texture in the cookie that's crispy outside and chewy inside. But beating the batter a bit extra helps, too.
In a traditional cookie made with flour, creaming butter (or other fat) with sugar creates a bond between the two that allows the heat of the oven to cause them to rise and crisp. If you want crispy-chewy flourless peanut butter cookies, try beating the batter a bit more.
Most often, I make this recipe with a bowl and a spoon. I don't bother with a handheld or stand mixer. But the few times that I have bothered, the cookies have the absolute very best texture.
The granulated sugar on the outside of the cookies is absolutely optional. But it does help create a bit of a crust on the outside. And you really don't need much granulated sugar to make that sort of magic happen. ✨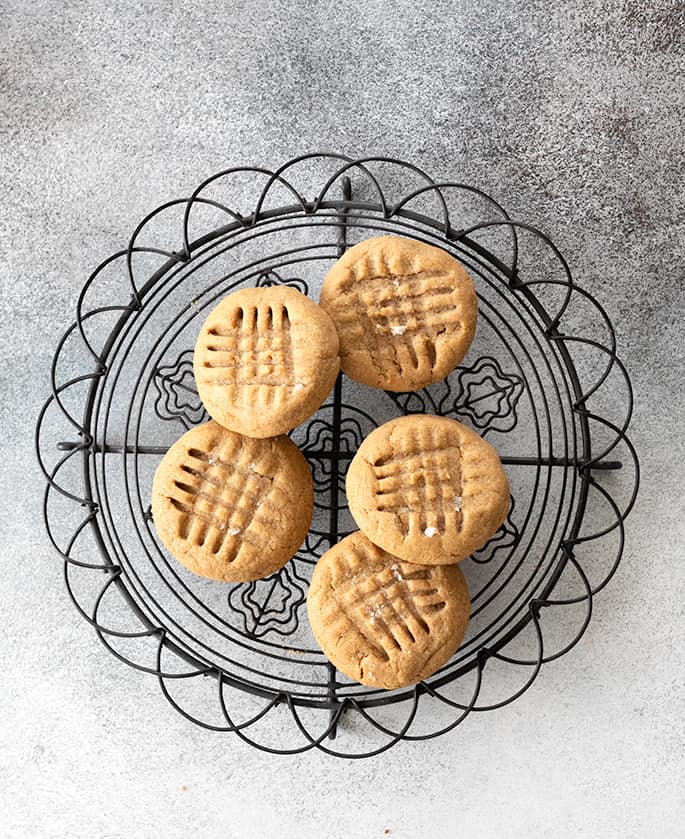 Ingredients and substitutions
These plain flourless peanut butter cookies are already dairy-free and gluten free naturally, with only a few ingredients. The secret to their crispy and chewy success is in the balance of ingredients. So keep that in mind as you consider whether to make changes to the recipe.
Peanut butter
Since these are peanut butter cookies, if you don't like nut butter, I suggest you stay away! These are really for peanut butter lovers.
If you're allergic to peanuts, you can certainly try replacing it with a no-stir variety of almond butter (Barney Butter is a good (if expensive) option). Either way, you'll need a "no-stir" variety.
That just means that, when you open the jar, the liquid oil hasn't separated from the solid nut butter. It's all integrated (and not drippy). Cashew butter might also work, as long as it's no-stir. I don't think that any of the other, more alternative nut-replacement butters would work.
Nutella is just a different ingredient entirely, so don't try that here. But you could use it to make my 3-ingredient Nutella cookies. Those are addictive.
Egg
You could try replacing the egg in this recipe with a "chia egg" each (1 tablespoon ground chia seeds + 1 tablespoon lukewarm water, mixed and allowed to gel). The egg really does help to hold this recipe together and make it puffy and chewy rather than crunchy.
Sugar
I've made this exact recipe with a granulated sugar substitute and although the texture wasn't spot on, it worked. I used Lankato brand monkfruit granulated sweetener. Made that way, the cookies are low carb, high protein and really satisfying.