Gluten free sablé cookies are simple slice-and-bake French-style buttery shortbread cookies. Crunchy outside, chewy inside, with sparkly coarse sugar all around.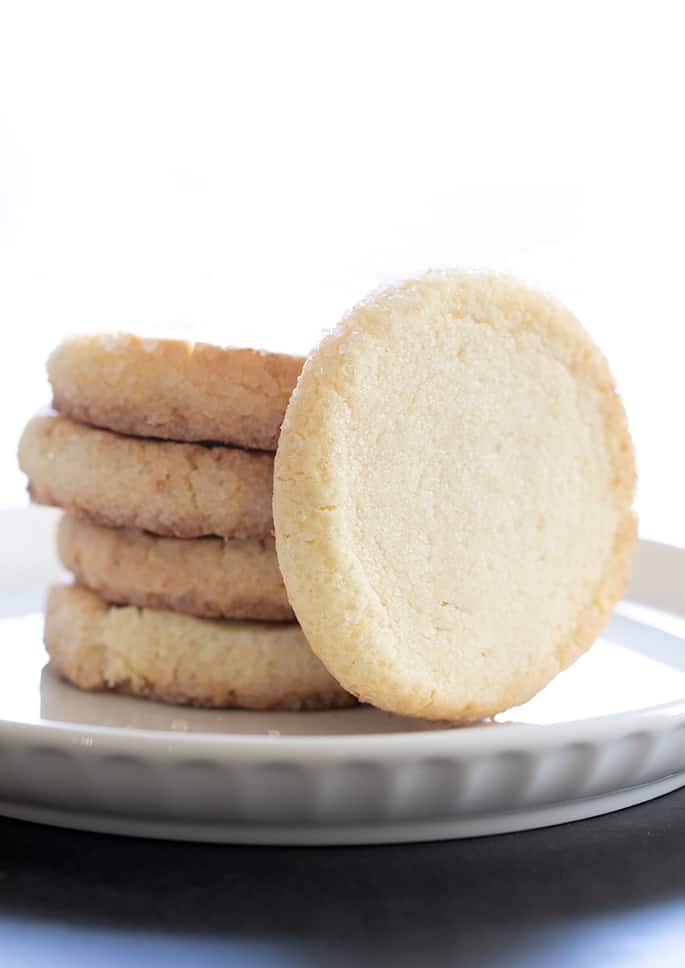 What makes these sablé shortbread cookies different?
Shortbread cookies are made with butter, sugar, egg yolk, and flour. There's no leavening (baking soda, baking powder), because they're meant to be "short," or crumbly.
"Crumbly" and "dry" don't sound great for baked goods, but I promise with these cookies it's in a good way! What makes these sablé cookies different from "regular" shortbread cookies (or our gluten free brown sugar shortbread cookies) is that the texture both inside and outside is different.
These cookies are made with a slightly different balance of fat and flour, coated on the outside with coarse sugar, and sliced thickly. That means that they have a slightly crisp outer shell and the most tender, slightly chewy inside, all while still being properly crumbly.
How to make gluten free sablé cookies
To get the proper texture for these cookies, you need to make the dough in either a stand mixer fitted with the paddle attachment, or a large bowl with a handheld mixer. If you have a stand mixer, use that because it's much easier to blend the ingredients without making a mess. ?
Place the (European?) butter, granulated sugar, egg yolk, and vanilla into your large mixing bowl and beat until well-combined but not fluffy. We don't want to add excess air to the dough, but we do want the ingredients to begin to emulsify, or combine into a smooth mixture with the fats broken up into droplets. Don't worry, the science doesn't at all matter, just the method!
Then, add the flour, salt, and cornstarch, and mix until just combined. The cookie dough will be thick and relatively stiff, but that room temperature butter isn't ready to be shaped properly into a log quite yet.
Place that dough in a large piece of plastic wrap or unbleached (flexible) parchment paper, and shape it loosely into a log about 1 1/2-inches in diameter. Chill it for at least 2 hours, but you can keep the dough in the refrigerator, chilling, for much longer than that.
You'll know that it's properly chilled when you touch the log in the center and even if feels firm. Shape into a proper round by rolling it back and forth on a flat surface and compressing the ends until they're blunt.
Next, moisten the outside of the log with wet hands, and roll it back and forth in coarse sugar to coat the outside completely. Slice it into about 10 pieces by cross-section, reshape each piece a bit into a round, and they're ready to bake.
If working with the dough has warmed it so it's no longer firm, just chill it again briefly. Bake the cookies for about 10 minutes at 350°F. The centers should be set (not glistening like they're wet) and the edges should be golden brown.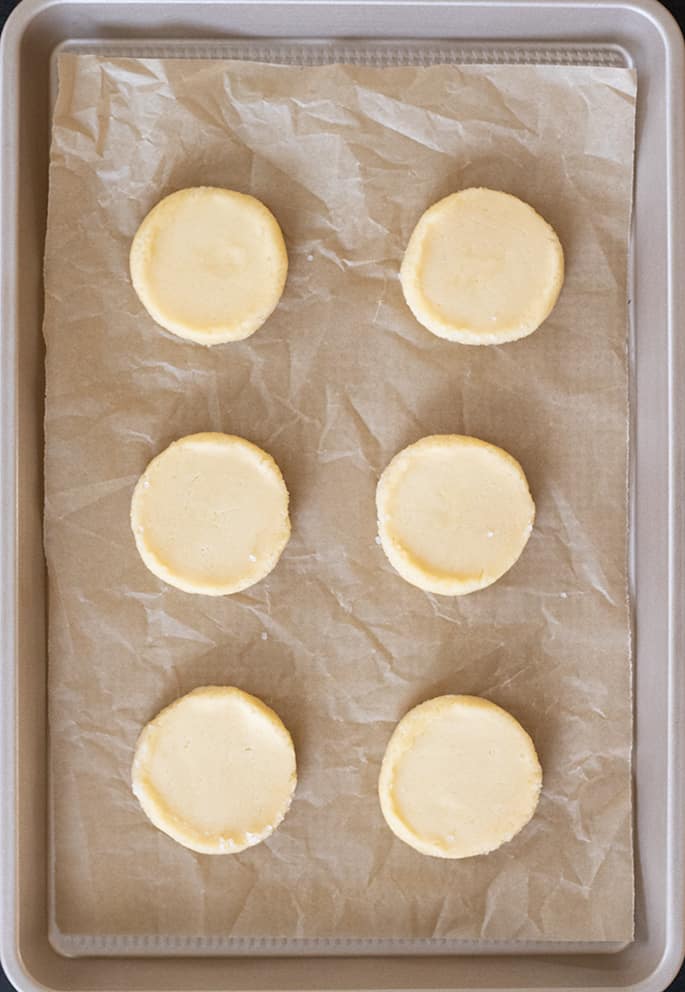 Do I have to use European butter?
The short answer is no, you don't have to use European butter. But let me make the case for it anyway.
European butter (which in my experience is often Irish, under the brand Kerrygold) has a higher butterfat content than traditional American butter. If Canadian or Australian butter is similar to European, then use that! It makes for a richer cookie that spreads less, since higher butterfat also means lower moisture.
I have in fact made these cookies with my trusty unsalted Trader Joe's butter (although Trader Joe's also carries Kerrygold), and they worked great. They were just missing a bit of richness, and they did spread a tiny bit more because of the higher moisture content. But it's not something I'd stress about.
Ingredients and substitutions
As with any super simple recipe, it's difficult to make substitutions without creating a completely separate recipe. But here are my educated guesses about the other potential allergens in these gluten free sablé cookies.
Dairy: The two most important ingredients in this recipe are butter, and flour. Replacing either one of them is kind of a big deal, and makes me a little nervous that you aren't going to be successful.
But if you must replace the butter, I would recommend trying Melt brand vegan butter, my favorite butter replacement. If you can't find Melt, my second suggestion is half (56 g) Earth Balance buttery sticks and half (56 g) Spectrum brand non hydrogenated vegetable shortening. See above for a complete discussion of whether or not you absolutely need to use European butter, if you aren't dairy-free.
Egg yolk: There's only one egg yolk in this recipe, and it adds richness and helps hold together the butter and sugar mixture. If you need to eliminate it, you can try using 2 tablespoons of Spectrum non hydrogenated vegetable shortening, which should help provide richness without moisture.
Cornstarch: If you can't have corn, try using arrowroot or even potato starch. Either should work just fine.