No bake oatmeal cookies are the classic chocolate no bake cookie you remember, made with or without peanut butter—even with or without oats. This is how to make perfect gluten free cookies…even if you can't bake! Naturally gluten free, too.
A simpler method for no bake oatmeal cookies without peanut butter
Recipes for no bake oatmeal cookies made with butter, milk, sugar, cocoa powder and oats have been around forever. Maybe your grandmother even made them, or your mother.
Christy Jordan has a version that her mother made for her that calls for boiling the sugar mixture. You stop when it reaches the "softball stage," which is approximately 240°F.
Trying my hand at a family recipe like that can be dangerous territory, since people tend to be rather protective of their way of doing things. Everybody knows you do it like this, not like that!
Why are other recipes unreliable?
But as I went down the rabbit hole of Internet recipes for no bake oatmeal cookies (or chocolate or fudge no bake cookies, if you call them that), I noticed one thing for sure. Whatever the recipe, whatever the proportions, there was always no shortage of readers who swore that the recipe, as written, simply didn't work.
I believe that this is because of both a significant difference in people's stoves (are you using electric or gas? does your stove run hot or cold?) and in people's cooking equipment (are you using a heavy-bottom saucepan? how large is it? how evenly does it heat?).
And since this isn't a recipe that you can use an objective measure to determine readiness (like a candy thermometer that reads 240°F, for example), it was hard to guarantee success. Until now. (you knew that was coming, right?)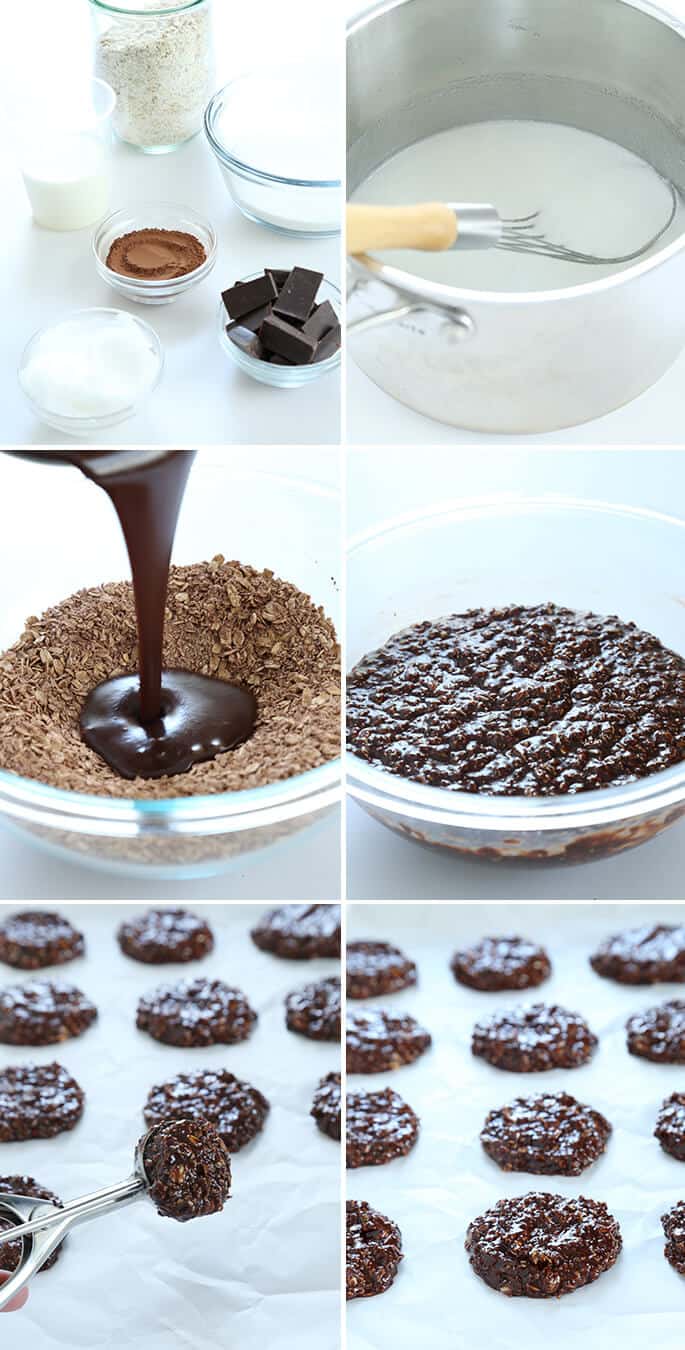 What makes this recipe more reliable?
I believe that my recipe for no bake fudge cookies will be successful every single time. And here's why: I add no-bake insurance to my recipe in the form of … chopped chocolate.
When you are making anything that is no-bake, you need at least a portion of the recipe to be solid at room temperature. If you were cooking the sugar mixture to 240°F, you'd certainly have that.
Against my better judgment (I knew it wouldn't work!), I did try cooking the sugar mixture to that temperature. And the moment I added the oats to the mixture, I had a bunch of unappetizing, crumbly candy.
In the most traditional recipe of this kind, if you overcook the sugar, the mixture is crumbly. And it's very easy to overcook the sugar using that method.
But if you under-cook it, the cookies won't set up. By adding chopped chocolate, you have insurance against the dangers of under-cooking the sugar.
Chocolate will always be solid at room temperature. Chocolate insurance is the very best kind of insurance anyway. Don't you think?
Adding peanut butter to these peanut-free no bake cookies
If you're partial to making these cookies with some peanut butter, you can make them that way. Just add about 1/4 cup (64 g) to the recipe when you add the chopped chocolate.
Adding peanut butter does add some depth of flavor to the cookies. You still need to include the chopped unsweetened chocolate.
Other ingredients and substitutions
Dairy: This recipe can easily be made dairy-free. I have used virgin coconut oil (the kind that's solid at room temperature) as often as I've used unsalted butter. I find that both work equally well.
The chocolate used is unsweetened chocolate, so it is much more likely to be dairy-free. Just be sure yours is, in fact, dairy-free.
The milk called for doesn't need to be cow's milk. It can be any unsweetened almond milk, or your favorite type of non-dairy yogurt.
Some fat in the milk adds richness to the cookies, so it's best not to use a non-fat variety. But the recipe will still work, even with water in place of milk. You'll then have made no bake cookies without milk.
Sugars: There is a fair amount of granulated sugar in this recipe. Cooking the sugar is what allows us to avoid using peanut butter as a stabilizer in the recipe.
I tried making the recipe with 1 1/2 cups of granulated sugar (300 grams), instead of the traditional 2 cups (400 grams). The cookies did set up, but they were a bit softer at room temperature.
A few minutes in the refrigerator, though, and they were fine. If you're looking for quick and easy, chocolatey, chewy no bake fudge cookies that never fail you, go for the full 2 cups of sugar.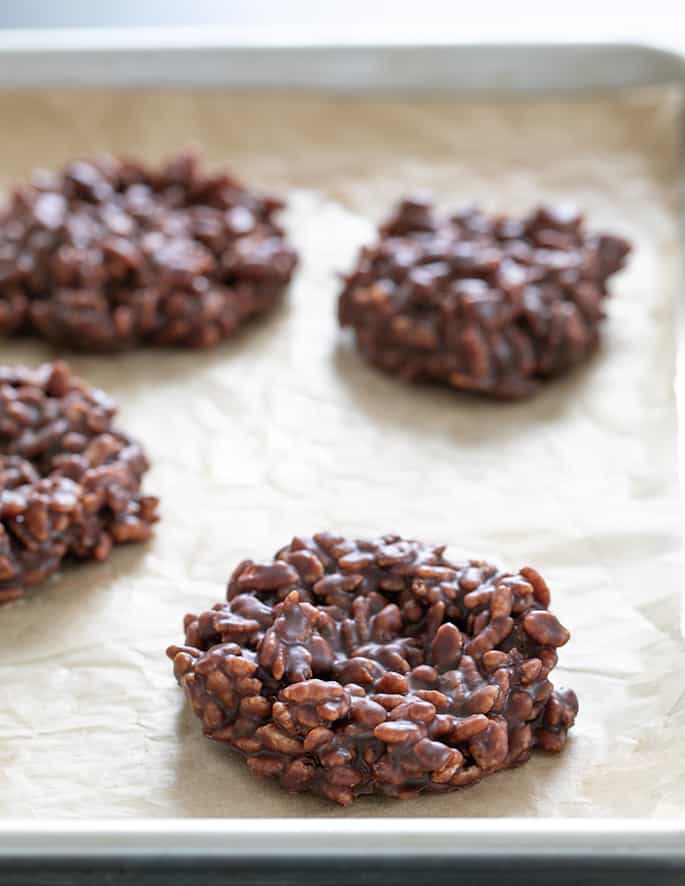 Oats: There is a substitute for oats in no bake cookies. It's unusual to find, but you can make no bake cookies without oatmeal of any kind.
If you're avoiding oats, even gluten free oats, you can replace them in this recipe. I've made them successfully with 4 cups (120 g) puffed gluten free rice cereal in place of the quick-cooking oats.
It's really a different cookie, but it does work. The photo above is of the crisp rice cereal no bake cookies.
They're almost like a super easy version of Little Debbie Star Crunch—just without with same cookie center. The cereal may taste a bit stale since you have to add the sugar mixture to the puffed rice while the sugar mixture is still hot, but it's never really been a problem.
I use purity protocol oats all the time in my gluten free baking. But I've also successfully come up with substitutions for oats in gluten free baking of all sorts.