These classic thick & chewy gluten free chocolate chip cookies set the standard for everything a cookie should be. They're easy drop cookies, ready in a flash any time at all.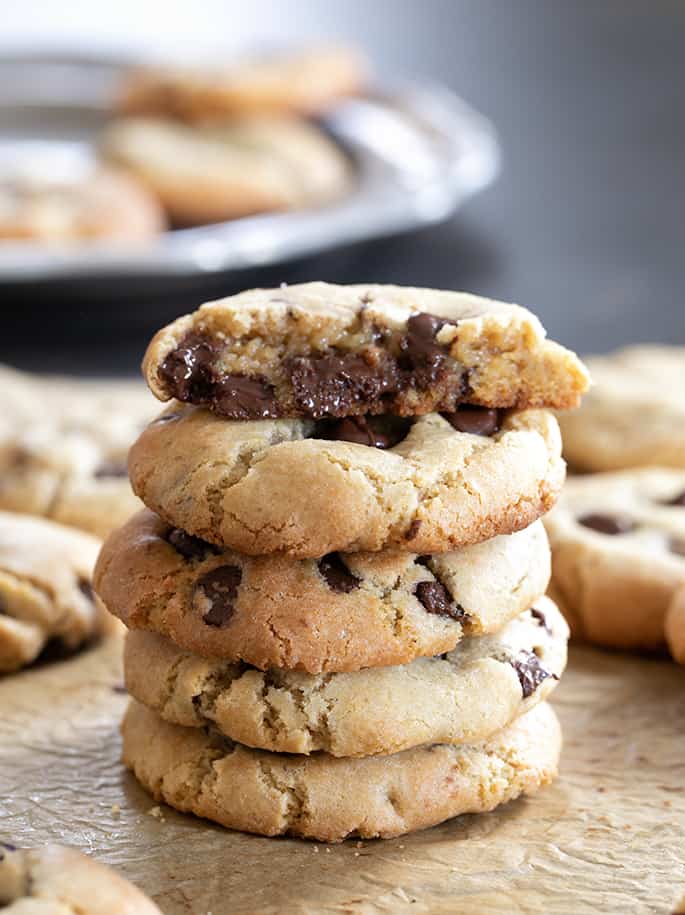 What makes these "the best" gluten free chocolate chip cookies
It's entirely possible that you already have a recipe for classic gluten free chocolate chip cookies that you think is straight-up the best. But I'm here to tell you, these are better.
This recipe is a version of the thick and chewy chocolate chip cookies that I was small-f famous for, long before I started baking gluten free for my son (and you) in 2004. In fact, I'd been making them for years before that.
They still brown. They hold the same glorious shape. They're thick, and they are chewy.
They're ever so slightly crisp on the very edges and the bottom, but just enough that they are ridiculously satisfying to bite into. This is the super simple chocolate chip drop cookie recipe that is simply perfect for so many occasions.
To be clear, they're crispy on the edges, thick throughout, and chewy in the center. If you prefer a cookie that isn't crisp at all, and bakes up thin and chewy, try our recipe for soft and chewy gluten free chocolate chip cookies.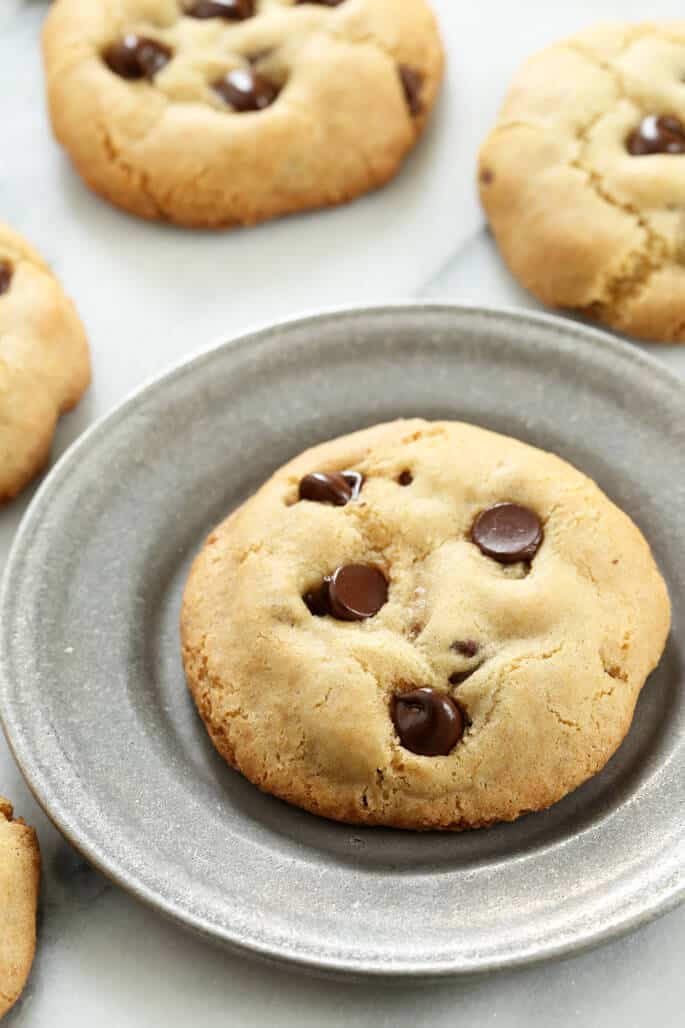 If you're new to baking, gluten free or not, start here
They're perfect when you're just starting out on a gluten free diet, and you want to bake something simple that you absolutely know will be a success. I always recommend starting out with a drop cookie recipe—this recipe to be exact.
I have made them countless times for a roomful of gluten-eaters. They're still the first dessert to disappear at a dinner party, and that is just, well, fun.
This is the recipe you memorize
These cookies are so easy, use such basic ingredients, and the recipe is very easy to memorize. The first few times, you'll want to double-check to make sure you're remembering everything right.
But remember that all standard drop cookies have flour, baking soda, and salt. Next up are granulated and brown sugars (here, they're in equal amounts, 3/4 cup each), then butter (1 single stick, at room temperature), eggs (2) and vanilla (1 tablespoon, but a bit more or less won't affect the result noticeably).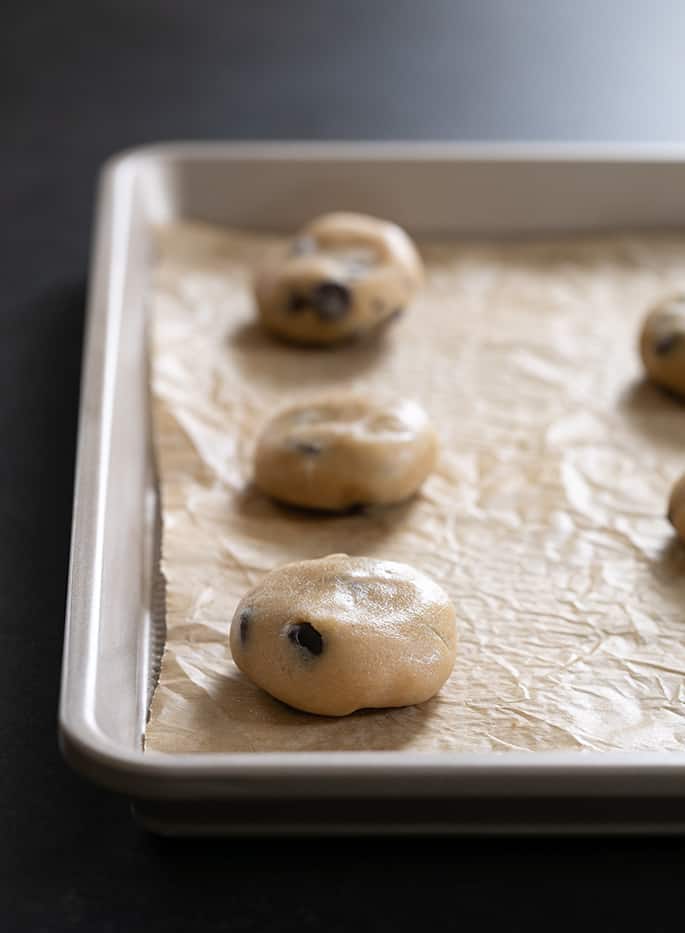 You can freeze the raw dough and bake as needed
Both the shaped dough and the cookies themselves freeze perfectly. I almost always have a batch of the cookies themselves, and a batch of the cookie dough disks in my freezer.
You can bake them right from frozen, but if you plan to do that, I recommend pressing the raw disks of cookie dough flatter, since they'll spread less if you bake them from frozen. You'll also need to add another minute or two to the baking time.
The cookie dough doesn't have to be chilled a lot
If your cookie dough is at room temperature to begin with, you will only need to chill the shaped dough for a few minutes before baking. It will maintain its shape during baking, crackling a bit toward the end of baking.
If you live in a hot and/or humid climate, chilling the shaped cookie dough becomes more important. The best way to know how important chilling the dough will be is if your "room temperature" butter is nearly liquified.
If you press your finger lightly into the butter, and it leaves a shallow impression, your butter is at perfect room temperature. If the butter barely resists your touch, your butter is too soft. Your cookie dough may end up a bit greasy, so be sure you're mixing it a bit extra (ideally in a stand mixer) and then chilling it until firm after shaping.
How many chips should you put in your chocolate chip cookies?
You'll notice that there is actually a range of chocolate chips that you can add to this recipe. You begin with 12 ounces of semi sweet chocolate chips, and you can add up to another 4 ounces for a total of 16 ounces, or 1 full pound.
It's really a matter of personal taste (how many chips are you hoping for in each and every bite?). If you add more than about 14 ounces of chips, the less the cookies will keep their perfect shape during baking.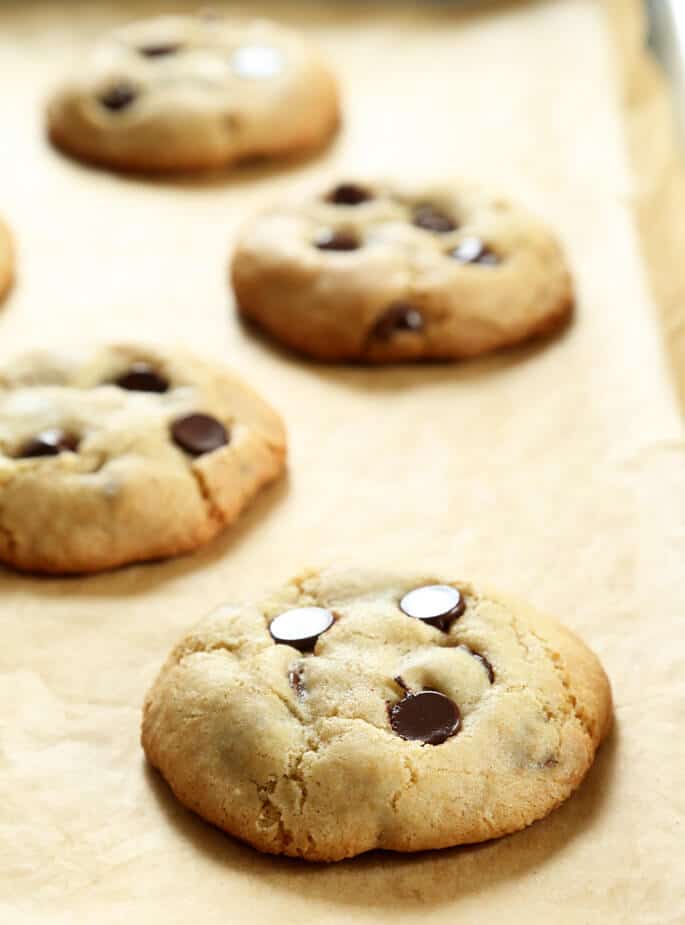 Ingredients and substitutions
Dairy: I have successfully made this recipe with Spectrum healthy vegetable shortening (aff. link) in place of butter, and they come out beautifully. They don't brown as much in the oven, but they're still crisp on the edges.
You can also try using Melt or Miyoko's Kitchen brand vegan butter. Those are generally my favorite butter substitutes for baking.
Eggs: You can try replacing the two eggs in this recipe with a "chia egg" each (1 tablespoon ground white chia seeds + 1 tablespoon lukewarm water, mixed and allowed to gel). These are such simple cookies that the texture may not be the same when you make such an important substitution, but it's definitely worth trying.
Sugars: These are not healthy cookies. They're chocolate chip cookies, meant to have all the good stuff: butter, sugar, eggs, vanilla. If you would like to try them with a sugar substitute, I recommend Lankato brand monk fruit granulated sugar replacement for the granulated sugar, and their "golden" variety as a replacement for the brown sugar.
Those sugar alternatives do tend to be drying, though, so you may need to add water by the half-teaspoonful as necessary to achieve the proper cookie dough consistency. Watch the video carefully before trying the swap.