The best gluten free lemon brownies have tons of bright lemon flavor, with or without a simple lemon glaze, and are chewy and light.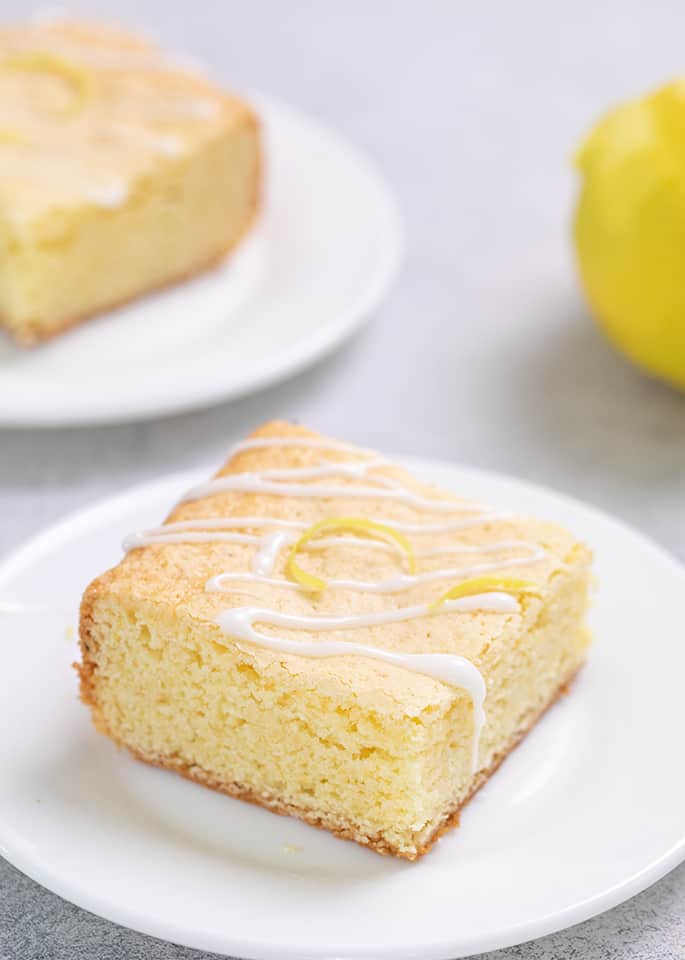 What makes these glutenfree lemon brownies special?
These aren't just blondies with lemon flavor. I'm calling them lemon brownies because they're so similar to, and even based on, our gluten free chewy brownies, that the variation is in the flavor.
Blondies more than just brownies without chocolate. Blondies tend to have more flour, and typically have brown sugar along with granulated sugar, and that hints at the flavor of chocolate chip cookies.
The lemon flavor in these brownies has no competition. In fact, we don't even use vanilla extract.
What we're left with is tons of bright lemon flavor and tang, even if you don't add pure lemon extract. Between the lemon zest and the juice, and all the sweetness you need to complement it, you've got lemon brownies.
These aren't fudgy, like some brownies can be. If you make them with less flour and cornstarch, they're denser and fudgy, but they're also much more fragile.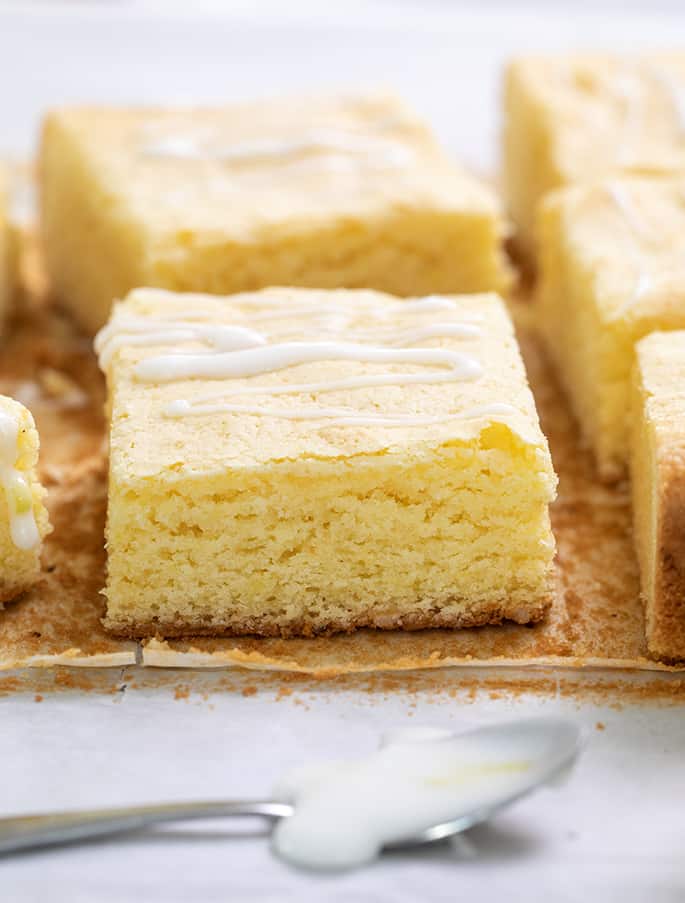 How do these compare to lemon bars?
I love lemon bars, and we have a great recipe here on the blog for gluten free lemon bars. But these are not lemon bars.
Lemon bars are the bar form of lemon custard pie, really. They have a lemon-flavored, soft shortbread cookie crust that's topped with a lemon curd-like custard, baked until firm.
Lemon brownies, on the other hand, have the texture of chewy brownies. Think of them like a cross between a brownie and a bar cookie, bursting with lemon flavor.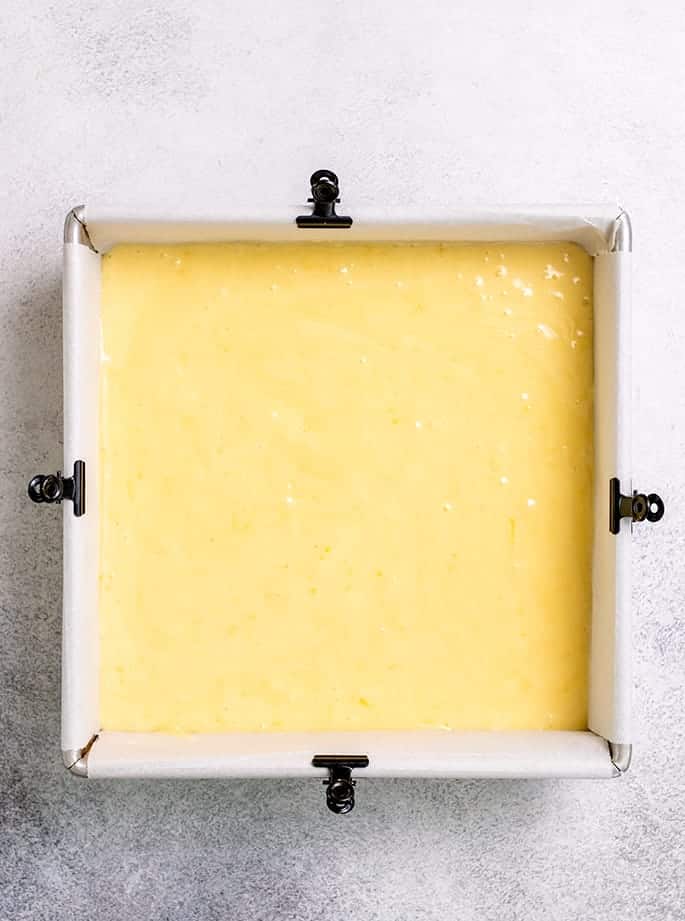 Can you make this recipe with another citrus flavor?
Anything baked with lemon seems to be a universal crowd-pleaser, so I have a lot lemon-based dessert recipes here on the blog. But even if I can't relate, we welcome all types here—even lemon-haters.
If you don't hate lemon, but you really just love limes, I think this recipe would work really well with limes. Just be sure you're using enough zest and juice, which may take more than 1 lime.
Oranges would likely work, too. Just be sure you're using a juicy, flavorful orange. If your orange doesn't have much juice because it's ripe enough or it's been sitting around in your crisper drawer (no judgment!), its juice may be a bit watery—and not plentiful.
Whatever citrus you use, make sure the zest is plentiful and the juice is relatively concentrated. Smell the juice after you squeeze it out.
If it's not very strong-smelling, you can try adding more juice to it and reducing it in a small saucepan to evaporate some water and concentrate the flavors. Just let it cool completely before you add it to the brownie batter.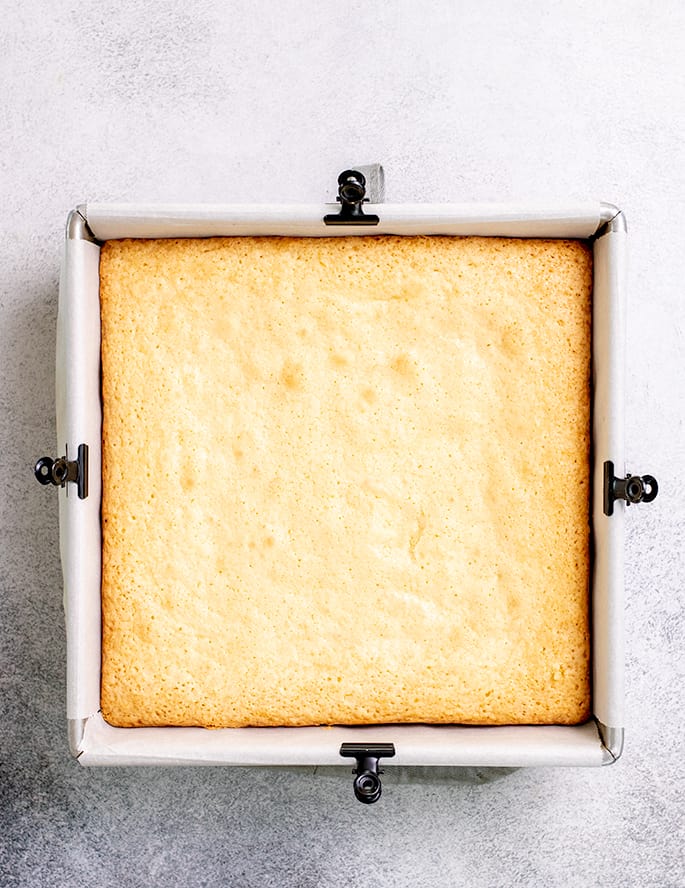 Ingredients and substitutions
Dairy
If you can't have dairy, the butter is the only ingredient that you need to replace. Try using vegan butter (Miyoko's Kitchen and Melt brands are my favorite).
I don't generally like to bake with Earth Balance buttery sticks, since they have so much more moisture than butter. If you'd like to try using them here, try half Earth Balance buttery sticks, half vegan shortening.
Eggs
There are 2 eggs and 1 egg yolk in this recipe, and they're really important to the structure and chemistry of this recipe. If you'd like to try replacing the eggs, you can try 2 "chia eggs" (2 tablespoons ground white chia seeds + 2 tablespoons lukewarm water, mixed and allowed to gel).
The extra egg yolk adds richness and tenderness to the brownies. You can try replacing it with another tablespoon of butter, but that will also add moisture.
Cornstarch
If you can't have corn, you can try replacing the cornstarch with arrowroot or potato starch. Keep in mind that, if you make the simple glaze, you'll need to make sure that your confectioners' sugar is corn-free.
Gluten Free Lemon Brownies | Lemonies
Yield:
9 to 12 bars, depending on size
Ingredients
8 tablespoons (112 g) unsalted butter, chopped
1 cup + 2 tablespoons (225 g) granulated sugar
2 eggs (100 g, weighed out of shell) + 1 egg yolk (25 g), at room temperature
1 1/4 cups (175 g) all purpose gluten free flour (I used Better Batter)
1/2 teaspoon xanthan gum (omit if your blend already contains it)
1/4 cup + 1 tablespoon (45 g) cornstarch
Zest of 1 lemon, finely grated (at least 1 heaping tablespoon)
1/2 teaspoon baking soda
1/2 teaspoon kosher salt
Juice of 1 lemon (at least 2 generous tablespoons)
1/2 teaspoon pure lemon extract (optional)
Simple glaze (optional; See Recipe Notes)
Notes
For a simple glaze
To make a simple glaze to drizzle on top of the brownies, place a few tablespoons of confectioners' sugar in a small bowl and add lukewarm water or lemon juice to the bowl by the drop. Mix until you have a very thick paste.
Add more liquid by the drop until the glaze pours off a spoon slowly but in a steady stream. Add some extra lemon zest for more lemon flavor. Drizzle lightly on top of the cut brownies and let set at room temperature.
Instructions
Preheat your oven to 325°F. Line an 8-inch square baking pan with parchment paper or nonstick aluminum foil, and set the pan aside.

In a small, heavy-bottom saucepan, place the chopped  butter and granulated sugar. Place the saucepan over  medium-low heat and, stirring occasionally to prevent burning, melt the  butter and sugar and bring to a gentle simmer. Remove the pan from the  heat and set it aside to cool until no longer hot to the touch.

In a large  bowl, place the eggs and egg yolk, and beat with a handheld  mixer until foamy and lighter in color (about a minute). Add the cooled butter and sugar mixture, and beat very well until the mixture falls off  the beaters in ribbons (about 3 minutes).

Add the flour blend, xanthan gum, cornstarch, lemon zest, baking soda, salt, lemon juice, and optional lemon extract  to the bowl, and beat to combine. Mix by hand until any remaining streaks of flour disappear. The mixture will be thickly pourable and very sticky.

Transfer the cookie dough to the prepared baking pan, and shake and spread it into an even layer in the pan. Bang the pan a few times on a flat surface to break any large trapped air bubbles.

Place the pan in the center of the preheated oven and bake just until the brownies are no longer wet in the center, about 28 minutes.

Allow the bars to cool in the pan at room temperature for at least 10 minutes before placing them, still in the pan, in the refrigerator to chill until firm to the touch. Slice into 9 or 12 equal pieces, and serve.