If you're gluten free and still can't (or won't) eat oats, there's an oat substitute in gluten free baking for every type of recipe. Now you can finally have a gluten free n'oatmeal cookie!
Can I eat oatmeal if I'm gluten free?
In the U.S., oats are gluten free if they're grown and processed in a contained, gluten free environment. This is a topic that has been very contentious over the years and continues to be so. Whenever I would post a recipe on this gluten free blog that contained oats, I'd have to steel myself for the inevitable debate.
That's why I finally posted all of my thoughts on the subject in a post titled, well, "are oats gluten free." My celiac son has never had a problem with certified gluten free oats, and my whole family loves them in so many different varieties of baked goods.
If you can eat oats without an issue, this post probably isn't going to be of much interest to you. But you might still want to read on if you're curious about the science of baking. ?
I know there are so many of you who either can't or simply won't eat oats. Since I aim to include everyone I can in my recipes, I've been working for a long time on an appropriate oat substitute in gluten free baking.
I would have some measure of success, and then a total failure. That was all until I finally realized that I needed a shift in perspective. In fact, a shift in perspective is almost always at the bottom of every thorny problem in my whole life, recipe development and otherwise.
What can I substitute for oats, if I can't have them?
It turns out that, just like replacing conventional wheat flour with a gluten free flour blend, one size does not fit every recipe. Some flour blends are good for some sorts of recipes, and some for others.
Likewise, sometimes a recipe calls for oats to provide texture, other times simply for bulk like in a no-bake recipe, and still other times the recipe calls for it to be ground into a flour. In that case, there's a lot more chemistry involved. Yay! (if you're me) Or boo! (if you're a normal person) I do love the challenge.
There are three basic types of oat substitutes in gluten free baking. They are:
The most exciting substitution that I discovered for oats in baking is flattened rice (or perhaps flattened buckwheat, if you can find it). It's useful when oats provide texture in baking.
The award for easiest oat substitute in gluten free baking goes to wide, flat coconut chips (not shredded coconut), and they're useful when oats provide bulk in a no-bake recipe.
The most common suggestion for replacing oats in a recipe is usually quinoa flakes, and they're typically used when oats are blended into flour.
When oats provide texture
When oats provide texture in baked goods, your oat substitution can't dissolve into the recipe as it bakes. When I tried baking with coconut flakes or quinoa flakes in recipes like that, the result was a puddle of a cookie that didn't hold its shape.
The holy grail recipe, the one that got away, the Moby Dick of oat replacement tactics is the humble but magnificent gluten free oatmeal cookie. I tried coconut flakes, and it was a mess. I tried quinoa flakes, and no go.
The photo above of an oatmeal cookie was made with the oat substitute that I recommend when you're baking something that keeps the oats whole. It looks, smells and even tastes like an oatmeal cookie. For real! I even made it using my favorite vegan butter substitute (Melt), and it turned out amazing.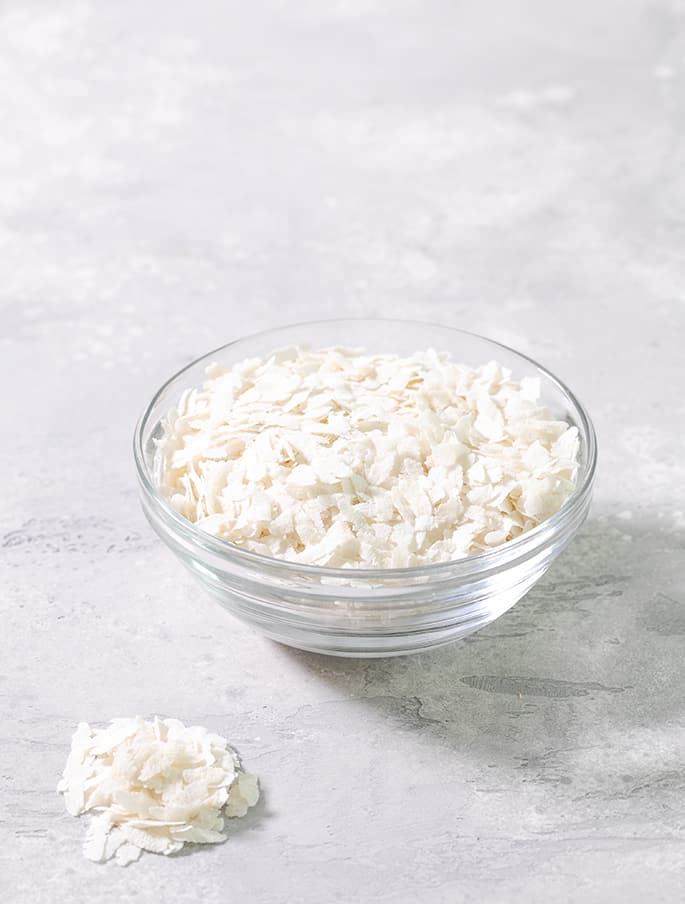 I started looking for other rolled grains that might hold their shape in baking like oats, but also would soften when added to other ingredients and baked in the oven. I hit the jackpot with beaten or flattened rice, which is simply rolled rice. It is often used to make "poha," which is a savory West Indian dish.
At first, I searched for buckwheat flakes, which I still believe would work just as well as flattened rice. But it simply wasn't available in the U.S. It does seem to be pretty widely available in Australia, though, and since no oats are considered gluten free there, I recommend that you give it a try.
The brand of flattened rice that I purchased and used was Vedica Organics. (That's an affiliate link but please feel free to shop around.) It worked great.
There are other brands of flattened rice available, though, and I do understand that there can be a huge variation in thickness of the product. I'm afraid I can't speak to any other brands. If you can, please share in the comments!
When oats provide bulk in a no-bake recipe
The first success I had in substituting oats in any of my recipes here on the blog was when oats provide bulk in no-bake recipes. No chemical reaction was going to go on with the oat sub, so I had to (again) shift my perspective.
I had tried quinoa flakes in recipes like these oatmeal breakfast cookies, and it was a failure. The quinoa flakes just didn't have enough structure. But a no-bake recipe was going to be different…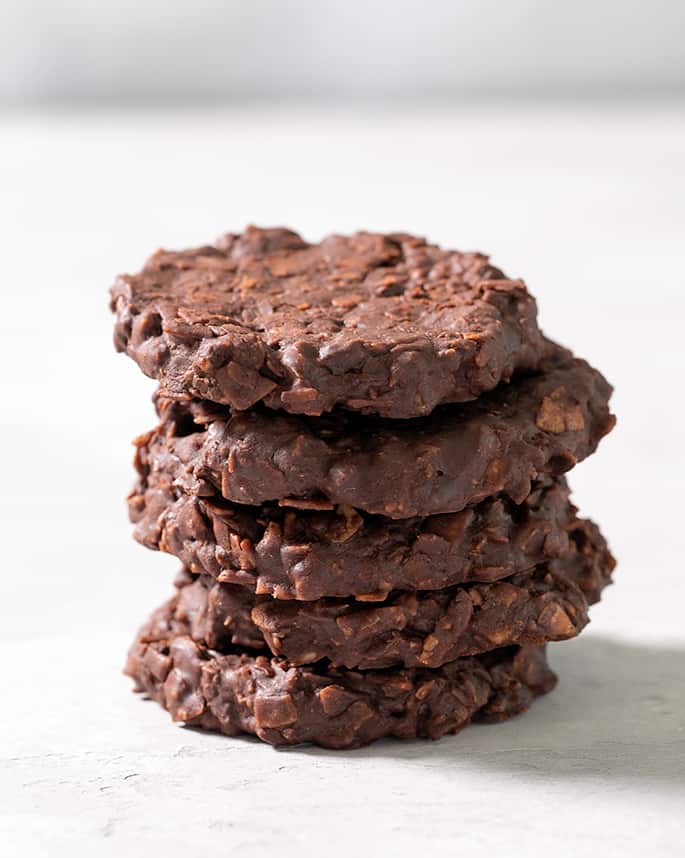 These cookies above are made using my recipe for no bake oatmeal cookies, but with coconut flakes in place of oats. Not to brag, but my recipe for no bake oatmeal cookies is made without peanut butter, which is what most recipes like this rely upon. So they're pure chocolate-flavored goodness.
When you replace the old-fashioned rolled oats called for in the recipe by weight, in a 1 to 1 swap, they work amazingly well. There is a coconut flavor to them, of course, when made this way. I also typically use virgin coconut oil in that recipe, not butter, so clearly we're good with coconut flavor.
Coconut flakes are those wide, flat chips, not the shredded coconut that might be most familiar. If you want to add more coconut flavor when using these chips, try toasting them first in the oven before baking with them.
Just place the chips in a single, mostly even layer on a large rimmed baking sheet and bake at 325°F for about 10 minutes or until they're all lovely and brown on the edges. To make sure that they toast evenly, you can stir the chips after about 5 minutes before returning them to the oven to finish baking.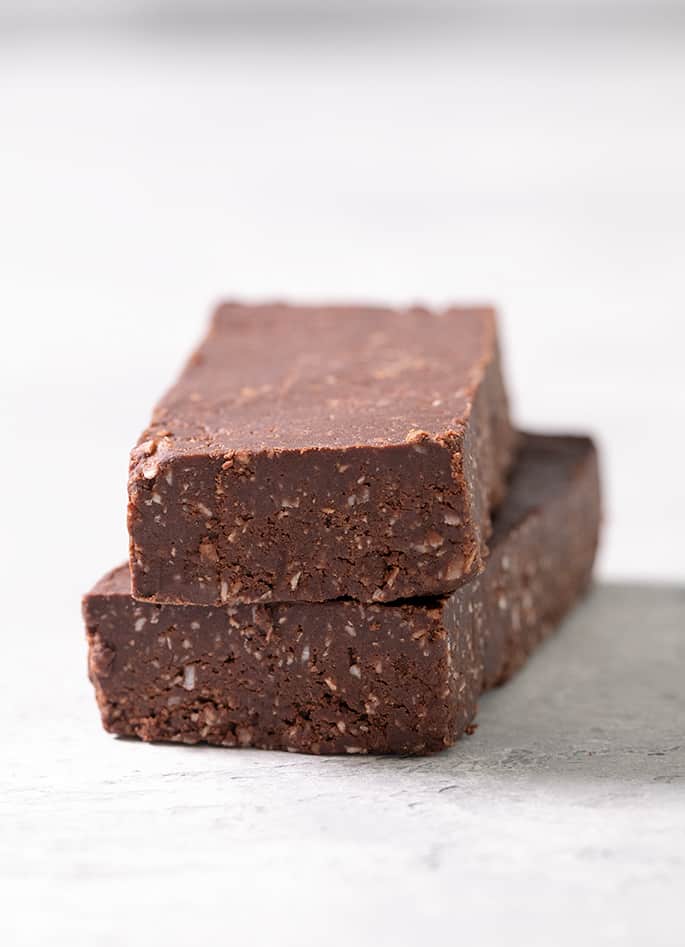 The very first success I had when replacing oats was in my homemade protein bar recipe. All I did was replace the rolled oats in the recipe by weight, one for one, with coconut chips. You can see the result pictured just above. Perfection!
I made them using the "nut butter variation," but I'm confident that they would work just as well with the "medjool dates variation." I published that recipe ages ago, and in it I promised that I was working on a grain free version. I've actually been working on it ever since, but it's taken me this long to feel confident enough to share it with you!
When oats are blended into flour
The final oat substitute for gluten free baking we'll discuss is for when oats are blended into a flour. For this application, you may actually have more latitude when deciding on a replacement. But quinoa flakes work perfectly well, so I really recommend you stick with those.
Quinoa flakes are basically produced when the quinoa seed is run through a rolling machine. They're not nearly as hearty as actual oats, but when they're blended into a flour, they behave like oats. There are a number of brands of quinoa flakes, and some of them are pretty widely available.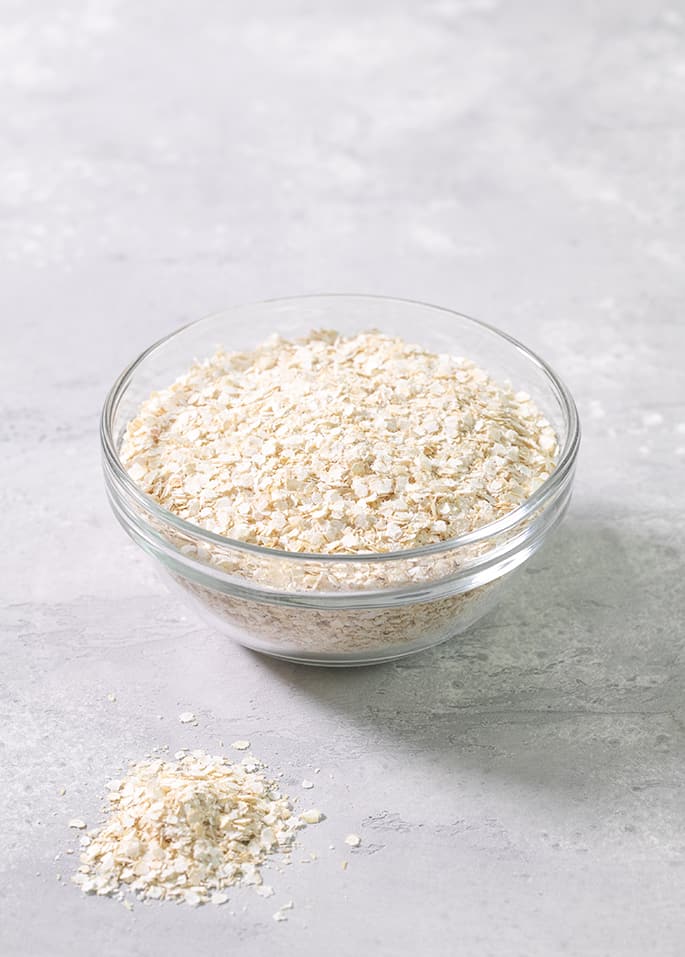 Ancient Harvest brand quinoa flakes (affiliate link; feel free to shop around!) seems to be the most widely available brand of quinoa flakes. They're great!
There is also I Heart Quinoa brand (affiliate link as well), and I find them to be a bit heartier which makes them more compatible with oat-focused recipes. Just be sure you're buying the "unsweetened" variety of toasted quinoa flakes.
The recipe you see above is my banana oatmeal muffins, made with quinoa flakes as a one to one replacement for the rolled oats, by weight. I was a little afraid that they were going to taste a little earthy since I'm not a huge fan of the taste of quinoa.
But they were delicious. Lightly sweet, nutrition-packed whole grain muffins that are still the perfect way to start your morning—with no avenin in sight. :)