These tender and light gluten free strawberry cupcakes are flavored with cooked and pureed strawberry syrup, and topped with a strawberry glaze or frosting.
How to bake with strawberries
When strawberry season is in full swing, they smell like strawberries, look like strawberries (red inside and out!) and even taste like strawberries. I never really tire of baking with this lovely fruit, but baking with a berry that has a ton of moisture can be tricky.
These gluten free strawberry cupcakes are made with a strawberry syrup that's easily made by cooking some strawberries (frozen work great here) with some sugar and a bit of water. Blend the cooked mixture, and you have a concentrated strawberry flavor that adds color, sweetness, and aroma.
Frozen strawberries, like all frozen fruits, are frozen at the peak of freshness, so they're always perfectly ripe. Since they're being cooked down in the syrup, and frozen berries are a lot cheaper than fresh, I recommend using frozen berries here.
If you do use fresh strawberries, make sure you're only using them when the strawberries are at their height. That means that they're bright red and have a strong smell.
How to make this beautiful strawberry glaze
The thick, opaque strawberry glaze that you see in the photo just above is made with two ingredients. It's a combination of the strawberry syrup that we made with berries cooked with a bit of sugar and water, then blended until smooth, and confectioners' sugar.
To make a perfect glaze, the secret is to add liquid very very slowly. Make a super thick paste with the confectioners' sugar and some strawberry syrup. Then, add water by the drop until you have a thickly pourable glaze.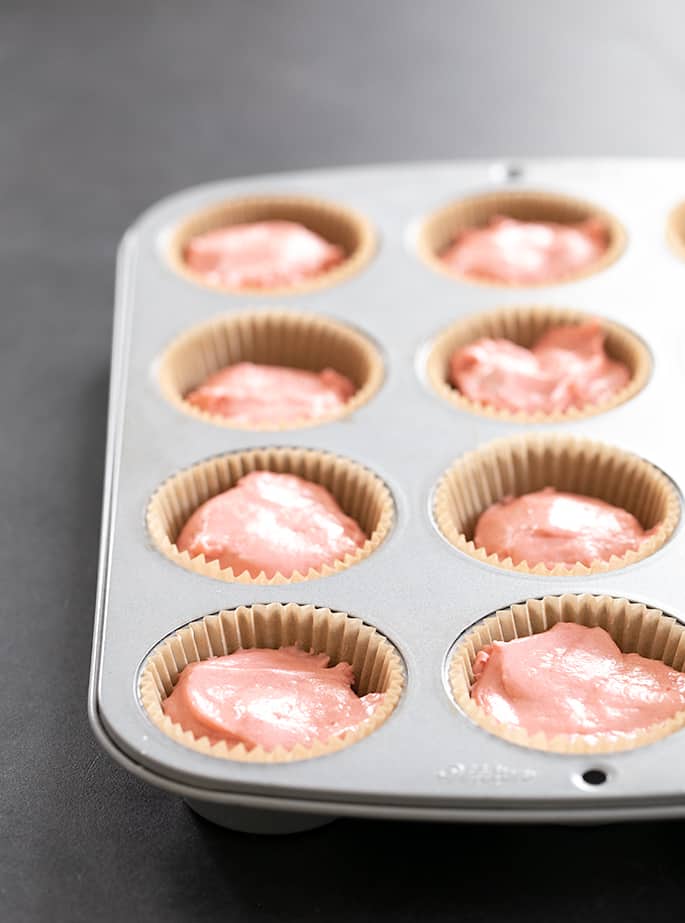 Adding red gel food coloring
Don't panic, but if you want the inside of the cupcakes to be pink, you'll need to add red gel food coloring. You don't have to use it at all (I often don't).
Only gel-based food coloring would be of any use (I love Americolor brand for a reliably gluten free option). Liquid food coloring is not vibrant enough to color the cupcakes without using a ton of it. And if you use a ton of it, you'll taste it—and you'll have upset the moisture balance of the cupcakes.
Before the strawberry syrup is baked into the cupcake batter, it's beautifully vibrant in color. But the cakes turn to brown in the oven. If you want a vibrant color in the finished cupcake, use gel food coloring.
You won't need any food coloring for the glaze or the frosting. Since there's no baking involved, the colors stay vibrant. In the photo below, the cupcakes were made without adding any food coloring, and they're a light brown color throughout.
Ingredients and substitutions
Dairy
To replace the dairy in the cupcakes or the frosting, you'll need a nondairy substitute for both the butter and the milk. The milk is easy. Just use your favorite nondairy milk; mine is unsweetened almond milk.
For the butter, I recommend Melt or Miyoko's Kitchen brand vegan butter. They behave the most like butter in baking. I think that Earth Balance buttery sticks would add too much moisture, leading to a denser cupcake.
For the butter in the frosting, if you don't have vegan butter, try using Spectrum brand nonhydrogenated vegetable shortening. Or just make the glaze instead!
Eggs
There is one whole egg and one egg white in this recipe. You can try replacing the whole egg with a "chia egg" (1 tablespoon ground white chia seeds + 1 tablespoon lukewarm water, mixed and allowed to gel).
For the egg white, try 2 tablespoons of applesauce. Just a hunch!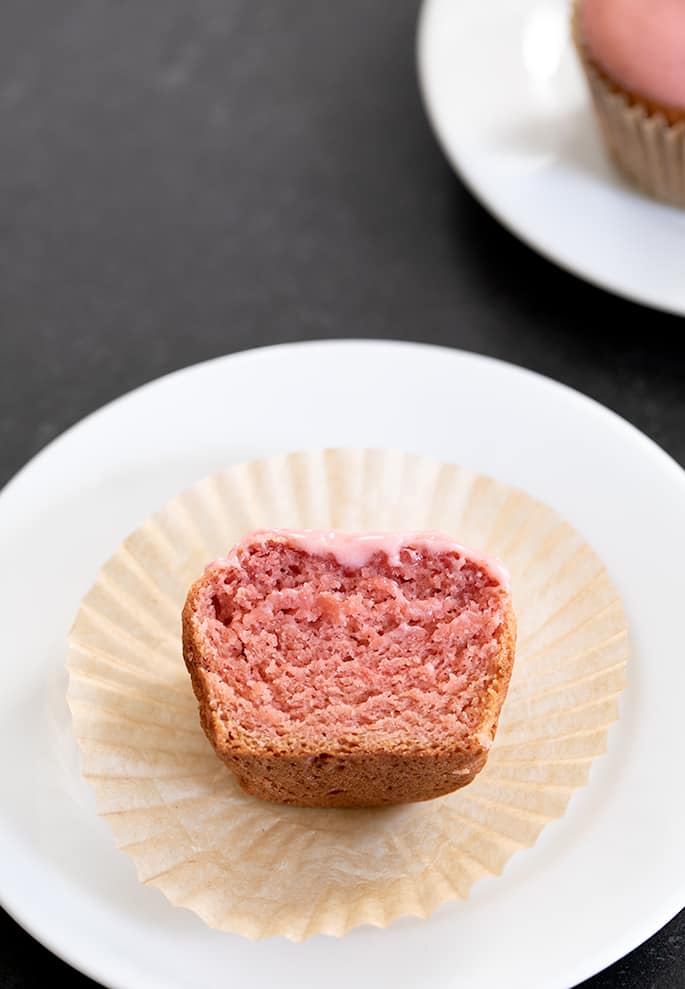 Gluten Free Strawberry Cupcakes
Ingredients
For the strawberry syrup
1 pound strawberries, frozen or fresh but hulled and roughly chopped
1/4 cup (50 g) granulated sugar
1/8 teaspoon kosher salt
1/4 cup (2 fluid ounces) lukewarm water
For the cupcakes
1 3/4 cups (245 g) all purpose gluten free flour (I used Better Batter)
3/4 teaspoon xanthan gum (omit if your blend already contains it)
1 teaspoon baking powder
1/2 teaspoon baking soda
1/2 teaspoon kosher salt
1 cup (200 g) granulated sugar
8 tablespoons (112 g) unsalted butter, at room temperature
1 egg (50 g, weighed out of shell) plus 1 egg white (25 g) at room temperature, beaten
2 teaspoons pure vanilla extract
1 to 2 drops red gel food coloring (optional)
1/3 cup (2.7 fluid ounces) strawberry syrup, at room temperature
1/3 cup (2.7 fluid ounces) milk, at room temperature
Strawberry Frosting (optional)
14 tablespoons (196 g) unsalted butter, at room temperature
3 1/2 to 4 cups (400 to 460 g) confectioners' sugar
1/2 teaspoon kosher salt
3 tablespoons (1 1/2 fluid ounces) strawberry syrup, at room temperature
Milk by the half-teaspoonful at room temperature, as necessary
Strawberry glaze (optional)
1 1/2 cups (173 g) confectioners' sugar
Strawberry syrup, by the teaspoonful and then the drop
Instructions
Make the strawberry syrup. In a medium-size, heavy-bottom saucepan, place the strawberries, sugar, salt and water, and mix to combine. Place over medium heat and cook, stirring occasionally to prevent the mixture from burning, until the strawberries are softened and the liquid has reduced by about 1/4. Remove from the heat and blend until smooth using a stick blender. You can also allow the mixture to cool briefly and then place it in a blender or food processor and process until smooth. Set the syrup aside to cool.

Make the cupcake batter. Preheat your oven to 350°F. Grease or line the wells of a standard 12-cup muffin tin and set it aside. In a small bowl, place the flour, xanthan gum, baking powder, baking soda, and salt, and whisk to combine well, then set the bowl aside. In a large bowl with a hand mixer or the bowl of a stand mixer fitted with the paddle attachment, place the butter and sugar, and beat until light and fluffy. Add the egg and egg white, and vanilla, and mix until well-combined. Add the completely optional red gel food coloring, and mix until well-combined. Add about half of the dry ingredients, and mix until just combined. Add the strawberry syrup and milk, and mix. Add the remaining half of the dry ingredients, and mix until just combined.

Bake the cupcakes. Fill the prepared wells of the muffin tin about 3/4 of the way full with the batter, and shake into an even layer. Place the muffin tin in the center of the preheated oven and bake until a toothpick inserted in the center of the cupcakes comes out clean (about 19 minutes). Remove from the oven and and allow to cool in the muffin tin for 10 minutes before transferring to a wire rack to cool completely. Repeat with the remaining batter.

Make the (optional) frosting. In the bowl of your stand mixer or a large bowl with a handheld mixer, place the butter and beat on medium speed until light and fluffy (about 4 minutes). Add 3 1/2 cups of the confectioners' sugar and the salt, and beat on low speed until the sugar is absorbed by the butter. Add the strawberry syrup and beat to combine. The frosting should be light and fluffy, and should hold its shape easily when scooped with a spoon. Add more confectioners' sugar and/or milk by the half-teaspoonful as necessary to achieve the desired consistency. Once the cupcakes have cooled, frost the cupcakes generously with the frosting, and top with a small dollop of the remaining strawberry syrup.

Make the (optional) strawberry glaze. Place the confectioners' sugar in a small bowl, and add about 1 tablespoon of the strawberry syrup. Mix until it resembles a very thick paste. Add more syrup by the half teaspoon as necessary to create that thick paste. It should be difficult to stir. Add water by the literal drop, and mix completely, until the glaze is thickly pourable. Dip the top of each cooled cupcake, still in its liner, into the top of the glaze, bobbing the cupcake up and down a couple times in the glaze. Slowly raise the cupcake, still upside down, from the glaze to break the trail of glaze, then turn it over and place the cupcake down, right side up. Allow to set at room temperature.

Originally published on the blog in 2014. Glaze added, most photos, and video new.