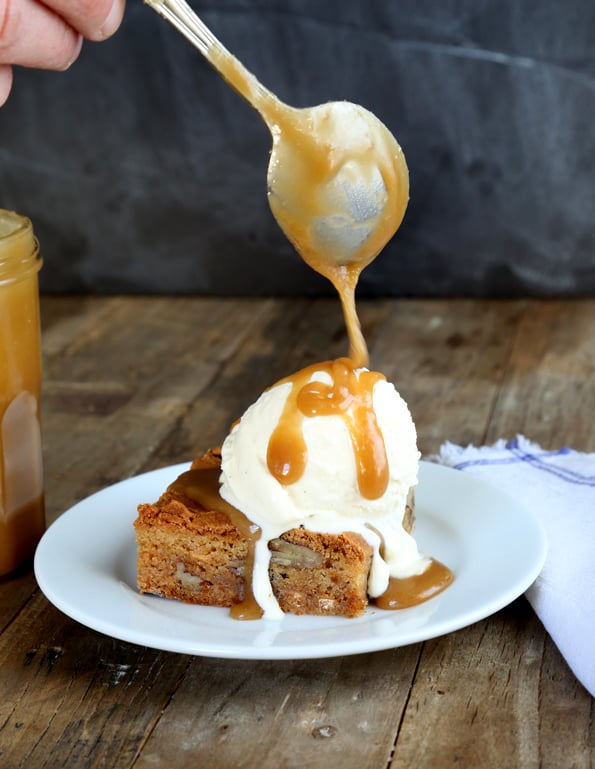 [pinit] You know about my next gluten free cookbook after GFOAS Bakes Bread, right? Copycat recipes for all the name brand snack cakes, cookies, breakfast treats your family's been missing now that you're baking gluten free. Woohoo! I'm gearing up for the photo shoot for that next book (in less than a month! *yikes* I'll show you behind-the-scenes photos of it, if you'd like to see). So, you know, I'm kind of jittery. But even more than jittery, I'm in full-on copycat mode. If they can make it with gluten, I'm bound and determined to make it without. So when one lovely reader asked on Facebook if I would develop a recipe for Gluten Free Maple Butter Blondies in the style of the old Applebee's blondies it sailed right to the top of the list.
Well, actually, first I had to look it up. I'm so *ashamed* but the truth of it all is that I had never even heard of maple butter blondies. But it seems that it's, like, a thing. Near as I can tell, they no longer serve it at Applebee's (not that they ever served it gluten free), but it's still a chain restaurant thing. Where have I been?!
I thought of this as sort of a deconstructed butter pecan ice cream. But in the form of a thick, chewy blondie studded with pecans and white chocolate chips…
… topped with a butterscotch sauce made with pure maple syrup (hello maple butter!), then a scoop of the best vanilla ice cream I have ever had (not to mention the easiest!), and more maple butter. 'Cause why not. You can make each of the parts separately, and way ahead of time if you like. Each part on its own is pretty impressive. But put them all together, and no one will forget this dessert. Or you. They'll be calling your name. And begging you for just … one … more… bite. Seriously, you guys have the BEST ideas!