Gluten free choux pastry is a classic French pastry made by cooking butter, milk, and flour into a paste, then adding eggs. Bake or fry the dough into classic cream puffs, éclairs, profiteroles, or even crullers.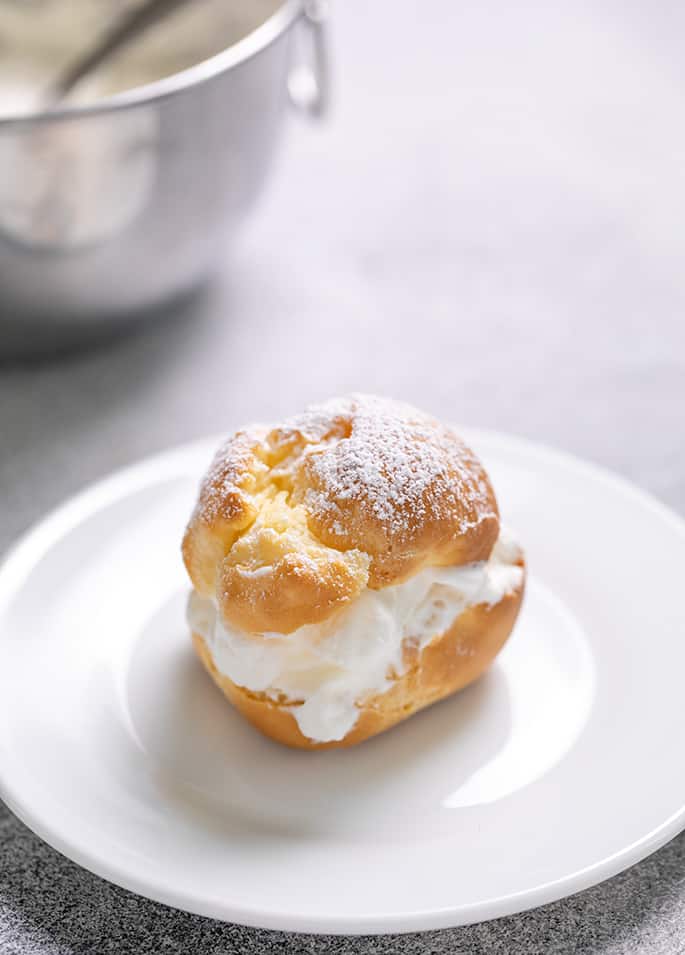 What makes this recipe for GF choux pastry special?
Called pâte à choux in French (like I speak French (I don't 🤣)), this recipe is for one of the basic types of pastry. It's light and airy, kind of like popovers, but without a heaviness, even at the bottom.
Choux pastry has its own category, like pie crust and biscuits have theirs. They aren't prepared cold, like most other kinds of pastry which rely on cold butter that puffs up in the oven for their rise. It's raised entirely with eggs.
Choux can be made savory or sweet by adding sugar or cheese to the dough, or as fillings after. In the photos here, you see puffs split in half and filled with the most basic lightly sweetened whipped cream.
What else can you make with this basic dough?
This recipe is for the basic dough. We have plenty of other, more specific recipes on the blog that use this recipe as a base, but this is the deep dive to help you make and troubleshoot potential hiccups with any of the others.
With minor modifications, it can be made into gluten free crullers (deep fried donuts) cream puffs (like you see here), profiteroles (with ice cream instead of whipped cream), gluten free éclairs (filled with pastry cream) or even gluten free gougères (with cheese in the pastry dough).
There isn't any sugar in this dough recipe, but you could add a bit if you like. Add a few tablespoons of granulated sugar to the choux paste that you cook in a pan.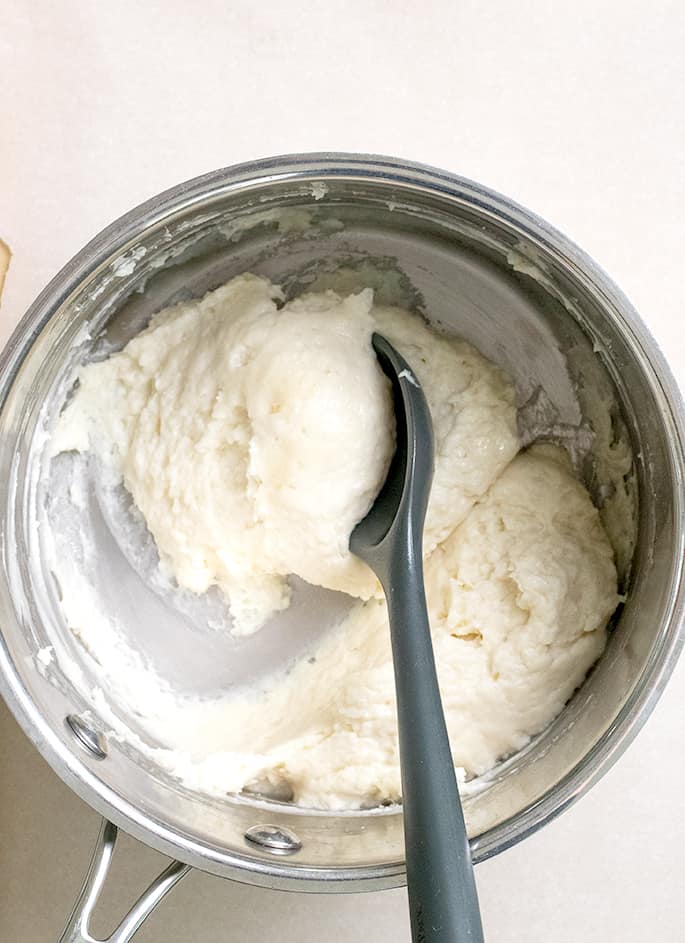 How to make gluten free choux pastry
Recipes like this that call for only a few basic pantry ingredients are wonderful—but they often tend to be particular. That doesn't mean that you can't make them, no matter your experience level.
The relative fussiness means that an understanding of how each step works, and what it's intended to do, is essential to success. Managed expectations also help, so keep in mind that even if your cream puffs or éclairs aren't perfectly light and airy doesn't mean they won't taste great anyway.
Choux pastry begins with the paste
There are four main ingredients in this recipe, and two main elements. The ingredients are butter, milk, salt, the proper gluten free flour blend, and eggs.
The elements are the pastry paste, and the eggs. The paste should be thick and soft, but never runny.
The paste is made by bringing the butter and milk to a simmer, then adding the flour blend off the heat so you have a chance to mix it before the flour clumps too much. Return the pot to the stove and, while stirring constantly, cook the paste until enough moisture evaporates.
If you use a lower fat milk, your paste will have more moisture and will likely require a longer cooking time. Just be sure your heat is low, so you don't brown the paste.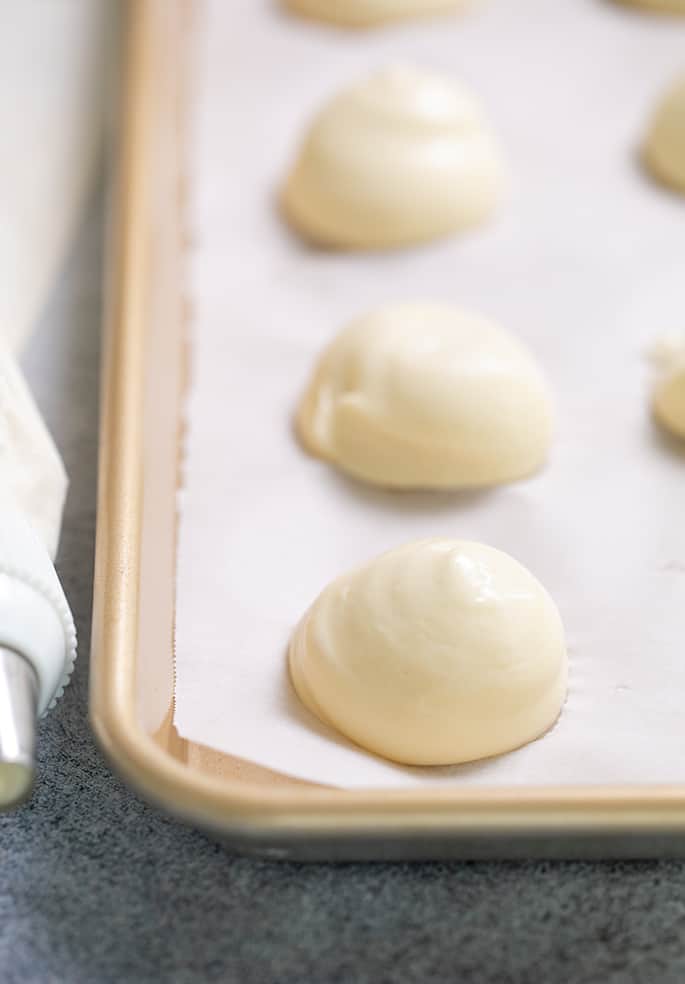 Blend in eggs next
The paste must cool until it's no longer hot to the touch. Remember, we're adding eggs to it and we don't want to cook them at all before they go in the oven.
Those eggs are going to be responsible for any rise, and hopefully the light airiness, of your choux pastry. Adding the eggs to the food processor or blender should be done relatively slowly.
The recipe calls for adding 5 eggs at first, but if you're concerned that your pastry paste might be at all unbalanced, begin with 4 eggs. You can always add more, but you can't remove them once they're blended in.
Troubleshooting gluten free choux pastry
The first time you make choux pastry, you might suspect you have a problem right away, or you might only know when you're less than satisfied with your results. Here's some troubleshooting help, in case you get into a spot:
If your dough or pastries are too dense
You may know you have a bit of a problem before you've even piped the dough at all because your dough is too thick to pipe easily. Or maybe once baked, the pastries dough don't have holes inside.
Those two issues usually go hand in glove. And you need more eggs. But go slowly, though.
Instead of adding whole eggs, beat another egg and drizzle it in a bit at a time, and then blend. Remember that your dough should have a sheen/shine, and you need to be able to pipe and have it hold its shape without flattening too much.
If your dough is too soft/your pastries won't rise or hold their rise
If you place your dough in a piping bag, and it nearly runs right through without any pressure, it's too soft. If you bake your pastries and they either don't hold a rise or don't rise much at all, the issue is likely the same.
Too-soft dough is harder to remedy than too-stiff dough, but not at all impossible. You'll need to make more paste.
Begin to make the recipe again, but stop short of adding any eggs. Don't make a full paste recipe, unless you really went overboard with eggs and/or milk.
A halved paste recipe (3 tablespoons butter + 3/4 cup milk + a dash of salt + 3/4 cup GF pastry flour) should be plenty. Or perhaps 1/3 recipe seems more reasonable.
Then, let the paste cool, and blend it into the too-soft choux pastry you've made. Stop when the texture is shiny and will hold its shape.
Ingredients and substitutions
Dairy
You should be able to make this recipe dairy-free by replacing the butter and milk with dairy-free alternatives. I would try using Miyoko's Kitchen brand or Melt brand vegan butter, and unsweetened almond milk for the milk.
Keep in mind that the higher water content of these ingredients will make your pastry paste (the dough before the eggs) softer. Try to cook the paste at a very low temperature for long enough to evaporate the extra water.
Eggs
There are so many eggs in this recipe, and they alone are responsible for the lift that is characteristic of baked choux pastry. They cannot be replaced in this recipe.
Pastry flour
For a deep dive on the components of gluten free pastry flour, and possible substitutions, please see our post on how to make gluten free pastry flour. If you use an all purpose gluten free flour instead, the pastries are more likely to be more dense and not puff up as much.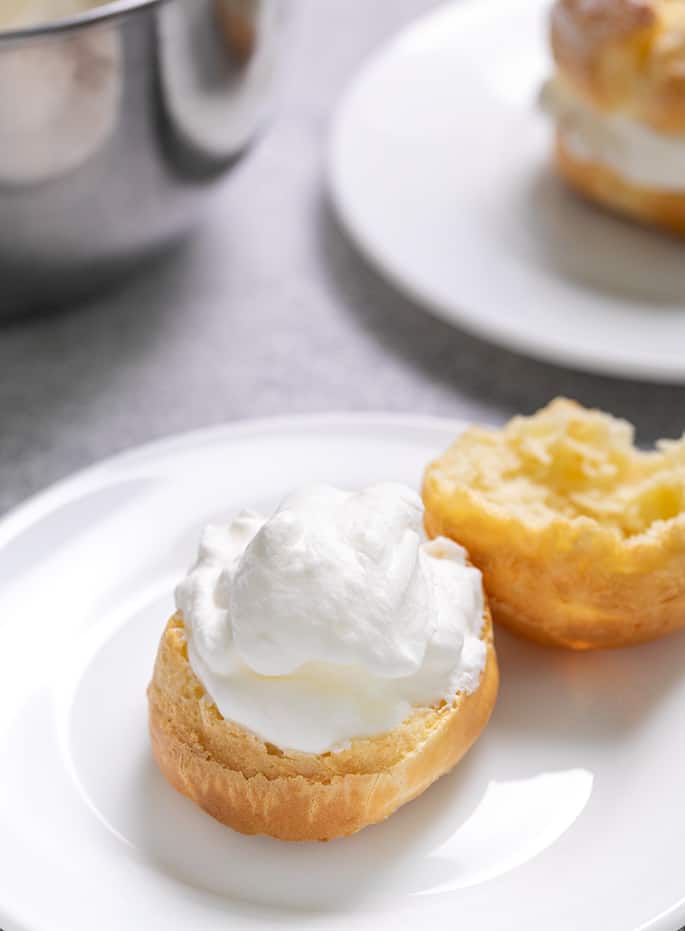 How to Make Gluten Free Choux Pastry
Yield:
About 30 cream puffs
Ingredients
6 tablespoons (84 g) unsalted butter
1 1/2 cups (12 fluid ounces) whole milk
1/4 teaspoon kosher salt
1 1/2 cups (210 g) Gluten Free Pastry Flour (See Recipe Notes)
5 to 6 eggs (250 to 300 g, weighed out of shell), at room temperature
Notes
For the gluten free pastry flour
For a full discussion of gluten free pastry flour, including instructions on how to make it dairy-free, please click through the link in the ingredient list.
Simply stated, for 1 1/2 cups (210 g) gluten free pastry flour, combine 168 g (mock) Better Batter + 21 g cornstarch + 21 g milk powder. You can also simply use 1 1/2 cups (210 g) (mock) Cup4Cup, which is equivalent to a gluten free pastry flour.
Instructions
Preheat your oven to 375°F. Line two large rimmed baking sheets with unbleached parchment paper and set them aside.

To make the paste, place the butter, milk, and salt in a medium-size, heavy-bottomed saucepan over medium heat until the butter is completely melted and the mixture begins to simmer.

Remove the pan from the heat, add the pastry flour, and stir vigorously until very well-combined. Return the pan to the stove and cook over low heat, stirring constantly, until the mixture comes together in a ball and begins to leave a film on the bottom of the pan (about 2 minutes). This step is designed to help evaporate as much moisture as possible from the paste.

Remove the paste from the heat, and allow the mixture to cool for at least 3 minutes, or until it's no longer hot to the touch. Transfer the cooled dough to a blender or food processor fitted with the steel blade. Pour 5 of the eggs on top of the paste, lock in the lid, and process until the mixture is smooth and uniformly well-blended (about 2 minutes).

Open the blender or food processor, and scoop the choux pastry with a mixing spoon. The dough should be shiny and soft, and fall off the spoon without being runny. If the dough isn't shiny, process again in pulses until it has a sheen. If the dough isn't soft enough to pipe through the tip of a pastry bag, beat the remaining egg and add it bit by bit, processing in between additions, until the dough is the proper consistency.

To make cream puffs, transfer the dough from the blender or food processor to a pastry bag fitted with an open, round piping tip about 1/2-inch in diameter. Pipe the dough onto the prepared baking sheets into small mounds of about 1 1/2 tablespoons each, about 2 inches apart from one another. With the moistened tips of your fingers, smooth the tops of the pastry dough lightly so that nothing will burn during baking.

Place the baking sheets, one at a time, in the center of the preheated oven and bake the cream puffs for 15 minutes. Remove the baking sheet from the oven and, working quickly and using a sharp paring knife, cut a small slit in the side of each cream puff to allow steam to escape. The puffs may deflate slightly, but they'll puff back up in the oven.

Rotate the baking sheet 180° and return it to the oven to bake for about another 10 minutes, or until the puffs are lightly golden brown all over and crisp on the outside. Remove the baking sheet from the oven and place it on top of the stove or in another warm location to cool gradually until set (about 10 minutes). Repeat with the remaining pastry dough.

If you don't plan to serve all the puffs right away, it's best to only bake those that you intend to serve. The remaining dough can be stored in a sealed container in the refrigerator for 2 days or so. Allow to come to room temperature, then pipe and bake as directed.