The impossibly light, moist and tender crumb of this cake makes it (yes, really) the very best gluten free vanilla cake you've ever had.
Really, I think it makes it the best vanilla cake recipe, period. But it does happen to be gluten free, after all.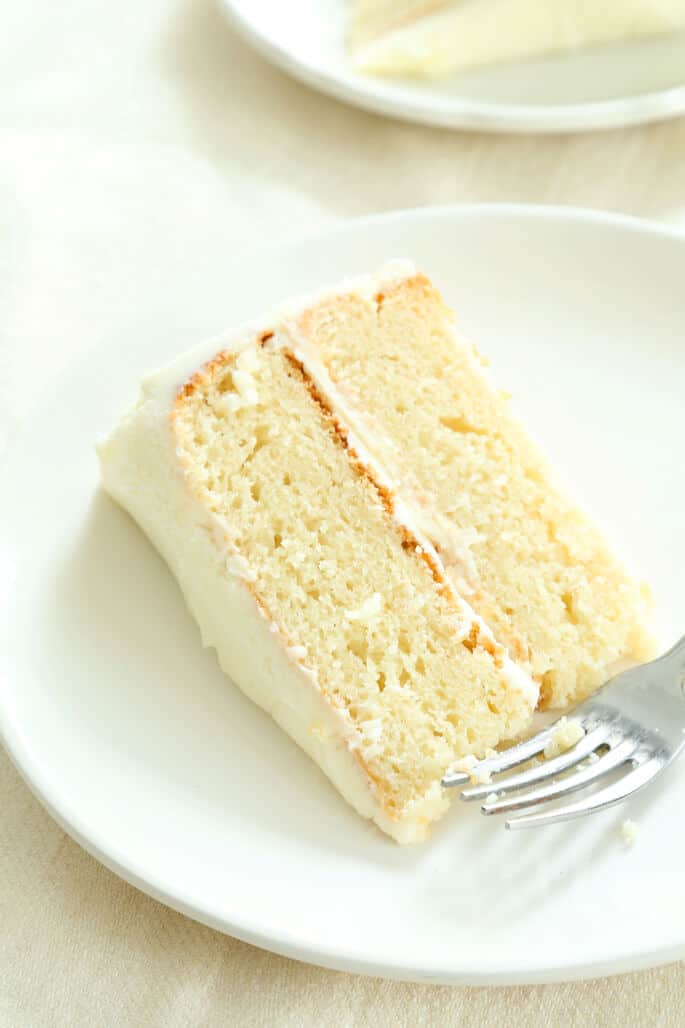 Between September and February of any given year, there are birthdays upon birthdays in my family. Everybody gets to choose what sort of cake they'd like to celebrate with, but if you drag your feet—then I choose.
And I usually go old school, like this gluten free vanilla cake recipe or my one bowl gluten free chocolate cake. Every once in a while, I really get down to basics with my flourless chocolate cake.
But a chocolate cake as rich and fudgy as that flourless cake is only appropriate if the birthday boy or girl is a true chocolate lover.
Simple pantry ingredients
Like that gorgeous one bowl chocolate cake, the ingredients to the best gluten free vanilla cake are simple pantry ingredients: flour, baking powder, baking soda, salt, butter, sugar, eggs and vanilla.
Unlike chocolate cake, to get the best vanilla cake you're going to have sift the dry ingredients (yes, you really do have to if you want that super tender, non-grainy crumb), and beat the heck out of the butter and sugar before you even think about adding anything else.
A stand mixer is great, but a handheld mixer works just as well provided you're willing to stand there, beating and beating for at least 3 minutes.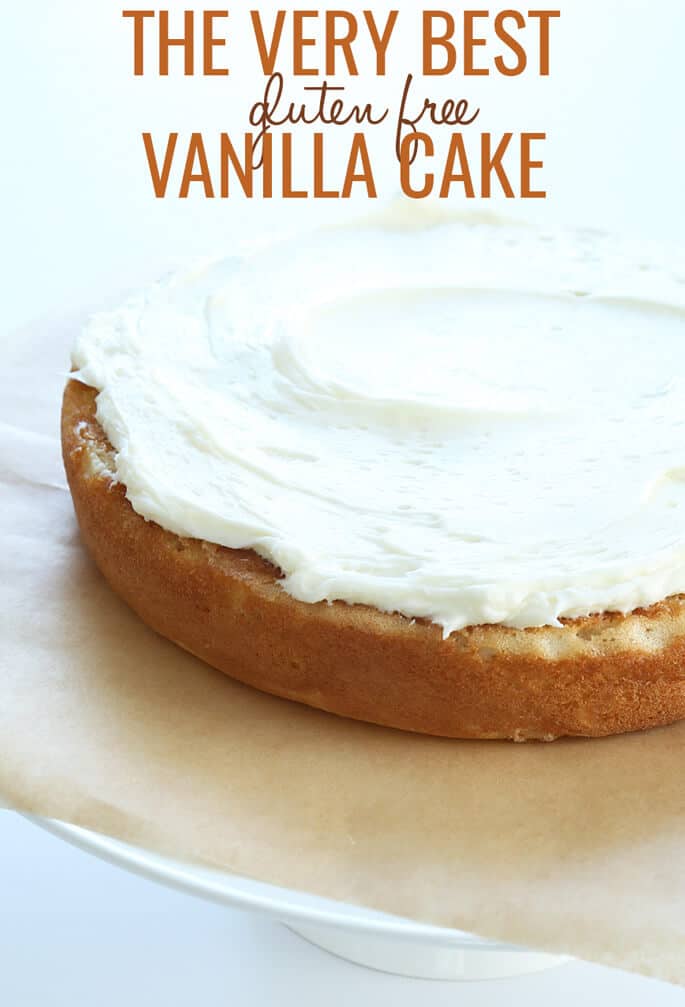 Ingredients and substitutions
I've tried this cake every which way, and this is truly the best. If you need to modify the ingredients, of course the cake will be different.
Dairy
For dairy-free, I recommend Spectrum nonhydrogenated butter-flavored vegetable shortening in place of butter. Try 1:1 by weight. You can also try vegan butter like Miyoko's Kitchen or Melt brands.
You'll need a buttermilk substitute. Try half unsweetened almond milk by volume and half nondairy plain yogurt in place of the buttermilk.
I really don't like a simple milk + acid like lemon juice or vinegar as a buttermilk replacement. That only replaces the acid, but not the thickness of buttermilk. The half milk half yogurt swap is the best.
Maybe you'd like to make a white cake, instead of this yellow cake. My recipe for gluten free white cake is perfect for adding food coloring for a special occasion.
If you'd like to turn this cake into a two-layer homemade Funfetti cake, we have a gluten free birthday cake recipe. That recipe also has recipes for chocolate sour cream frosting for the center of the cake, and chocolate icing for on top. *chefskiss*
Eggs
I have not tried this cake with an egg substitute. But I'm afraid I just can't see working out very well since this cake is very egg-dependent.
My typical egg replacement suggestion is a "chia egg" (1 tablespoon ground white chia seeds + 1 tablespoon lukewarm water, mixed and allowed to gel). But this cake calls for mostly egg whites, and a chia egg is not an egg white substitute.
If you're feeling adventuresome, you can try replacing the whole egg with a chia egg and the egg whites with slightly whipped aquafaba. Aquafaba is simply the brine from a can of chickpeas.
I'm working on a true vegan gluten free vanilla cake recipe. But in the meantime here we are. ?
Corn
In place of cornstarch, try arrowroot or even potato starch. If you are using a higher starch all purpose gluten free flour blend like Cup4Cup (or my mock Cup4Cup), replace the cornstarch in this recipe with an additional 54 grams of your flour blend.