Learn the ins and outs of baking with gluten free flours and flourless with this beginner's guide to gluten free baking. Start baking delicious gf bread, cookies, and more with these tips.
Table of Contents
What's different about baking gluten free?
Gluten free baking requires good, well-balanced gluten free recipes that have been designed for the use of good quality gluten free flours specifically. The remaining ingredients in the recipe must be in the right ratio for gf flour blends, which are just different.
But once you have the right gluten free recipe, and the right gluten free ingredients, you proceed as normal! Just follow the recipe. The rest is my job. 😊
What is gluten, and where does it come from?
Gluten is the protein found in wheat, barley, and rye. It can also be found in anything derived from these gluten-containing grains, such as malt and brewer's yeast (not to be confused with baker's yeast, which we use in gluten free bread-baking all the time, safely).
There are many varieties of wheat, including spelt which is an ancient form of wheat. But for people who are gluten intolerant, have celiac disease, or allergic to wheat, all forms of wheat flour, including conventional all purpose wheat flour, are off-limits.
If you're truly brand new and you're wondering which foods contain gluten and which are naturally gluten, please see our guide to the Basic Rules of a Gluten Free Diet. If you're ready to start baking, here's where you begin!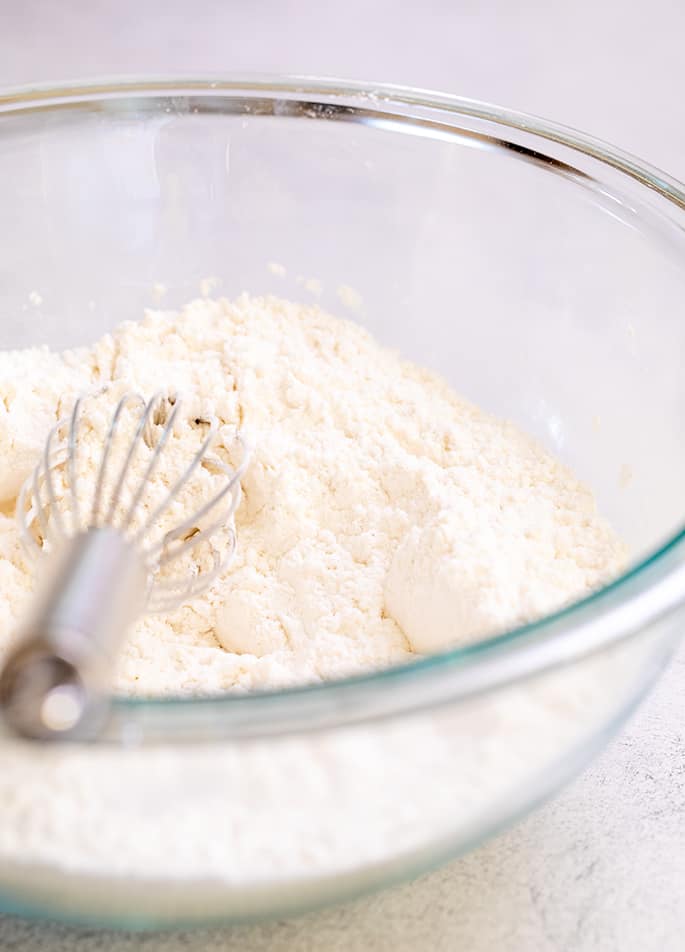 How does gluten free flour differ from all purpose wheat flour?
Gluten free flour is different from conventional all purpose flour made from wheat in nearly every possible way! The first difference you'll notice is that there is no individual gluten free flour that can be used as an all purpose gf flour.
So instead of a single gf flour, to make most gluten free baking recipes, you'll need a blend of a few different flours—and gf recipes that were developed to make the best use of that blend. The rest is easy, since you can just sit back, relax, and follow a solid gf recipe.
If you're satisfied with that explanation, and you enjoy following a recipe precisely, proceed right to our gluten free recipes archive, and get baking all your old favorites right away! If you'd like to understand a bit more why my recipes are the way they are, read on!
Gluten free flour blends tend to absorb more liquid
Even the best-balanced gf flour blend will require a bit more moisture in almost any gf recipe. All of my recipes are already balanced properly, so you don't need to add anything.
But if you're an experienced conventional baker, you may notice that many recipes, especially those for batter-style gluten free bread, produce a raw dough that's wetter than you're used to. And that, gluten free pancake recipes call for more liquid, and can tend to thicken as they stand.
Gluten free flour blends won't be overmixed in the same way as wheat flour
If you've ever made a conventional muffin recipe and worried that you were mixing it too much and that you might "develop the gluten" in the flour, you're gonna love gluten free baking! There's no wheat gluten to develop, so go ahead and mix out those lumps.
Some gluten free baked goods may require longer baking times
Since gluten free baking recipes can sometimes call for more liquid than conventional recipes, the appropriate baking time may be a bit longer than you're used to.
If the recipe doesn't have baking soda, try letting it rest
Baking soda, which is a common ingredient in quick breads like muffins and cookies, provides rise—but, unlike baking powder, it's single-acting. That means that as soon as it's mixed with the wet ingredients in the recipe, it activates right away.
If your recipe doesn't have baking soda as an ingredient, or you're not relying on it to rise in the oven (like in drop cookie recipes) you can try letting the raw dough rest for a few minutes before baking. That will give the gf flours a chance to absorb some of that liquid first, where they'll do their job but won't require more baking time.
How to tell when your gf baking recipe is ready
Typically, gluten free baked goods appear just like conventional baked goods when they're done baking. That's because the recipe itself should have already accounted for any differences in the nature of your ingredients.
Pay careful attention to whatever the instructions in a particular recipe are for testing doneness, though. Sometimes, the "toothpick test" (inserting a toothpick in the center of a baked good to see if it comes out clean) is not that reliable, but pressing a muffin in the center gently to see if it springs back is. Your recipe will be your guide.
How to mimic the taste and feel of gluten-containing foods with gluten free flours
A good gluten free flour blend usually requires something to mimic the behavior of gluten, which is sticky and binds food together. In addition to mimicking gluten using gf flours that tend to bind (like tapioca starch and sticky white rice flour), we use a few different types of binders in gluten free baking.
Here are the main binders in gluten free baking, with a brief explanation of what each is best at doing for your gluten free baked goods:
Xanthan gum
Xanthan gum, according to Gluten Free Living Magazine, is a powder that is the product of fermentation of "glucose by xanthomonas campestris bacterium, from which it gets its name." It is gluten free provided it is grown on a gluten free substrate, which it usually is. Bob's Red Mill makes gluten free xanthan gum.
Xanthan gum works most effectively as a binder in heated applications, such as baking. Since xanthan gum in particular is water-loving, it helps keep gluten free baked goods from drying out faster than you might expect from conventional baked goods.
My general rule of thumb is to add 1/2 teaspoon xanthan gum per 1 cup (140 g) all purpose gluten free flour blend in a recipe. It is often already included in all purpose gluten free flour blends, like Better Batter, in which case you don't add more xanthan gum to the recipe.
Guar gum
Guar gum is also a binder and thickener, like xanthan gum, which is often used in gluten free baking. It's made from a seed.
Unlike xanthan gum, which is most effective in heated applications, guar gum is best in cold applications, like smoothies. It's a common ingredient in packaged products, too, for that reason.
Guar gum is often seen as a 1 for 1 replacement for xanthan gum, but I never bake with it since it's just not as effective as xanthan gum in binding heated baked goods.
Expandex modified tapioca starch
Expandex is a brand of modified tapioca starch that I find particularly useful in gluten free bread baking. Expandex is a chemically modified starch, not genetically modified.
For a full explanation of how and where I recommend using Expandex, please read about our gluten free bread flour blend. It is a very strong binder, and isn't appropriate for most gluten free baking applications.
Konjac powder/glucomannan powder
Konjac powder (also called glucomannan) is a powder derived from a starchy herb, and it has binding properties that are similar to xanthan gum and guar gum. I've done some experimenting with it, and invite you to learn more about it and try baking with it in our gluten free biscuit recipe without xanthan gum.
Types of gluten free flours and flour blends
There are many gluten free grains and other gluten free ingredients that can be ground into flour and used to support your gluten free baking. No single gluten free flour can be used as an "all purpose gluten free flour," it can be interesting to learn about the gf flours that you may encounter in your gluten free baking.
Rice flour
Rice flour is as important to gluten free baking as wheat is to conventional baking. Most gluten free baked goods are made using a gf flour blend with rice as its base, and the quality of the rice flour in the blend tends to make or break the recipe.
If your rice flour is not superfinely ground, it will add a very unpleasant, gritty taste to your baked goods. It will also prevent the flour from combining fully with the other ingredients in the recipe, creating all sorts of baking imbalances and problems.
Rice flour is sometimes white (from refined, white rice) and sometimes brown (from brown rice). It should all be superfinely ground. Unfortunately, there aren't many sources of truly superfinely ground rice flour available (Authentic Foods is the only brand I really trust), and the best gluten free flour blends, like Better Batter's classic gluten free flour blend, are made with superfine rice flour.
The only time you may be able to bake good gluten free recipes with a gritty rice flour is if you're allowing the raw batter or dough to rest for long enough to soften the grains, like in making gluten free yeast bread. There are no guarantees, though!
Tapioca flour/starch
The terms tapioca flour and tapioca starch are used interchangeably. A white flour, it consists of the starch from the cassava plant, and is grain-free (although very starchy).
Tapioca flour is neutral in flavor, and has wonderful, unique stretchy properties. It adds flexibility and chew to baked goods, and is an essential part of any all purpose gluten free flour blend.
Gluten free flour blends
These individual gluten free flours, plus a few others, together constitute my favorite all purpose gluten free flour blends. For a full discussion of all the flour blends that I use and recommend, please see our all purpose gluten free flour blends page.
Keep in mind that not every gluten free flour is an all purpose gluten free flour blend. All purpose flour blends, whether conventional or gluten free, are good for all purposes, which means they're better for some than for others, but generally "good."
There are always specialty flour blends for more specific baking and cooking applications, like:
Gluten free pastry flour, which has milk powder and more starch for a light richness
Gluten free bread flour, which has Expandex and the protein powerhouse of whey protein isolate in addition to a strong all purpose gluten free flour blend
Gum-free gluten free flour blend, which is the lightest, most basic blend of superfine white rice flour, potato starch, and tapioca starch (and no xanthan gum)
Almond flour
Blanched, superfinely ground almond flour, made from almonds that have had their skins removed, is really useful in in Paleo baking. Almond flour is much more useful in baking than almond meal, which is made from almonds with their skins intact and isn't finely ground.
Almond flour is high in fat, and isn't an all purpose gluten free flour and can't be used successfully in recipes that call for such a blend. But it is very useful in gluten free baking in its own right, especially when combined with oil-absorbing, stretchy tapioca starch, like in our almond flour peanut butter cookies.
Coconut flour
Perhaps the only truly unique gluten free flour, coconut flour is made from dried coconut flesh that has been ground into a flour. It absorbs copious amounts of moisture, so it will upset the balance of any recipe that isn't specifically developed to be made using it.
Coconut flour recipes are often made using lots (and lots) of eggs. If you're interested in baking with coconut flour, which is very low carb so tends to be popular on the keto diet, choose carefully and stick to well-reviewed recipes like our coconut flour pancakes. And never (ever) use it in a recipe that doesn't call for it!
Oat flour
Oat flour is a ground version of whole grain, rolled oats. It's useful in gluten free baking, and doesn't need to be superfinely ground as it's not hard and gritty even when raw.
I buy so-called purity protocol certified gluten free old fashioned oats, and grind them into oat flour or quick-cooking oats myself to save money. If you'd like to make one of my gluten free recipes made with oat flour, like our oat flour chocolate chip cookies, but you're sensitive to even purity protocol oats, see our handy oat substitution in gluten free baking guide.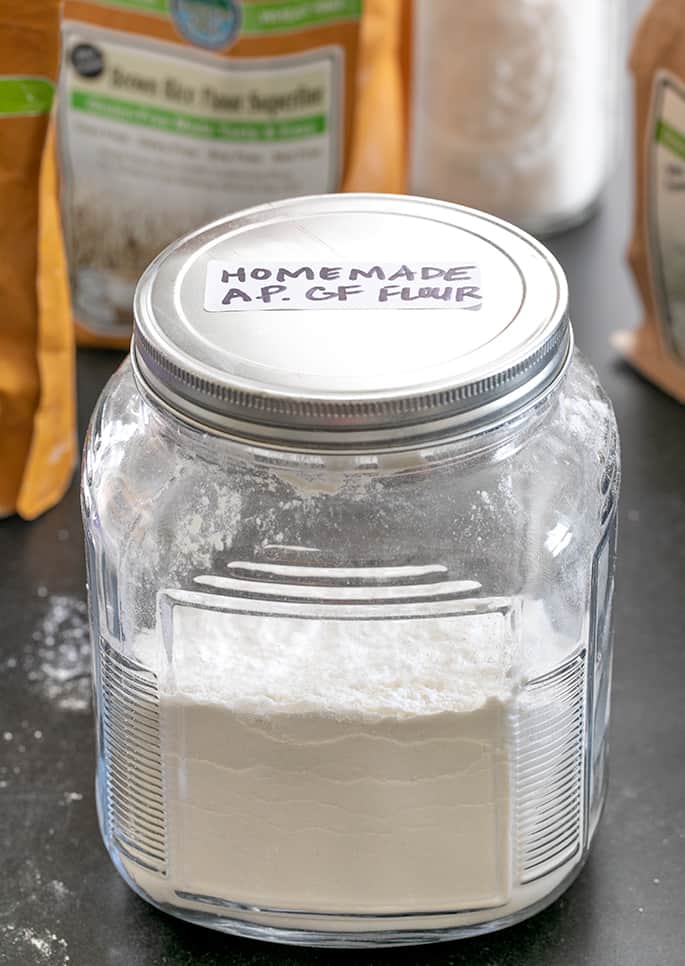 Must-have gluten free baking tools
For most basic gluten free baking, all you'll need are a mixing bowl, a spoon, whisk, light-colored metal muffin tin, a light-colored aluminum rimmed baking sheet, light-colored 8-inch cake pan, spring-loaded ice cream scoop, silicone spatula, measuring spoons, a large wet measuring cup, and a digital kitchen scale.
The digital kitchen scale is the only thing you may not be familiar with, but I promise it will make your clean up so much easier, and your baking successful!
Common substitutes for gluten free baking recipes
The recipes on this blog are all reliably gluten free. I will never publish a recipe that isn't gluten free on this blog. Since my recipes often contain other common food allergens, I suggest allergen-free alternatives for these ingredients wherever possible.
Here are some of the most effective ways to avoid other food allergens, but please check the "Ingredients and substitutions" section of an individual post for specific advice on what I think might work in that particular recipe:
Baking gluten free and dairy free:
For butter, use vegan butter (Miyoko's Kitchen and Melt brands are best);
For milk, use unsweetened nondairy milk that isn't fat free (I like almond milk best);
For buttermilk, use half nondairy milk and half plain nondairy yogurt
For yogurt, use plain nondairy yogurt
Baking gluten free and egg free:
For each whole egg, use one "chia egg" (1 tablespoon ground white chia seeds + 1 tablespoons lukewarm water, mixed and allowed to gel);
For each egg white, use 25 grams aquafaba (the brine from a can of unsalted or lightly salted chickpeas)
Baking without rice flour
If you can't have rice flour, you can't use any of my recipes that call for an all purpose gluten free flour blend. But try using any of my flourless baking recipes, and any of my Paleo recipes.
Baking without different types of nuts
To replace peanut butter, try smooth, no-stir almond butter or cashew butter.
To replace superfine blanched almond flour, try superfine hazelnut flour.
How to bake gluten free — gluten free baking tips
The biggest, most important tip is to use good gluten free recipes and follow the instructions carefully, including sourcing ingredients. If a gf baking recipe isn't specific, it's not a good recipe that is setting you up for success.
Follow the recipe
Once you've settled on a recipe from a trustworthy source, follow that recipe precisely. Keep in mind that we all have habits in our own kitchens that might cause us to deviate from a recipe as written, and those old habits may not serve you well in the precise, potentially new world of gluten free baking.
How to measure gluten free flour
Always measure your ingredients by weight, especially your gluten free flour blend. Anything ground into a powder, like flour, is prone to being over- or undermeasured, no matter how careful we try to be.
Not only is human error unavoidable, adding unpredictability to each baking adventure, there is no universal standard size for dry measuring cups. So measure everything you can by weight, and you'll hit your mark every single time.
Always check product labels
Never assume that any product that might have more than one ingredient is gluten free. Always check product labels, and anything is unclear, contact the manufacturer about their facility, equipment, and ingredient sourcing practices.
Consider whether even a gluten free product was made on manufacturing equipment that has been shared with gluten-containing products, or in a shared facility. Determine whether you're comfortable with these circumstances, or insist on only using products that are made in facilities that are dedicated to gluten free products and preparations.
Sneaky sources of gluten
Gluten isn't really "hidden" in other ingredients, but wheat flour may be added to your favorite spice blends and seasonings. Keep in mind that anything derived from gluten-containing grains, like malt syrup or brewer's yeast, isn't gluten free.
Storing gluten free baked goods
Gluten free baked goods made with high-quality gluten free recipes and ingredients should not age any faster than their conventional counterparts. In general, though, here are some guidelines for how to store different baked goods, to help them last as long as possible.
Storing gluten free bread
Store gluten free bread wrapped tightly at room temperature for a day, and then slice and store in the freezer (never the refrigerator). "Day old bread" is day old bread, with gluten or without.
Storing crispy cookies and crackers
Anything crispy will keep its texture best when stored in a sealed glass container at room temperature. Plastic will cause baked goods to absorb moisture, and they'll lose their crisp, so stock up on mason jars!
FAQs — gluten-free baking troubleshooting
How do you make gluten free baked goods rise?
Any baked goods made with a chemical leavener like baking soda or baking powder should rise as expected as long as your leavener is fresh. Check expiration dates on your containers and don't take a chance.
For the highest dome on a gluten free muffin, start out with a higher baking temperature (like 400°F) for less than 10 minutes, then reduce the temperature to 350°F to finish baking all the way through.
For yeast bread, make sure your bread has enough hydration (without enough liquid, yeast won't become active) by following the recipe and measuring by weight (even water can be measured by weight, since 1 fluid ounce (volume) of water = 1 ounce (weight)). Allow your yeast bread time to rise, too, since overproofing is a result of too much rising, not rising for too long.
Why did my gluten free baked goods come out with a gummy texture?
If you're getting a mushy texture, your baked goods were most likely underbaked inside. If it's a well-balanced recipe with good quality, properly measured ingredients, your oven is probably running too hot, so the outside is baked before the inside has developed enough structure by being baked all the way through.
Why did my gluten free baked goods come out with a gritty texture?
Your rice flour isn't finely ground enough. It's not your fault, it's the fault of your all purpose gluten free flour blend. You must source this ingredient most carefully! Authentic Foods brand superfine rice flour is best; Vitacost brand has a superfine rice flour that is usually quite good; Bob's Red Mill rice flour should always be avoided.
Why did my gluten free baked goods come out so dry?
If your baked goods are too dry, ask yourself if you made ingredient substitutions, if you measured properly by weight, and followed ingredient instructions for the temperature of ingredients, specifically. If your ingredients were meant to be at room temperature, and even one ingredient was cold, they won't combine properly, and then won't bake properly.
Why did my gluten free baked goods come out so dense?
Dense yeast bread probably didn't rise long enough, or didn't have enough liquid (did you proof your bread in the refrigerator and the refrigerator was too cold or the container wasn't well-sealed so the liquid evaporated?).
Dense cake, muffins, or quickbread may mean you overmeasured your liquid, your baking powder and/or baking soda weren't fresh, or your oven was too hot so your baked goods rose and then fell as they cooled.
Why did my gluten free baked goods come out crumbly?
If your gluten free baked goods are crumbly, you probably overmeasured your gluten free flour—or used a gluten free flour blend that is too high in starch, which absorbs too much moisture. If you didn't use xanthan gum or a proper substitute in a recipe that called for it, your baked goods won't hold together properly.
Easy gluten free baking recipes — perfect for beginners!
Much of cooking is usually naturally gluten free. That means that much of our time here is spent on gluten free baking.
But it's best to start simply, build up confidence, and you'll be making gluten free puff pastry from scratch before you know it. It's best to begin with less intimidating recipes and then turn to things like fancy pastries and even gluten free yeast bread another day, soon.
For now, here are some easy gluten free baking ideas, to get you started (including a good starter gf yeast bread recipe, if you feel ready):
Gluten free drop cookies are always a win
Try a "drop" gluten free cookie recipe, which just means a cookie that made by dropping cookie dough on a baking sheet, not by rolling out dough and cutting out shapes.
Flourless muffins, with batter made in a blender
If you are just learning about gluten free baking, you don't have an all purpose gluten free flour blend in your pantry, ready to go. If you're feeling inspired, and want to start right away (like I hope you do!), try baking an easy gluten free flourless baking recipe.
Here's one of my all-time favorites. These flourless chocolate muffins are nothing short of magic.
Bake cookies with homemade gluten free oat flour
If you're able to pop out to the store, and you can have gluten free oats, you can have these naturally gluten free breakfast cookies. They don't call for any all purpose gluten free flour, are hearty and satisfying, and just a touch of unrefined sweetness.
Ready for gluten free yeast bread?
If you are ready to venture into gluten free yeast bread baking, begin with something you simply dump into a mixer, one ingredient after another, only has one rise, and then goes right in the oven. Our simple gluten free white sandwich bread is never a mistake.
But if you want something that's super fast rising, doesn't even need a loaf pan or any sort of electric mixer at all, I have another place to begin: