These chewy, rich Nutella brownies are naturally gluten free and are truly made with just 3 simple ingredients: Nutella hazelnut spread, eggs, and almond flour.
Naturally gluten free goodness—without rice flour
These amazingly chewy, chocolate hazelnut brownies are made without any rice flour at all. They're not Paleo since Nutella most certainly has refined sugar and milk, but I don't like to put that kind of pressure on my brownies anyway. ??‍♀️
If you love to make your own Paleo-friendly chocolate hazelnut spread, maybe that would work in this recipe (but I'm honestly not sure!). That really seems like a lot of work just to avoid refined sugar, but I won't judge if you want to put in the effort. Baking can be its own form of peaceful meditation. ☯️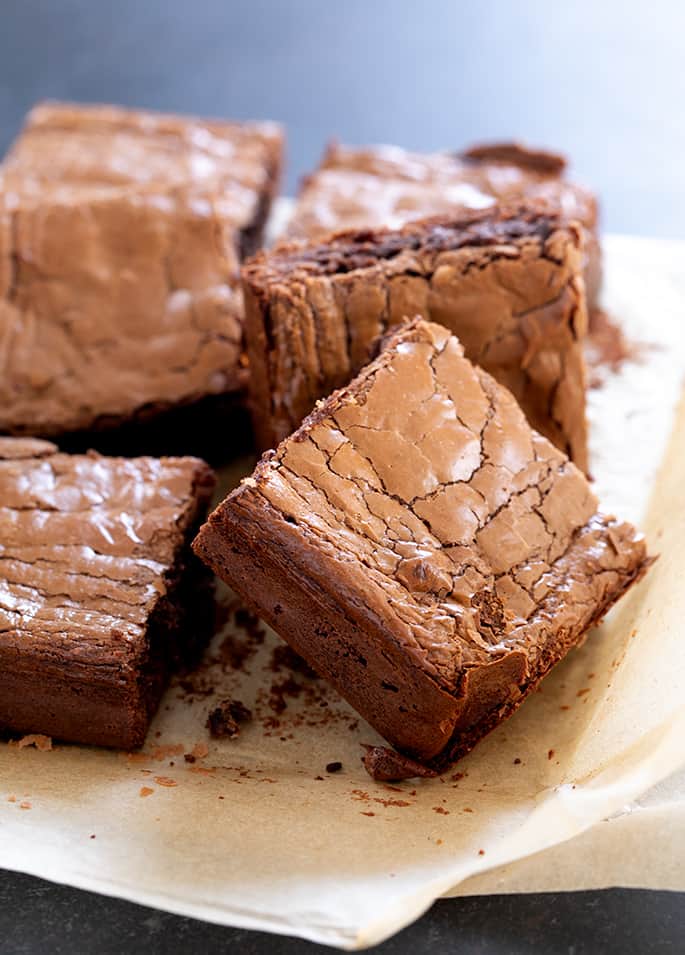 How we get that crackle on top
That glossy crackle on top, like we get in our chewy gluten free brownies, seems to be created when the beaten eggs mix with the sugar during baking to create a thin meringue on top of the brownies. Since successful gluten free baking has meant that I've had to learn quite a bit about food science, I'm dying to know if that's true. I guess it doesn't really matter, but I still wish I knew for sure.
Perhaps because there are so many eggs in this recipe, and the Nutella spread has enough sugar that we don't need one granule more to make brownies, the shiny crackle on these brownies is strong. In fact, the crackle develops not only the top but also along the sides of the brownies as they bake.
To ensure the best crackle, beat the Nutella and eggs very well. I like using a hand mixer for this task, instead of a stand mixer (or mixing by hand) because it's easier to aerate the mixture with a hand mixer. Try pumping the beaters of the hand mixer a bit as you work the eggs and Nutella for the best results.
Is Nutella gluten free?
Yes! Nutella brand chocolate hazelnut spread is gluten free, according to the manufacturer. It is free of all gluten-containing grains, and there is also no risk of cross-contamination from gluten-containing grains. It's also peanut-free, which makes it a very popular alternative to peanut butter especially for peanut-free schools.
If you're a fan of Nutella, you are going to love these brownies—even if you're not much of a "brownie" person. My son doesn't like anything with deep, rich chocolate flavor, and he's said that these are his go-to brownies. He loves the crazy hazelnut flavor of the spread and the chocolate flavor is distinctly milk chocolate based.
I was dead set on this remaining a 3-ingredient recipe (like my favorite vanilla no-churn ice cream and our 3-ingredient oatmeal cookies). Nutella has all the sugar you could need, and even the salt that all baked goods need.
Keeping this to a true 3-ingredient recipe meant that I had to resist the urge to add chopped, toasted hazelnuts to the brownie batter. But the next time I make them if I have (admittedly spendy) hazelnuts on hand, I'm going to add them. And maybe scatter a few semi-sweet chocolate chips on top.
Ingredients and substitutions
There are only three ingredients in this super simple recipe. They all contain potential allergens, though. The news isn't great, but here goes nothing…
Dairy-free: There is dairy in Nutella, but there is a dairy-free version of the beloved chocolate hazelnut spread. The brand is Nicciolata and they have a dairy free variety of their hazelnut cocoa spread. Be careful, though, because they have a dairy-containing variety, too.
Nutella itself has a thinner consistency than the Nicciolata spread, though, at room temperature. I think it would work in this recipe, but I'm not entirely sure. It's definitely worth a try.
Egg-free: For every half cup of Nutella and one-third cup of blanched almond flour this recipe calls for one egg. I'm not overly optimistic that you could replace the egg with an egg replacement like a "chia egg," since the recipe is so simple and does rely quite heavily on eggs.
Nut-free: You can't make this recipe nut-free, I'm afraid. Not only does it have hazelnut spread, which is unique in taste and texture, but it has blanched almond flour. For a 3-ingredient recipe, that is way too much to substitute and still expect results.
I do think that blanched, finely ground hazelnut flour would work well in place of the almond flour. Please be sure to use finely ground blanched almond flour (or hazelnut flour), like the kind that Honeyville and Nuts.com sell. Almond meal or coarsely ground flour of any kind will not work in this recipe.
3 Ingredient Nutella Brownies
Ingredients
1 1/2 cups (450 g) Nutella hazelnut spread
3 eggs (150 g, weighed out of shell) at room temperature, beaten
1 cup (120 g) finely ground blanched almond flour
Instructions
Preheat your oven to 325°F. Grease and line an 8-inch square baking pan with parchment paper and set it aside.

In a large, heat-safe bowl, place the Nutella and warm it in the microwave or over a simmering pot of water just until it thins out a bit. This will make it easier to beat. Add the eggs, and using a handheld mixer, beat until smooth and fluffy. Add the almond flour and beat again until well-combined. The mixture will be very thickly pourable and very sticky. Transfer the brownie batter to the prepared baking pan and, using a small offset spatula, spread into an even layer. Smack the bottom of the pan a few times on the counter to break any large air bubbles.

Place the baking pan in the center of the preheated oven and bake for 35 to 40 minutes or until the center of the pan of brownies is firm to the touch. Remove from the oven and allow to cool to room temperature in the pan. To make the brownies easier to slice, chill in the refrigerator for about 20 minutes. Remove the brownies from the pan and use a sharp knife to slice into 9 or 12 equal squares. Store any leftover brownies in a sealed container in the refrigerator or freezer.