This easy gluten free chocolate cake is rich, dense and fudgy, and it's all made in just one bowl. Make a double layer or single, with the simplest chocolate ganache frosting. Say hello to your new favorite chocolate cake recipe!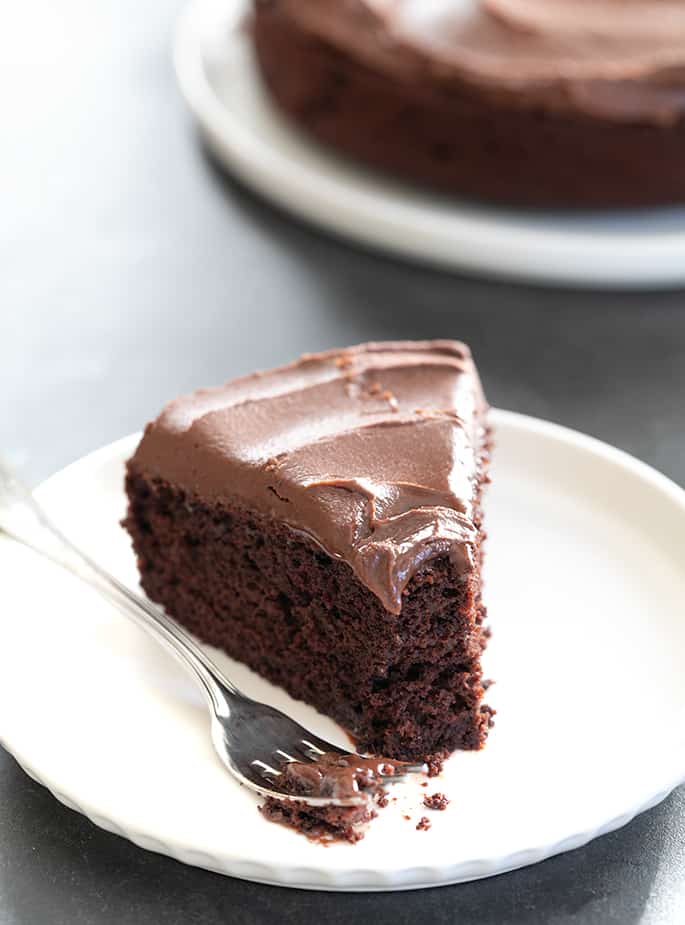 How do you make a gluten free chocolate cake from scratch?
There are many ways to make chocolate cake from scratch, and most of them aren't any harder than making it from a mix. All the mix does is provide you with already-measured dry ingredients like flour, cocoa powder, sugar, and salt.
When you're using a mix, you still have to add eggs, oil, and often water. As long as you're adding eggs, oil, and water, you may as well add some sour cream, too, and make it into this cake.
That's really all it takes. You have to provide the pan either way, right? And bake it in your oven.
Just whisk the dry ingredients (flour, cocoa powder, salt, baking soda, and sugar) and you have your chocolate cake mix. Make a well in the center, and add the wet ingredients and mix. Pour into the pan, smooth the top, and bake.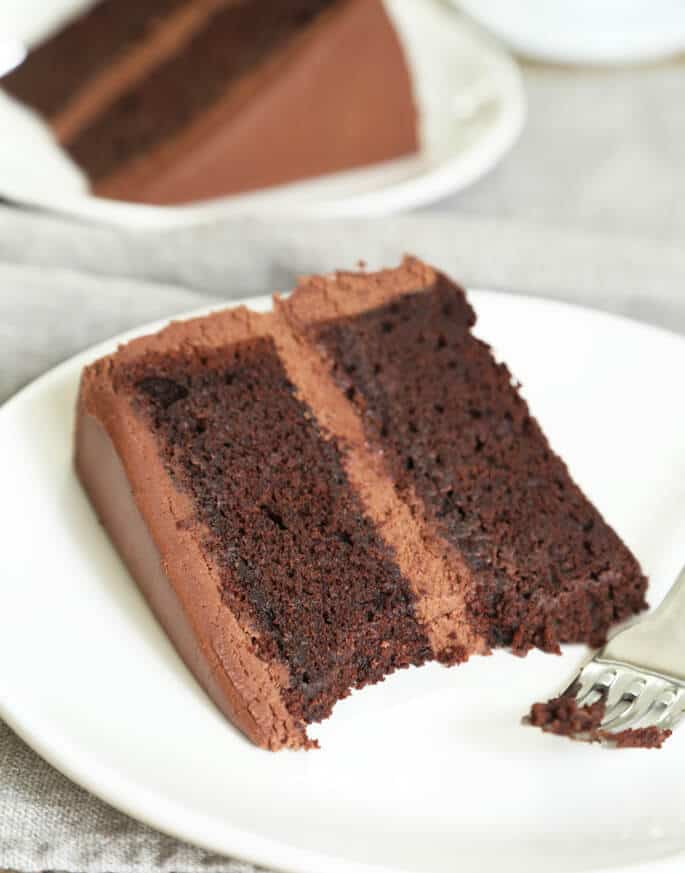 What makes this chocolate cake special?
Sometimes, you just need a rich, dark gluten free chocolate cake that you make in 1 bowl, without even melting any chocolate. Usually, to get a really rich chocolate cake or cupcake, your best bet is to use both melted dark chocolate and cocoa powder.
But this one bowl gluten free chocolate cake gets the job done with just the right mix of cocoa, sour cream, and oil instead of butter. It's also dense, but never heavy.
This cake is tender enough that you can make it days ahead of time. You can even store it in the refrigerator without its drying out too much.
How to make a gluten free chocolate layer cake
This is the cake you make when it's someone's birthday and you don't want to disappoint—but you haven't planned ahead. But if you're making it as a celebration cake, you may want to make a layer cake.
No problem. Simply double each ingredient of the recipe to make two layers. Use a large bowl, or measure everything out into two bowls.
Place half of the batter into each of two prepared 9-inch cake pans. Smooth the top, and place them in a 350°F oven. If the oven isn't really large (like mine isn't), after about 20 minutes rotate the pans with one another so everything bakes evenly.
How to make the easiest chocolate frosting
Chocolate ganache sounds fancy, but it's deceptively simple. When you make just chocolate ganache, it's not really a frosting. But if you whip it, you've got the easiest rich chocolate frosting.
Make the ganache by heating heavy whipping cream (or coconut cream, if you're dairy free) until simmering. Then, pour the simmering cream over chopped chocolate.
Allow the two ingredients to sit for a bit, until the chocolate begins to melt. Stir until the chocolate is melted, the liquid is fully incorporated, and the mixture is smooth. That's chocolate ganache.
Whipped chocolate ganache
To make it from simple chocolate ganache, use the proportions specified in the recipe below. Once the ganache has cooled to room temperature, place it in the refrigerator to chill until it can be scooped with a spoon. That should take a couple hours.
Remove the chilled ganache from the refrigerator. Whip it with a hand mixer until it's thick, light and fluffy, and add a bit of confectioners' sugar if you'd like it a bit sweeter, and a bit thicker.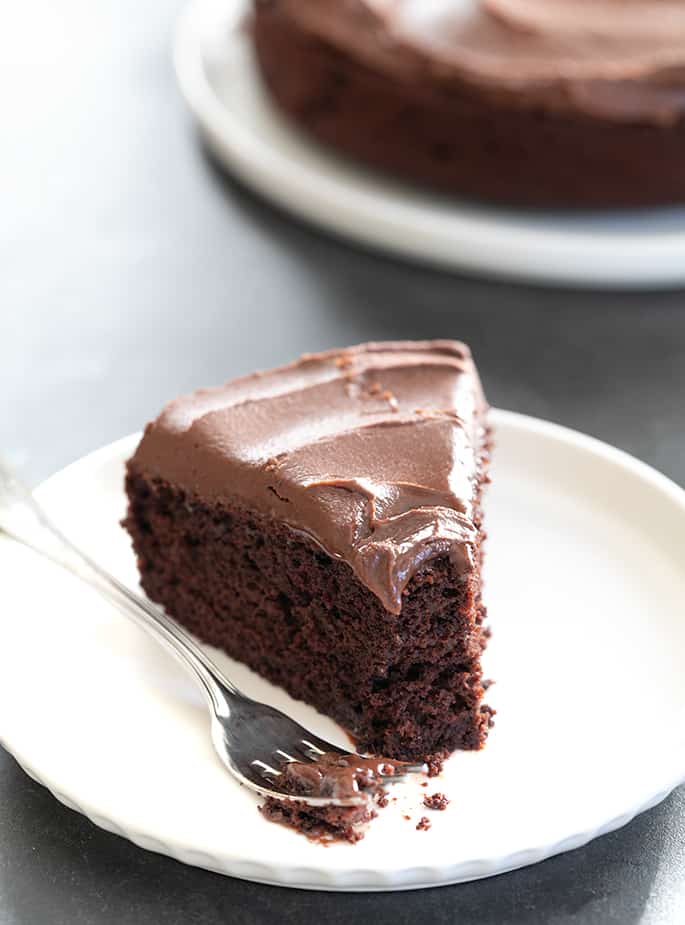 Ingredients and substitutions
Not only is this one bowl gluten free chocolate cake easy, it also doesn't have a lot of other potential allergens in it. No wonder it's one of my very best gluten free chocolate cakes.
Dairy
There isn't as much dairy in this cake as you might expect. Since cocoa powder works well to create chocolate richness with oil, there isn't any butter in this recipe. Just be sure the chocolate you use in your ganache is dairy-free.
The only dairy in the cake itself is the sour cream. Sour cream can be replaced in baking with plain Greek-style yogurt. If you're dairy-free, use nondairy yogurt.
If you only have plain regular yogurt, try straining out enough liquid until it's looks like sour cream. Then measure and use that. If you're dairy-free, again just use nondairy plain yogurt.
The dairy in the ganache is heavy whipping cream. That can be replaced with coconut creme, if you're dairy-free.
Just be sure not to use canned light coconut milk, which has added water. Your coconut cream must be from a can, not from a carton of milk which is nearly all liquid.
Eggs
There are 2 eggs in this recipe, and they're important. But since there are only 2 in a rather substantial cake, you might be able to replace each of them with one "chia egg."
A "chia egg" is made with 1 tablespoon ground white chia seeds and 1 tablespoon lukewarm water. Just mix them together in a small bowl (times 2, here, for 2 eggs), and allow them to sit until they gel. Then add them when you would add the eggs.
Cocoa powder
Dutch-processed cocoa powder tends to be richer than natural cocoa powder, which is why I prefer it in this recipe. If you only have natural cocoa powder, you can use that without changing anything else.
Natural cocoa powder is not processed with alkali, like Dutch-processed, so it requires a bit of baking soda to offset its acidity. But this recipe already calls for some baking soda.
One Bowl Gluten Free Chocolate Cake
Ingredients
For the cake
1 1/2 cups (210 g) all-purpose gluten free flour (I used Better Batter)
3/4 teaspoon xanthan gum (omit if your blend already contains it)
14 tablespoons (70 g) unsweetened cocoa powder
1/2 teaspoon kosher salt
1/2 teaspoon baking soda
1 cup (200 g) granulated sugar
3/4 cup (168 g) sour cream, at room temperature
1/2 cup (112 g) neutral oil (vegetable, grapeseed, peanut, canola all work)
2 eggs (100 g, weighed out of shell) at room temperature, beaten
1 teaspoon pure vanilla extract
3/4 cup (6 ounces) warm water (about 80°F)
For the ganache topping
3/4 cup (6 fluid ounces) heavy whipping cream
8 ounces (or 10 ounces, for whipped ganache) dark chocolate, chopped
1 cup (115 g) confectioners' sugar (for whipped ganache)
Instructions
Preheat your oven to 350°F. Grease a 9-inch round or square baking pan and set it aside.

In a large bowl, place the flour, xanthan gum, cocoa powder, salt, baking soda and sugar, and whisk to combine well. Create a well in the center of the dry ingredients and add the sour cream, oil, eggs, vanilla, and water, and mix to combine well. The batter should be very thickly pourable. Scrape the batter into the prepared pan, smooth into an even layer and place in the center of the preheated oven. Bake until a toothpick inserted in the center of the cake comes out mostly clean or with a few moist crumbs attached (about 30 minutes). Do not overbake. Remove from the oven and allow to cool for 10 minutes in the pan before inverting onto a wire rack to cool completely.

While the cake is cooling, make the ganache topping. In a small, heavy-bottom saucepan, heat the heavy whipping cream until it just begins to simmer. Place the chopped chocolate in a medium-size bowl, and pour the hot cream over the chocolate. Allow the cream to sit on the chocolate for about a minute, until the chocolate begins to melt, and mix until the chocolate is melted and the mixture is smooth and glossy.* Pour the warm ganache over the top of the cooled cake, and gently spread toward the edges so the ganache begins to drip down the sides of the cake. Allow to set at room temperature before serving.

*To make whipped ganache frosting, use 10 ounces of chopped chocolate with the 6 fluid ounces cream and follow the same instructions. Allow the ganache to cool at room temperature until no longer hot to the touch. Cover and place in the refrigerator until firm enough to scoop with a spoon. Transfer the cooled ganache to a large bowl and beat with a handheld mixer or stand mixer fitted with the whisk attachment until thickened and fluffy. The ganache will also lighten in color. Add the optional confectioners' sugar and beat until well-combined. Frost as desired.

This recipe was first published on the blog in 2014. The photos and text are updated but the recipe remains the same.