Gluten free chocolate mug cake is made in 1 minute in the microwave. Learn the secrets to making it moist and tender every time!
I think you'll agree that most recipes for a chocolate mug cake are rubbery and just plain unappetizing. But it doesn't have to be that way!
Remember when we made a Flourless Chocolate Cake for 1 with just 3 simple ingredients? So, so good. Many of you asked if that chocolate cake could be made in the microwave, but since it has eggs, it would turn to rubber.
Bottom line:
A moist and tender gluten free chocolate mug cake can be done! It's meant to be microwaved for just about 1 minute at 1000 watts (you can easily adjust any microwave down with power levels), and I can guarantee delicate, non-rubbery results.
There are, of course, a few secrets to success.
So here's the deal:
First secret to success: what's not in there. A basic gum free gluten free flour blend. And no eggs. Hey, you can even make this vegan by using vegan chips, nondairy milk and vegetable shortening in place of butter.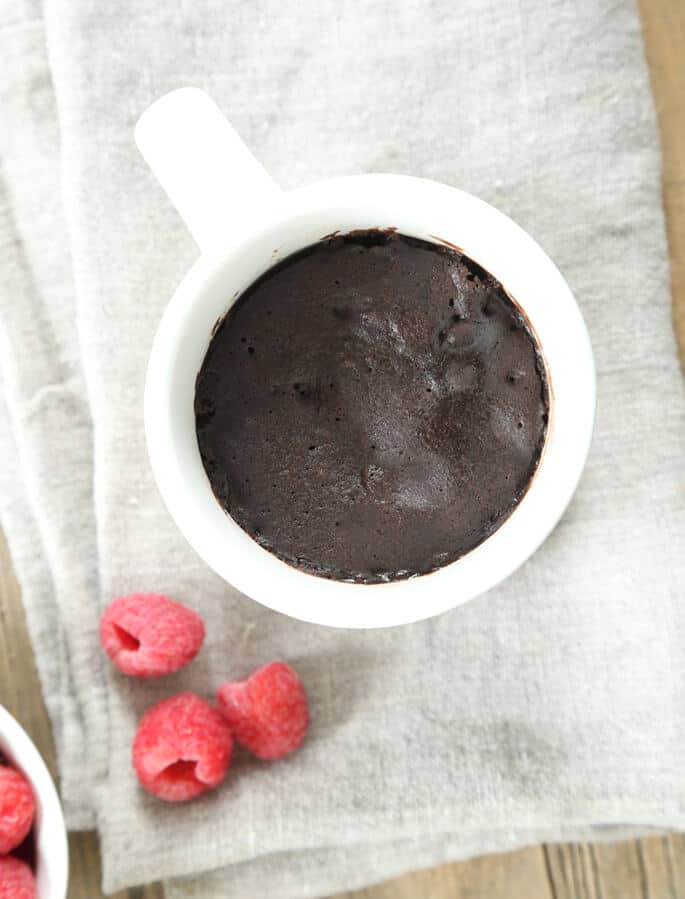 Second secret to success: adding a bit of chocolate in the middle of the batter. The chocolate melts pretty gently in the microwave, and helps to keep the cake moist as it cooks—and as it cools.
And that's not all…
My third and final secret to success: Adjusting the power of your microwave to approximate 1000 watts by microwaving at a reduced power level if necessary.
Here's the deal:
My microwave is a basic, countertop LG model. I had absolutely no idea what its wattage was. So I looked it up! It's 1200 watts. I either microwave the cake for up to 1 minute 20 seconds at 80% power, or closer to 1 minute at 90% power. Don't be afraid to stop the microwave, check the cake with a toothpick, and restart it. And err on the side of undercooking, rather than overcooking.
But wait… What if you don't have a microwave? Make my flourless chocolate cake for 1 in the oven. This cake should only made in the microwave.
This is the perfect recipe for when you need a quick chocolate fix (after the kids are in bed!). Or when it's too hot to turn on the oven. Or when your kitchen is under construction.
Links:
How to find out your microwave's wattage
Diner coffee mug (aff link)