When summer is on the horizon, it's time to show our love and appreciation for the dads in our lives. For those of us in the gluten-free world, it might feel like a bit of a challenge to create a full-on feast for the big day. But don't worry. I've got you covered!
Let's take a look at some of my top picks for Father's Day dinner ideas, breakfasts, desserts and more.
GF Breakfast ideas for Dad
They say breakfast is the most important meal of the day, and Father's Day is no exception. Sweet or savory, whatever your preference, there's something for everyone!
Fluffy Gluten Free Pancakes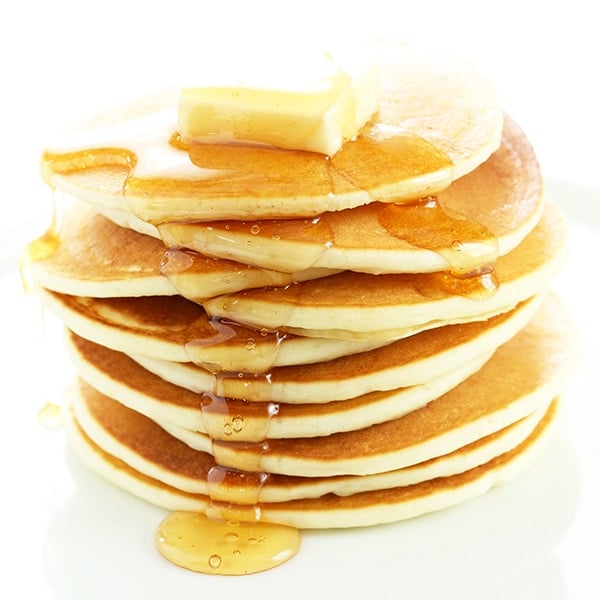 Who doesn't love pancakes, right? Especially when they're light, fluffy, and absolutely gluten-free. A breakfast staple that's sure to start Dad's day off right. These are the ultimate gluten-free pancakes, versatile enough for pancakes, pancake bites, and breakfast bakes!

Expect light, fluffy results every time. Prepare the mix in advance for always-ready weekend family treats. Better yet, these pancakes are freezer-friendly, so they're perfect for making ahead, freezing, and toasting on those busy weekday mornings.
Click for the recipe
Easy Gluten Free Bagels
This Father's Day, share the experience of authentic chewy, crusty, New York-style bagels, without any gluten, with Dad. Indulge in the authentic taste and texture without missing out on anything. They'll revolutionize your breakfast routine, and you can take it from me because I'm a New Yorker through and through.
Click for the recipe
Easy Gluten Free Breakfast Casserole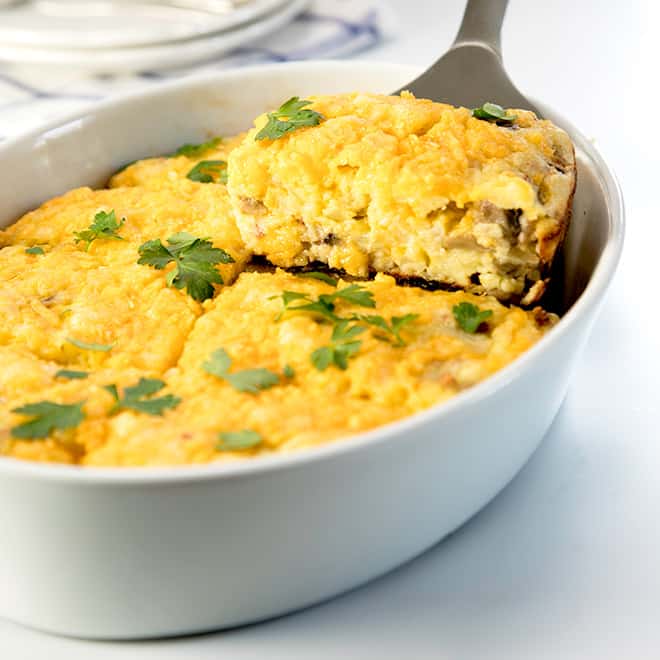 This effortless gluten-free breakfast casserole is made easily with our gf pancake mix, hash browns, eggs, milk, and your favorite smoky meat. Perfect for breakfast, brunch, or even dinner, it's easy to prepare ahead and pop in the oven the next morning. Deliciously versatile and satisfyingly hearty, it's a family-favorite treat that will add a festive flair to any Father's Day meal.
Click for the recipe
The Midday Meal: Lunch ideas
A relaxing mid-day meal might just be what Dad needs. And I've got some fantastic gluten-free options that are anything but boring to help you celebrate Dad, family, and friends. And, of course, really great food that just happens to be gluten free.
Gluten Free Pizza Crust
This gluten free pizza dough is easy, versatile, and super fast. You can add whatever toppings you like: classic tomato sauce and caramelized onions and ground beef to smokey bbq sauce, sweet corn, grilled chicken, and crispy bacon. Dad will definitely be asking for seconds.
Click for the recipe
Gluten Free Tacos
If your dad loves Mexican-style food these tacos are a great option for lunch. Light, flavorful, and a perfect midday meal for everyone. I'm confident this is one of the best Father's Day lunch ideas you'll find. Just don't forget to serve with extra gf taco seasoning and plenty of fresh corn tortillas.
Click for the recipe
Dinner stars: Father's Day dinner ideas
Gluten Free Fried Chicken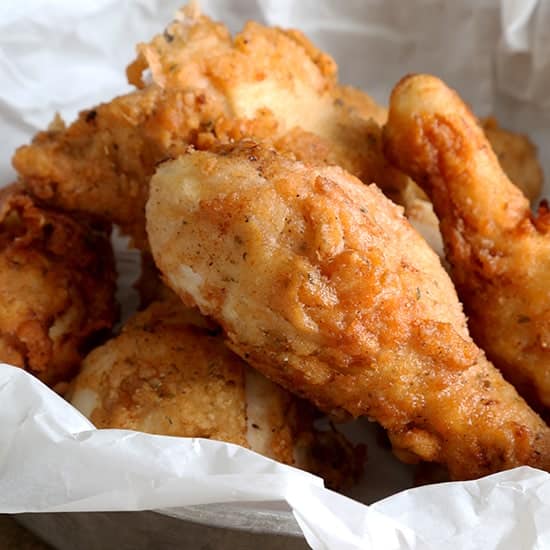 Break out the deep fryer for Dad and make some gluten free fried chicken, KFC-Style. Lots of herbs and spices, tender and juicy fried chicken. Perfect!
Click for the recipe
GF Coconut Shrimp
For those seafood-loving dads out there, why not try coconut shrimp for dinner? I love this recipe. It's fresh, light, and lovely. Crispy and full of coconut flavor, this dish is hassle-free and pairs beautifully with a simple stir fry and rice noodles.
Click for the recipe
Gluten Free Chicken Pot Pie
Chicken pot pie isn't usually a summer favorite, but it's filling, comforting, and so homey. And really delicious. For a lot of you, this chicken pot pie will be a family favorite, so why not serve it up for Father's Day dinner?
It's easy because you make the filling on the stovetop, then add the top gf pie crust and finish it in the oven, and it's just so tasty.
Click for the recipe
Sweet endings: Dessert ideas
And of course, we can't forget dessert! Let's end the day on a sweet note.
Gluten Free Graham Crackers | Just Like Nabisco!
Treat Dad to some traditional gluten free s'mores with these gf graham crackers that taste just like the "real" thing from Nabisco. They store really well in a sealed glass container on the counter for a week, and even longer in the freezer. Use them to make a no bake pie, too, with a gf graham cracker crust.
Click for the recipe
GF Brownie Ice Cream Sandwiches
Decadent gluten free brownie ice cream sandwiches are made with the fudgiest brownies split between two pans, layered with homemade no churn vanilla ice cream. Make them for Dad like this, as a brownie sandwich, or make them ice cream truck-style with soft chocolate wafer ice cream sandwiches.
Click for the recipe
Gluten Free Strawberry Cheesecake
Light, refreshing, and just the right amount of indulgent, this no bake gluten free strawberry cheesecake is the perfect way to top off the day. It's versatile, you can make it days ahead, it's customizable (use fresh or frozen berries), you can make a homemade sauce and add cream or ice cream to serve. The creamy filling is just ridiculously delicious, and there's no Cool Whip in sight!
Click for the recipe
The Best Gluten Free Chocolate Cake Recipe
There's nothing better at the end of a meal than this simple, but rich, gluten free chocolate cake. It's perfect for Dad's big day, or just for any day. Don't forget the simple chocolate frosting!
Click for the recipe
If you can't find a full menu that pleases everyone on our list of top picks, I've got some other super-popular recipe ideas for you that'll help you plan the best Father's Day dinner (and breakfast, lunch, and dessert, and picnic ideas, too).
Gluten Free Bacon, Egg & Cheese Biscuits
Delicious Gluten Free Sausage Balls
Southwest Turkey Burgers with GF Hamburger Buns
Gluten Free Corn Dogs with or without gf hot dog buns
Planning tips for a gluten free Father's Day
To help you have the best Father's Day meal, here are some helpful planning and preparation tips for your gluten free family feast.
Tip 1: Make a shopping list
Go through the recipes you've chosen for the day and make a shopping list. Ensure you check the labels for any hidden sources of gluten.
Tip 2: Prep ahead
Save time on the day by doing as much prep work as possible in advance. Many of the recipes can be partially prepared the night before.
Tip 3: Cross-contamination check
If your kitchen isn't entirely gluten-free, be careful about cross-contamination. This could mean using separate utensils and cookware, or thoroughly cleaning shared items before use.
Tip 4: Plan your cooking schedule
Make a timeline for when you need to start cooking each recipe. Some dishes may need to go into the oven at different times, or some may be best served fresh from the stove.
Tip #5: Start simple
If you're new to gluten free baking, don't jump into the deep end right away, and above all else, follow the recipe!