Fresh homemade naturally gluten free corn tortillas made with masa harina corn flour, salt and warm water. Authentic taste and texture in minutes!
Why make homemade corn tortillas (and how)?
Have you ever made fresh gluten free tortillas of any sort? They are a really, really important staple in my house.
Need to take the simplest meal and make it 100 times more special? Wrap it in a tortilla. Have to serve dinner on-the-go? Wrap it in a tortilla. Tired of sandwich bread for school lunches? You get the idea.
There are plenty of varieties of packaged gluten free corn tortillas available, and some of them are really quite good. Store-bought tortillas, gluten free or not, do tend to break when we're counting on them to bend.
These fresh gluten free corn tortillas are perhaps the simplest recipe you'll find (if you don't count water, there are only 2 ingredients!). Make them once and I dare you not to become obsessed with them, like I am with basically all of the gluten free flatbread recipes.
Disclosure: This post contains affiliate links. I'm a participant in the Amazon Services LLC Associates Program, an affiliate advertising program designed to provide a means for me to earn fees by linking to Amazon.com and affiliated sites. Feel free to shop around, though, as always.
How to make them
All it takes to make fresh corn tortillas is to add salt and water to masa harina corn flour, which is a pretreated cornmeal (more details below). Then, let the dough rest, divide it and roll each portion into a ball, roll out rounds and cook them in a hot skillet. That's it.
Pay particular attention to the consistency of the masa dough as described in the recipe instructions. If it crumbles at all, add more water to the dough a bit at a time and knead it in. Don't skip the resting phase, either. It gives the moisture a chance to be absorbed into the flour.
What is masa harina?
It all starts with certified gluten free masa harina, a finely ground corn flour that is made from corn that has been dried, cooked in lime water, ground and dried again. It should be naturally gluten free, except that some store-bought varieties are contaminated with gluten.
The moment you open up a bag of masa harina, you'll feel like you're in a Mexican restaurant. It just smells authentic.
Is corn gluten free?
If you're just getting started on a gluten free diet and you're wondering if corn is gluten free, it is! It contains "corn gluten," but that is not the sort of gluten that presents a problem for anyone who isn't specifically sensitive or allergic to corn.
For a more complete discussion, check out my Ultimate Guide to the Basic Rules of a Gluten Free Diet. Everything you need to know is there, along with plenty of links for a deeper dive into some important information.
Is masa harina always gluten free?
Like oats, you need to source a certified gluten free variety of masa harina. Bob's Red Mill at least used to make certified gluten free masa harina corn flour that is available in most larger grocery stores and is of perfectly good quality, but I don't think they continue to sell their gluten free variety.
Instead, I often order certified gluten free masa harina from Nuts.com. Maseca brand masa harina is actually certified gluten free in the U.S., but it often seems to be stored on grocery store shelves with conventional gluten-containing flours, so be careful about cross-contamination right at the store.
Either way, stock up when you find a brand you trust. Once you start making your own gluten free corn tortillas, it's hard to go back to the store-bought ones. And once you're comfortable working with masa harina, I really recommend trying your hand at pupusas.
Do I need a tortilla press (or a cake cutter)?
The short answer is no. You do not need a tortilla press to make these corn tortillas or any tortillas at all. But a simple metal tortilla press does tend to make the job a bit quicker and easier, so I've included instructions for rolling these tortillas out both ways.
Of course, you do not need to cut out perfect circles for your tortillas using a cake cutter or the lid of a pot. I just like the way it looks. I have a 6-inch cake cutter, but unless you photograph your food as I do, you really don't need one. Fat Daddio and Ateco both make good ones, and you can find them in a kitchen supply store or online.
How to make corn tortillas without a press
The main differences between rolling out corn tortillas with a press and rolling them out without one are the amount of time it takes, and the bother. It's quite easy to roll them out either way, but given the texture of the masa dough, a tortilla press just works so well.
To roll them out without a press, you simply place the same ball of masa dough between two sheets of unbleached parchment paper. Unbleached parchment is more flexible than the bleached kind, and it's more stable than plastic wrap.
The paper will wrinkle when you roll out the dough, so your tortillas will have some wrinkles that you can smooth out with wet fingers if that sort of thing bothers you.
Remember that a rolling pin is just that, a rolling pin. Not a pressing pin. A rolling motion, with light, even pressure does the work. The harder you press, the more uneven your raw tortilla will be.
How to make corn tortillas with a press (and which press to buy)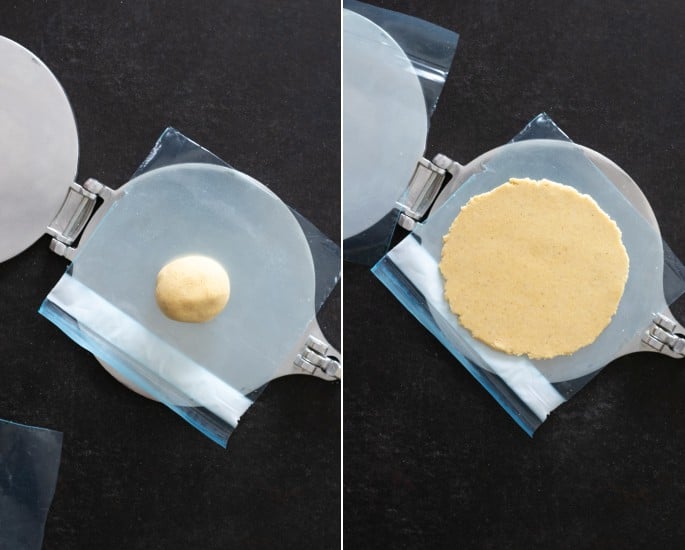 If you have or decide to purchase a tortilla press, you'll find that it's best to line your press with a deconstructed plastic zip-top bag. You can use the plastic squares again and again (and again).
A quart-sized plastic zip-top bag, when separated and halved, is the perfect size to cover a standard 7 1/2-inch tortilla press and the thickness of the plastic is spot on for this task. Plastic wrap is simply too thin and prone to wrinkling, and it doesn't allow you the freedom to lift it off the press each time to roll the dough a bit thinner and then peel away the plastic from the raw dough.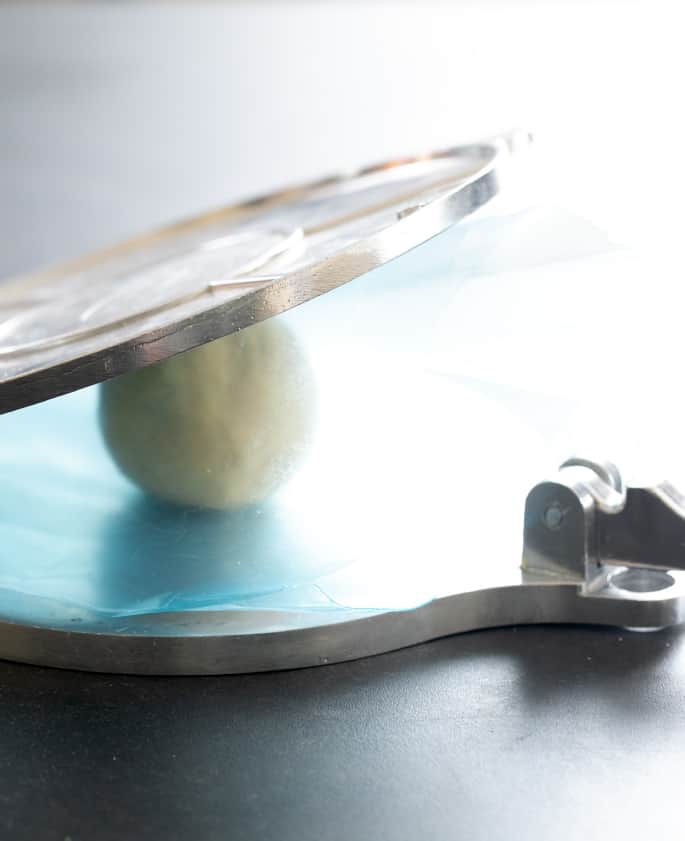 Using a press will produce a slightly thicker tortilla than is optimal. I remedy this nearly nonexistent problem by removing the plastic-covered dough from the press and rolling it a bit thinner on a flat surface with a rolling pin.
Remember that corn tortillas are typically a bit thicker than flour tortillas. Don't try to roll them as thin or the dough will break and so will the tortillas. Try to roll the dough a bit more than the thickness of a nickel. As long as they're warm, they'll still bend but won't break.
Which press to buy
I have a simple aluminum tortilla press made by Vasconia, and I purchased it at a local kitchen supply store. I can't seem to find it available online to provide you with a link, but this press from Fox Run seems very similar.
There are plenty of cast iron tortilla presses available, but they're heavy and I simply don't see the point. They also tend to be much more expensive. I like to keep it simple with tools like this since there appears to be no downside to simplicity in this context.
How to store the tortillas
Either way, store the tortillas in some sort of closed container. I have an actual tortilla warmer because I make them often and it was really inexpensive.
You can simply store the tortillas wrapped tightly in a moist tea towel (just a towel with a flat weave, so it doesn't get lint on the tortillas), in a pot with a tight-fitting lid, or even in a wide, flat plastic storage container with a lid.
They'll remain pliable and fresh-tasting for a few hours when stored at room temperature, wrapped in a damp tea towel or paper towel. They can be refreshed before eating by searing briefly on both sides in a hot skillet. They can also be cooled completely in a stack, then wrapped tightly in a freezer-safe wrap and frozen, then refreshed in the same way.
Fresh Gluten Free Corn Tortillas
Yield:
About 8 6-inch tortillas
Ingredients
2 cups (232 g) gluten free masa harina corn flour (Bob's Red Mill and Nuts.com are both good brands here)
3/4 teaspoon kosher salt
9 to 11 ounces very warm water (about 90°F)
Instructions
Make the dough. Place the masa and salt in a large bowl, and whisk until well-combined. Create a well in the center of the dry ingredients, add 9 ounces water, and mix to combine. The dough should hold together well and have the consistency of play-doh: stiff and thick, but a bit wet. It will absorb water as it sits. If it is at all dry, add more water, about 1/2 ounce at a time, until it reaches the proper consistency.

Let the dough rest. Cover the bowl with plastic wrap and allow the dough to sit for 10 to 15 minutes. Remove the plastic wrap and touch the dough. It will have absorbed enough of the water that it is not crumbly but leaves no residue on your hands when you touch it. Divide the dough into about 8 equal pieces, and roll each into a tight round between your palms. If the dough is at all crumbly, sprinkle it lightly with some water and knead it into the dough.

Heat a cast iron skillet or another heavy-bottom pan over medium-high heat until very hot.

If using a tortilla press, line a tortilla press with plastic (cut off the top of a quart-sized zip-top bag, then along the sides, and finally in half into two equal squares. Use the two pieces of plastic to line the press). Then simply press the dough first in the tortilla press. Remove the dough from the press, roll it out a bit thinner between the two pieces of plastic and then continue with the rest of the instructions.

If not using a tortilla press, place one piece of masa dough between two sheets of unbleached parchment paper and roll into a round about 6 inches in diameter.

For a perfect circle, cut a clean round from the dough using a 6-inch cake cutter or lid of a pot of similar diameter. Remove the top sheet of parchment or the top sheet of plastic, peel the bottom sheet away from the raw tortilla and place it in the hot pan. Allow the tortilla to cook undisturbed until it begins to pull away from the pan around the edges (about 45 seconds in a hot pan). With a flat, wide spatula, flip the tortilla over, press it gently onto the pan to ensure contact with the entire surface area, and cook for about 15 seconds. Flip once more, and cook for another 15 seconds. Remove the tortilla from the skillet and cover with a moist tea towel or place in a tortilla warmer lined with a moistened tea towel or paper towel. Repeat with the remaining dough, gathering and re-rolling any scraps and stacking the tortillas under the towel.

Serving and storage. Corn tortillas will remain pliable and fresh-tasting for a few hours when stored at room temperature, wrapped in a damp tea towel. They can be refreshed before eating by searing briefly on both sides in a hot skillet. They can also be cooled completely in a stack, then wrapped tightly in a freezer-safe wrap and frozen. Defrost at room temperature and refresh in a hot skillet as described.

Originally published on the blog in July 2012. Recipe refreshed, retooled and re-photographed in 2015; video and photos using tortilla press new in 2019.