The perfect smooth and creamy no bake strawberry cheesecake, made with strawberries, cream cheese and whipped cream, plus a bit of gelatin and sugar. So quick and easy, it's the perfect treat!
Fresh or frozen strawberries
If you're reading this right in the heart of strawberry season, when deep red berries are in every farmer's market and grocery store, feel free to use fresh berries. Otherwise, this no bake strawberry cheesecake is actually even better when made with frozen berries.
Frozen fruits and vegetables are a saving grace for cooking and baking all year round, as they're picked and prepared at the peak of freshness. Plus, they're way cheaper than fresh!
If you're going to use strawberries for decoration, you'll need fresh. But the decoration is, of course, totally optional.
A strawberry pie without Cool Whip
I'm continually surprised by how amazingly delicious a no bake cheesecake can be. And that is doubly true since Cool Whip, bless its heart, is not in the list of ingredients.
Anything made with Cool Whip to me just tastes, well, like Cool Whip. Certainly not cheesecake, that's for sure.
Smooth and creamy, and filled with real, fresh-tasting strawberry flavor, this cheesecake gets the texture just right—even without all the fuss of an oven and a water bath and all that jazz.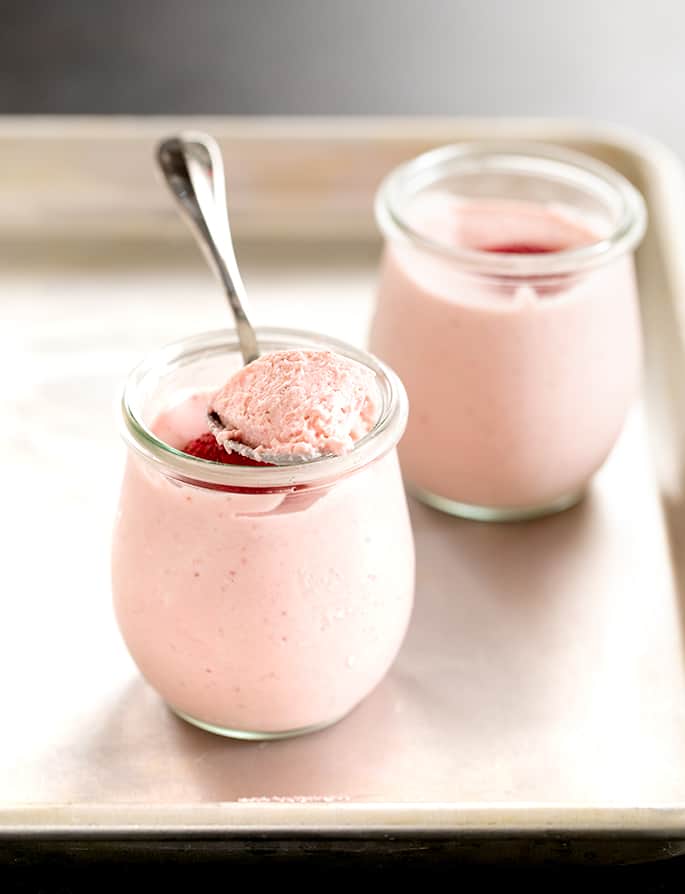 Try small servings in jars or as popsicles
I've discovered lately that the light and fluffy no bake strawberry cheesecake filling this recipe makes is actually really versatile. It makes lovely individual servings by pouring it into small mason jars like pudding. It also makes perfect cheesecake popsicles.
To make the filling, you must go through a few steps. First, you must make the strawberry puree by cooking strawberries with some sugar, and then blending the mixture.
Then, beat the cream cheese and confectioners' sugar, add bloomed gelatin, and then the strawberry puree. Finally, fold in some fresh whipped cream.
If you're going to go through the steps, you might consider making it in a few different forms. You can make a full 9-inch cheesecake with the graham cracker crust.
You can also divide the filling among some jars, some popsicle molds, and even a smaller springform pan. The popsicles will last for weeks in the freezer, and the individual servings will last for up to a week if all of your ingredients are very fresh.
Ingredients and substitutions
Dairy
I'm afraid I don't think you can make this recipe without dairy. The heavy whipping cream can be replaced with coconut cream that is whipped into soft peaks, similar to dairy cream.
But I have never tasted a dairy-free cream cheese that truly tastes like "real" cream cheese. I've tried so many of them, and I just don't care for the taste. If you have one that you love, it might be worth trying, though.
Gelatin
The gelatin provides the structure to this recipe that would be provided by eggs in a classic baked cheesecake. I don't recommend just leaving it out, which will result in a cheesecake that really has to be frozen, or at least extremely cold, to slice cleanly.
If you're comfortable working with agar agar, you may be able to use it to replace the gelatin in this recipe. I'm afraid I don't have experience with it (yet!), so I can't offer any guidance.
No Bake Strawberry Cheesecake
Ingredients
For the crust
1 1/2 cups (225 g) gluten free crunchy cookie crumbs(I used crushed gluten free graham crackers)
6 tablespoons (84 g) unsalted butter, melted
For the cheesecake filling
1 pound (16 ounces) frozen strawberries (or hulled fresh strawberries)
1/4 cup (2 fluid ounces) lukewarm water
1/2 cup (100 g) granulated sugar
1/4 teaspoon kosher salt
1 tablespoon (8 g) unflavored powdered gelatin*
1 cup (8 fluid ounces) heavy whipping cream, chilled
2 8-ounce packages (1 pound total) cream cheese, at room temperature
1/2 cup (58 g) confectioners' sugar
For decorating
Sliced fresh strawberries, for decorating (optional)
*If using Knox gelatin by the package, 1 package weighs 7 grams, which is enough for this recipe. No need to get all technical and open up a second package for 1 single gram more.
Instructions
Make the crust. In a large bowl, mix the cookie crumbs and melted butter until well-combined. Press the mixture into the bottom and up the sides of a 9-inch springform pan or deep-dish pie plate. Place the pie plate in the freezer until firm (at least 10 minutes, but longer is fine). You can also make this cheesecake into popsicles or into individual servings in mason jars, and you won't need a crust.

Make the strawberry puree filling. In a medium-size, heavy-bottom saucepan, place the frozen strawberries, 2 tablespoons (1 fluid ounce) of the lukewarm water, granulated sugar and 1/8 teaspoon kosher salt. Cook over medium-high heat, stirring frequently, until the strawberries are very soft and the mixture is bubbling (8 to 10 minutes). Blend the strawberry mixture with an immersion blender or by placing the hot mixture in a standard blender (taking care to leave enough room in the blender for the hot liquid to expand during blending). While the strawberries are cooking, place the remaining 2 tablespoons (1 fluid ounce) water in a small, heat-safe bowl, add the powdered gelatin and stir to combine. Set the gelatin aside and allow it to swell in the liquid. Once the strawberries are cooked and pureed, set the mixture aside to cool briefly. You will have about 1/2 cup leftover strawberry puree, which can be stored in the refrigerator for up to a week and used to make strawberry milk, or to drizzle over ice cream. Melt the gelatin mixture in the microwave for about 15 to 20 seconds on HIGH power and set aside to cool briefly.

Finish the filling. In the bowl of a stand mixer fitted with the whisk attachment or a large bowl with a handheld mixer, place the chilled whipping cream and beat on medium-high speed until soft peaks form. Transfer the mixture to a separate bowl and place in the refrigerator. In the same bowl, place the cream cheese, remaining 1/8 teaspoon kosher salt, and confectioners' sugar. If using a stand mixer, switch to the paddle attachment. Beat the mixture on high speed until very light and fluffy (about 2 minutes). With the mixer speed on low, add the melted gelatin mixture, then about 1 cup (8 fluid ounces) of the strawberry mixture to the cream cheese mixture and beat until smooth and well-combined. Remove the whipped cream from the refrigerator and carefully fold the whipped cream into the strawberry cheesecake mixture until only a few white streaks remain. Be careful not to deflate the whipped cream.

To make a 9-inch cake: Remove the crust from the freezer, and pour in the filling, spread it into an even layer, and decorate with the optional fresh strawberries. Place the pan in the refrigerator to chill for at least 2 hours and up to 3 days. After 2 hours, cover the pan with plastic wrap to prevent the cake from drying out. Unmold, slice and serve chilled.

To make popsicles or individual servings of cheesecake, pour the mixture into popsicle molds or small mason jars, filling the containers nearly full. Insert popsicle sticks into the popsicle molds, and place in the freezer for at least 2 hours or until fully formed. For the individual servings, top each with an optional fresh strawberry, cover tightly, and place in the refrigerator to chill for at least 2 hours and up to 3 days.