The perfect recipe for gluten free graham crackers. All the taste and texture of a "real" graham cracker—just like Nabisco, but safely gluten free.
And absolutely perfect for making into graham cracker crumbs!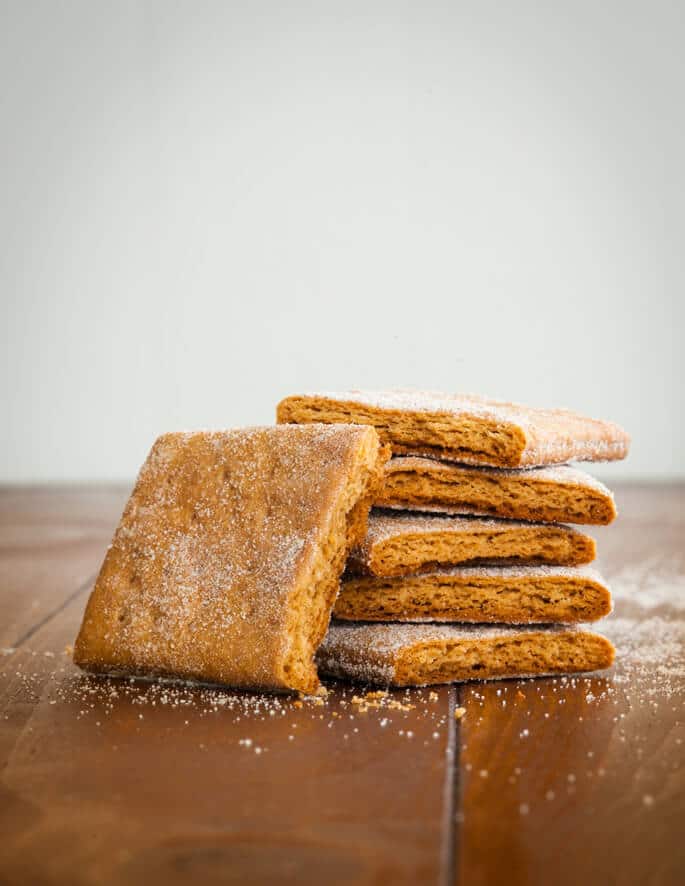 Making graham crackers instead of buying them
Did you know that you can buy gluten free graham crackers (at least in the U.S.)? There are a few brands that I've tried, and they're all perfectly fine.
In fact, in my son's sleep away camp he uses them to make s'mores along with his friends on bonfire nights. I'm so super grateful that they exist, since his camp is just not going to make their own gluten free graham crackers.
But making your own gluten free graham crackers that are just like the ones that Nabisco makes is way better. And it's so easy to do. Plus, you can use them to make a no-bake chocolate eclair cake.
Make them your own
When you make your own, of course, you can make them with or without the cinnamon-sugar topping, and even with or without the ground cinnamon in the dough. Nothing makes a better cookie-crumb crust for lemon meringue pie than these crispy, crunchy, authentic grahams.
There are no hard-to-find ingredients in this recipe, and if you're convinced you can't roll out cookie or cracker dough like a pro, check out my detailed rolling tips that will have you rolling with the best of them in no time.
You can even make a chocolate variety, if that's your favorite. Just use our recipe for gluten free chocolate graham crackers.
Ingredients and Substitutions
Dairy: If you're dairy free, you're really in luck! These cookies are almost naturally dairy free. Just use nondairy milk.
I prefer unsweetened and unflavored almond milk, but really any nondairy gluten free milk will work just fine. I've tried nearly every type of dairy-free milk and they all work well.
Eggs: Since there is only one egg in this recipe, I feel pretty confident saying that a "chia egg" (1 tablespoon ground white chia seeds + 1 tablespoon lukewarm water, mixed and allowed to gel). I don't recommend a "flax egg," as flax has a strong flavor that would compete with the flavor balance in the recipe.
Warm weather months absolutely demand graham cracker crumbs. Now, you'll be ready! Looking for more recipes that call for gluten free graham crackers? Try Gluten Free Key Lime Pie Bars, or The Easiest No Bake Cheesecake. You won't believe how good they are!