The perfect recipe for gluten free graham crackers. All the taste and texture of a "real" graham cracker—just like Nabisco, but safely gluten free.
And absolutely perfect for making into graham cracker crumbs!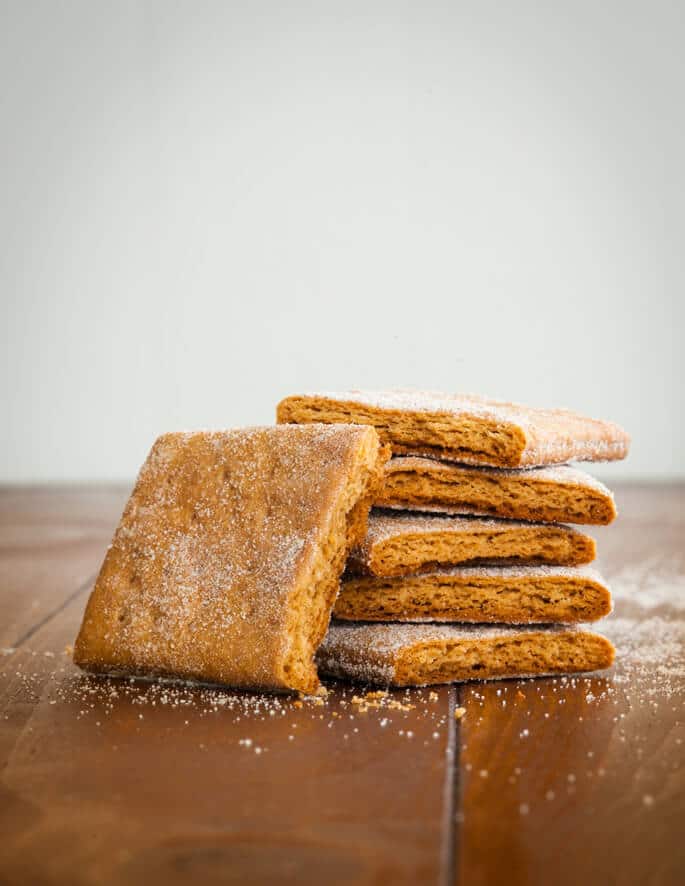 Making graham crackers instead of buying them
Did you know that you can buy gluten free graham crackers (at least in the U.S.)? There are a few brands that I've tried, and they're all perfectly fine.
In fact, in my son's sleep away camp he uses them to make s'mores along with his friends on bonfire nights. I'm so super grateful that they exist, since his camp is just not going to make their own gluten free graham crackers.
But making your own gluten free graham crackers that are just like the ones that Nabisco makes is way better. And it's so easy to do. Plus, you can use them to make a no-bake chocolate eclair cake.
Make them your own
When you make your own, of course, you can make them with or without the cinnamon-sugar topping, and even with or without the ground cinnamon in the dough. Nothing makes a better cookie-crumb crust for lemon meringue pie than these crispy, crunchy, authentic grahams.
There are no hard-to-find ingredients in this recipe, and if you're convinced you can't roll out cookie or cracker dough like a pro, check out my detailed rolling tips that will have you rolling with the best of them in no time.
You can even make a chocolate variety, if that's your favorite. Just use our recipe for gluten free chocolate graham crackers.
Ingredients and Substitutions
Dairy: If you're dairy free, you're really in luck! These cookies are almost naturally dairy free. Just use nondairy milk.
I prefer unsweetened and unflavored almond milk, but really any nondairy gluten free milk will work just fine. I've tried nearly every type of dairy-free milk and they all work well.
Eggs: Since there is only one egg in this recipe, I feel pretty confident saying that a "chia egg" (1 tablespoon ground white chia seeds + 1 tablespoon lukewarm water, mixed and allowed to gel). I don't recommend a "flax egg," as flax has a strong flavor that would compete with the flavor balance in the recipe.
Warm weather months absolutely demand graham cracker crumbs. Now, you'll be ready! Looking for more recipes that call for gluten free graham crackers? Try Gluten Free Key Lime Pie Bars, or The Easiest No Bake Cheesecake. You won't believe how good they are!
Gluten Free Graham Crackers | Just Like Nabisco!
Ingredients
2 cups (280 g) all purpose gluten free flour (I used Better Batter)
1 teaspoon xanthan gum (omit if your blend already contains it)
1/4 teaspoon baking soda
1/4 teaspoon baking powder
1/8 teaspoon kosher salt
1 teaspoon ground cinnamon (optional)
1/4 cup (50 g) granulated sugar
1/3 cup (72 g) packed light brown sugar
6 tablespoons (73 g) nonhydrogenated vegetable shortening (I use Spectrum brand), melted and cooled
2 tablespoons (42 g) honey
2 tablespoons (42 g) unsulphured molasses
1/2 teaspoon pure vanilla extract
1 egg (50 g, weighed out of shell) at room temperature, beaten
2 to 4 tablespoons milk, at room temperature
Topping (optional)
1/2 cup (100 g) granulated sugar
1 1/2 teaspoons ground cinnamon
Instructions
Preheat your oven to 325°F. Line rimmed baking sheets with unbleached parchment paper and set them aside.

Prepare and shape the dough. In a large bowl, place the flour, baking soda, baking powder, salt, optional cinnamon and granulated sugar, and whisk to combine well. Add the brown sugar and whisk again, working out any lumps. Create a well in the center of the dry ingredients and add the shortening, honey, molasses, vanilla, egg and 2 tablespoons of the milk, mixing to combine after each addition. Knead the dough together with your hands, adding more milk 1 teaspoonful at a time as necessary to help bring the dough together. Transfer the dough to a lightly floured piece of unbleached parchment paper and, sprinkling lightly with flour as necessary to prevent sticking, roll out the dough until it is about 1/4-inch thick. Cut into 2 x 4-inch rectangles (or use a 2 x 4-inch rectangular cutter to cut out shapes) and place them about 1-inch apart from one another on the prepared baking sheets. Gather and reroll the scraps to cut out more crackers until you've used up the dough.

Prepare the (optional) topping: Combine the topping ingredients in a small bowl, and sprinkle the rectangles evenly with the cinnamon-sugar mixture.

Place the baking sheets, one at a time, in the center of the preheated oven and bake until the crackers are golden brown all over and dry and firm to the touch, about 15 minutes. Remove from the oven and allow to cool completely on the baking sheets. They will crisp as they cool. The crackers can be stored in a sealed glass container at room temperature and should maintain their texture for at least 5 days. For longer storage, seal them tightly in a freezer-safe wrap or bag and freeze for up to 2 months. Defrost at room temperature.

From the book Gluten-Free Classic Snacks: 100 Recipes for the Brand Name Treats You Love, by Nicole Hunn. Excerpted by arrangement with Da Capo Lifelong, a member of the Perseus Books Group.  Copyright © 2015.

Originally published on the blog in 2015. Recipe unchanged, video and some photos new, text altered.