If you're looking for the perfect side to almost any meal, this naturally gluten free cornbread recipe is just the thing. This adaptable recipe can be made with all cornmeal, cornmeal and corn flour, or corn flour and all purpose gluten free flour.
Baking cornbread in a cast iron skillet
As you can see here, I baked the cornbread* in a cast iron skillet. But only because, well, I love baking in a cast iron skillet.
Nothing heats as evenly or bakes as well as a cast iron skillet. It creates the most distinctive, lovely crust all on its own. But this recipe happens to be incredibly versatile.
Over the years, you have written to me, telling me that you made it with granulated sugar instead of honey, milk instead of buttermilk or yogurt, shortening or coconut oil (or even vegetable oil!) instead of butter. And they've all turned out!
*If you're just getting started on a gluten free diet and you're wondering if corn is gluten free, for example, it is! Please check out my Ultimate Guide to the Basic Rules of a Gluten Free Diet. Everything you need to know is in that guide, along with plenty of links for a deeper dive into some important information.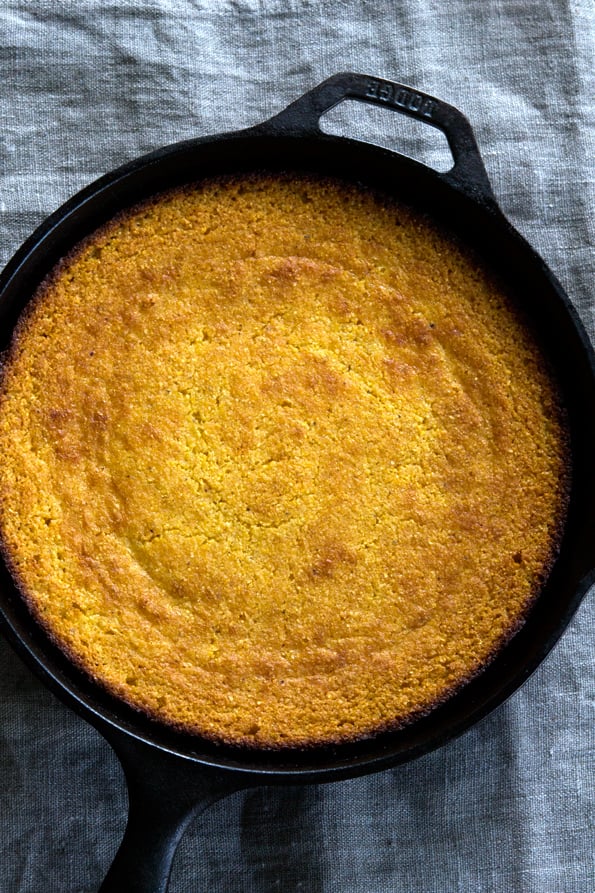 The all cornmeal recipe
This recipe has long been a staple of this blog for so many reasons, not the least of which are because it's so incredibly simple—and strikingly adaptable. The original recipe calls for 2 cups of coarsely ground yellow cornmeal as the only flour—without any added starches or more finely ground flours.
I call it "coarsely ground yellow cornmeal," but that's a bit redundant since cornmeal is simply corn that's been dried, and coarsely ground. All cornmeal is, by definition, coarsely ground.
Made this way, as the recipe was originally written, this classic cornbread recipe is moist and tender, but has a fair amount of "bite" from the cornmeal. The honey in this recipe helps keep the cornbread tender and helps offset any bitterness from the cornmeal (especially in this original, all-cornmeal recipe).
None of these variations contain cornstarch, which is a flavorless powder made from only the starch in the endosperm of the corn grain. You could probably replace a bit of the cornmeal with cornstarch and get a more tender cornbread, but I prefer the other variations listed in this recipe.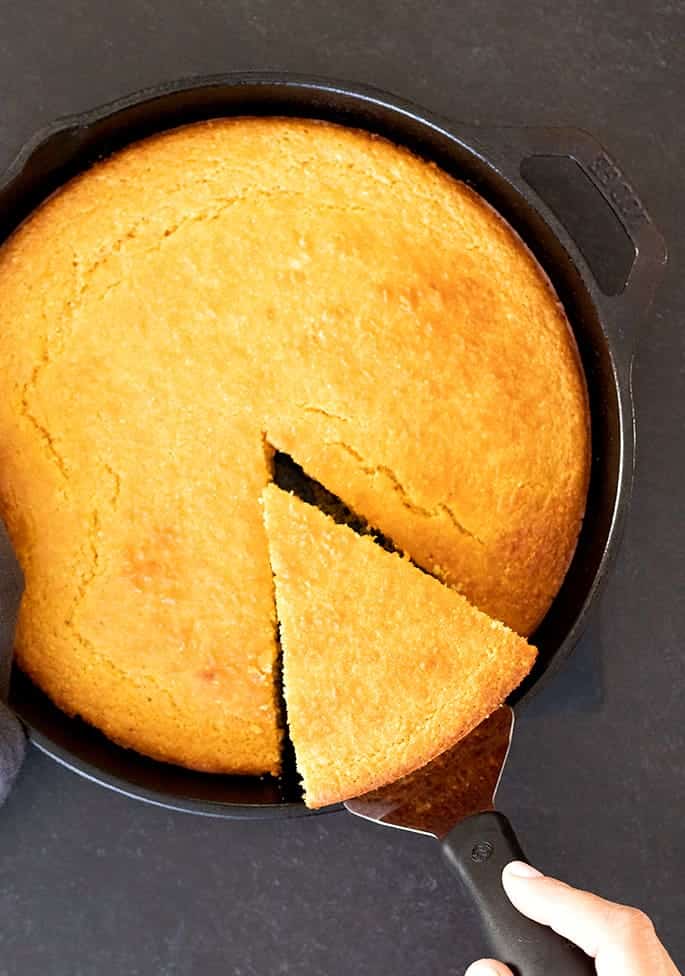 The cornmeal and corn flour recipe
Cornmeal is coarsely ground corn, and corn flour is finely ground corn. You can buy corn flour, but generally I simply take my coarsely ground yellow cornmeal and grind it again in a blender until it's lighter in color. That's how I know it's more finely ground.
Replacing half of the coarsely ground cornmeal in this recipe with more finely ground corn flour makes for a less crumbly, more cohesive cornbread. It also has a smoother mouth feel, and tends to stay fresh another day longer when stored at room temperature, wrapped tightly.
Since I've started experimenting with changing up the flours in this recipe, this variation has become my favorite. I do sometimes buy corn flour if I'm placing an order for other things from nuts.com (where I buy gluten free corn flour), but more often grind my own.
U.K. terminology
To confuse things a bit, I'm afraid that these terms are used differently in the U.K. I believe that "corn flour" in the U.K. is actually what we call cornstarch in the U.S. (the starch only).
I assume you can find "coarsely ground cornmeal" in the U.K. though. Can any readers help us understand?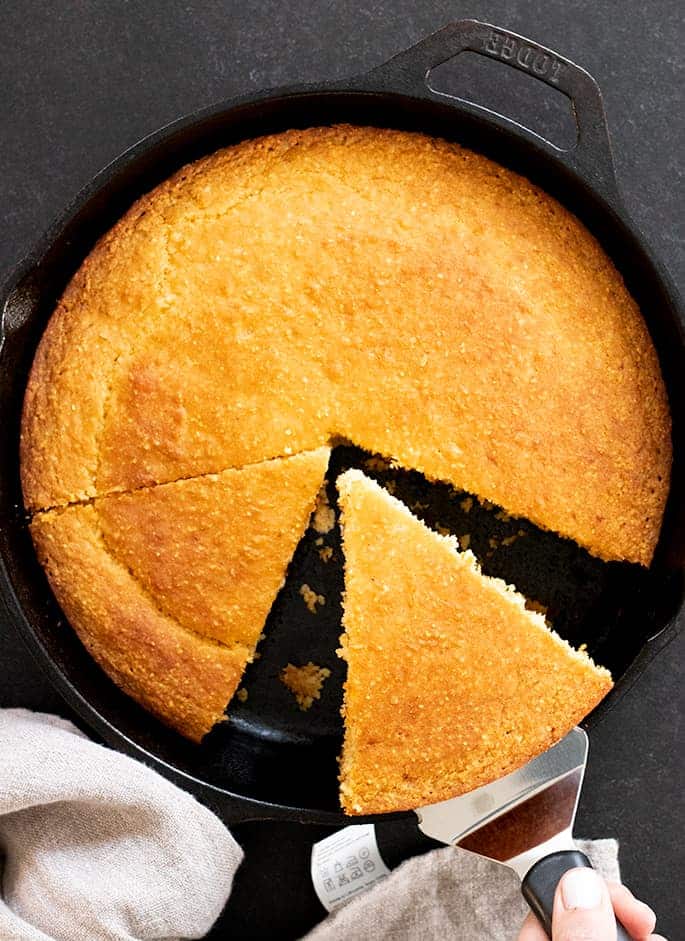 The cornmeal and all purpose gluten free flour recipe
I learned that this recipe could be made with half all purpose gluten free flour (I've only used Better Batter, but I'm sure any of my recommended blends would work) when I ran out of cornmeal after I had already prepared all of the ingredients to make cornbread.
Since it was only for my family, and my husband will eat anything, especially if it's warm when I serve it, I decided to try it with half all purpose gluten free flour. The recipe worked (although it took about another 5 minutes to bake fully)!
The all purpose gluten free flour version makes for a cornbread that has a much smaller crumb, and a lighter crumb color overall (although the top is just as yellow). The crust itself is also less crispy.
As you'd expect, it has little bite and is much less chewy than the other two versions. I would not recommend making the cornbread with a combination of all purpose gluten free flour and and corn flour, though, as it would not have the right texture.
You'll also notice that this cornbread tends to dome more in the center during baking. That's likely because the combination of flours leads to less even baking, but of course it doesn't affect the flavor or texture any further.
Ingredients and substitutions
This is such a simple recipe, which often makes substitutions more difficult, but somehow this gluten free cornbread recipe is magic ✨ and can take all sorts of modifications in stride. Some of the following suggestions are from personal experience with this recipe, others are just well-educated guesses.
Dairy: I have successfully made this recipe dairy-free by using Earth Balance buttery sticks in place of unsalted butter (just reduce the salt by half) and non-dairy plain yogurt in place of yogurt.
You can also try a mix of half plain dairy-free yogurt and half unsweetened almond milk, as a buttermilk replacement. I do think that's your best bet.
Egg: As always, whenever there is one egg in a recipe, I recommend trying it with one "chia egg" in its place (1 tablespoon ground chia seeds + 1 tablespoon lukewarm water, mixed and allowed to gel). I haven't tried this egg-free, though, so you'll have to experiment but I feel pretty confident that you'll get good results.
Corn: Well, this is a super tough one, to make cornbread without, well, corn. The only reason I think this might be even remotely possible is because I've seen some Paleo recipes floating around the Internet that use ground millet in place of cornmeal to make a corn-free "cornbread."
Perhaps the all purpose gluten free flour variation, which contains only 1 cup of coarsely ground cornmeal, can be made with ground millet in place of the cornmeal. But replacing the cornmeal entirely is a big risk, so only try it if you're feeling adventuresome!