Missing that extra-special blend of 11 herbs and spices in KFC chicken now that you're gluten free? This gluten free fried chicken will be a welcome addition to your family traditions!
How to fry chicken is the sort of thing that anyone who has ever done it has a bunch of opinions about. This recipe for gluten free fried chicken KFC-style is all about the blend of 11 herbs and spices (plus a touch of sugar—it really goes a long way to making a truly delicious fried chicken!).
And yes—you do have to use a basic gum-free gluten free flour blend. If you use an all purpose gluten free flour blend with xanthan gum, you'll be very, very sorry with the gummy mess that you have on your hands (and on your chicken).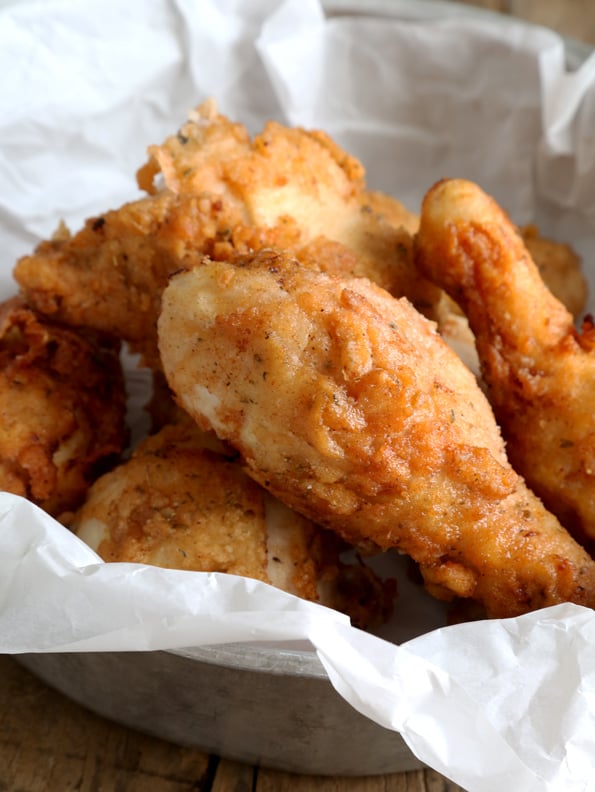 There isn't much to making this chicken, beyond soaking it in buttermilk, then blending up the flours, herbs and spices. But promise me you'll read through the whole recipe at least once before getting started?
It's not very long and doesn't have too many steps at all. But each ingredient and each step is there for good reason. I promise!
Allowing the flour blend and spices coating to soak into the chicken for about half an hour before frying really helps the coating stick to the skin, rather than slide right off in the frying oil.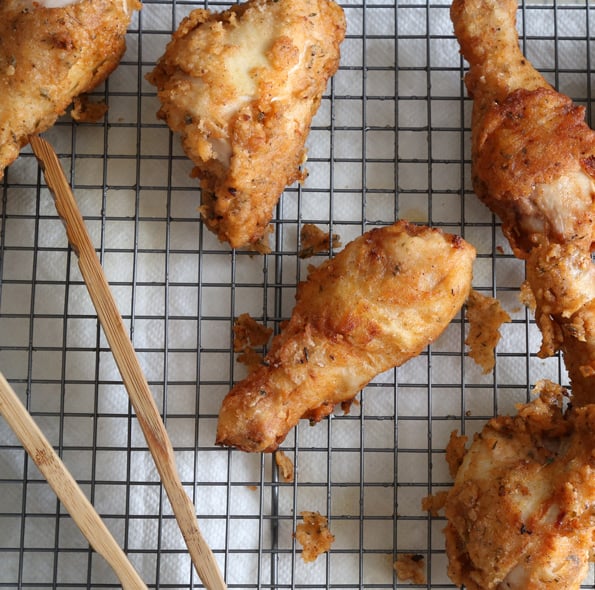 Maybe you're spending the long holiday weekend at the beach (lucky you!). Maybe you're just looking for an extra special weekend meal.
Try serving up some of this gluten free fried chicken. It's amazing right out of the fryer, but some may say it's even better piled into containers and eaten at room temperature (or cold!) the next day. Let the celebrations begin!