Welcome back to D.I.Y. Fridays, an occasional blog series in which we D.I.Y. a basic (sometimes naturally gluten free) recipe (like this, the best tomato sauce recipe) or other ingredient that you might be inclined to buy. There are so many jarred tomato sauces that are naturally (and reliably) gluten free that you might think it's kind of ridiculous to D.I.Y.—unless of course you grew up on homemade tomato sauce and buying a jar of the stuff is just horrifying (and then today's recipe probably isn't for you!). But since I make so.much.tomato.sauce in my house, and use it multiple times a week on everything from gluten free pizza to a simple dinner of pasta and meat sauce (my kids' favorite), it's time I showed you the few tricks I use to make quick work of truly the best, easiest tomato sauce.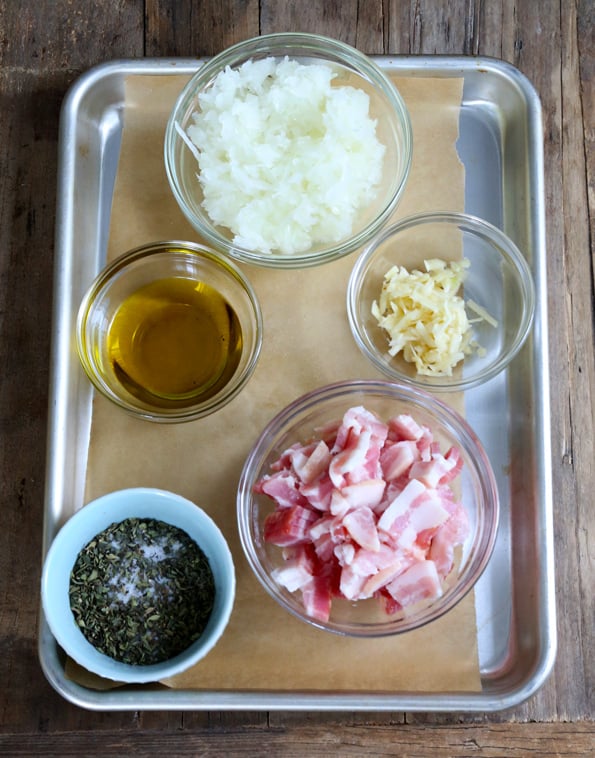 Straight off, you can see that there's something different about those onions and garlic: they're grated. I know I know it's not like this is an earth-shattering method or anything, but it's something I find pays off in more ways than one. It is way faster than dicing and mincing, uses almost all of the onion, and (best of all) it means that the onion and garlic cook at the same rate—in about half the time it would normally take. And yes, that's diced bacon. My favorite tomato sauce is made by sautéing the onions and garlic in rendered bacon fat. But you can easily leave that out and just use a bit more olive oil in its place.
Here's my other "trick": and mix of tomato puree and tomato paste. I used to buy cans upon cans of whole peeled tomatoes and then puree them with their juices before using them in sauce. And of course you can still do that. But if you can find it, canned tomato puree is a beautiful thing. No blending! If I could buy it by the case, I would. Instead, every other week I practically empty my grocery store's shelves of the stuff. Adding a small can of tomato paste to the puree means that you have the perfect consistency for your sauce without having to simmer it down.
I store the sauce in two pint-and-a-half mason jars in the refrigerator (it keeps about a week), and I bet you could can it but honestly I know nothing nothing nothing about canning and it's not something I'm proud of but there it is. Happy D.I.Y. Friday!
D.I.Y. Friday: The Best Tomato Sauce Recipe
Ingredients
1/4 pound bacon, diced (optional)
1 to 2 tablespoons (14 to 28 g) extra-virgin olive oil
1 large yellow onion, peeled and grated on a medium-size grater
4 cloves garlic, peeled and grated on a medium-size grater
1 teaspoon kosher salt, plus more to taste
1/2 teaspoon freshly ground black pepper, plus more to taste
1 tablespoon dried basil
2 tablespoons (24 g) granulated sugar
1 1/2 tablespoons dried oregano
1 6-ounce can tomato paste
2 28-ounce cans tomato puree (or 2 28-ounce cans whole peeled tomatoes, pureed with their juices until smooth)
Instructions
If using bacon, place the diced bacon in a heavy-bottom 4-quart saucepan and cook over medium heat, stirring occasionally, until the bacon is crisp-tender (about 4 minutes). Remove the bacon from the pan and set it aside, leaving the rendered bacon fat behind. Add 1 tablespoon of extra-virgin olive oil (2 tablespoons if you did not use bacon), and heat over medium until rippling.

Add the grated onions and garlic, and sauté, stirring frequently, until fragrant and beginning to melt (about 4 minutes). Add the salt, pepper, basil and sugar, and stir to combine. Add the oregano, pressing it between your finger and palm to release the oils, and stir to combine. Add the tomato paste and tomato puree, and whisk to combine well. Cook until heated through and just beginning to bubble. Add the (optional) bacon, and stir to combine. Add more salt and/or pepper to taste. Serve hot.