Learn how to make your own gluten free graham cracker crust and a whole world of easy pies of all sizes is within reach!
Do you have to make your own graham crackers?
I'm happy to answer this with one word: no. I always have a few emergency boxes of packaged gluten free graham crackers in my pantry. Simply put, there are times when I just don't have the time to make my own cookies and the rest of the dessert.
My gluten free son loves anything with a graham cracker crust, so I try to keep a batch of my homemade gluten free graham crackers around. They really do taste just like Nabisco, and I'll often make a double batch.
I keep one batch whole, wrap them tightly and freeze them. That allows me to make desserts like the decadent no-bake banana split or our no-bake chocolate eclair cake. The other batch I process into crumbs and keep in a sealed glass container on my counter. Either I'll make them into a crust, or sprinkle some over a smoothie bowl or yogurt—if I'm feeling generous.
Even though I rarely use the store-bought crackers, I'm super grateful that there are now enough brands of gluten free graham crackers that it's possible to buy them. My current favorite packaged gluten free graham cracker brand is Schar. They're not as good as homemade (what really is?), but they're great in a pinch!
How to use these gluten free graham cracker crusts
I've made so many graham cracker crusts over the years, both baked and unbaked, and used them in too many cheesecakes to count. In fact, many of the best no bake gluten free desserts on this blog are made using this no-bake graham cracker crust.
My favorite recipe that uses a no-bake graham cracker crust has to be our no-bake strawberry cheesecake. The filling is made with strawberries, cream cheese, and whipped cream sugar and just a bit of gelatin. It's so quick and easy, and it's become a favorite of many of yours over the years.
You'd also love our no-bake chocolate pudding pie with a chocolate cookie version of the no-bake recipe below. The no-bake variety is also great when you aren't even looking for the crust to lift out of its container at all in anything other than a spoonful, like our lemon meringue pie in jars.
You can also use the no-bake crust as the base for a baked recipe. Our key lime pie squares are a stunning example of how well that works.
Which graham cracker crust is better, baked or no-bake?
The crust in the photo at the top of this post (and the one just below) is the baked graham cracker crust. It's very stable, even at warm room temperature, although a no-bake graham cracker crust is most stable when chilled.
I like having the option of using a baked graham cracker crust in desserts that need some extra stability from the crust. That's often the case with no-bake recipes like our s'mores pies, but it can come in handy when you're making something quite small, like our cheesecake cookie cups.
A no-bake graham cracker crust simply will not work in a standard miniature muffin tin (ask me how I know that for certain). It will fall apart as you try to get each crust out of its well of the pan.
The smallest size well from which I have ever successfully removed an intact no bake cookie crust is 6 well cake panel pan from USA Pans (you see in the photo just above). And even then, you'll need to add an unbleached parchment paper sling to the bottom—and don't chill the crusts too much or they will become brittle and crack when you try to remove them.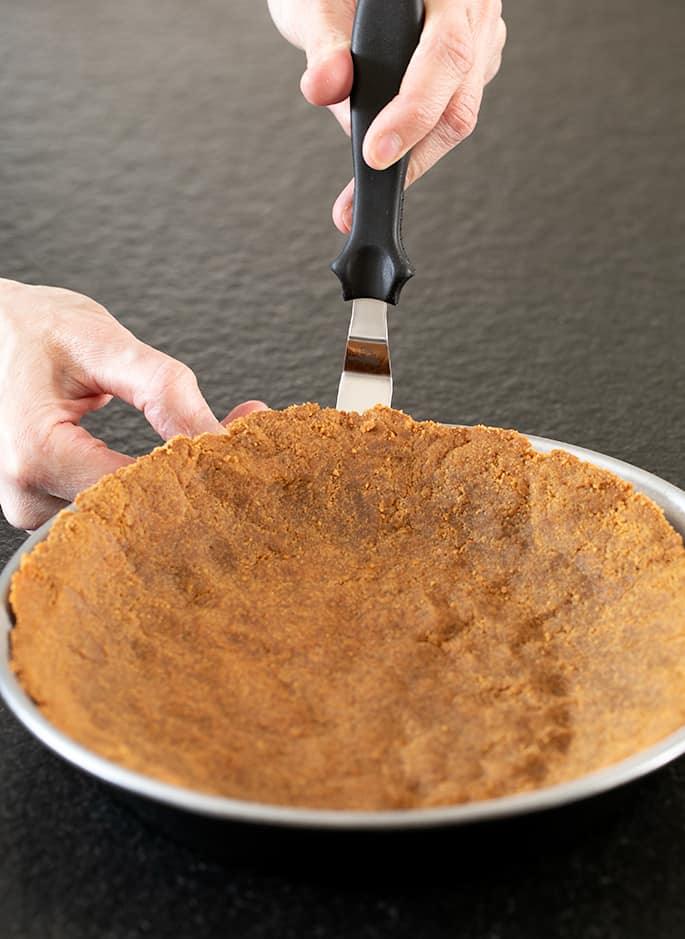 The best feature of the baked crust is its flexibility. Because it's so stable, you can use it to make very small confections, and even lift it right out of a pie plate after it's been baked and cooled.
Then, fill the crust with something warm or cold. Just be sure not to overbake the baked crust and it will cut easily with a fork when you serve it.
Ingredients and substitutions
My recipe for homemade gluten free graham crackers is naturally dairy-free, but it does call for one egg. Here's all I know about how to make this recipe friendly for people who have additional dietary restrictions.
Dairy-free: Make sure the graham crackers you are using are dairy free. The butter in either variety of this recipe can be replaced with half (by weight) Earth Balance buttery sticks and half (by weight) Spectrum nonhydrogenated vegetable shortening. You might also be able to use all Melt brand vegan butter, or Miyoko's Kitchen brand vegan butter.
Egg-free: There is one egg in my recipe for homemade Nabisco-style gluten free graham crackers, but in that recipe post, I have some suggestions for how to replace it so please click through for that information. The no-bake recipe below is naturally egg-free. You can try using a "chia egg" (1 tablespoon ground white chia seeds + 1 tablespoon lukewarm water, mixed and allowed to gel) in the baked recipe, but I'm afraid I haven't tried it so you'll have to experiment.