Soft homemade gluten free dinner rolls that are quick and easy enough for busy weeknights, but still fit for any holiday table or celebration. Never go without bread again!
What's special about this dinner rolls recipe?
These rolls are highly enriched, which just means that they have plenty of butter and milk in the recipe. Plus, the addition of nearly 1 full cup of tapioca starch helps provide a lot of stretch to the rolls, as baked, and makes the dough very easy to shape with almost no added flour.
These gluten free dinner rolls are soft and squishy, so they're ideal for serving with any homestyle meal. Imagine them on the side of your plate of gluten free spaghetti and meatballs, since they're easy enough for a weeknight.
They're also perfect for your holiday table. I've made our recipe for gluten free Texas Roadhouse rolls many times for Thanksgiving, but they're more of an appetizer-type roll.
Next holiday season, I think I'll be making this gluten free rolls recipe as they're made for soaking up the last bits of gluten free gravy from that holiday plate.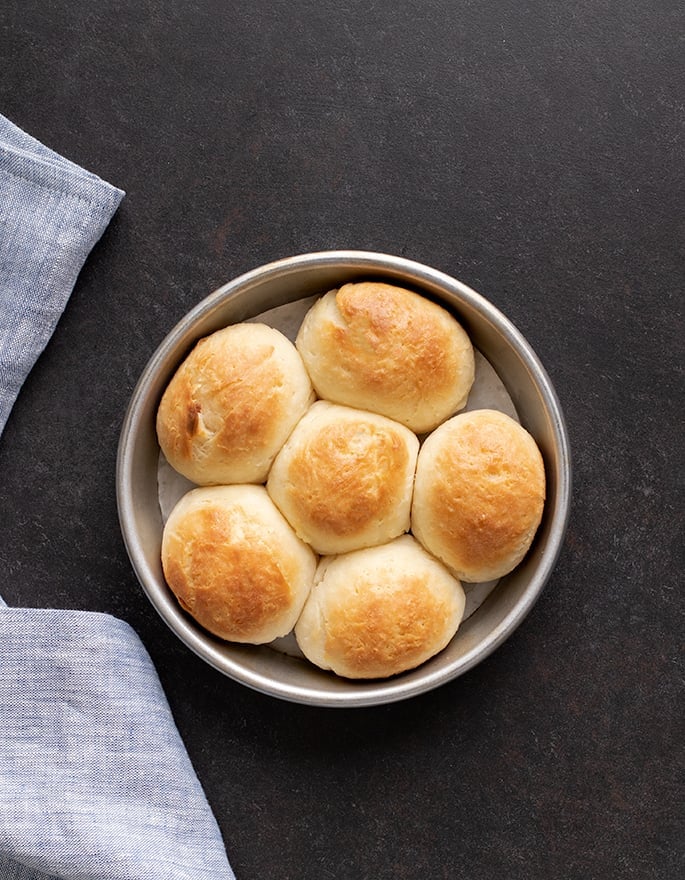 What gluten free flour is best for this gf bread?
To make gluten free bread, the base blend I recommend is Better Batter or my mock Better Batter all purpose gluten free flour blend.
Even when our bread recipe calls for our gluten free bread flour, which we're not using here, the base is (mock Better Batter). It has the right balance of gluten free flours when you need a recipe to hold its shape during rising and baking.
Adding nearly a full cup of tapioca starch/flour to the recipe lightens the rolls without diluting the strength of Better Batter. It also provides elasticity to the raw dough, which makes for easier shaping, and to the baked rolls.
If you can't have tapioca starch/flour, you can try replacing it both in the mock Better Batter and as a separate ingredient in this recipe with superfine glutinous rice flour (which is just rice flour made from starch, short-grain white rice). I have had some success with that substitution, but can't promise results.
How do you make gluten free rolls rise?
This is a yeasted recipe, so you must provide a proper environment for the commercial yeast to reproduce after it's exposed to the milk in the recipe. Yeast rises at a very high range of temperatures.
The desired dough temperature appears to be 78°F, but I don't spend much of any time worrying about that. I typically set yeasted dough to rise on top of my oven (never inside), and turn the oven on to about 300°F. The ambient heat provides just enough warmth to help the dough rise uniformly.
Yeasted dough will rise at lower temperatures, even in the refrigerator at 40°F, just more slowly. A slower rise creates more of that somewhat sour, yeasty flavor in the dough, and is best for leaner, non-enriched bread doughs that don't have much, if any, fat.
The worst placement for getting rolls to rise is somewhere too hot. Slow-rising dough can be very frustrating, but a too-hot temperature risks killing the yeast and preventing any rise at all.
Enrichments like the milk, egg whites, and butter in these rolls help the dough rise more quickly. But rising times for yeasted dough like these dinner rolls can vary significantly.
A dry climate will also inhibit yeast growth, so you can try adding a tablespoon of additional warm milk or water to the dough if you tend to struggle with getting yeast dough to rise. Don't add too much, though, or the rolls are likely to overproof and then deflate as they cool (leaving them gummy inside).
Storage tips
I don't ever recommend freezing raw yeast dough. It may not rise after having been frozen.
These rolls should be eaten within the same day they were baked. Ideally, you'll serve them hot out of the oven.
However, that sort of planning isn't always possible. And I also don't recommend letting the dough rise in the refrigerator for more than 24 hours, as the oven rise tends to be very irregular during baking when you do that.
There are two potential solutions to this issue.
First, this recipe makes 16 small dinner rolls, which is quite a lot. It can easily be halved just by cutting every single ingredient amount in half.
If you make 8 rolls instead of 16, they should be eaten all in one sitting. If you're only baking for 1 or 2, try cutting the recipe down to 25%.
Second, if you'd like to try parbaking the shaped and risen rolls, you can then freeze them for at least a month. Just defrost at room temperature, then finish baking until fully browned and 190°F inside.
To parbake the rolls, follow the recipe through baking (be sure to separate the raw rolls, leaving about 2-inches between one another), but only set the oven to 300°F. Bake for about 15 minutes or until the rolls appear puffed and are no longer wet inside.
Remove the rolls from the oven, and allow them to cool completely. Freeze in a single layer, then wrap tightly in freezer-safe wrap.
Eliminate as much air as possible, which causes freezer burn. Defrost at room temperature and then finish baked as described above.
Ingredients and substitutions
Dairy
If you can't have dairy, try replacing the melted butter with melted vegan butter. Melt and Miyoko's Kitchen brands are my favorite.
In place of dairy milk, any unsweetened nondairy milk should work. Avoid using anything nonfat, though, as richness is the goal.
Egg white
There are 2 egg whites in this recipe, and they provide structure to the rolls. You may be able to replace them with aquafaba, or the brine from a can of unsalted chickpeas.
Sometimes aquafaba is a perfect substitute for egg whites in baking, and other times it appears not to work. I'm afraid I'm not experienced enough in this sort of substitution to predict likelihood of success.
Instant yeast
I always bake with instant yeast (which is also called bread maker or rapid rise yeast) in yeasted recipes like this one. You cannot eliminate the yeast in this recipe, but you can make dinner rolls with our recipe for yeast free gluten free dinner rolls.
You cannot replace the yeast in this recipe with wild yeast sourdough. Sourdough recipes are entirely distinct.
If you prefer to use active dry yeast, you'll need to use more, and to "prove" the yeast in some of the milk first. The general rule of thumb is to use 25% more active dry yeast than instant yeast, by weight. Here, that's 15 grams of active dry yeast in place of 12 grams of instant yeast.