A basic recipe for gluten free pizza dough is one of the single most important staples to have in your kitchen. It's super simple to make, freezes well, and defrosts easily.
Pizza night = a night off!
It's so easy to make this basic gluten free pizza crust that the day you make it for dinner, it'll feel like a night off. I promise. I first started Friday night pizza nights in my house when my oldest child started full-day kindergarten.
All daughter could talk about was that they served pizza in the school cafeteria every single Friday. The kids lined up forever to buy it—and you know it most likely wasn't very good. But they got it every Friday!
By the end of the week, I'm usually worn out from a week of work and the last thing I want to do fuss with a multi-step meal. Gluten free pizza is about all I can manage!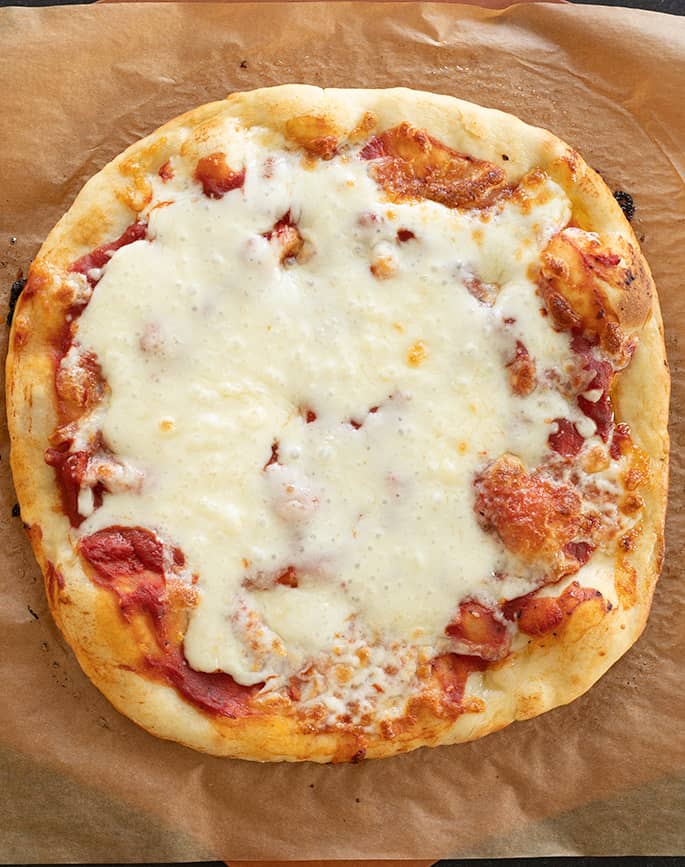 Why is this the basic gluten free pizza?
For so many years, this was my tried and true pizza crust recipe—until I wrote Gluten Free on a Shoestring Bakes Bread. When I wrote that book, I thought I had turned the page from recipes like this basic crust forever.
This recipe, and others like my gluten free sandwich bread and Japanese milk bread use only an all purpose gluten free flour blend instead of the "bread flour" blend with whey protein isolate in it from the book.
If you're curious about the newer pizza recipes, the Thick Crust Gluten Free Pizza from the book is reprinted right here on the blog. You can find out how to make our gluten free bread flour on the flour blends page.
But this recipe has slowly worked its way back into our regular Friday night rotation, and I'm finding that in some ways my family and I actually prefer it to the newer recipes. Let me explain…
What's in gluten free bread flour?
The gluten free bread flour blend from Gluten Free on a Shoestring Bakes Bread is a combination of an all purpose gluten free flour blend like Better Batter, whey protein isolate plus Expandex modified tapioca starch (affiliate link).
Whey protein isolate is simply a milk protein powder that is nearly 100% protein and is often used for bodybuilding and low carb recipes these days. I've found that it behaves a lot like gluten in baking.
However, whey protein isolate tends to make raw dough very soft. Together with Expandex modified tapioca starch, it allows for the creation of gluten free bread recipes that look, feel and taste more like conventional yeast bread.
The gluten free bread flour and the recipes in GFOAS Bakes Bread is so important to me and valuable to readers. But I understand that its reach is limited.
If you can purchase whey protein isolate and Expandex, and tolerate dairy you can and should use the gluten free bread flour. There is no perfect nondairy substitute for whey protein isolate.
Whey protein isolate in gluten free bread flour
The whey protein is essential to the gluten free bread flour since milk protein (casein) is the protein that behaves most like wheat gluten in baking applications. Chemically ?, they're very similar. ?
But that means that I can't provide viable suggestions for a dairy-free version of those recipes. Baking with whey protein does cause the dough to relax quite a bit.
Expandex modified tapioca starch is amazing when you're trying to create the "chew" of conventional, gluten-containing bread. The combination of whey protein isolate and Expandex, plus our all purpose gluten free flour, creates gluten free bread flour.
In the bread book, I recommend a few dairy-free substitutes for whey protein isolate (pea protein isolate and rice protein isolate). None of them is a perfect substitute. Plus, each requires that you use 150% of the liquid the original recipe calls for, which nearly defeats the purpose of using protein powder.
Modified tapioca starch in bread flour
Expandex, a chemically (not genetically) modified tapioca starch, has only one substitute: Ultratex 3. It's another version of a similar modified tapioca starch that appears to be 3 times as strong as Expandex.
In this basic gluten free pizza recipe, I've discovered that I really like replacing some of the flour blend with a bit of Expandex. Expandex makes the dough easier to handle when raw and chewier when baked.
Expandex it even helps you get those blisters in the parbaked crust that you see in these photos. Plus, the leftover slices actually taste great right out of the refrigerator, like leftover pizza properly should!
If you'd like to use Ultratex 3 in place of Expandex, try using 12 grams of Ultratex 3 (instead of 36 grams of Expandex). Then, increase the all purpose gluten free flour by 24 grams to make up the difference.
Since Ultratex seems to be more available outside the U.S. than Expandex, I've located a few online resources for Ultratex 3 in various countries. For details, please see our GF Resources page.
Can I make this pizza dough ahead of time?
One of my favorite things about pizza night is the ease of it. I never recommend freezing raw yeast dough, since it can kill the yeast if the temperature drops too low.
But there are two ways to make this dough ahead of time—and make your life so easy:
Make the raw dough up to 3 days ahead of time
The whole recipe for the pizza dough can be made up to 3 days ahead of time and stored in a tightly-sealed container in the refrigerator. It's best to work with the dough cold, so you'll shape it right out of the refrigerator.
Be careful not to allow the dough to dry out in the refrigerator, as it will do if your container is not well-sealed. I always use 2 liter plastic Cambro buckets for storing dough, since the seal is perfect. If your dough dries out, it won't rise.
Freeze the parbaked crust
If you'd prefer to have a half-baked crust on hand, dinner can be as easy as a premade, packaged frozen pizza crust. Just follow the recipe instructions through step 3 below.
After the crust has been parbaked for about 7 minutes in a 400°F oven, allow it to cool completely. Once the crust has cooled completely, wrap it very tightly. I like Glad Press n Seal freezer for this sort of thing.
Place the parbaked crust in the freezer for up to a month. Even better than Press n Seal is a food sealer that removes all trapped air from the container, since trapped air is what causes freezer burn.
Ingredients and substitutions
This recipe is naturally egg-free, which isn't something you can often say about most gluten free bread recipes, which tend to rely upon eggs for structure.
Dairy
The crust recipe itself is already dairy-free, so no worries there. For a dairy-free shredded cheese to use as a topping, I really like Daiya brand.
Olive oil
A good-quality extra virgin olive oil really helps give this pizza dough really nice flavor. You can replace it with a neutral oil, like grapeseed, but you'll miss the richness of the olive oil.
Expandex modified tapioca starch
For a complete discussion of how Expandex adds value to this recipe, please scroll up a bit. If you don't have or don't want to use Expandex, you can use 2 3/4 cups all purpose gluten free flour and make up the remaining 1/4 cup of flour with regular tapioca starch/flour.
Tapioca starch will help a bit to make the recipe chewier, although not as much as if you used Expandex. There is no need to add more water to your dough if you aren't using modified tapioca starch.
If you'd like to see some of the many ways you can use pizza dough, check out my gluten free pizza dough web story.
Basic Gluten Free Pizza Dough
Yield:
2 12-inch pizza crusts
Ingredients
3 cups (420 g) all purpose gluten free flour (I used Better Batter), plus more for sprinkling*
2 1/4 teaspoons xanthan gum (omit if your blend already contains it)
1 tablespoon (9 g) instant yeast (or 1 1/2 tablespoons active dry yeast)
1 1/2 teaspoons (6 g) sugar
1 1/2 teaspoons (9 g) kosher salt
1 1/8 cups (9 ounces) warm water (about 95°F)*
1/4 cup +2 tablespoons (65 g) extra-virgin olive oil (plus more for brushing)
Your favorite pizza toppings
*Optional variation for chewier pizza: Instead of 3 cups (420 g) all purpose gluten free flour, use 2 3/4 cups (385 g) all purpose gluten free flour and add 1/4 cup (36 g) Expandex modified tapioca starch and increase the water by 1 1/2 ounces to 10 1/2 ounces (1 1/4 cups + 1 tablespoon) water.
Instructions
In the bowl of your stand mixer fitted with the paddle attachment or your food processor fitted with the metal blade, place the flour, xanthan gum, (optional Expandex), yeast, and sugar, and whisk to combine with a separate, handheld whisk. Add the salt, and whisk again to combine well. Add the water and olive oil, and mix on medium speed in your stand mixer or pulse in your food processor until the dough begins to come together. Turn the mixer to high speed or your food processor on and process until the dough is no longer a ball but has begun to appear whipped. Transfer the dough to an oiled container with a tight-fitting lid or a greased bowl, spray lightly with cooking oil spray, and cover tightly. Place in a warm, draft-free area to rise until it's about 150% of its original volume (about an hour), or refrigerate the dough for up to 3 days.

When you're ready to make the pizza, place a pizza stone or overturned rimmed baking sheet in the oven and preheat it to 400°F. If you've refrigerated the dough, work with it straight from the refrigerator. If you haven't, place the tightly sealed dough in the refrigerator to chill for at least 15 minutes before working with it, as it's easiest to work with when it's chilled.

To make pizza, place the dough on a lightly floured surface and sprinkle the top lightly with a bit more flour. Knead the dough a bit until it's smoother, then divide it into two equal portions. Cover the unused portion so it doesn't dry out and roll the other half on the floured surface with a rolling pin, moving the dough frequently to prevent sticking. Sprinkle very lightly with additional flour as necessary. Create a smooth edge around the perimeter of the dough by pressing the edges with one hand toward the palm of your other. Transfer the dough to a large piece of unbleached parchment paper and brush the top of the dough generously with olive oil. Using a pizza peel or other flat surface like a cutting board, transfer the dough to the pizza peel or baking sheet in the preheated oven and bake it plain for 5 to 7 minutes, or until the crust has begun to crisp on the underside.

Remove the crust from the oven. At this point, the parbaked crust can be cooled completed, wrapped tightly and frozen for at least one month. Simply defrost at room temperature, and then continue with the recipe as written. To continue preparing the dough, add your favorite toppings to the parbaked crust, and return the pizza to the hot oven until any cheese is melted and the edges have browned and puffed (another 5 to 7 minutes). Allow to set for 5 minutes before slicing and serving.

This recipe was originally published on the blog in 2009 (!). All but one of the photos are new; the video and most of the text are new; the recipe was scaled up a bit and the Expandex option was added, but it was otherwise unchanged.