Get Your Pizza Back!
Gluten Free Pizza dough is one of the single most important staples to have in your kitchen. It is exceedingly simple to make, freezes fantastically well, and then defrosts readily.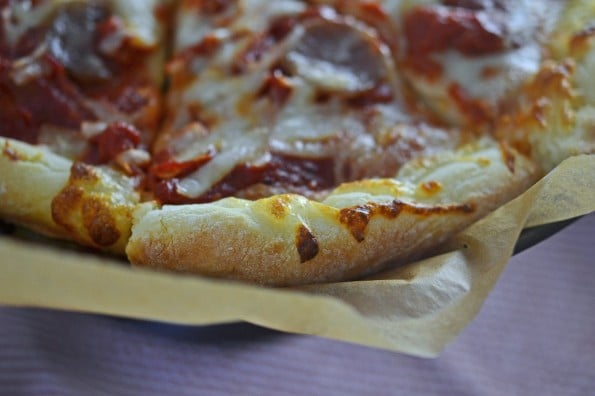 If you make gluten free pizza for dinner at least once a week, like I do, it's so easy it will even feel like a night off. I first started Friday night pizza nights in my house when my oldest child started full-day school. All she could talk about was that they served pizza in the school cafeteria every single Friday. The kids lined up forever to get some—and you know it most likely wasn't very good. But they got it every Friday!
By the end of the week, I'm usually worn out from a week of work and the last thing I want to do fuss with a multi-step meal. Gluten free pizza is about all I can manage!
P.S. For many years, this was my tried and true pizza crust recipe—until I wrote Gluten Free on a Shoestring Bakes Bread. This recipe still works, but if you'd like to step up your pizza game, try the recipe for Thick Crust Gluten Free Pizza from the book, reprinted right here on the blog.