These no rise gluten free bagels are made with yeast, but are still ready in about 40 minutes from start to finish because, well, there's no rise at all. It all happens in the oven. No planning necessary, and you can still have bagels!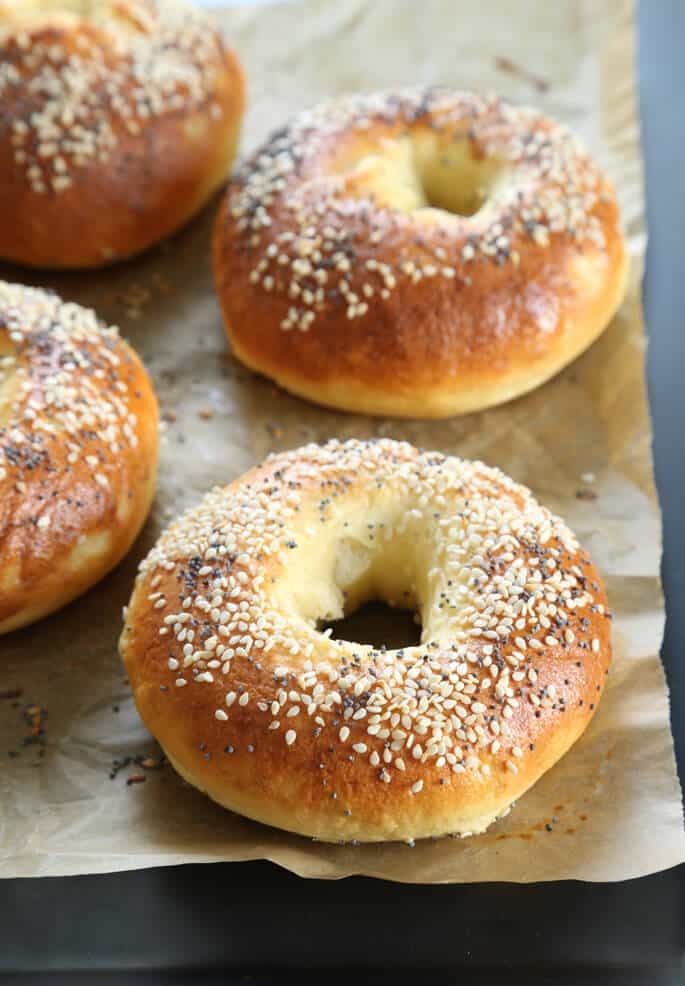 The power of fresh bagels
Piping hot, fresh bagels are kind of like donuts. You don't even realize how much you love them until they suddenly feel beyond reach.
That feeling of going into a bagel shop and coming out with a brown bag filled to the top with everyone's favorite kind of bagel, still warm from the oven?
Just because you can't do that any more doesn't mean you can't have piping hot, fresh bagels—even if you haven't planned ahead. Whenever we have a sleepover guest at my house, whether it's my niece and nephew or one of my kids' friends, I feel like I simply must make a kid-friendly breakfast that's still kind of impressive.
I can't tell you how many times I've set an alarm for 5 am just to be able to get that done by the time the first child rolled out of bed. But with these no rise gluten free bagels, I need less than an hour and can even whip up a batch on a moment's notice.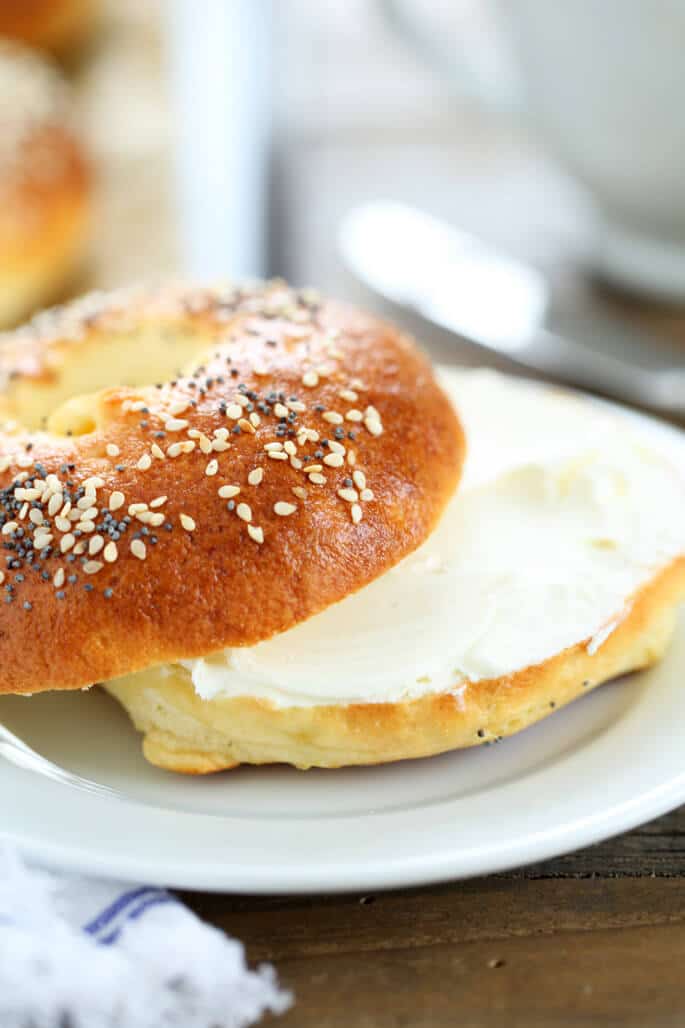 What makes a bagel not just a roll with a hole?
Although they don't have to rise before they go in the oven, these bagels do indeed have to be boiled in a molasses bath after shaping and before baking.
No boiling, no bagels. It's as simple as that.
I'm from New York and you're just going to have to trust me. If you want an actual bagel and not just a roll with a hole, set some water to boil and nobody gets hurt.
How you "take" your bagel is like how you take your coffee. Everyone has a signature.
Whether you take your bagel with a schmear (cream cheese) or a pat of butter, and whether you're an "everything" bagel sort or prefer yours plain, this no rise bagel recipe is heaven-sent.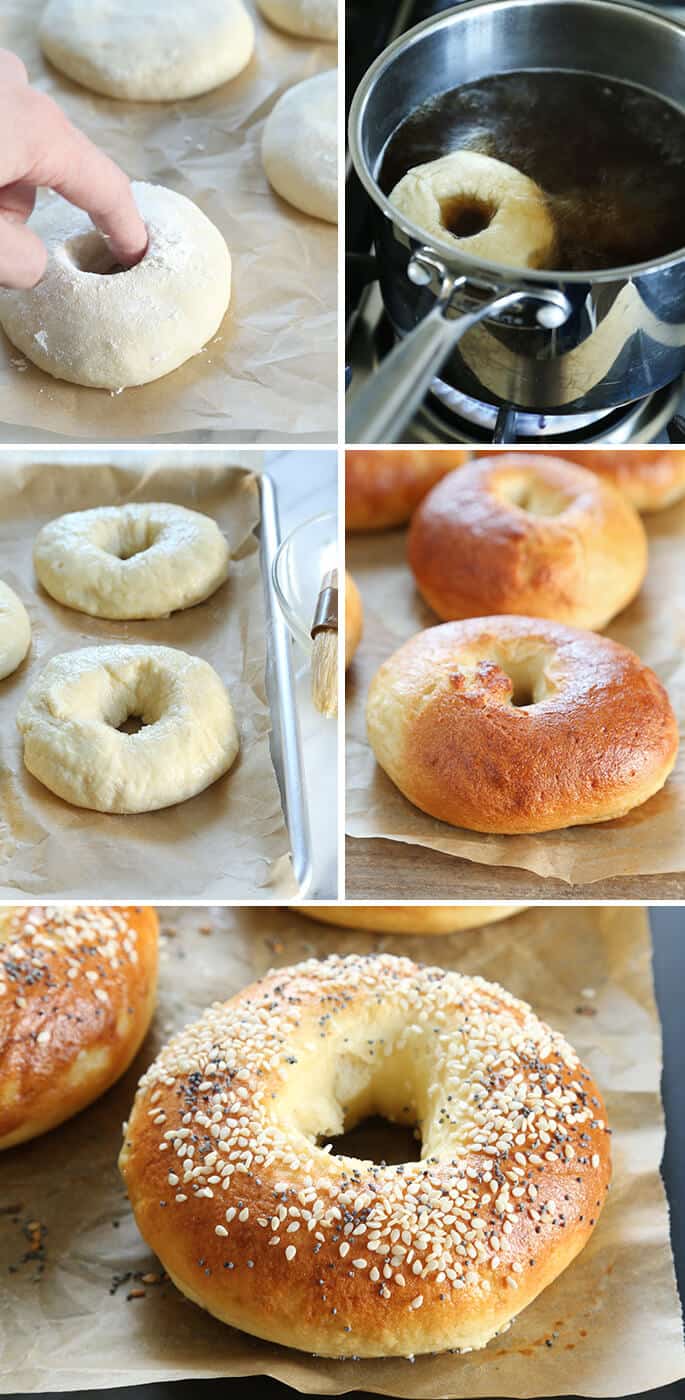 Not a yeast-free recipe
This recipe calls for yeast, so this is not a yeast-free gluten free bread. These bagels are called "no rise" because their rise happens entirely in the oven. That's called "oven spring."
All yeast bread (even wild yeast sourdough bread) rises in the oven. But most bread rises first outside the oven, covered and allowed to "proof" at room temperature.
These no rise gluten free bagels are shaped, boiled (you must), and baked. There is no pause after shaping to allow the shaped bagels to swell with growth of active yeast.
The recipe is formulated to use a bit more yeast and a bit more water, so the oven spring is more robust than with a "normal" yeast bread recipe.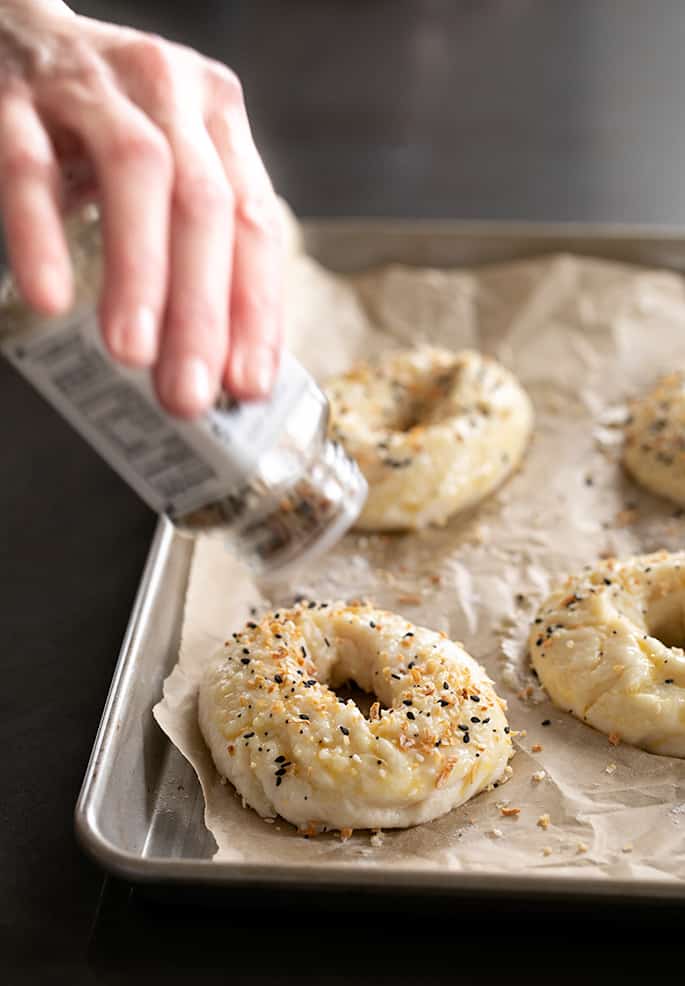 A gluten free bread flour recipe
This recipe is made with "gluten free bread flour," which is made by adding whey protein isolate (an unflavored protein powder that is nearly 100% protein) and Expandex modified tapioca starch (a chemically modified tapioca starch that helps create amazing stretch and chew to gluten free breads) to Better Batter gluten free flour or my mock Better Batter blend.
Baking bread with even my favorite all purpose gluten free flour blend, Better Batter, is used to make batter-style gluten free bread, like our gluten free white sandwich bread. That sort of gluten free bread dough doesn't look or behave anything like conventional yeast bread when it's raw or even when it's baking.
Baking with gluten free bread flour is an experience much more like what you might expect when you're baking conventional yeast bread. The dough isn't overly wet like the batter-style of bread. I
If you've ever made a batter-style gluten free bread, which absolutely still has its place in my heart, the moment you make this bread dough you'll see how different it is.
Ingredients and substitutions
Dairy: If you're dairy-free, I'm afraid this recipe isn't a good choice. The butter in the recipe can be replaced rather easily with one of the excellent vegan butter substitutes available. My favorites are Miyoko's Kitchen and Melt brands.
But the real issue is the whey protein isolate that forms an important part the gluten free bread flour blend that makes these bagels so authentic. You can try replacing whey protein isolate with rice protein isolate or pea protein isolate, but then you must multiply the water in this recipe by 150% (for a total of 12 3/4 fluid ounces of water) and the dough will never be quite the same.
If you'd like to make something very similar, but with an all purpose gluten free flour in place of bread flour, we have another recipe for that. Try our recipe for gluten free plain bagels.
Egg: The only egg is in the egg wash that is used to brush the raw bagels to help them brown and help any toppings to stick to the bagels as they bake. If you can't have eggs, try brushing cream or melted butter in place of the egg wash.
Easy No Rise Gluten Free Bagels
Ingredients
3 1/2 cups (490 g) Gluten Free Bread Flour,* plus more for sprinkling
2 teaspoons (6 g) instant yeast
2 tablespoons (25 g) granulated sugar
1 1/2 teaspoons (9 g) kosher salt
1 cup + 1 tablespoon (8 1/2 fluid ounces) warm water (about 95°F)
6 tablespoons (84 g) unsalted butter, at room temperature
Egg wash (1 egg at room temperature beaten with 1 tablespoon milk)
Seeds, for sprinkling (optional)
*BREAD FLOUR NOTES
1 cup (140 g) Gluten Free Bread Flour, as discussed more fully on pages 8 to 10 of GFOAS Bakes Bread, contains 100 grams Mock Better Batter all purpose gluten free flour (or Better Batter itself) + 25 grams whey protein isolate (I use NOW Foods brand) + 15 grams Expandex modified tapioca starch.
For a calculator that helps you build the flour without math, please see my Gluten Free Flour page.
If you would like to use Ultratex 3 in place of Expandex, please see #6 on my Resources page for instructions.
Instructions
Preheat your oven to 400°F. Line a large rimmed baking sheet with unbleached parchment paper and set it aside. In a medium-sized, covered saucepan, bring the water bath (6 cups of water, 1 tablespoon molasses and 1 teaspoon kosher salt,) to a boil over medium-high heat.

Make the dough. In the bowl of your stand mixer (or a large bowl with a handheld mixer with dough hooks), place the bread flour, yeast and granulated sugar, and use a handheld whisk to combine well. Add the salt and whisk to combine well. Add the water and butter, and mix on low speed with the dough hook(s) until combined. Raise the mixer speed to medium and knead for about 5 minutes. The dough is a smooth, enriched dough, but it is very thick. Spray a silicone spatula lightly with cooking oil spray, and scrape down the sides of the bowl. Cover the bowl with plastic wrap and place in the refrigerator to chill for 10 minutes to make the dough much easier to handle.

Shape the rolls. Remove the dough from the refrigerator, and transfer it to a surface lightly sprinkled with bread flour. Sprinkle the dough very lightly with more flour and turn it over on itself a few times until the dough is smoother. Using a bench scraper or sharp knife, divide the dough into 8 equal pieces. Shape the pieces into rounds of dough following the Directions for Shaping Small, Round Rolls, and place them on the prepared baking sheet about 2 inches apart from one another. Place a floured finger in the center of each round of dough, press down to the bottom and move around in a circular motion to create a hole that is at least 1 1/2-inches wide.

Boil the bagels. Place as many of the raw, shaped bagels in the boiling water bath as can fit without crowding and boil them for about 45 seconds total, turning the bagels over gently to ensure even boiling. Remove the boiled bagels from the water bath and return to the baking sheet. Brush the tops and sides with the egg wash and sprinkle with seeds if using. 

Bake. Place the baking sheet in the center of the preheated oven and bake until the bagels are golden brown all over and the internal temperature reaches about 180°F (18 to 20 minutes). Remove from the oven and allow to cool briefly before serving.

Adapted from my No Rise Gluten Free Yeast Rolls.