These no rise gluten free bagels are made with yeast, but are still ready in about 40 minutes from start to finish because, well, there's no rise at all. It all happens in the oven. No planning necessary, and you can still have bagels!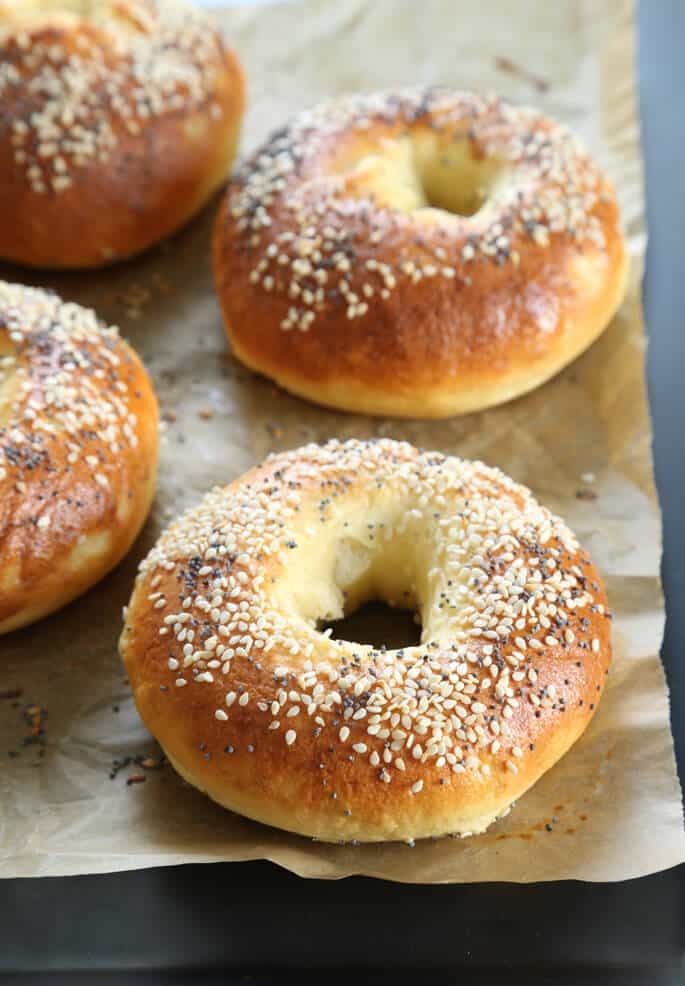 The power of fresh bagels
Piping hot, fresh bagels are kind of like donuts. You don't even realize how much you love them until they suddenly feel beyond reach.
That feeling of going into a bagel shop and coming out with a brown bag filled to the top with everyone's favorite kind of bagel, still warm from the oven?
Just because you can't do that any more doesn't mean you can't have piping hot, fresh bagels—even if you haven't planned ahead. Whenever we have a sleepover guest at my house, whether it's my niece and nephew or one of my kids' friends, I feel like I simply must make a kid-friendly breakfast that's still kind of impressive.
I can't tell you how many times I've set an alarm for 5 am just to be able to get that done by the time the first child rolled out of bed. But with these no rise gluten free bagels, I need less than an hour and can even whip up a batch on a moment's notice.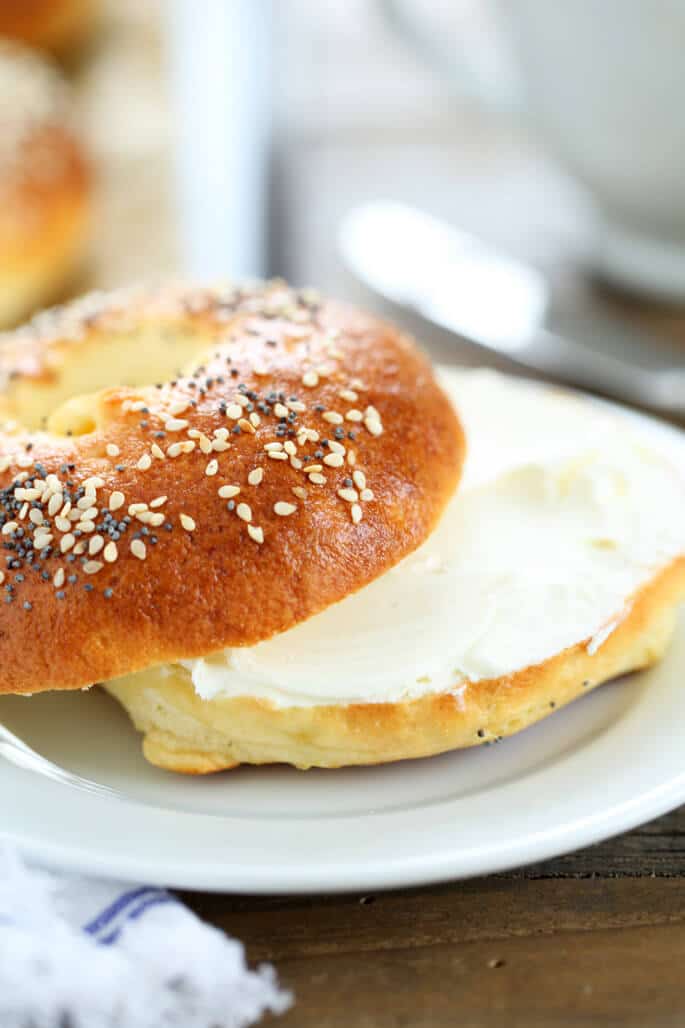 What makes a bagel not just a roll with a hole?
Although they don't have to rise before they go in the oven, these bagels do indeed have to be boiled in a molasses bath after shaping and before baking.
No boiling, no bagels. It's as simple as that.
I'm from New York and you're just going to have to trust me. If you want an actual bagel and not just a roll with a hole, set some water to boil and nobody gets hurt.
How you "take" your bagel is like how you take your coffee. Everyone has a signature.
Whether you take your bagel with a schmear (cream cheese) or a pat of butter, and whether you're an "everything" bagel sort or prefer yours plain, this no rise bagel recipe is heaven-sent.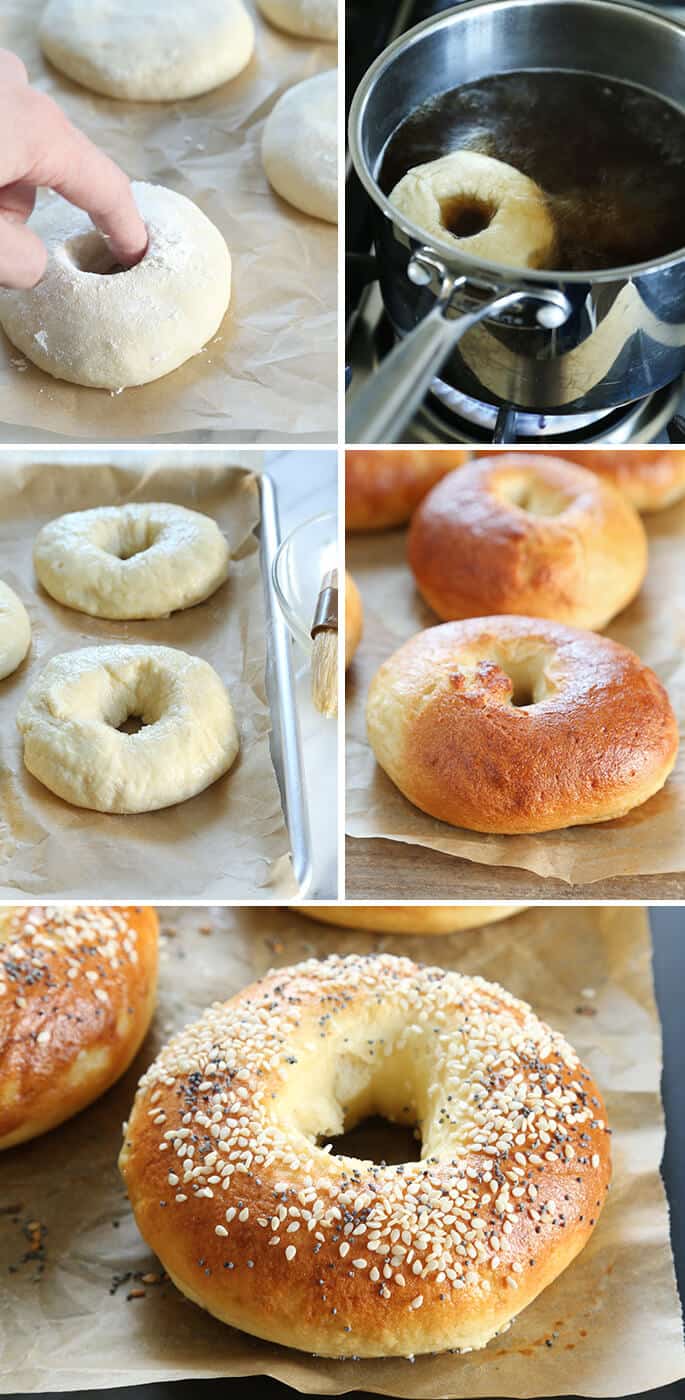 Not a yeast-free recipe
This recipe calls for yeast, so this is not a yeast-free gluten free bread. These bagels are called "no rise" because their rise happens entirely in the oven. That's called "oven spring."
All yeast bread (even wild yeast sourdough bread) rises in the oven. But most bread rises first outside the oven, covered and allowed to "proof" at room temperature.
These no rise gluten free bagels are shaped, boiled (you must), and baked. There is no pause after shaping to allow the shaped bagels to swell with growth of active yeast.
The recipe is formulated to use a bit more yeast and a bit more water, so the oven spring is more robust than with a "normal" yeast bread recipe.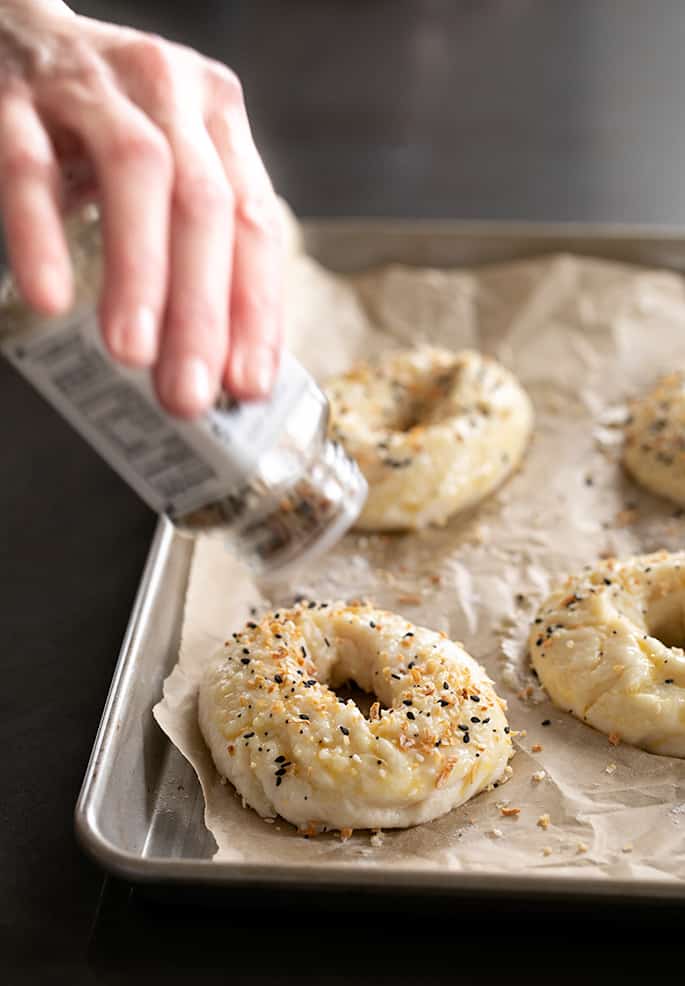 A gluten free bread flour recipe
This recipe is made with "gluten free bread flour," which is made by adding whey protein isolate (an unflavored protein powder that is nearly 100% protein) and Expandex modified tapioca starch (a chemically modified tapioca starch that helps create amazing stretch and chew to gluten free breads) to Better Batter gluten free flour or my mock Better Batter blend.
Baking bread with even my favorite all purpose gluten free flour blend, Better Batter, is used to make batter-style gluten free bread, like our gluten free white sandwich bread. That sort of gluten free bread dough doesn't look or behave anything like conventional yeast bread when it's raw or even when it's baking.
Baking with gluten free bread flour is an experience much more like what you might expect when you're baking conventional yeast bread. The dough isn't overly wet like the batter-style of bread. I
If you've ever made a batter-style gluten free bread, which absolutely still has its place in my heart, the moment you make this bread dough you'll see how different it is.
Ingredients and substitutions
Dairy: If you're dairy-free, I'm afraid this recipe isn't a good choice. The butter in the recipe can be replaced rather easily with one of the excellent vegan butter substitutes available. My favorites are Miyoko's Kitchen and Melt brands.
But the real issue is the whey protein isolate that forms an important part the gluten free bread flour blend that makes these bagels so authentic. You can try replacing whey protein isolate with rice protein isolate or pea protein isolate, but then you must multiply the water in this recipe by 150% (for a total of 12 3/4 fluid ounces of water) and the dough will never be quite the same.
If you'd like to make something very similar, but with an all purpose gluten free flour in place of bread flour, we have another recipe for that. Try our recipe for gluten free plain bagels.
Egg: The only egg is in the egg wash that is used to brush the raw bagels to help them brown and help any toppings to stick to the bagels as they bake. If you can't have eggs, try brushing cream or melted butter in place of the egg wash.