This gluten free taco seasoning is perfect for giving instant flavor to chicken, fish or vegetables. Avoid any unsafe fillers and make it yourself!
How I use gluten free taco seasoning
I use it in place of the spices in our recipe for chicken Parm meatballs to transform them into Mexican-style meatballs. I use it on sauteed vegetables to make fajitas.
I even use this spice blend in place of the individual spices in our recipe for red enchilada sauce. That's the sauce you see drizzled on the chicken tacos in the photos.
The chicken in the tacos pictured below is made by slicing skinless boneless chicken breast into thin slices. Then, I toss them with cornstarch and our homemade gluten free taco seasoning and allow them to sit for at least 30 minutes and up to a day in the refrigerator.
To cook the chicken, I simply saute it in a neutral oil with a relatively high smoke point. Peanut oil and grapeseed oil work great, but so does canola oil (*gasp*).
Why isn't all taco seasoning naturally gluten free?
Since taco seasoning is simply a blend of dried spices, you might assume that all taco seasoning is naturally gluten free. But like most anything else packaged, there is always the possibility that there's a gluten-containing ingredient added.
Some spice mixes have added gluten in the form of malt for flavoring, or even wheat flour as a binder or thickener. The same goes for packaged sauces.
I assume these brands began adding these flavoring or fillers long before there was any sensitivity to something gluten-containing. Back in the early 2000s, I barely even knew what gluten was, much less how to avoid it!
Now their taco seasoning blend is what it is, and it's not worth reformulating. Think about Rice Krispies and their added malt syrup.
It's easy to check the label of spice blends to see if they contain any suspicious ingredients. If you're unsure, don't use the blend.
You're unlikely to get even trace amounts of gluten from a single ingredient spice, like those you use to create this homemade gluten free taco seasoning. But of course it's possible.
What brands of spices are gluten free?
Most brands of individual spices, such as those made by McCormick, are labeled gluten free, but don't contain any certification. McCormick's "taco seasoning" blend is also labeled as "gluten free."
A "gluten free" label means that the product doesn't contain wheat, barley, or rye, but it goes beyond that. As of 2013, the U.S. Food and Drug Administration requires that any product labeled "gluten free" must contain less than 20 parts per million of gluten.
There are 3 private organizations that provide a designation of "certified gluten free." Among the 3 certifying organizations, only the Celiac Support Association (CSA) requires that the product contain less than 5 parts per million for certification. The other two require 20 parts per million, like the FDA.
The Gluten Free Certification Organization (GFCO) is established by the Gluten Intolerance Group, and is probably the certified gluten free label that's most familiar to us in the U.S. Spicely Organics spices are certified gluten free by the GFCO.
How do I make sure my homemade taco seasoning is gluten free?
The only way to really make sure that every ingredient that goes into your homemade gluten free taco seasoning is 100% safe is to use a gluten sensor. That's such a personal decision, and it goes way beyond the scope of this gluten free baking blog.
If it helps you feel more comfortable, Nima sensor has a great list of spices they've tested and found completely safe. I tend to use McCormick's brand spices, but also use Trader Joe's brand spices, and Whole Pantry brand, from Whole Foods.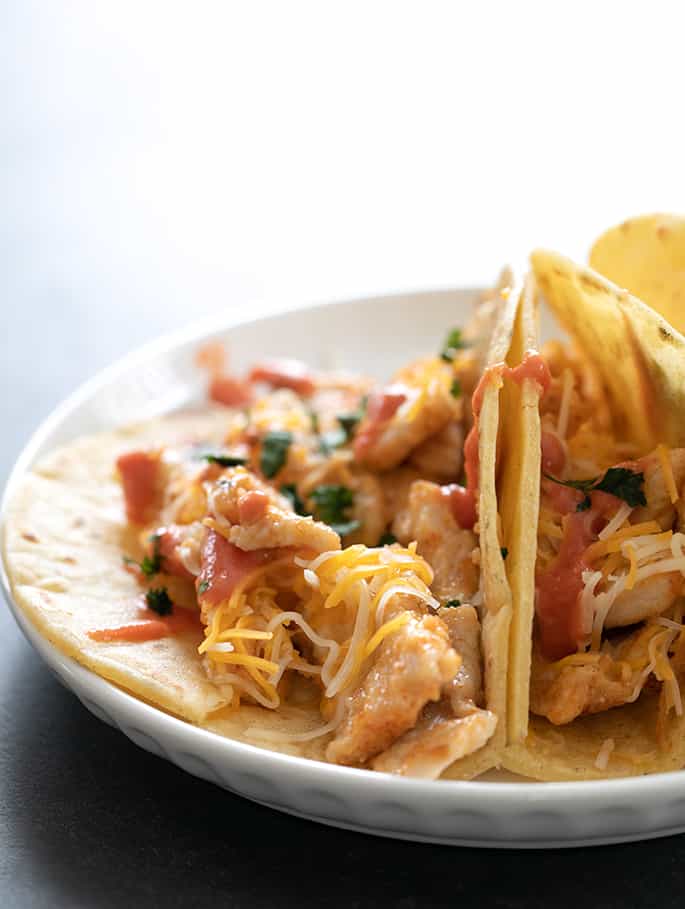 Ingredients and substitutions
Since you're making this spice blend yourself, you should of course customize it to your tastes. This is the blend that I use that tastes the most well-rounded to me. Here are a few thoughts about some of the ingredients, if you're thinking of replacing them:
Smoky spices: If your family simply doesn't care for the smokiness of smoked Spanish paprika or ground cumin, you can use regular paprika and leave out the cumin. But the flavor of the spice blend will seem rather flat.
Chipotle chili pepper: I like to use chipotle chili pepper in cooking because I like chipotle chilis, and it's a single spice (powdered chipotle chilis). Chili powder is typically a blend of spices (often, with cumin).
If you have a favorite chili powder, use that here. If you really don't like anything spicy, use much less. If your family loves spice, add as much as you like. Just remember that although you can always add more, you can't dial it back.
Sugar: The granulated sugar helps round out the kick from the chili powder. You can certainly replace it with coconut palm sugar, for a quick Paleo substitution.
You can leave out the sugar entirely, of course. But rest assured that the blend does not taste at all sweet with the sugar.
Aromatics: Aromatics like onion and garlic powder are staples in savory cooking. It's really hard to cook food that has much flavor at all without them.
If you don't have onion powder versions, you can use twice the volume of minced dried onions. If you only have garlic salt, and not garlic powder, reduce the amount of kosher salt accordingly.
Oregano: Oregano is my desert island spice. I love it in everything. If you don't, leave it out. It's really not necessary.
If you do plan to use oregano, make sure it's fresh-tasting. If your jar of dried oregano doesn't smell much when you open it, just press the leaves in your palm with the fingers of your other hand before adding it to the blend. That will help release some of its natural oils.
Gluten Free Taco Seasoning
Yield:
1/4 cup seasoning mix
Ingredients
2 teaspoons chipotle chili pepper (or more, to taste)
2 teaspoons kosher salt
2 teaspoons smoked Spanish paprika
2 teaspoons granulated sugar
1 teaspoon onion powder
2 teaspoons garlic powder
2 teaspoons ground cumin
1 teaspoon dried oregano
Instructions
In a small bowl, place all of the ingredients and whisk to combine. Transfer to a glass container with a tight-fitting lid and store in a cool, dark pantry until ready to use.

Measurement note: The measurements given are by volume, and not by weight. If you are concerned about accuracy, don't be. This recipe doesn't require the precision that baking demands. If you live outside the U.S. and don't use our same teaspoons, think of seasoning recipe like a ratio. Use the same set of volume containers for measuring all the ingredients and your blend will be properly balanced.