Gluten free pizza rolls are the perfect finger food are they're surprisingly easy to make. They even reheat well for an after-school snack!
Remember pizza rolls?
I remember seeing commercials for Totino's pizza rolls, where a hungry crowd of teenage boys found total happiness in a box of heat-and-eat snacks. I never really thought I'd have kids (go figure), but if I did, I thought it sounded awesome that they could feed themselves a warm, satisfying snack.
Well, my teenage son has been gluten free since he was barely a toddler, and my house has been completely gluten free ever since then. So we're not buying a box of Totino's—and even though there are frozen gluten free pizza rolls for sale in grocery stores now, those gluten free frozen prepared foods are crazy expensive!
Plus, my children like real food that doesn't come from a box. I've tried and failed to slip some frozen snacks into the mix, but I end up eating them just so they don't go to waste.
Tips for making these pizza rolls
This recipe is as easy as can be. The only real labor is in rolling out the dough and cutting it into rectangles, then filling each separately.
We do have a recipe for muffin-style gluten free pizza bites here on the blog, which is made in a muffin tin. That's the recipe to choose if you're not interested in rolling out dough. No shame in that game!
Resist the urge to overfill the rolls. If you stuff them too full with sauce, it will leak everywhere. If you put in too much cheese, the same thing with happen. The leaked cheese is still delicious as it bakes on the pan, but the rolls will be empty!
You can use shredded cheese instead of diced cheese, but I find that shredded cheese is harder to keep in place during filling and shaping. You get more density of cheese in the center of the roll when it's diced.
Be sure you slice those two vents in the top of each roll before baking. The rolls puff up nicely in the oven, and the steam will find a place to escape on its own if you don't provide an exit.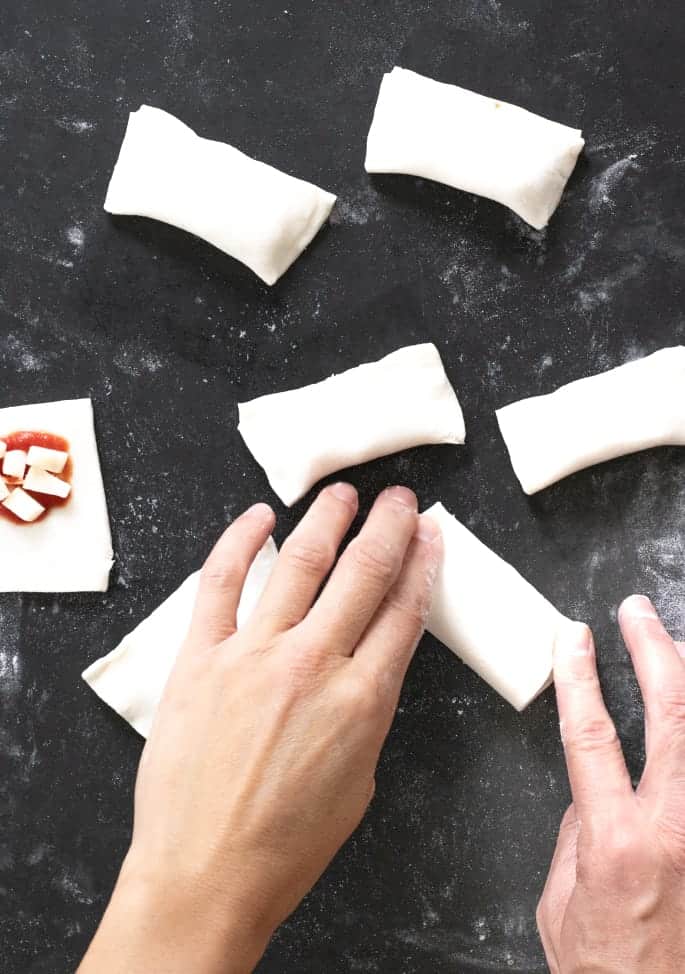 How to make the gluten free pizza dough
I've used many different types of pizza dough over the years to make these pizza rolls. Some were recipes for actual pizza dough, and we'll talk about the best recipes to use. Others have been less traditional wraps, like won ton wrappers and empanada dough.
My current favorite way to make these pizza rolls is with our "2-ingredient" type pizza dough, made in the Weight Watchers style. I have used that style of dough so many times in so many different ways ever since modifying the original recipe to make a version of the 2-ingredient gluten free bagels.
That dough is often referred to as "miracle dough" since a single recipe (made primarily with self-rising flour and Greek-style plain yogurt) can be used to make everything from bagels to rolls to pizza and nearly everything in between. I've found, though, that the recipe needs to be modified slightly (sometimes adding an egg white, sometimes using less yogurt, sometimes adding some water) for the best bread of each type.
The Weight Watchers-style gluten free pizza dough recipe
I've only incorporated the pizza dough recipe below by reference, using a link to the dough recipe here on the blog. It helps keep the recipe looking as simple as it really is.
But I thought it might be useful to have the dough recipe right here on this post, so here it is:
1 cup (140 g) all purpose gluten free flour, plus more for sprinkling
1/2 teaspoon xanthan gum (omit if your blend already contains it)
1 teaspoon baking powder
1/2 teaspoon kosher salt
3/4 cup (170 g) nonfat Greek-style plain yogurt
2 to 3 tablespoons lukewarm water
In a large bowl, place the flour blend, xanthan gum, baking powder, and salt, and whisk to combine. Add the yogurt and 2 tablespoons of water, and mix until the dough holds together well.
If necessary for the dough to clump and hold together easily, without feeling stiff to the touch, add another tablespoon of water and mix to combine. The dough can also be made in a stand mixer fitted with the paddle attachment, but it's not necessary. I only break out the stand mixer if I'm doubling or tripling the recipe.
Ingredients and substitutions
Dairy-free: This is the rare recipe that is simple enough that it doesn't contain more than one additional common allergen. There are a few different types of dairy in this recipe, but they can all be replaced.
First, for help replacing the dairy-containing Greek yogurt in the pizza dough, please see the Weight Watchers-style gluten free pizza dough recipe itself. It's all there.
You can also use a gluten free pizza dough that doesn't contain dairy in the original recipe. My basic gluten free pizza dough recipe works perfectly every time, every which way you might like to use it.
You can replace the diced mozzarella cheese in the rolls with vegan mozzarella (my favorite brand is called Violife, but Daiya is also really good). I've done that, and although it doesn't melt quite as well, it still makes a great pizza roll.
The cream can be replaced with an egg wash, which is just 1 egg beaten with a splash of nondairy milk (any kind). The point of the cream is simply to help the outside of the dough brown, and an egg wash does that just fine.
Gluten Free Pizza Rolls | the perfect party food or snack
Yield:
About 2 dozen pizza rolls
Ingredients
Instructions
Preheat your oven to 400°F. Line a rimmed baking sheet with unbleached parchment paper and set it aside.

Prepare the pizza dough as directed without shaping it. Sprinkle a flat work surface lightly with gluten free flour, place the dough on top of it, and sprinkle it again lightly. Roll out the dough into a large rectangle that is about 1/4-inch thick. Fold the dough over on itself at least once and roll it again, to ensure you're working with a smooth dough. With a pastry wheel, pizza wheel or sharp knife, slice the rolled-out dough into rectangles about 2 1/2-inches long x 1 1/2-inches wide. Gather and reroll scraps as necessary.

Working with each miniature rectangle at a time, roll it out again along its length until it's a bit thinner. Place about 1 teaspoon of tomato sauce on one half of each rectangle, leaving at least a 3 cm of the edge of the dough bare. Place 3 to 4 pieces of chopped cheese (less if the cheese is cut into a larger dice) on top of the sauce. Do not overfill. Fold the clean half of the rectangle over the sauce and cheese, and press the edges together firmly to seal. Place the filled and shaped dough on the prepared baking sheet about 1-inch apart. Using the same pastry wheel, pizza wheel or sharp knife, slice two vents through the top layer of dough in each pizza roll. Using a pastry brush, brush each roll generously with the cream.

Place the baking sheet in the center of the preheated oven and bake for about 15 minutes, or until the cheese is bubbling and the pizza rolls are uniformly golden brown all over. Serve warm. This recipe can be easily doubled for a crowd. The rolls can also be wrapped tightly in a freezer-safe wrap, and frozen until ready to use. Defrost in the microwave or in a toaster oven until warmed throughout.

Originally published on the blog in 2013. Recipe updated to use a different pizza dough; photos, video all new.