This recipe for gluten free coconut shrimp is crispy and crunchy and made the easy way with a no-mess batter.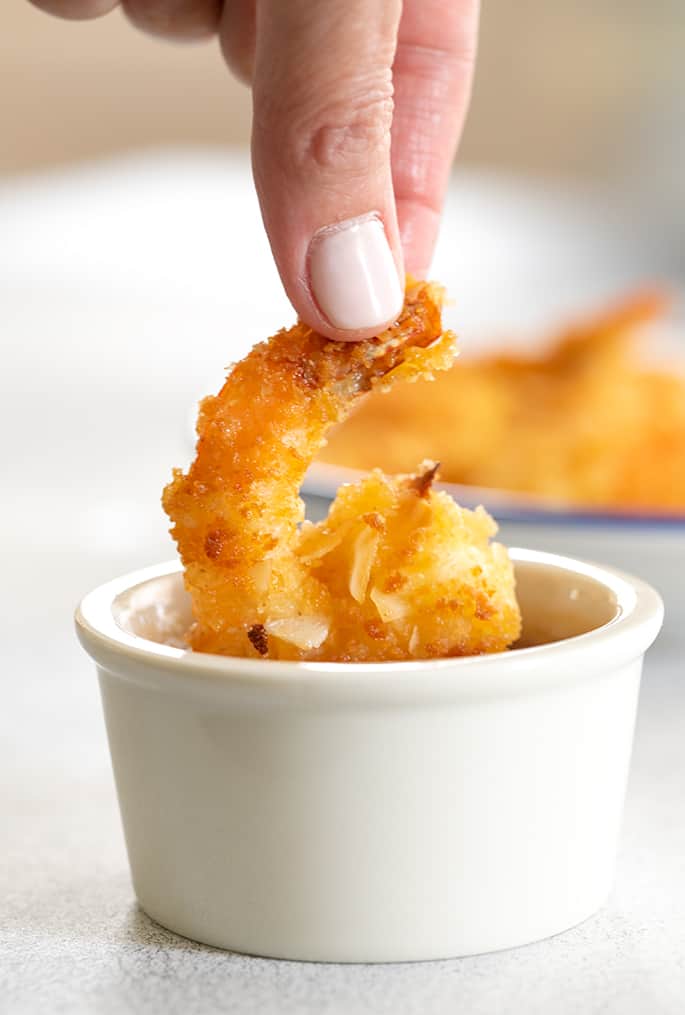 Selecting and cooking shrimp
I didn't grow up eating shrimp at home, ever, so the idea of how to select shrimp to buy for preparing at home was mystifying to me for far too long. If you already know all about buying and cooking shrimp, feel free to keep scrolling!
Frozen shrimp tend to be less expensive than fresh—and unless you're buying them off the boat, frozen ones are just as fresh as you'll find at the fish counter. Plus, they're very easy to defrost quickly by placing them in a colander and running cool water over them for about 5 minutes.
If you're comfortable removing the "vein" (it's not an actual vein and let's leave it at that), you don't have to buy them deveined. So-called easy peel shrimp are always deveined. If they're not shelled, the shell comes off easily, in one large piece.
If you buy shrimp from the fish monger, it should go without saying (but I'm saying it anyway) that it should not smell fishy. That means it's old.
One more thing: don't buy them already cooked unless you're planning to serve them cold. It's impossible to even heat shrimp that you buy cooked without overcooking them and making them rubbery.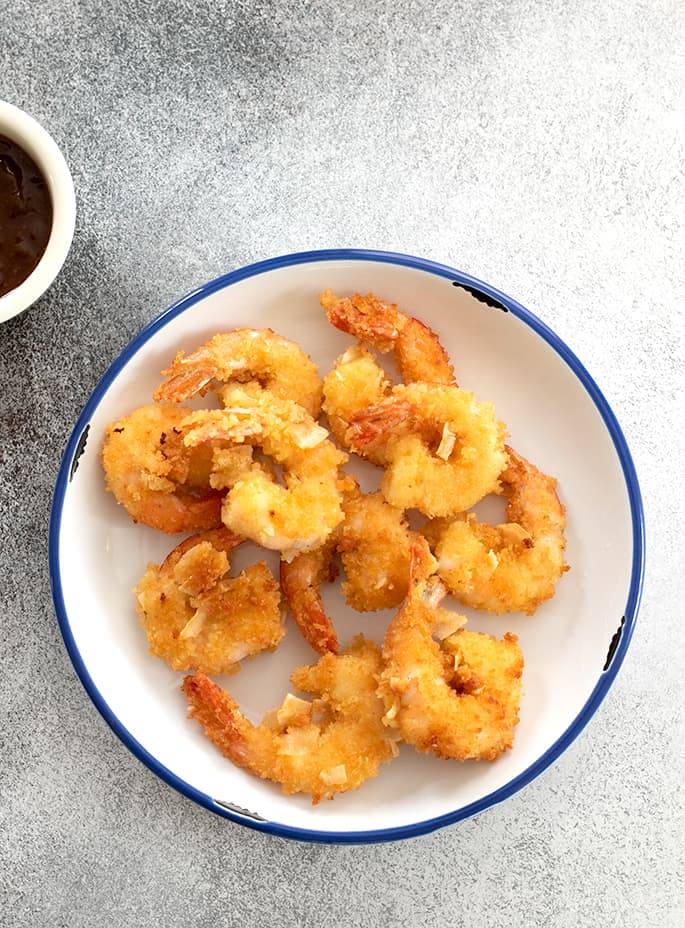 Can you bake the shrimp instead of frying?
Actually, yes! I use this mess-free batter method from our recipes for pan fried gluten free chicken cutlets and baked gluten free sesame chicken with nearly all proteins. It works for pan-frying as well as oven baking.
Shrimp cook more quickly than chicken, so you don't want to overcook them. For the absolute crispiest shrimp, place the battered and breaded shrimp on a wire rack positioned above a rimmed baking sheet lined with parchment paper.
Spray the tops of the shrimp with cooking oil spray, and bake at 375°F for 10 to 15 minutes or until crisp and lightly golden brown. I haven't tried it, but I think they would work really well in an air fryer as well. Just be sure not to crowd the basket, and spray the shrimp generously with cooking oil spray.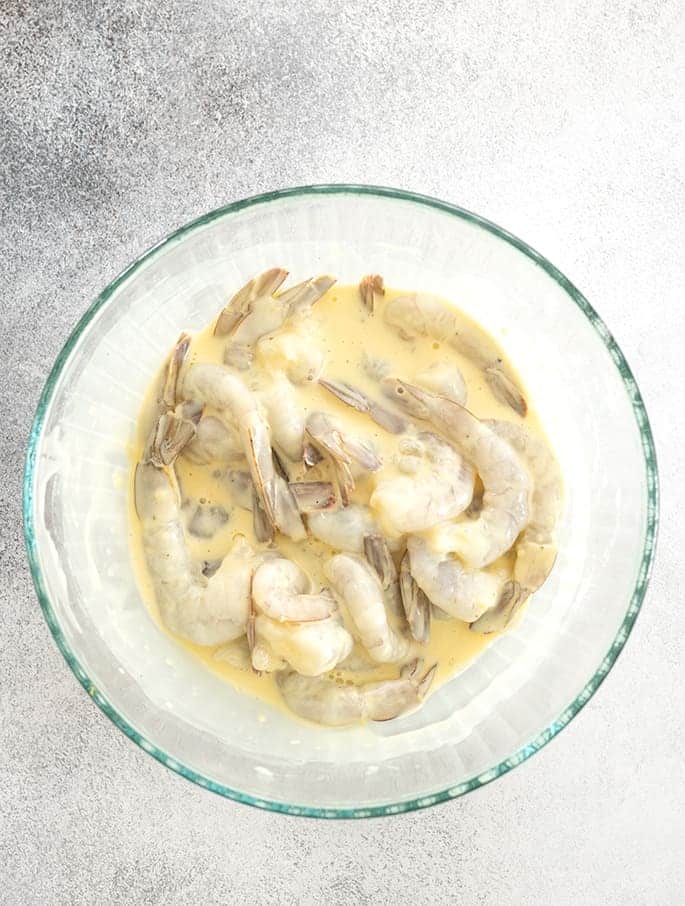 What goes with coconut shrimp?
I like to serve these crisp, slightly sweet shrimp over thin Asian rice noodles. Add some blanched sugar snap peas or broccoli crowns for a simple meal. Of course, you can always serve them over cooked white (or brown) rice.
For dipping, I've included a quick and easy recipe for a sweet and savory apricot sauce. You can add a few crushed red pepper flakes for some kick, too.
Of course, coconut shrimp are really most commonly served as appetizers. But I believe in the power of small bites (I even wrote a book called Gluten Free Small Bites!) served alone for a quick meal with a few fresh lemon wedges.
Ingredients and substitutions
Egg
The egg in the batter is really important in creating a thick savory crust on the coconut shrimp. If you can't have eggs, you can try using a vegan mayonnaise in place of both the egg and the oil.
Oil
The batter that the shrimp soak in calls for extra virgin olive oil, which is a flavorful oil with a relatively low smoke point. I recommend using it in the batter, but not as a frying oil as it will burn too quickly and easily.
For shallow pan frying and for deep frying alike, I like to us a mixture of half canola or grapeseed oil and half nonhydrogenated vegetable shortening. That mixture holds heat steadily, and doesn't smoke at a reasonable frying temperature.
Coconut
This recipe for gluten free coconut shrimp can easily be made without, well, coconut. Just increase the amount of panko-style gluten free bread crumbs.
If you'd like more coconut flavor, use virgin coconut oil for frying that isn't triple-filtered. It will have a mild coconut flavor. You can also use coconut milk in batter recipe.
Gluten Free Coconut Shrimp
Ingredients
For the shrimp
1 cup (60 g) unsweetened coconut chips
1 1/2 cups panko-style gluten free bread crumbs, plus more as necessary
1 egg (50 g, weighed out of shell)
2 tablespoons (28 g) extra virgin olive oil
1/2 cup (70 g) basic gum free gluten free flour blend (48 grams white rice flour + 16 grams potato starch + 8 grams tapioca starch/flour)
2 to 3 tablespoons milk (any kind, including nondairy)
1/2 teaspoon kosher salt
1/4 teaspoon freshly ground black pepper
1 pound raw large easy peel shrimp, peeled and deveined, tails still attached
Neutral oil, for frying (I used a combination of equal parts canola or grapseed oil and nonhydrogenated vegetable shortening)
For the dipping sauce
1/2 cup apricot jam or preserves
1 tablespoon freshly-squeezed lime or lemon juice
1 teaspoon tamari or gluten free soy sauce
Instructions
First, toast the coconut chips. Preheat your oven to 300°F. Line a large rimmed baking sheet with unbleached parchment paper and place the coconut chips on it in a single, even layer. Place the baking sheet in the oven and bake for 5 minutes. Remove the baking sheet from the oven, stir the chips to redistribute them on the baking sheet, and return them to the oven for another 5 minutes or until they're very lightly golden brown on the edges. Transfer the chips to a wide, relatively flat bowl, add the bread crumbs, toss to combine and set the bowl aside to cool.

Break the egg into a medium-size bowl. Whisking constantly, pour the olive oil into the bowl. Continue to whisk until the mixture begins to form an emulsion (it will become creamy). Add the gum free flour and whisk until a very thick paste forms. Add 2 tablespoons of milk and whisk, adding up to one more tablespoon of milk to thin the mixture until it's thickly pourable. Add the salt and pepper, and whisk to combine. Add the raw shrimp to the bowl, and mix gently to coat them in the batter. Allow the shrimp to sit in the batter while you prepare the oil.

Place about 1/4-inch of frying oil in a heavy-bottom skillet and heat until rippling over medium heat. Place the bread crumb and coconut mixture next to the stove, and a large plate, platter, or tray lined with paper towels next to that. Remove the shrimp pieces one at a time from the batter and press each side into the bread crumb mixture firmly enough for them to stick. Lower the heat to medium-low and place the prepared shrimp in the hot oil, one at a time without overlapping them in the skillet. Allow the shrimp to fry for about 3 minutes or until golden brown on the underside. Using tongs, carefully flip each shrimp and allow them to cook on the other side until golden brown underneath and cooked all the way (about another 2 minutes). Remove the shrimp, place on the paper towel-lined plate or tray to drain, and repeat with the remaining shrimp.

To make the dipping sauce, combine all three ingredients in a small bowl and whisk them together until smooth. Serve with the shrimp immediately.

Adapted from Gluten Free Small Bites: Sweet and Savory Handheld Treats for On-the-Go Lifestyles and Entertaining. Excerpted by arrangement with Da Capo Lifelong Books, a member of the Perseus Books Group. Copyright © 2016.