This easy gluten free breakfast casserole is made with my simple homemade GF pancake mix, frozen hash browns, eggs, milk and your favorite smokey meat. Make breakfast or brunch feel like a celebration, any time!
I consider anything a casserole that's baked in a 9-inch x 12-inch baking dish, and needs little more than a simple salad to call itself a complete meal. Bonus points if the casserole can be served for breakfast, brunch—or even dinner.
This gluten free breakfast casserole ticks every single box. It's a winner of a dish, for a holiday brunch or a weekday meal. And it's endlessly customizable, too. It's similar to a crustless quiche, like this Crustless Kale Quiche from Dishing Delish, but it has more structure like a casserole.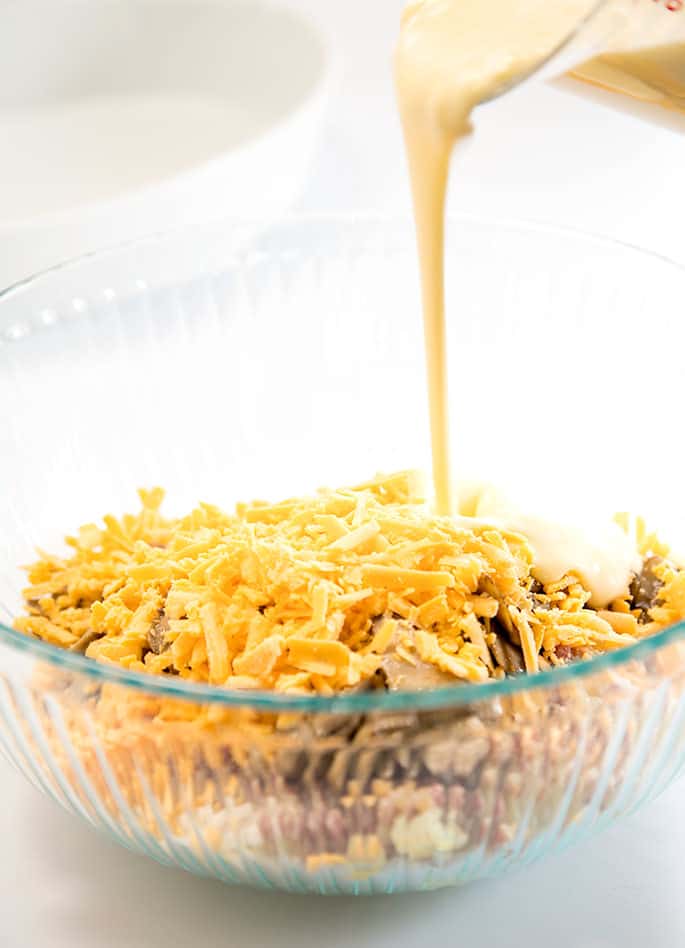 This cheesy hash brown breakfast casserole has a few essential elements:
Frozen (or homemade) hash brown potatoes,
Eggs,
Milk,
Shredded cheese.
The rest is up to you because those main 5 elements provide the base for your creativity. I highly recommend adding your favorite diced cured meat (ours is pancetta, which I buy already cubed), onions and mushrooms.
You could replace the mushrooms with any other sautéed vegetable, like diced sweet peppers or carrots. The yellow onion could be shallots or leeks instead.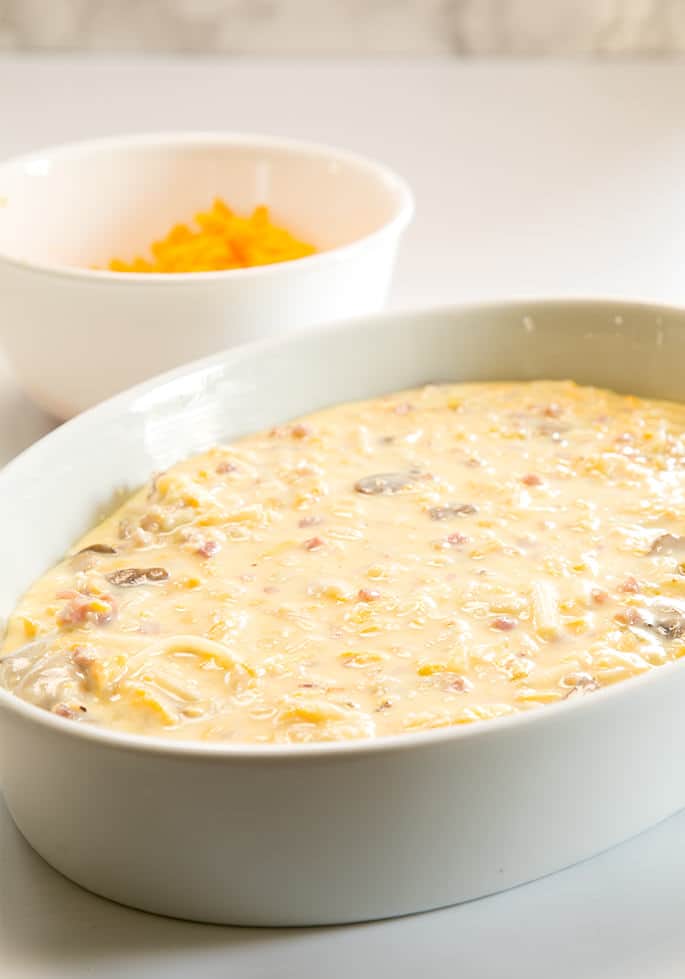 This hash brown breakfast casserole is similar to a gluten free quiche, because it's made with a base of eggs, milk, and cheese. But the addition of pancake mix and hash brown potatoes make for a truly unique dish.
Once baked in the casserole, the potatoes provide a special creamy texture and flavor. I've made this recipe with both frozen hash brown potatoes, which are easy enough to find in any well-stocked grocery store (in the U.S. at least, Ore Ida brand is gluten free), and with homemade hash browns.
I've included instructions in the recipe below for how to make your own homemade. If you're going to make them homemade, make at least 5 pounds of potatoes, and then freeze what you don't use right away.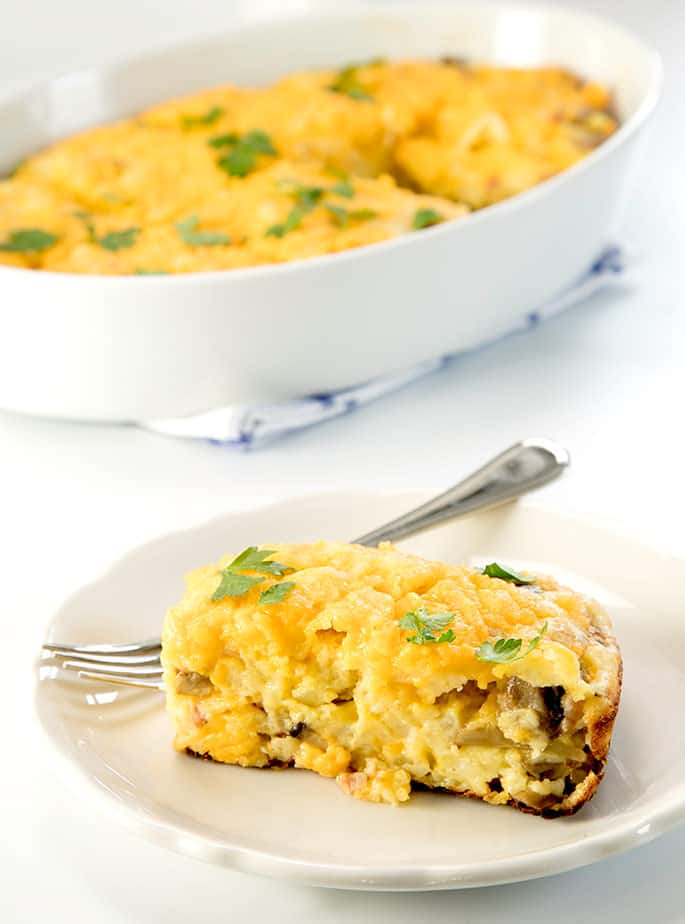 One of the best parts about this recipe is that it can be assembled the night before. Just store it, covered, in your refrigerator overnight, and then bake it fresh the next morning. Perfect for a holiday brunch and any other celebration, large or small.
Gluten Free Breakfast Casserole
Ingredients
6 ounces cubed pancetta or diced bacon
1 to 2 tablespoons (14 to 28 g) extra virgin olive oil
1 medium yellow onion, peeled and diced
8 ounces white or baby bella mushrooms, sliced
1/2 teaspoon kosher salt
1 1/4 cups (10 fluid ounces) milk, at room temperature
3 eggs (150 g, weighed out of shell), at room temperature
1 1/4 cups (200 g) homemade dry gluten free pancake mix
3 cups (240 g) frozen hash brown potatoes*
8 ounces sharp cheddar cheese, shredded
*To make your own hash brown potatoes, wash and pierce about 2 pounds of Idaho potatoes. Place them on a lined baking sheet and bake in a 350°F oven until nearly fork tender (about 35 minute). A fork should pierce the flesh readily, but not very easily. Allow to cool, then peel and shred on a box grater. Use as you would the frozen potatoes.
There is no need to defrost the frozen hash brown potatoes before baking with them. They thaw very quickly and can be used frozen or just chilled.
Instructions
Preheat your oven to 375°F. Grease a 9-inch x 12-inch baking dish and set it aside.

In a medium, heavy-bottom sauté pan, cook the cubed pancetta or diced bacon over medium-high heat until the fat is rendered and the meat is cooked through. Remove the cooked meat from the pan, leaving behind any rendered fat. If you've used cubed pancetta, add 2 tablespoons of olive oil to the pan. If bacon, add just 1 tablespoon of oil. Add the diced onion, sliced mushrooms and the salt to the pan, and stir to combine. Cover the pan and cook until the onions are translucent and the mushrooms are tender (about 6 minutes).

In a large bowl, place the milk and eggs, and whisk to combine well. Add the dry pancake mix and whisk until smooth. Add the hash brown potatoes and about 6 ounces of the shredded cheese, and mix to combine. Add the cooked pancetta or bacon, and the cooked onion and mushrooms, and mix gently to combine. Pour the mixture into the prepared baking dish. Scatter the remaining shredded cheese evenly on top.

Make Ahead Option: At this point, the dish can be covered tightly with plastic wrap and stored in the refrigerator overnight. Uncover and allow to sit at room temperature for about 10 minutes before baking the next morning.

Place the baking dish in the center of the preheated oven and bake until lightly golden brown on top, and firm to the touch (about 35 minutes). Remove from the oven and allow to set for 5 minutes before slicing and serving warm.