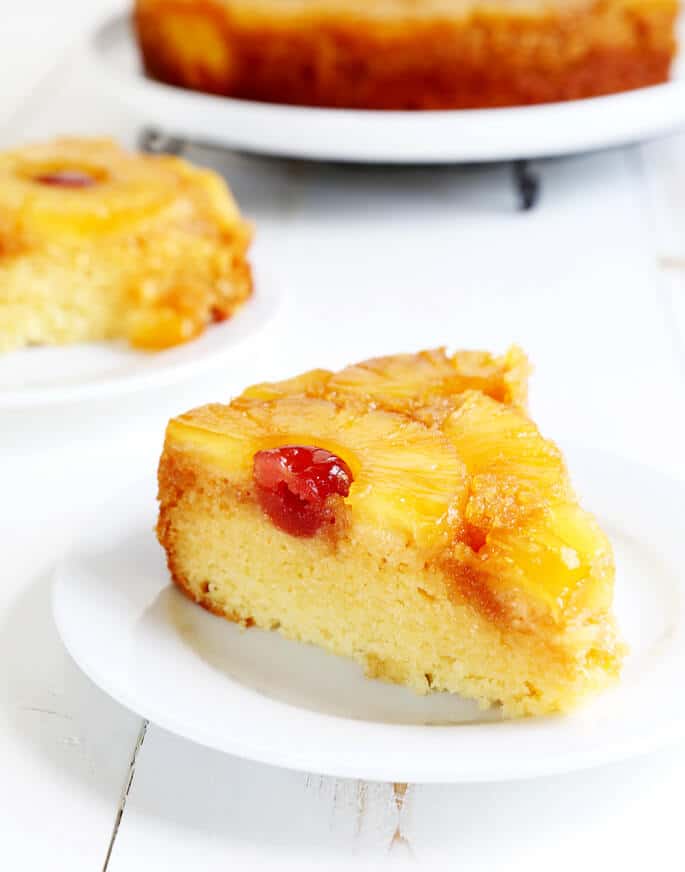 I've been making homemade Jello-type gelatin, something I thought I'd never do. I blame my D.I.Y. Friday series, not to mention my new cookbook for making me think that anything can be made at home from scratch. Oh, and of course I blame my children, one of whom once asked me years ago, "Mom, do you think you could make your own water?" It's just so easy, and then I can make it actually healthy (gelatin is actually super good for you) and control the amount and type of sweetener. Well, that got me started thinking about different Jello flavors I could make, and pineapple seemed like a brilliant idea. A tender and moist gluten free pineapple upside down cake that's simply bursting with pineapple flavor, not to mention impressive-but-deceptively-easy, was just a natural next step. Don't you think?
If you're afraid of upside down cakes because you're just so sure they'll never come out of the pan like they should and you'll feel like a total failure (oh, wait—maybe that's just me?), this is the upside down cake for you. It slips right out of the pan, and you feel like a million bucks. Trust me.
I'll be honest—I'm not really the biggest fan of springform pans. I have a super terrific the Williams-Sonoma-salesperson-swore-it-was-the-best springform pan, and I still made a mess when I used it for this cake (okay it's really no different when I use it for anything else). The version in the standard 9-inch round cake pan was a much more relaxing experience overall, and it was still beautiful.
Upside down cakes have much to boast, in case you're not sold on this yet. The bottom layer, which becomes the top layer after baking and turning out, keeps the cake almost impossibly moist during baking and thereafter. Plus, the bottom-turned-top layer makes the cake look way more difficult than it actually is. Baking this particular cake with pineapple juice in place of water or milk adds an acid that also helps keep this upside down cake especially tender. Mother's Day is coming. Wouldn't this just knock her socks off?
If you'd like to make this cake dairy-free, try using blanched almond flour in place of the nonfat dry milk in the cake batter, and a vegan butter in place of the unsalted butter—but you'll have to cut back on the salt in the batter as vegan butter is quite salty.
Gluten Free Pineapple Upside Down Cake
Ingredients
For the Pineapple Layer
1 20-ounce can sliced pineapple, in its own juices
7 to 8 maraschino cherries (I used Silver Palate brand, which has no dyes and no preservatives) (optional)
3/4 cup (164 g) packed light brown sugar
1/8 teaspoon kosher salt
6 tablespoons (84 g) unsalted butter, melted
For the Cake Batter
1 1/2 cups (210 g) all purpose gluten free flour (I used Better Batter)
3/4 teaspoon xanthan gum (omit if your blend already contains it)
7 tablespoons (42 g) nonfat dry milk, ground into a finer powder
1 teaspoon baking powder
1/2 teaspoon baking soda
1/4 teaspoon kosher salt
1 cup (200 g) granulated sugar
8 tablespoons (112 g) unsalted butter, at room temperature
2 eggs (120 g, weighed out of shell) at room temperature, beaten
2/3 cup (5 1/3 fluid ounces) pineapple juice (reserved from the pineapple slices, with water or more juice added), at room temperature
Instructions
Preheat your oven to 350°F. Grease a 10-inch cast iron skillet, 9-inch round cake pan or 9-inch springform pan and set it aside.

First, prepare the pineapple layer. Remove the pineapple slices from the can and blot them as dry as possible with paper towels. Reserve the juice from the can for the cake batter. Remove the cherries from the jar, remove any stems and blot them dry as well. Place the brown sugar and salt in a medium-size bowl and mix to combine. Add the melted butter, and mix until a thick, grainy paste forms. Transfer the brown sugar and butter mixture to the prepared baking pan, and spread into an even layer with a spoon or small offset spatula. Place one pineapple ring in the very center of the pan, on top of the brown sugar mixture. Arrange as many of more pineapple rings in a single layer around the center ring as possible without overlapping them at all. Slice the remaining pineapple rings into quarters and arrange the pieces in gaps between the rings and along the edges of the pan, climbing up the sides. Place a maraschino cherry in the center of each whole pineapple ring. Set the pan aside.

Make the cake batter. In a large bowl, place the flour, xanthan gum, dry milk, baking powder, baking soda, salt and sugar, and whisk to combine well. Create a well in the center of the dry ingredients and add the butter, eggs and pineapple juice, mixing to combine after each addition. The batter should be thick but smooth.

Bake the cake. Scrape the batter into the baking pan on top of the pineapple layer and spread into an even layer with a wet spatula, taking care not to disturb the pineapples or cherries. If using a springform pan, wrap the bottom tightly with heavy-duty aluminum foil as it will leak during baking. Place the pan in the center of the preheated oven and bake until a toothpick inserted in the center of the cake (but without reaching all the way to the pineapple layer on the bottom) comes out with a few moist crumbs attached (about 45 minutes, less for a cast iron skillet). Remove the cake from the oven and allow to cool in the baking pan or until cool to the touch (at least 15 minutes) before unmolding if using a springform pan and then inverting onto a serving platter, removing the pan (or springform pan bottom) slowly so as not to disturb the pineapple layer. The cake should come out of the pan readily. Allow the cake to cool completely before slicing and serving.

Concept from allrecipes.com. Cake batter adapted from my Gluten Free Make-Your-Own-Vanilla-Cake-Mix recipe.