Homemade gluten free BBQ sauce is simple to make, has just the right spices, and tastes better than anything you'd buy ready-made.
Commercially prepared BBQ sauce is sometimes gluten free, and sometimes not. Like most packaged products, BBQ sauce may have added thickeners or coloring that contain gluten. Making your own BBQ sauce doesn't require any special ingredients that you'll have to buy just for this recipe.
I hate having a bunch of partially empty bottles rattling around in my refrigerator door. So I'd almost always rather buy a more limited number of ingredients and then use what I already have to make everything else I want.
It's like cookies. Cookies are so easy to make. As long as I have the basic pantry ingredients that go into most recipes (butter-sugar-eggs-vanilla-gluten free flour), I can have cookies any time I want.
Why start with prepared tomato ketchup?
When I first started tinkering with ingredients to create this gluten free BBQ sauce, I didn't want to begin with prepared ketchup. If you're going to make something homemade, it usually means you're going to go all the way.
I tried to make my own ketchup, but it has more spices in it than I realized at first. I just couldn't get it quite right.
When the spices in ketchup are even a little bit off, it tastes very strange. And since ketchup is such an important component of BBQ sauce, it has to be right.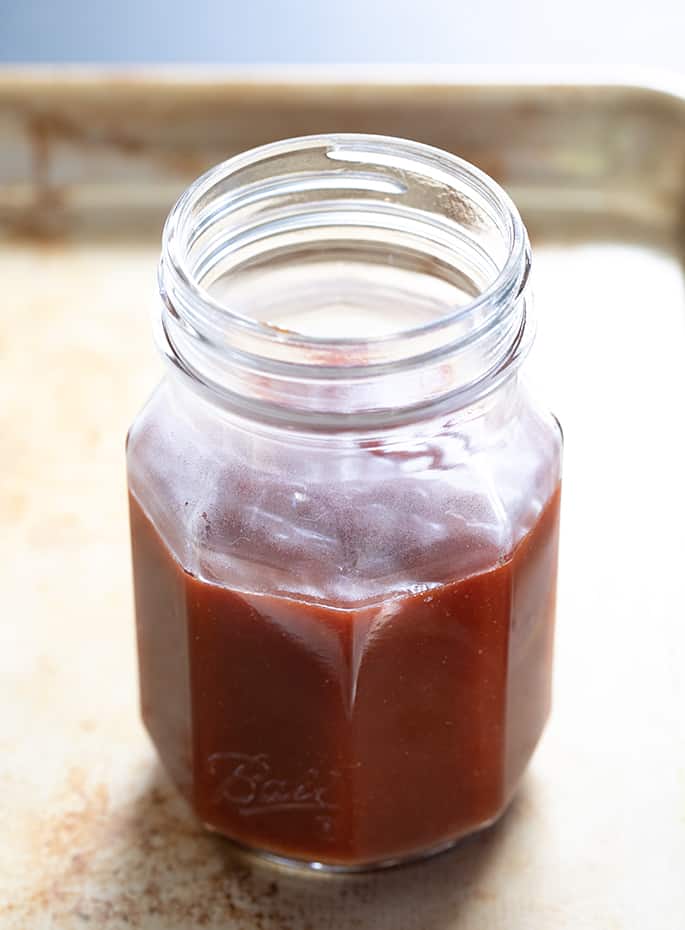 Source your ingredients carefully
Like prepared BBQ sauce itself, the ingredients that you use to create our own homemade gluten free BBQ sauce have to be sourced carefully. My knowledge about brands is limited only to what is available in the United States, where I live.
Vinegar is typically gluten free, unless it's made from malt (a gluten-containing grain), but you have to be careful. Worcestershire sauce often contains soy sauce, typically wheat-based, and sometimes contains malt vinegar.
Lea & Perrins brand "original" worcestershire sauce in the beige bottle is considered gluten free in the United States. French's brand worcestershire sauce seems to also be gluten free, at least in the U.S.
Heinz ketchup is also gluten free in the U.S. It's a classic, and will give you that authentic taste. French's and Organicville products are also reliably gluten free.
Homemade Gluten Free BBQ Sauce
Ingredients
1 cup (8 fluid ounces) gluten free tomato ketchup
1/4 cup (55 g) packed light brown sugar
2 tablespoons white wine (or white balsamic) vinegar
1 tablespoon gluten free Worcestershire sauce
2 teaspoons smoked Spanish paprika
1 teaspoon onion powder
1 tablespoon freshly squeezed lemon juice
Instructions
In a small, heavy-bottom saucepan, place all of the ingredients and whisk to combine well. Cook, whisking frequently, over medium-low heat until reduced and thickened by about 1/8. Remove from the heat and allow to cool to room temperature before serving or storing in the refrigerator in a sealed container.