Finding interesting gluten free breakfast ideas that are tasty and nutritious can be a real drag. But remember, breakfast sets you up for the day and sets the tone for what's to come.
On a gluten free diet, eggs, yogurt, and weird sugary free-from cereals get old really fast. So I've put together my favorite gluten free breakfast recipes from the blog.
You'll find nourishing, satisfying gluten free breakfast options. Some sweet, some savory. Some naturally gluten free, others that are modified for a gluten free diet.
Whatever your preference, and whether you're looking for a special celebratory breakfast or a general weekday option, there's something for you. And the conventional eaters won't even realize they're eating a gluten free breakfast!
My Favorite Gluten Free Breakfast Ingredients and Pantry Staples
As you'll see, my kids don't often eat cereal for breakfast. It's either really boring or laden with a huge amount of sugar, flavorings, and fillers. And it's also not possible to take it on-the-go, which we seem to do quite often.
Instead, I keep my freezer well stocked with make-ahead breakfasts and my pantry filled with some breakfast staples. These include:
Hard-boiled eggs (I don't peel them after they're boiled; I just write an "H" on them)
Washed and cut-up fresh fruit, ready to go out the door, wherever possible
Milk and yogurt (dairy or non-dairy works just fine)
Flours (almond flour, coconut flour, gluten free oat flour, brown rice flour, and a good all-purpose gluten free flour blend) to make pretty much any gluten free breakfast item you can dream up
Nut butters (almond butter, peanut butter, cashew butter) for baking or even just enjoying with a cut-up apple
Cheese
Quick gluten free breakfast ideas
Make-ahead breakfasts are the way to go for busy mornings! A slow cooker is an invaluable kitchen tool for gluten free oatmeal, for example, for a healthy, filling breakfast that takes minutes to prep the night before and minutes to serve the next day.
Breakfast for a busy school day
My kids rarely eat cereal for breakfast on a school morning, and it's not because I'm some sort of Supermom. 🦸🏻 It's really because I know how to stock a freezer.
I even sent my college freshman to school this semester with a stash of muffins. Nearly all of these 10 gluten free breakfast ideas can all be made ahead of time (except for the quiche?), and all are healthier than a bowl of cereal. These gluten free breakfast ideas help you feed your family a really good breakfast that sets them up for the day, even when you're in a rush.
Brunch for a weekend or holiday
I've always thought that breakfast foods should be among the first you learn to make when you're newly gluten free. That and cookies. (Hey, how about breakfast cookies?)
It's hard to find really good packaged gluten free muffins, waffles, pancakes and real bagels. And when you're hosting a springtime holiday, or you want to share a big, leisurely weekend brunch for your family and friends, you want to serve everyone's favorite foods.
When my son, then just a toddler, went gluten free, my extended family was not understanding at all. They insisted on stopping at the bagel store on the way to our house, regardless of the risk.
I promised myself I'd learn to make gluten free bagels that rivaled the New York bagel store, and refuse any gluten at the door. Done and done!
Gluten free plain bagels
If you miss the bagel store like I do, this is the next best thing. Make your own gluten free plain bagels. Trust this New Yorker to serve up real bagels!
Oh, and if you're tight on time and have the extra ingredients, try our no rise gluten free bagels recipe. Then, make them into sheet pan egg sandwiches.
Bagel and egg sandwiches by the dozen. Oh, and this is one of my absolute favorite breakfast-for-dinner tricks. You can make the bagels way ahead of time, let them cool completely, slice, and freeze. Defrost at room temperature, and serve.
This recipe for gluten free bagels is divine. It gives you bagels with an authentically crisp, thin shell and just the right amount of chew inside. While there's no fancy ingredients, they do need rising, boiling, and then baking, so either make these in a big batch and freeze them, or make them fresh when you're having a leisurely family brunch.
Check out this recipe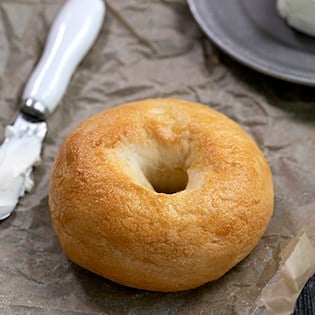 Fluffy gluten free waffles
The perfect fluffy gluten free waffles made with yogurt and just a touch of sugar, with a lightly crisp outside. Enjoy them fresh and hot off the waffle iron, or freeze them and reheat in the toaster oven like Eggos—but way better. Make them ahead, stack them up and wrap tightly. 
Check out this recipe
Flourless chocolate peanut butter muffins
These flourless chocolate peanut butter muffins are unbelievably moist and tender, and packed with chocolate and peanut butter flavor. You simply won't believe that they're grain-free, with no added butter or oil. 
I mean that literally: you won't believe it until you try. You won't believe that you get this texture in a flourless muffin. Most people don't believe, then they try, and then they make it by the dozen and stock their freezers.
Check out this recipe
Gluten free blueberry muffins
These classic gluten free blueberry muffins are crisp on the outside, soft and tender inside. So easy to make, and they taste just like they came from your favorite bakery. They add color to any holiday table, and also freeze beautifully so are a nice make-ahead option.
Check out this recipe
Gluten free cinnamon rolls
Sweet, tender gluten free cinnamon rolls made with an all purpose gluten free flour and instant yeast. There's nothing quite like the flavor.
If you're caught without enough time to let the dough rise, we do have another really popular option. You can make super quick gluten free cinnamon rolls with a variation of that 2-ingredient dough we all love.
Check out this recipe
Gluten free vanilla scones
Light and sweet, these miniature gluten free vanilla scones are just like the two-bite Starbucks treats. If you'd like to make them ahead, you can freeze them shaped and raw, or even baked—just without the glaze.
We also have a recipe for a master gluten free scone recipe, that can be made with any mix-ins you like. I'm partial to these extra-puffy vanilla ones, but it's always good to have options.
Check out this recipe
Gluten free strawberry breakfast cake
This gluten free strawberry breakfast cake is light and fresh-tasting with a tender crumb and plenty of fresh strawberries. It's a great way to have cake for breakfast.
If you're celebrating a spring holiday, like perhaps a gluten free Mother's Day, fresh strawberries should be abundant. The recipe should also work just as well with blueberries or even raspberries.
Check out this recipe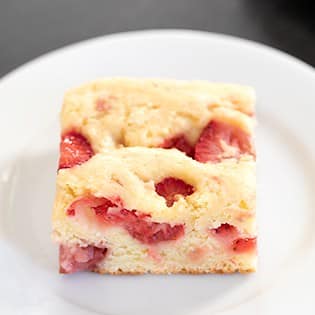 Gluten free quiche
The secret to making the perfect gluten free quiche is a light and flaky gluten free pie crust (or go crustless!), and a creamy egg custard filling. With the right ratio of eggs to milk, you'll make the perfect quiche every time.
Check out this recipe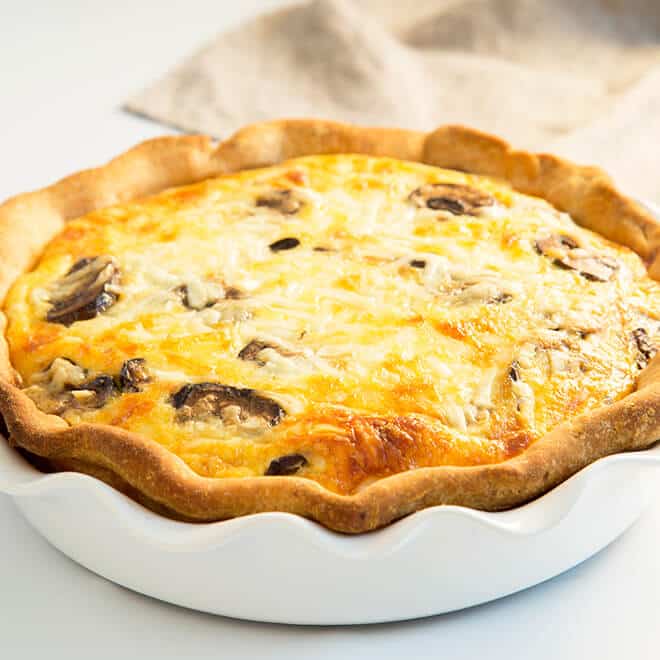 Gluten free banana muffins
Moist, tender and fluffy gluten free banana muffins in the classic style, made with plenty of mashed ripe bananas and buttermilk for the perfect texture. This recipe is made in one bowl, much like our gluten free banana bread.
Check out this recipe
Tips for making gluten-free breakfasts
Here are my top tips to make gf breakfast stress-free, even on those crazy week day mornings.
Batch cook and freeze
This is my absolute number one tip for gluten free breakfast ideas. It's the way to make sure you've always got a gluten free breakfast ready to go. With a well-stocked freezer, breakfast is easy. Even if you suddenly find yourself feeding half of your extended family.
Aside from the quiche, you can make all of these gluten free breakfast recipes ahead of time and freeze them, ready to thaw or reheat whenever you need them.
Make smoothie kits on a Sunday
Now, I haven't included any smoothie recipes here, but a naturally gluten free smoothie packed full of fruit, nut butter, and coconut milk, is a great way to start the day.
And, again, you can prep these ahead of time by portioning up the ingredients into single-serve bags and freezing or refrigerating them. Then, just empty a bag into the blender, add your choice of milk, et voila, super easy smoothie.
I know that there's that fancy company that sells smoothie sets in pre-portioned cups, but have you seen how expensive they are?
Make dry mixes for pancakes, etc.
Another really simple but so effective tip for making gluten free breakfast is to make up all your dry mixes ahead of time. For example, make up a big batch of pancake mix, muffin mix, or waffle mix and store the dry ingredients mixes in glass jars.
Then, when you need to make a gluten free breakfast on the fly, half of the measuring is done for you. All you need to do is scoop out the right amount of dry mix and add your wet ingredients.
Repurpose dinner leftovers (or vice-versa)
Leftover potatoes make a truly delicious breakfast or brunch the next day. Sharp cheese, crispy bacon bits, and mashed potatoes all fried into crispy cakes. So, so good.
Leftover mashed potato cakes make a beautiful, warming gluten free breakfast and go well on lovely crusty bread for a hearty brunch. And they're versatile, too, so you can add whatever extras and seasonings sound good to you.
And there's no reason you can't make a breakfast quiche, then serve it with jacket potatoes and a salad for a light dinner. Or top that strawberry breakfast cake with some whipped cream or even some ice cream toppings and have it for dessert.
Get creative with your dinner or gluten free breakfast leftovers or your batch cooking. Rework things or dress them differently, and serve them whenever suits you.
Make a healthy breakfast with a few simple gluten free substitutes
If you're trying to avoid refined sugars but still like some sweetness in your life, switch out processed sugars and refined syrups for date sugar, coconut sugar, maple syrup, or honey. Maple syrup adds a beautiful touch of sweetness without being overwhelmingly sweet.
Consider switching from fried eggs to baked eggs to cut down on fat intake. Add a spoonful of chia seeds to your oatmeal, overnight oats, or gluten free muffins for a boost of healthy fats, fiber, and nutrients.
A gluten free breakfast option isn't automatically healthier. A lot of the store-bought cereals and breakfast products are full of sugar, fillers, and chemical flavorings and preservatives that we just don't need or want.
But making your own gluten free breakfast recipes puts you back in control of what you're eating and lets you choose when to go for healthy ingredients and a nourishing breakfast. It might just be juicy blueberries and maple syrup on your pancakes, chia seeds, a little almond butter, and shredded coconut in your oatmeal, or a hearty breakfast of scrambled eggs and crispy hash browns.
Do you want a satisfying breakfast of crispy hash browns, eggs, and salty bacon? Great! Go for it. You don't have to go for super healthy easy gluten free breakfasts every day, but when you do, those ingredients I listed above are simple, safe gf swaps.
Gluten and Dairy Free Breakfasts
If you're on a gluten and dairy free diet, you'll need to make sure any gluten free breakfast recipe is tweaked to be dairy free, too.
There are some great dairy free milks, yogurts, and other dairy substitutes widely available nowadays. And they mostly behave just like regular dairy.
Note that I don't usually recommend using coconut oil in place of solid butter, because that really does behave differently. Vegan butter, Miyoko's Kitchen or Melt brands specifically, works beautifully in most cases, but be sure to check the "substitutions" section of each post, usually toward the bottom, for instructions on how to make any particular recipe dairy free, too.
Almond milk or gf oat milk are both popular dairy milk substitutes for breakfast time, as is coconut milk.
And, for some recipes, you can use aquafaba or a chia egg if you're vegan or follow an egg-free diet.
Cross Contamination
For breakfast, just like any other meal when you're sensitive to gluten, it's vital you check that your ingredients are really free from gluten, whether you're making a traditional Mexican breakfast or some simple but hearty baked oatmeal. For a comprehensive guide when you're just starting out, please see our basic rules for a gluten free diet.
Cross contamination is a very real risk, so make sure you check product labels for to make sure it's certified free from gluten. While fruits and other fresh produce are generally gluten free, flours, oats, and other grains, dried nuts and seeds, may be processed in a factory with gluten grains, which can lead to cross contact contamination.
FAQs
Can you eat oatmeal if you are gluten free?
Yes, you can eat oatmeal if you're gluten free, as long as you use gluten free oats. Oats are one of the grains that's often processed alongside gluten, so is at risk of cross contamination. Therefore, it's important to only use oats that are certified gf.
Are bananas gluten free?
Bananas are naturally gluten free. But, if they're in a recipe or a product that contains other ingredients, you should always check the ingredient label, just in case.
Banana slices go great on top of oatmeal, porridge, or in a beautiful banana pudding (which you could also enjoy for breakfast, right?)
Are scrambled eggs gluten free?
Yes, scrambled eggs that you make yourself are gluten free. They only contain eggs, a little fat, and some seasoning, and maybe a bit of sharp cheese. Just make sure you serve them on a slice of lovely crusty gluten free toast.