Ten gluten free breakfast ideas special enough for holiday brunch, and still practical enough for a hearty, make-ahead weekday breakfast.
Brunch for a weekend or holiday
I've always found that breakfast foods should be among the first you learn to make when you're newly gluten free. That and cookies.
It's hard to find really good packaged gluten free muffins, waffles, pancakes and real bagels. And when you're hosting a springtime holiday, or you want to share a big, leisurely weekend brunch for your family and friends, you want to serve everyone's favorite foods.
When my son, then just a toddler, went gluten free, my extended family was not understanding at all. They insisted on stopping at the bagel store on the way to our house, regardless of the risk.
I promised myself I'd learn to make gluten free bagels that rivaled the New York bagel store, and refuse any gluten at the door. Done and done!
Breakfast for a busy school day
My kids rarely eat cereal for breakfast on a school morning, and it's not because I'm some sort of Supermom. 🦸🏻 It's really because I know how to stock a freezer.
I even sent my college freshman to school this semester with a stash of muffins. Nearly all of these 10 gluten free breakfast ideas can all be made ahead of time (except for the quiche?), and all are healthier than a bowl of cereal.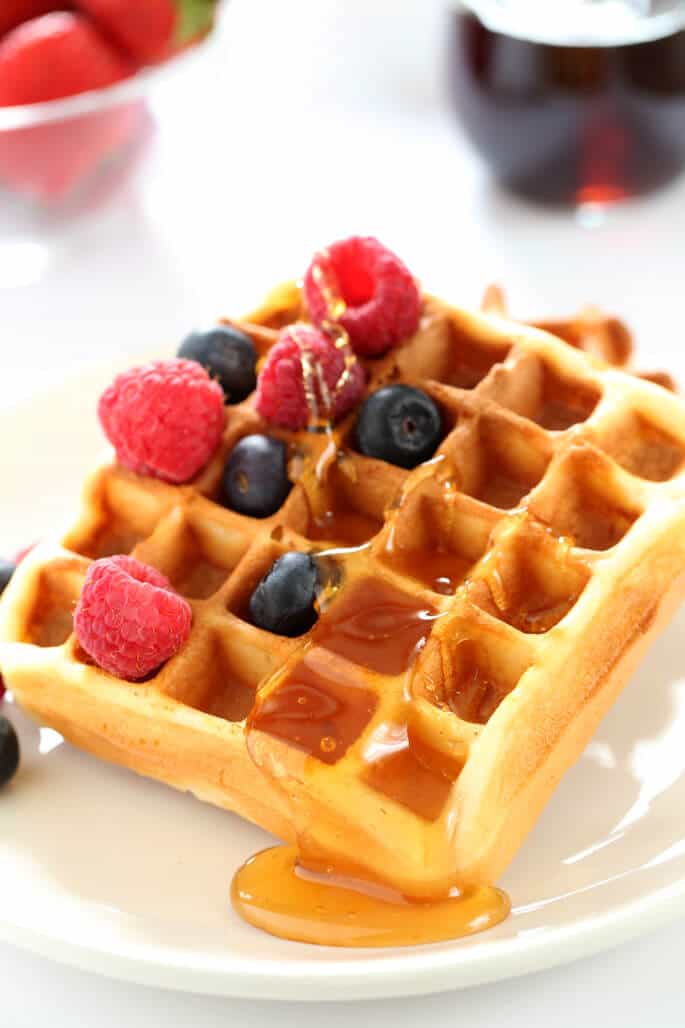 The perfect fluffy gluten free waffles made with yogurt and just a touch of sugar, with a lightly crisp outside. Enjoy them fresh and hot off the waffle iron, or freeze them and reheat in the toaster oven like Eggos—but way better. Make them ahead, stack them up and wrap tightly.
These flourless chocolate peanut butter muffins are unbelievably moist and tender, and packed with chocolate and peanut butter flavor. You simply won't believe that they're grain-free, with no added butter or oil.
I mean that literally: you won't believe it until you try. You won't believe that you get this texture in a flourless muffin. Most people don't believe, then they try, and then they make it by the dozen and stock their freezers.
A gluten free pancake mix that's perfect for everything from pancakes and muffins to breakfast bakes. Use this mix to make classic pancakes, of course, but also pancake bites, gluten free apple Bisquick coffee cake, or a classic gluten free breakfast casserole.

There are some good boxed gluten free pancake mixes, but making your own is better than any of them. And it's just as versatile.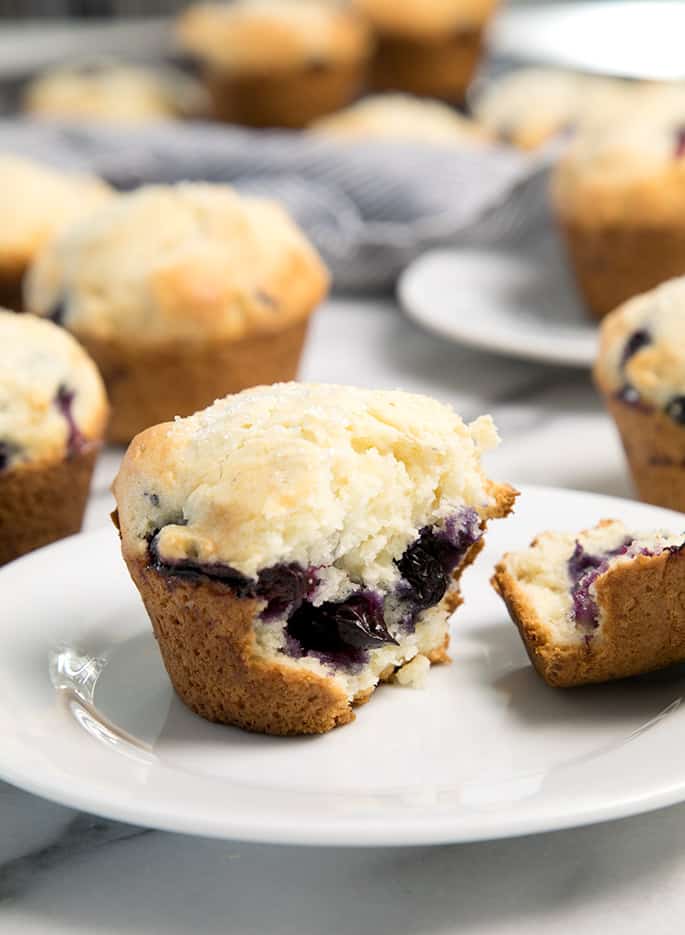 These classic gluten free blueberry muffins are crisp on the outside, soft and tender inside. So easy to make, and they taste just like they came from your favorite bakery. They add color to any holiday table, and also freeze beautifully so are a nice make-ahead option.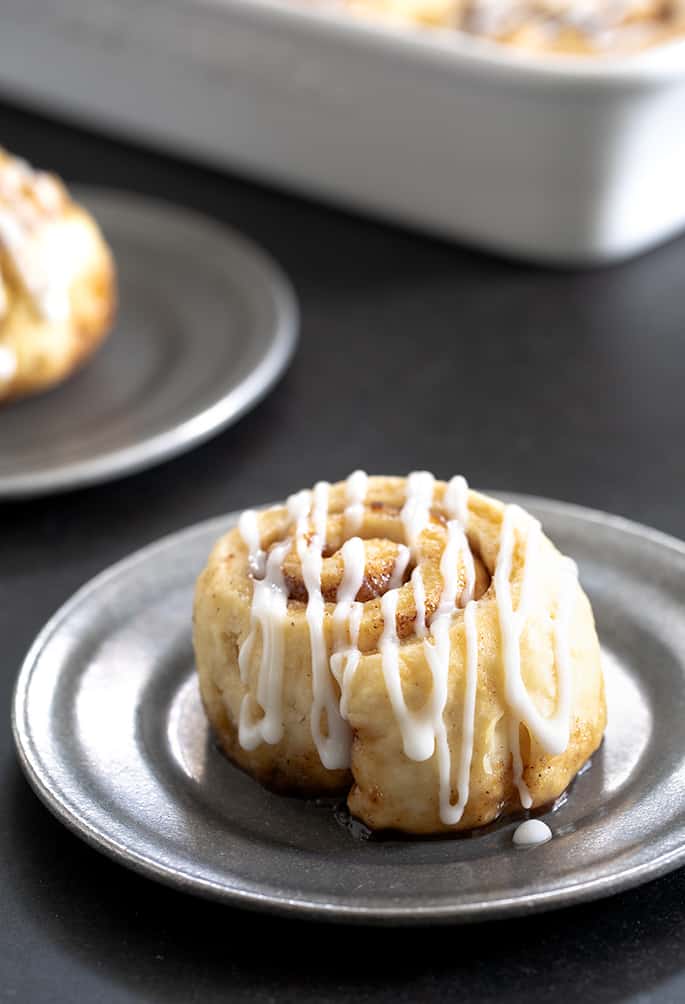 Sweet, tender gluten free cinnamon rolls made with an all purpose gluten free flour and instant yeast. There's nothing quite like the flavor.
If you're caught without enough time to let the dough rise, we do have another really popular option. You can make super quick gluten free cinnamon rolls with a variation of that 2-ingredient dough we all love.
Light and sweet, these miniature gluten free vanilla scones are just like the two-bite Starbucks treats. If you'd like to make them ahead, you can freeze them shaped and raw, or even baked—just without the glaze.
We also have a recipe for a master gluten free scone recipe, that can be made with any mix-ins you like. I'm partial to these extra-puffy vanilla ones, but it's always good to have options.
This gluten free strawberry breakfast cake is light and fresh-tasting with a tender crumb and plenty of fresh strawberries. It's a great way to have cake for breakfast.
If you're celebrating a spring holiday, like perhaps a gluten free Mother's Day, fresh strawberries should be abundant. The recipe should also work just as well with blueberries or even raspberries.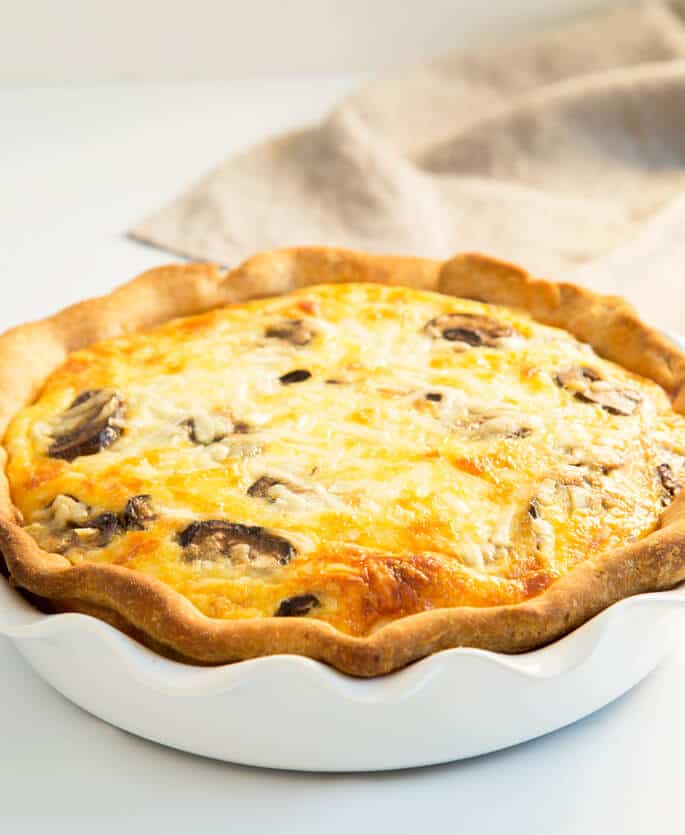 The secret to making the perfect gluten free quiche is a light and flaky gluten free pie crust (or go crustless!), and a creamy egg custard filling. With the right ratio of eggs to milk, you'll make the perfect quiche every time.
Moist, tender and fluffy gluten free banana muffins in the classic style, made with plenty of mashed ripe bananas and buttermilk for the perfect texture. This recipe is made in one bowl, much like our gluten free banana bread.
Finally, if you miss the bagel store for all the many reasons I am, this is the next best thing. Make your own gluten free plain bagels. Trust this New Yorker to serve up real bagels!
Oh, and if you're tight on time and have the extra ingredients, try our no rise gluten free bagels recipe. Then, make them into sheet pan egg sandwiches.
Bagel and egg sandwiches by the dozen. Oh, and this is one of my absolute favorite breakfast-for-dinner tricks. You can make the bagels way ahead of time, let them cool completely, slice, and freeze. Defrost at room temperature, and serve.