Gluten free pumpkin cinnamon rolls that are made without any yeast, so there's no rising time at all. Celebrate the best of fall with these sweet, perfectly spiced buns!
Since it's still all-pumpkin-all-the-time season, I feel completely comfortable … asking you to make more pumpkin butter. Or, just buy some. Trader Joe's makes a lovely version this time of year. Either way, you're gonna need some.
This is a recipe that I adapted from my Quickest, Yeast-Free Gluten-Free Cinnamon Bun recipe from my second cookbook, (GFOAS Quick & Easy), but trust me when I tell you that it doesn't work well to just swap out pumpkin butter for some of the moisture in the original recipe. I mean, they were edible, but not up to snuff.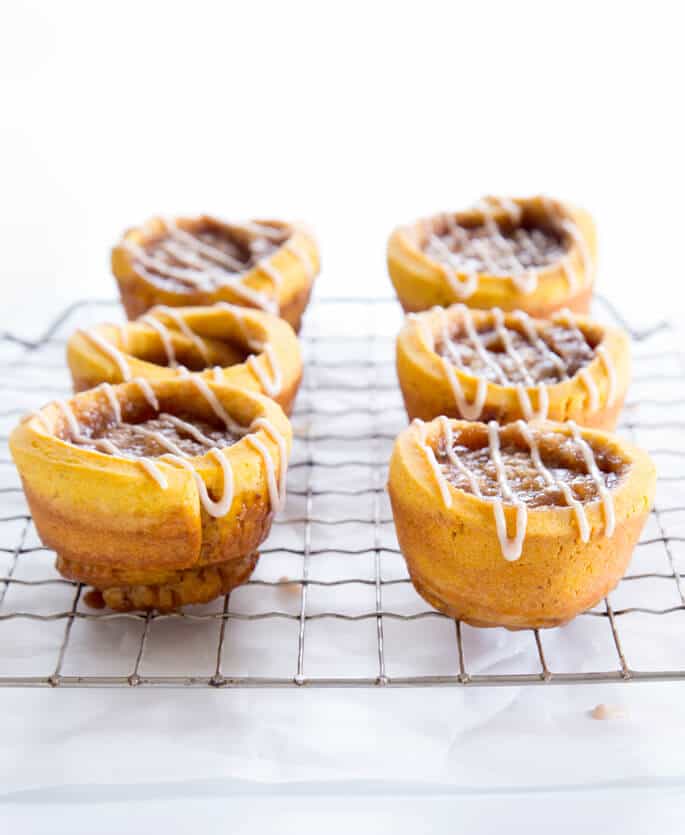 There isn't much to it, really. The dough rolls out easily, and then all that's left to do is to cover it in filling, then roll it tight. For a nice clean edge, I like to trim the rectangle of any irregulars, and then slice the cylinder with a metal bench scraper or some unwaxed dental floss. Wrapping the dental floss around the roll and then pulling the two ends over one another as if you were about to tie a shoe lace creates a very clean cut. And it's good, clean fun to be honest.
I have baked these yeast free gluten free pumpkin cinnamon rolls in a muffin tin, one roll per well, and in a round baking tin. Since they're yeast-free rolls, they don't swell like yeasted rolls do. I much prefer the muffin tin, since the wells of the tin help the rolls rise up and the layers press together, so there's cinnamon-sugar in every corner.
Whether you're a fan of spring and summer only, or you get "fall fever" every year like I do, the promise of warm, cinnamon-sugar goodness should make everything better. Just think of fall clothes, pumpkin patches, and jumping in a pile of leaves. Better make a big batch of that pumpkin butter. You're going to need it!
Super Quick Gluten Free Pumpkin Cinnamon Rolls—Yeast Free, Too!
Ingredients
For the Rolls
3 3/4 cups (525 g) all-purpose gluten free flour, plus more for sprinkling (I used Better Batter)
2 teaspoons xanthan gum (omit if your blend already contains it)
2 teaspoons baking powder
1/4 teaspoon kosher salt
1 teaspoon pumpkin pie spice*
8 tablespoons (112 g) unsalted butter, at room temperature
5 ounces pumpkin butter, store bought or homemade, at room temperature
3 eggs (150 g, weighed out of shell) at room temperature, beaten
1/2 cup (100 g) granulated sugar
3 fluid ounces milk (any kind), at room temperature
For the filling
3/4 cup (164 g) packed light brown sugar
2 tablespoons (18 g) all-purpose gluten free flour
1 1/2 teaspoons pumpkin pie spice*
5 tablespoons (70 g) unsalted butter, melted
1/8 teaspoon kosher salt
For the icing (optional)
1 cup (115 g) confectioners' sugar
1/2 teaspoon pumpkin pie spice*
1 tablespoon milk (any kind), plus more by the 1/4 teaspoonful if necessary
*To make your own pumpkin pie spice, combine 2 teaspoons ground cinnamon + 1 teaspoon ground ginger + 1/2 teaspoon ground allspice + 1/2 teaspoon ground cloves + 1/4 teaspoon ground nutmeg.
Instructions
Preheat your oven to 325°F. Grease the wells of a standard 12-cup muffin tin, and set the pan aside.

Make the dough for the rolls. In a medium-size bowl, place the flour, xanthan gum, baking powder, salt and pumpkin pie spice and whisk to combine well. Set the bowl aside. In a large bowl, place the butter and pumpkin butter, and beat to combine well with a handheld mixer or by hand. Add the eggs and sugar, and beat until smooth. The mixture will be thin. Add the flour mixture in two parts, alternating with the milk, beating until just combined after each addition. The dough will be thick and heavy.

Transfer the dough to a lightly floured surface, and pat into a thick rectangle. Sprinkle the top of the dough lightly with more flour, and roll into a rectangle about 1/2 inch thick. Fold the dough over on itself into about a 5-inch square packet. Sprinkle both sides of the dough lightly with flour, and roll out again into a rectangle that is about 10-inches x 15-inches, and about 1/4-inch thick. With a pastry wheel, pizza cutter or a sharp knife, trim each of the four edges slightly, along the perimeter of the dough, to make a clean edge.

Make the filling. In a small bowl, place the light brown sugar, flour, pumpkin pie spice and salt, and mix to combine well. Add the melted butter, and mix to combine. The filling will be a thick paste. Spread the filling in an even layer on top of the rectangle of dough, leaving 1/4-inch clean around the perimeter. Beginning at one of the 15-inch sides of the rectangle, roll the dough away from you tightly until it forms a cylinder. Using a metal bench scraper, sharp knife or unwaxed dental floss, slice the cylinder into 12 cross-sections, each about 1-inch thick. Place each cross-section of spiraled dough into a well of the prepared muffin tin and press gently down into the wells.

Bake. Place the pan in the center of the preheated oven and bake until the tops of the buns are lightly golden brown and the filling is bubbling (about 25 minutes). Remove the tin from the oven and allow the buns to cool briefly, until you can stand to touch the rolls before twisting the rolls back and forth a bit in each well to prevent them from sticking to the pan. Once the rolls have set, transfer them to a wire rack to cool completely.

Make the optional icing. In a small bowl, place the confectioners' sugar, pumpkin pie spice, and 1 tablespoon of milk. Mix well until a thick paste forms. Add more milk by the 1/4-teaspoon, mixing to combine well, until the glaze falls off the spoon slowly, in a thick but pourable glaze. Add milk very slowly, as it is much easier to thin, than to thicken, the glaze. If you do thin the glaze too much, add more confectioners' sugar a teaspoon at a time to thicken it. Drizzle or spread the icing on the cooled rolls before serving.

Recipe originally published on the blog in 2013. Recipe method tweaked slightly, photographs all new, ingredients unchanged (except addition of optional glaze).