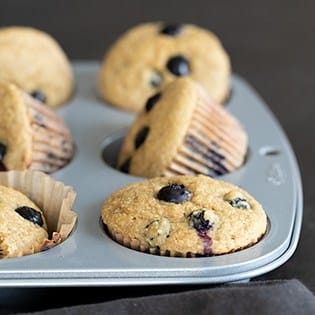 Feel good about serving your family these healthy blueberry muffins. These delicious breakfast blueberry muffins are naturally gluten free and incredibly tasty.
Jump to Recipe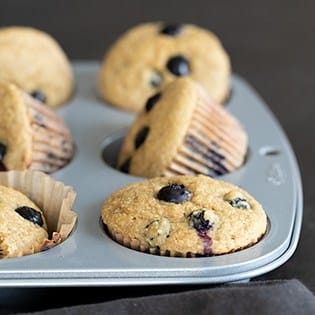 Healthy blueberry muffins, made with applesauce, yogurt, oats and big, beautiful fresh blueberries (or frozen!) and no added fat or refined sugars. All the taste and texture, none of the guilt!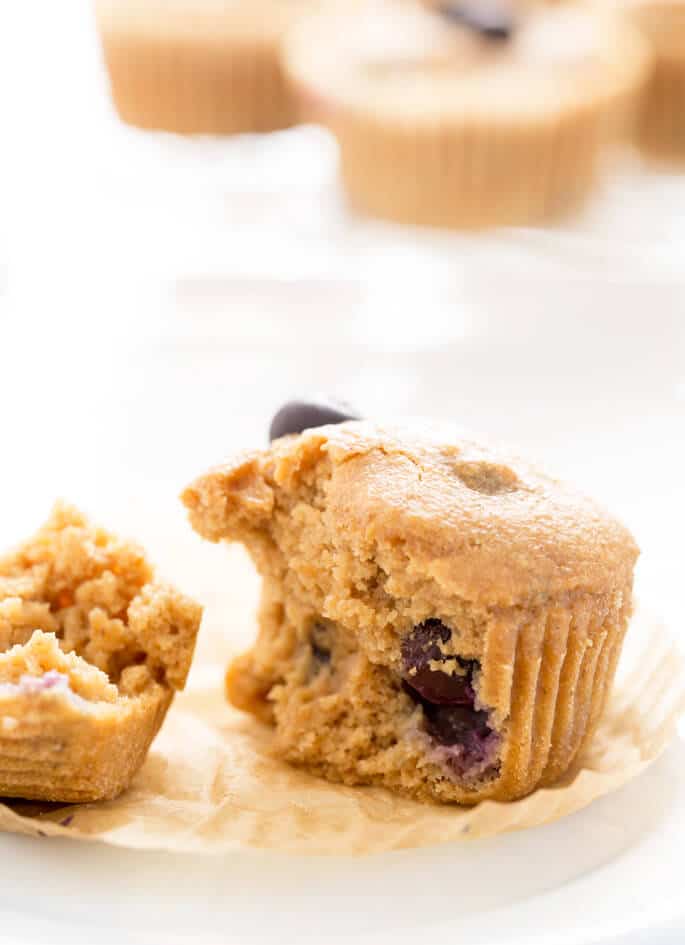 A truly good-for-you breakfast, the easy way
It's easy to fool ourselves into thinking that muffins are better for you than cupcakes. They're breakfast food, after all. But when they're filled with refined flours and sugars and unhealthy fats, they're really just, well, cake.
Please don't misunderstand, because I love cake. But I don't love giving my children cake for breakfast, especially on a school morning. So healthy muffins are really a sweet spot (haha pardon the pun).
Why this is the best healthy blueberry muffin recipe
These healthy blueberry muffins are made with applesauce and plain Greek yogurt, not vegetable oil or butter, and the whole grain goodness of oats. I love the idea of making a fresh, homemade breakfast every day, but there's just no way that's happening every day.
Moist and tender, easy to make naturally gluten free muffins are only lightly sweet and positively bursting with the goodness of blueberries. They're super special right out of the oven (warm berries!), but they also freeze and defrost perfectly—plus they're easy to make dairy free, too with a nondairy plain Greek-style yogurt.
The rule in my house is that you're on your own for breakfast on the weekend, but during the school week I've got you covered. And make-ahead breakfasts like these muffins are always in the freezer, waiting for a quick defrosting in the microwave or toaster oven.
Healthy blueberry oat muffins — ingredients
Gluten free old fashioned rolled oats – We use oats to form the base for these healthy muffins by grinding them into oat flour first, before we add any other ingredients. We expect oats to be a bit chewy, so don't worry about grinding them superfine, like you would need to with rice flour.
Coconut palm sugar – This unrefined granulated sugar has a similar flavor to brown sugar, but is much grittier, and doesn't dissolve that well in baking. So if you're using it (rather than replacing it with brown sugar), be sure to blend it with the oats into a powder.
Baking powder and baking soda – These chemical leaveners react with the liquid and acid in these muffins to give our muffins most of their rise. Make sure yours are fresh!
Salt – Salt brings out all the flavors of these muffins, and balances the sweet sugar and blueberries.
Applesauce – Smooth, processed applesauce adds moisture to these muffins and a tiny bit of structure, from the pectin. Be sure not to use chunky applesauce, or your muffins will be dry and uneven.
Plain, Greek-style yogurt – Although you can make these muffins using fat free Greek-style yogurt, you really need the bit of fat in 2% lowfat or 4% whole milk yogurt to help tenderize your muffins.
Eggs – Eggs provide structure and help these muffins rise. The yolks also add a bit of fat, which these muffins are really low in.
Pure vanilla extract – Vanilla brightens and enhances the mild, delicious flavor of these healthy muffins.
Blueberries – The star of the show here, blueberries add moisture when they bake in the oven and, of course, that gorgeous summery blueberry flavor to every bite. If you use frozen berries, don't defrost them first, or they'll turn your muffins blue!
Cornstarch – Coating your blueberries in a tiny bit of starch helps suspend them in the batter so they don't sink to the bottom of each muffin as it bakes. This is especially important in this whole grain recipe.
How to make these whole grain healthy blueberry muffins
When I first developed this recipe, I always made the batter by dumping all the ingredients other than the blueberries in a blender. That method still works!
Simply add the wet ingredients (applesauce, yogurt, eggs, vanilla) first, then followed by the sugar and then the dry ingredients (oats, baking powder, baking soda, salt). Then, fold in the blueberries, portion among the muffin wells, and bake.
I've switched up the directions below, though, to call for grinding the oats first, alone (or with the sugar if using coconut palm sugar, which tends to have a coarse grain). That way, you don't risk over processing the batter which can lead to tough muffins.
Plus, whenever I make a wet batter in a blender, I feel like I'm leaving a few tablespoons of the precious batter behind in the machine. It's a lot easier to get dry ingredients out of a blender!
Simply blend the oats (with or without the sugar) into a powder and place them in a large mixing bowl. Add the sugar (if not already added), then the baking powder, baking soda, salt, and whisk to combine.
Add the wet ingredients and mix just until combined. Add the berries, tossed with a tiny bit of starch to prevent them from sinking right to the bottom of the batter, place in the muffin wells and bake.
Tips for making the best blueberry muffins
Use room temperature ingredients
Make sure that your eggs, yogurt, and applesauce are at room temperature before you combine them. That way, they'll combine evenly and won't create clumps that prevent a smooth batter. Your blueberries will be cold if they're frozen, but that's the last thing you're adding to the prepared batter, so it won't harm anything.
Fresh or frozen blueberries?
As with any blueberry muffin, feel free to use either fresh or frozen blueberries for delicious results. If you do the latter, do not defrost frozen blueberries, and keep in mind that they will likely bleed into the batter and turn it a bit purple.
Using frozen berries won't affect the taste one bit, though. You can have truly nutritious, naturally gluten free blueberry muffins all year long!
Coat your blueberries before adding
Coating your blueberries in a bit of starch before mixing them into the batter helps them cling to the batter a bit, and helps keep them from sinking to the bottom of the batter, during baking.
Don't be afraid to add a topping
If you'd like some extra flavor in your muffins, try adding some lemon zest for lemon blueberry muffins), sliced almonds, decorating the top with a few whole toasted oats, or sprinkling the top with some coarse turbinado sugar.
Use muffin liners for easy cleanup
Place greaseproof muffin liners in your muffin tin before adding the batter to make cleanup really easy—and to help give your muffin batter some support as it rises up during baking.
How to store your healthy, gluten free blueberry muffins
For short term storage, these muffins will stay fresh for about 2 days on the kitchen counter if they're wrapped individually with plastic wrap or in a sealed container. For longer storage, place them in a single layer on a rimmed baking sheet until frozen, then pile them into a large ziptop bag until you're ready to enjoy them. Pop one out of the bag and into the toaster oven or microwave (or both!) and serve warm.
Ingredients and substitutions
Dairy free, gluten free blueberry oatmeal muffins
These are basically gluten free blueberry muffins with yogurt and oat flour, but you can still make them dairy-free. In place of regular Greek-style yogurt, you can definitely use a nondairy plain yogurt or sour cream substitute. If you use plain yogurt, be sure to drain it until it's of a similar consistency to Greek-style yogurt, and then measure the ingredient by weight.
Egg free, gluten free blueberry oatmeal muffins
Since this recipe contains 2 eggs, you should be able to replace them with some success using your favorite egg substitute. My favorite is one "chia egg" (1 tablespoon ground white chia seeds + 1 tablespoon lukewarm water, mixed and allowed to gel) per standard egg.
Vegan, gluten free blueberry oatmeal muffins
These muffins will be vegan if you use the suggestions above for replacing the dairy and the eggs. If you replace the coconut palm sugar with brown sugar, be sure your brown sugar is made without bone char.
Applesauce alternative
The applesauce in this recipe provides structure, sweetness, and tenderness to the muffins. The muffins don't taste at all like applesauce. If you'd prefer to use bananas, try my recipe for banana oatmeal muffins.
Oats alternative
Oats are appropriate on a gluten free diet, but you have to decide what is appropriate for you and your family. Since they're ground into a fine powder for use in this recipe, you should be able to replace the oats here with gluten free quinoa flakes.
I haven't tried this particular recipe with quinoa flakes in place of the oats, but I think they'd work great. I was about to try making them just the other day and realized I was out of quinoa flakes so I just went ahead with another batch of the oat-based recipe. My 3 teenagers will plow through another dozen muffins in no time!
Blueberry alternative
In place of blueberries, I think these muffins would be great with an equal amount, by weight, of chopped strawberries or raspberries. You can also try frozen mixed berries as long as they're all relatively small in size (nothing larger than a raspberry). And remember not to defrost frozen berries first!
Sugar free, gluten free blueberry oatmeal muffins
If you prefer to use unrefined sugars, go with the coconut palm sugar. It does have a coarse grain, though, so be sure to blend it along with the oats into a fine powder.
You can use an equal amount by weight of light brown sugar (which is what I use in the video, since I couldn't find my treasure trove of coconut sugar). You could probably also use a brown sugar alternative, like Truvia brown sugar replacement.
I haven't tried that, though, so you'll have to experiment and please comment below and let us know how it went.
FAQs
Are blueberry muffins healthy?
Classic gluten free blueberry muffins, made rice flour, are not really very healthy, no! But these are healthy blueberry muffins, made with very little added fat, lots of whole grains and even a fair amount of protein.
How do you make healthier blueberry muffins?
I don't like using applesauce to replace oil in a recipe that calls for oil or another fat, even though I know that's a relatively common swap people like to make so their muffins are lighter. Generally, the added moisture of applesauce makes an unpleasantly spongy muffin. But these muffins are formulated to absorb that extra moisture, and still be tender and delicious—plus healthy!
Can I use store-bought oat flour for these healthy blueberry oat muffins?
Yes, you don't have to blend your oats into flour if you already have oat flour on hand. Just make sure you measure your oat flour by weight, not volume, since oat flour is more volume-dense than oats. And good baking requires baking by weight anyway!
Can I use a different gluten free flour for these healthy blueberry muffins?
I'm afraid you can't make these recipes with almond flour or coconut flour, since the recipe isn't balanced for those types of flours. You might be able to replace the oat flour with quinoa flakes, though, since that's a good substitute for oat flour in baking.
Can I use this recipe for gluten free blueberry muffins to make a bread?
No, this recipe doesn't have enough structure to support it if you were to try baking the batter in a loaf pan.
How do you make healthy oatmeal blueberry muffins that are moist?
If you want to make sure your muffins are moist, be sure not to cut back on the sugar (sugar is a tenderizer and moisturizer in baking) and use Greek yogurt with at least 2% fat (not fat free). Fat is a tenderizer, too.
How do I make these healthy blueberry oatmeal muffins light and fluffy?
The most important thing to remember to have light and fluffy muffins is not to overblend the batter. Oat flour has a tendency to get tough if you overmix or overblend it before baking.
How do you know when these gluten free blueberry oatmeal muffins are done baking?
The "doneness" test in this recipe requires you to bake the muffins until their tops are nicely domed, and they spring back when pressed gently with a finger.
Healthy Blueberry Muffins | Gluten Free + Vegan Option
Feel good about serving your family these healthy blueberry muffins. These delicious breakfast blueberry muffins are naturally gluten free and incredibly tasty.
Equipment
Blender or food processor
Ingredients
2 ¼

cups

(

225

g

) certified gluten free old fashioned rolled oats

(or regular rolled oats if GF is not an issue)

½

cup

(

80

g

)

granulated coconut palm sugar

(or light brown sugar)

1 ½

teaspoons

baking powder

½

teaspoon

baking soda

¼

teaspoon

kosher salt

1

cup

(

240

g

)

smooth applesauce

at room temperature

½

cup

(

114

g

)

plain Greek-style yogurt

(1%, 2%, or even 0% fat—but I prefer 2%), at room temperature

2

(

100

g (weighed out of shell)

)

eggs

at room temperature, beaten

1

teaspoon

pure vanilla extract

5

ounces

fresh (or frozen) blueberries

2

teaspoons

(

6

g

)

cornstarch

(or arrowroot)
Instructions
Preheat your oven to 325°F. Grease or line the wells of a standard 12-cup muffin tin, and set it aside.

In a blender (or food processor fitted with the steel blade), place the oats and process into a fine powder. If you're using coconut palm sugar, place that in the blender, too, and process it too.

Place the oat flour, sugar, baking powder, baking soda, and salt in a large mixing bowl, and create a well in the center. Add the applesauce, yogurt, eggs, and vanilla, and mix until just combined.

Add the blueberries tossed in cornstarch, and fold the blueberries gently into the batter until they're evenly distributed throughout. The batter will be thick but very soft.

Divide the batter evenly among the prepared wells of the muffin tin. Shake the tin back and forth to evenly distribute the batter in the wells.

Place the tin in the center of the preheated oven and bake until the tops of the muffins are nicely domed, and they spring back when pressed gently with a finger, about 18 minutes.

Remove the muffin tin from the oven and allow to cool for about 10 minutes in the tin before transferring to a wire rack to cool completely.
Notes
Adapted from my Healthy Banana Breakfast Muffins.
Originally published on the blog in 2016. In 2019, some photos, video, some text new; recipe method changed for sake of simplicity and best results. In 2022, more text resources added.
Nutrition
Calories:
115
kcal
|
Carbohydrates:
21
g
|
Protein:
4
g
|
Fat:
2
g
|
Saturated Fat:
1
g
|
Polyunsaturated Fat:
1
g
|
Monounsaturated Fat:
1
g
|
Trans Fat:
1
g
|
Cholesterol:
28
mg
|
Sodium:
176
mg
|
Potassium:
90
mg
|
Fiber:
2
g
|
Sugar:
8
g
|
Vitamin A:
57
IU
|
Vitamin C:
1
mg
|
Calcium:
54
mg
|
Iron:
1
mg