A rich, flaky gluten free tart crust filled with garden tomatoes, fresh basil, and shredded cheese, baked to perfection, and served at warm room temperature.
What makes this gf tart recipe special?
There are two important things about this recipe, and you won't want to miss either one.
First, it uses tons of summer tomatoes. Second, you'll learn how to make an extra-rich savory gluten free tart crust that you'll be looking for more reasons to bake with.
Late summer means plenty of zucchini, demanding to be used. It also means that tomatoes are cheap, and fabulous. If you're like me, your garden's tomato plants have been struggling valiantly to bear ripe fruit all summer that they are only now beginning to provide.
You could easily use my basic gluten free pie crust recipe as a tart crust, but I prefer a slightly different recipe for rich savory tart crust. The secret's in the egg yolk, which makes for a richer crust that browns and flakes for a crust that's almost shortbread-like, but savory.
One great thing about baking tomatoes is that the less-than-perfect-ones (and when you grow them yourself, that's what they look like!) are perfect for this.
And with all that cheese and fresh basil, even though my oldest child swears she does not eat cooked tomatoes unless they are blended into tomato sauce was begging for more.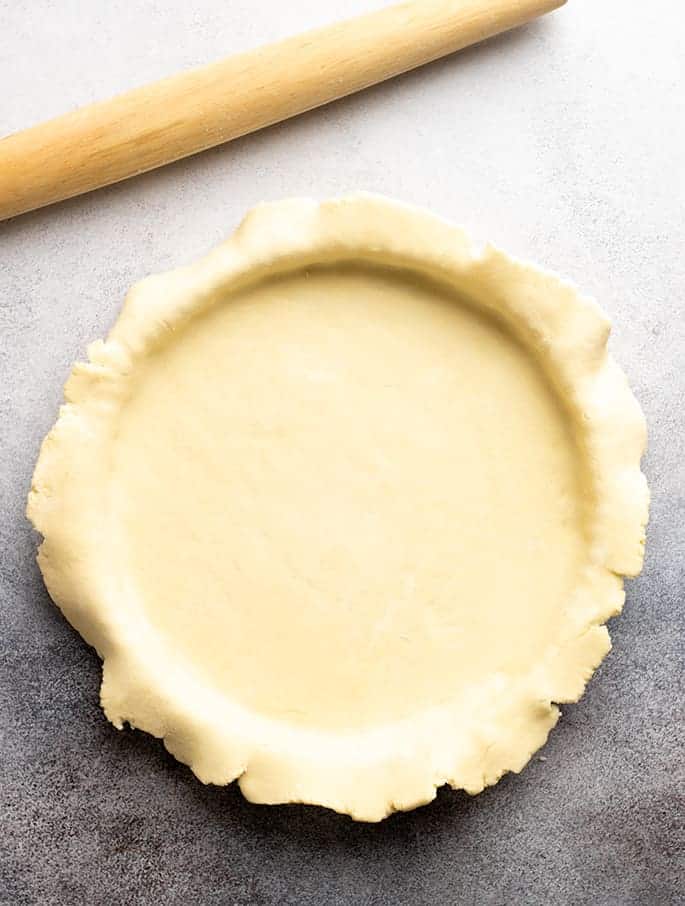 How to make this rich gf tart crust
This tart crust is a rolled-out pastry crust, not a press-in crust. It doesn't have to be par-baked before it's filled, and it still turns out super flaky and layered.
Like all pastry, the crust is made by keeping all of your ingredients cold while you work with them. You'll begin with chunks of cold butter that are tossed in the dry ingredients and flattened so that they can be combined into the dough properly.
The main difference with this tart crust as compared to our gf pie crust recipes is that it has an egg yolk whisked into the cold water that brings the dough together. That adds richness and helps the crust brown even without baking it on its own before adding the fillings.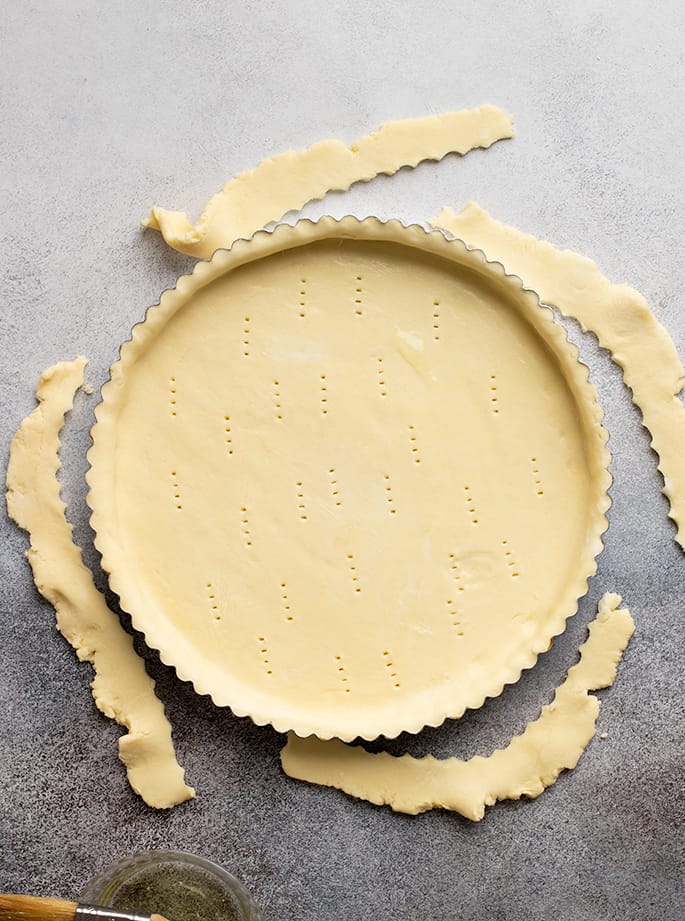 Is tart crust the same as pie crust?
Tart crust is very similar to pie crust, but isn't exactly the same. The egg yolk in this crust super rich and so flaky it's almost crumbly, like a shortcrust pastry.
A tart pan is helpful, but not essential. A tart pan has shorter sides than a pie pan, and a somewhat exaggerated fluted edge.
Tart pans typically come in two parts, with a separate rim and a removable bottom. That allows you to remove the baked tart from the pan easily.
Unlike a pie, which can usually be sliced into portions right in the pie pan, with its lower sides, a tart is typically sliced on its own. Simply press up on the bottom and you'll separate the tart from the rim. Remove the bottom, and slide the tart onto a cutting surface.
Ingredients and substitutions
Dairy
If you can't have dairy, you'll need to replace the butter in the tart crust, and the cheese in the filling. For the butter, to make dairy-free pastry of any kind, I usually begin with Spectrum nonhydrogenated vegetable shortening since it's solid at cool room temperature and is pure fat.
Shortening does get rock hard when it's very cold, so don't chill the chopped shortening for too long before making the tart crust, or before it's shaped. Otherwise, the shortening will become super hard, which makes it difficult to flatten and roll out properly.
In place of the shredded Gruyère cheese, I'd recommend trying Violife brand dairy free cheese. Violife makes different varieties of block dairy free cheese that shreds and melts.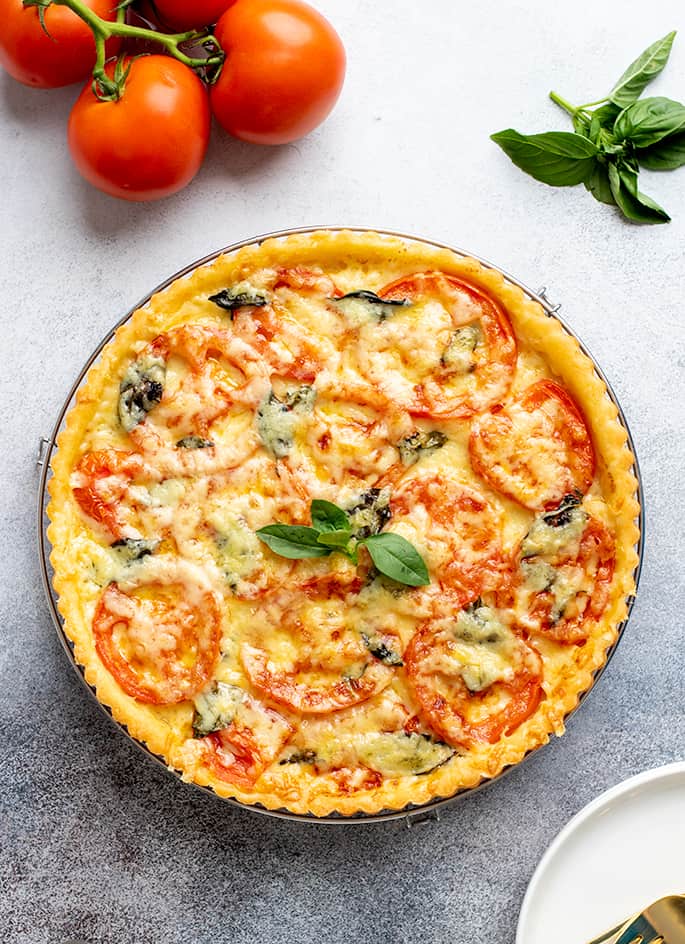 Egg
The egg yolk adds richness to the tart crust, helps it brown in the oven, and even makes the crust a bit flakier without using sour cream like in our extra flaky gluten free pie crust. If you can't have egg yolks, you can try adding a tablespoon of extra virgin olive oil in its place.
If you can't have the egg white that we use to brush the raw top of the tart crust after it's pierced with a fork, you can try brushing the crust with a bit of cream. I haven't tried either of these egg replacements, so you'll have to experiment.