Tender and moist golden sour cream gluten free coffee cake topped with a that classic nubby, sweet streusel crumb topping. So easy!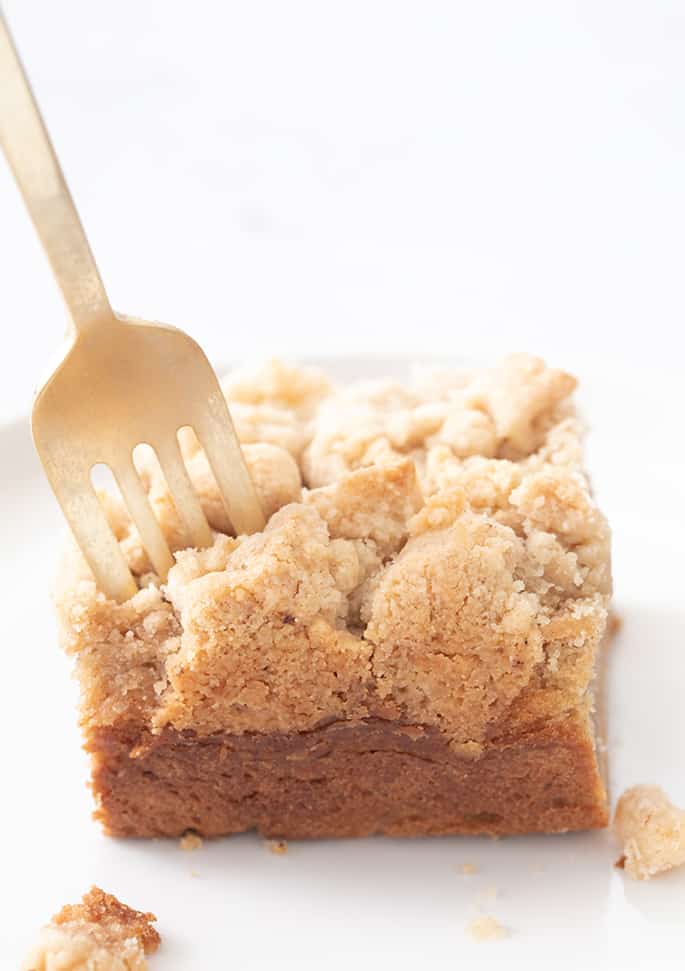 What sort of crumb does a coffee cake have?
A coffee cake is meant to be a tender, but dense cake. Unlike the very best vanilla cake, for this gluten free coffee cake we don't sift the dry ingredients. It's a golden cake.
The crumble topping is clearly everyone's favorite part. When you slice into this cake, if absolutely nothing falls off the topping, it's terribly disappointing. Those belong to the baker, no calories at all.
I've made many coffee cakes over the years, and this sour cream coffee cake is the very best of them all. Don't be put off by the texture of the raw cake batter.
Because it's made with sour cream as the liquid, rather than buttermilk or even milk, the batter is very thick. Sour cream lends a very slight tangy flavor that cuts through the sweetness of baked goods.
It also adds body and richness, and a bit of lightness to an otherwise dense dessert like this lovely coffee cake. More cases in point: one bowl gluten free banana bread and one bowl gluten free chocolate cake.
How to make the proper crumble topping
The secret to ensuring a crumble topping that holds its shape and doesn't simply melt into the cake batter is temperature. The topping is made with melted butter to ensure easy blending. But then it must be chilled.
The topping batter can easily be made a day or two ahead of time and stored, covered, in the refrigerator. It can even be added to, say, banana bread if you're feeling fusiony.
Oh, and to ensure there's no confusion: there is no coffee in the cake. The name "coffee cake" is bestowed upon this delightful creation since it's meant to be enjoyed with the newspaper and a great big cup of (you guessed it!) … coffee.
Ingredients and substitutions
Dairy
There is a lot of butter in this recipe, both in the crumble topping and in the cake itself. The best replacement for the butter in both places is probably Melt or Miyoko's Kitchen brand vegan butter.
If you can't use one of those vegan butters, try using Earth Balance buttery sticks (but cut back on the salt a bit). For the crumble topping, if you can't use vegan butter, try using Spectrum nonhydrogenated vegetable shortening. You need something that will hold its shape during baking, and Earth Balance won't do that.
In place of sour cream, try using a good quality nondairy sour cream. You can also use plain Greek-style yogurt in place of sour cream interchangeably.
Eggs
There are two eggs in this recipe, and you might be able to replace each of them with one "chia egg" each. For each, place 1 tablespoon ground white chia seeds + 1 tablespoon lukewarm water into a small bowl, mix, and allow to gel.
Cornstarch
If you can't have corn, try using arrowroot powder or even potato starch in place of cornstarch. If you're already using a higher starch all purpose gluten free flour blend, like Cup4Cup, replace the 18 grams of cornstarch in this recipe with an equal amount of that high starch flour blend.