Gluten free crêpes are so, so easy to make. They make an everyday meal extraordinary!
What are crêpes?
Gluten free crêpes are simple, French-style pancakes. Light, airy and delicate but not fragile, these pancakes can be served sweet or savory.
I often serve them simply, with roasted chicken and vegetables and a bit of cheese. Simply fill the crêpes like you would a taco or burrito before serving warm.
They can be made ahead
You can make these crêpes up to a couple hours ahead of time, cover them, and then serve them at room temperature. They'll still be soft and pliable and delicious.
Feel like freezing them? You can do that, too. Place the stack of pancakes in an air-tight zip top bag, and freeze on a flat surface. Defrost by placing them in the refrigerator or kitchen counter.
You can warm them in a hot, dry skillet, or add your favorite fillings and warm them in the oven or microwave. They're one of our best gluten free flatbread recipes.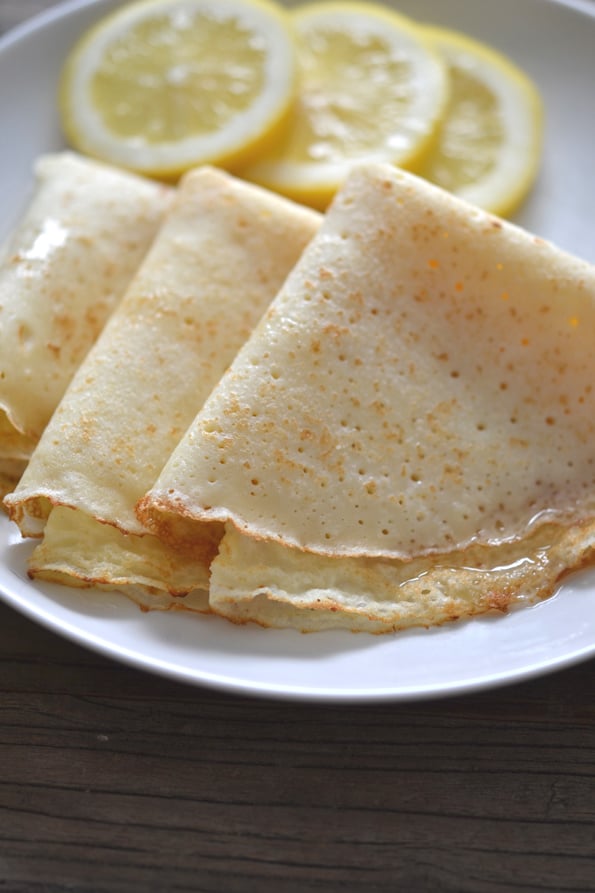 What is the batter like?
The consistency of the batter should be like half and half: thicker than whole milk, thinner than heavy cream. Swirl the batter around. You get good at it—fast.
The first pancake is always for the cook, as it may be rather unfortunate looking. It will still taste great!
Simple syrup for serving
Here, I've served the crêpes with a lemon simple syrup. If you'd like to make a simple syrup, here's how:
To make "rich" simple syrup, which is best for drizzling (and for using in cocktails), simply combine twice as much sugar-in-the-raw (granulated sugar works, too, but sugar-in-the-raw dissolves more fully) as water in a saucepan. Whisk to combine completely.
Bring to a gentle simmer over medium heat, and continue to simmer gently until the sugar is completely dissolved and the sugar has just begun to thicken (about 3 minutes). Transfer to a heat-safe container to cool completely. Store covered in the refrigerator.
To make simple syrup, the process is the same, but the ratio of sugar to water is 1:1 instead of 2:1.
To make lemon syrup ("rich" or not), replace 1/4 of the water with freshly-squeezed lemon juice. To increase lemon flavor, add a strip of lemon rind after whisking together the sugar, water and lemon juice and keep in during simmering. Discard before storing.
Make them tonight. I bet you have all the ingredients right now. They're a great alternative to traditional pancakes, and more versatile, too!
Ingredients and substitutions
Dairy
The milk in this recipe doesn't have to be cow's milk. You can use your favorite unsweetened nondairy milk (mine is almond).
In place of butter, you could use vegan butter. Even Earth Balance buttery sticks would work (although I don't often like them).
Eggs
There are 3 eggs in this recipe. That's simply too many eggs to be able to successfully replace them with something like a "chia egg."