Super healthy banana oatmeal muffins are naturally gluten free and so simple to make!
When they don't have school, my kids are largely on their own for breakfast. If they drag through the morning because they didn't eat a proper meal first thing, I can live with that.
But on school days, I'm all about a healthy and hearty breakfast. These super healthy banana oatmeal muffins are just the thing. Brain food to go (if need be)!
They freeze beautifully, and they're ridiculously easy to make with suuuuuuper basic pantry ingredients. Did I mention how healthy they are yet?
I typically like to make the batter for these muffins in the blender, as it's the only way to make a smooth batter. And a smooth batter leads to a smooth muffin.
But lately I'm having blender issues, and in case you're blender-challenged as well, I wanted you to have options. So in the video at the top of this post, I've used a mini food processor to grind the oats into a flour and to blend the sugar and bananas.
The rest of the batter is made by hand. It's not a perfect solution, but the muffins are still absolutely delicious, hearty and healthy as ever. There are so many other gluten free breakfast ideas here on the blog, and most of them don't require any sort of blender or food processor.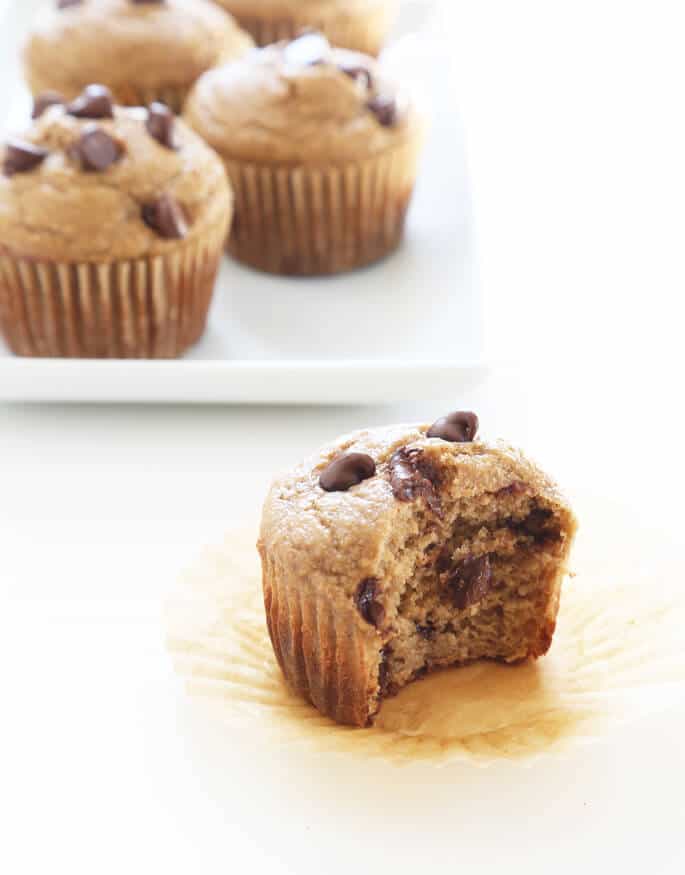 Other than a small handful of chocolate chips (which you could easily replace with much more virtuous chopped nuts of nearly any kind), these muffins are just.so.good.for.you. And because they're packed with whole grains, they're really satisfying.
These banana oatmeal muffins also have very little sugar. There's just 1/2 cup of coconut palm sugar in all 12 muffins. There isn't even much fat. Just that added by the sour cream or yogurt and the egg yolks—no butter or oil.
But these banana oatmeal muffins are still moist, tender and just flat out delicious. Like a hearty gf banana bread, but with the batter made in the blender!
Banana Oatmeal Muffins
Ingredients
2 1/2 medium ripe bananas (250 g), roughly chopped
1/2 cup (114 g) sour cream or plain Greek yogurt, at room temperature
2 eggs (100 g, weighed out of shell) at room temperature, beaten
1 teaspoon pure vanilla extract
1/2 cup (80 g) coconut palm sugar (or light brown sugar)
2 1/4 cups (225 g) certified gluten free old fashioned rolled oats (if you need to be GF)
1 1/2 teaspoons baking powder
1/2 teaspoon baking soda
1/4 teaspoon kosher salt
4 ounces semi-sweet chocolate chips
Instructions
Preheat your oven to 350°F. Grease or line the wells of a standard 12-cup muffin tin and set it aside.

In a blender or food processor, place the first 9 ingredients (all of the ingredients except the chips) in the order listed and pulse on high speed until well-blended.* Add about 3/4 of the chocolate chips to the batter, and mix by hand until evenly distributed throughout. Divide the batter evenly among the prepared wells of the muffin tin, shake back and forth into an even layer in each well, and sprinkle the tops evenly with the remaining chips.

*If you don't have or don't want to use a blender or food processor, you can use 1 7/8 cup (225 g) oat flour in place of rolled oats, blend the bananas and sugar as well, and then mix all of the ingredients together by hand. If you grind your own oat flour, be sure to grind it as finely as possible or the muffins may be a bit grainy (which is not really a problem, to be honest).

Place the muffin tin in the center of the preheated oven and bake for 18 minutes, or until a toothpick inserted in the center of a muffin comes out with a few moist crumbs attached. Remove from the oven and allow to cool in the baking sheet for 10 minutes before transferring to a wire rack to cool completely. Serve immediately or wrap tightly in freezer-safe wrap and freeze. Defrost at room temperature before serving.

Originally published on the blog in 2015. Recipe and text tweaked just a bit, video and some photos new.